Wife of Union General Nathaniel Banks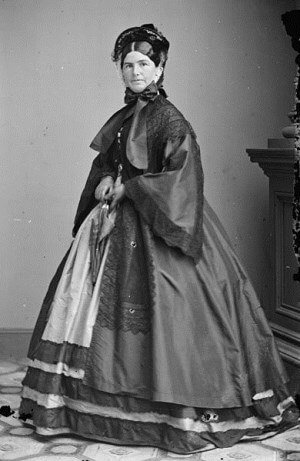 Mary Theodosia Palmer was born October 16, 1819 in Charlestown, Massachusetts, the daughter of Jeduthan and Sarah Palmer. In her youth, Mary worked at the spinning frame in a Waltham textile mill, where she met Nathaniel Prentice Banks, son of one of the foremen there. Banks had attended a one-room school run by his father's company, and then began working at the mill as a bobbin boy, responsible for replacing bobbins full of thread with empty ones. He also assisted his father in making furniture, and after a few years apprenticed as a mechanic for the company.
Image: Theodosia Palmer Banks
By Matthew Brady, circa 1860
Nathaniel Banks subsequently edited several local weekly newspapers, including a paper for their workplace. He also started a debating society, and his ability to captivate audiences as a public speaker would serve him well later in life. While still working at the factory, Palmer and Banks were ambitious young people, and after the mill closed, they attended night school. Banks subsequently studied law and he was admitted to the bar at the age of 23, but the law practice he established in Boston was unsuccessful.
Marriage and Family
Mary Theodosia Palmer married Nathaniel Prentice Banks April 11, 1847 in Providence, Rhode Island, after a lengthy courtship. Mary gave birth to four children, three of whom survived to adulthood: Mary Binney Sterling (1852), Joseph Fremont (1855) and Maude (1857).
Nathaniel Banks in Politics
Banks became involved in the local temperance movement and began speaking at meetings. His lectures caught the attention of Democratic Party leaders, and they asked him to speak at local 1840 campaign events. He also edited their political newspaper, the Lowell Democrat. When that paper folded the following year, he established the Middlesex Reporter in Waltham, but that closed in 1842. Another publication, Rumford Journal (1851–1852) also ended with in failure.
Banks was a candidate for the Massachusetts House of Representatives in 1844 and 1847, but he was defeated. He finally won the first of four consecutive one-year terms in 1848. He was cautious on the issue of slavery, and he developed close ties with Free Soil Party, which opposed the expansion of slavery into new territories in the West. Because of Bank's passion and commitment to the issues, a Democrat-Free Soil coalition elected him Speaker of the Massachusetts House for the 1851 and 1852 sessions. His role as house speaker and his effectiveness in conducting business raised his status significantly.
U.S. House of Representatives
In 1852 Banks sought the Democratic nomination for the U.S. Congress, but party support was withdrawn when he refused to disavow his abolitionist positions. However, he won by a slim margin with Free Soil support. Banks joined the American Party (Know Nothings) and was reelected to Congress in 1854. He condemned the Kansas-Nebraska Act of 1854, which opened western territories to slavery, and broke with the administration of President Franklin Pierce.
In 1855 Banks agreed to chair the convention of a new Republican Party, whose platform was intended to bring together antislavery interests from the Democrats, Whigs, Free Soil Party and Know Nothings. In December 1855, men opposed to the spread of slavery united in supporting Banks for speaker, and after two months of wrangling, he was elected Speaker of the House of Representatives by three votes. As speaker, he gave antislavery men important posts in Congress for the first time. Former Speaker Howell Cobb called him "in all respects the best presiding officer [I] had ever seen."
In 1856, Banks refused the Know Nothing nomination, which went instead to former President Millard Fillmore. Banks joined the new Republican Party, won reelection to Congress as a Republican and actively supported John C. Fremont as presidential nominee, but he lost the election to James Buchanan. Banks easily won his own reelection, but the Democrats regained control of the House of Representatives, and he was no longer Speaker.
Banks ran for Governor of Massachusetts in 1857 and won, resigning his seat in the House in December 1857. During his governorship (1858-1861) Banks supported public education, prison reform, and cuts in spending during the economic depression that followed the financial panic of 1857.
When the Prince of Wales visited Boston in 1860, First Lady of Massachusetts Mary Banks had the first dance with the prince.
Banks in the Civil War
At the onset of the Civil War, Banks immediately offered his services to President Abraham Lincoln, who appointed him major general of volunteers May 16, 1861. Banks was one of the first political major generals, appointed over the heads of West Point graduates, who initially resented him, but they soon realized the political benefits he brought to the administration, including the ability to attract recruits and money for the Union cause. Banks was one of the most prominent of the volunteer officers. His first assignment was Annapolis, Maryland, and he was an important part of the effort to keep the slave state of Maryland in the Union.
Shenandoah Valley Campaign
When General George B. McClellan began the Peninsula Campaign (March-July 1862), Banks was assigned to defend Washington DC from the newly famous General Stonewall Jackson. Banks committed himself to driving Jackson from the Valley in the hopes of linking up with McClellan and cooperating with him in his advance on Richmond. But Jackson defeated him and forced him back to the Potomac River. By early June, Jackson had driven all Union forces from the Valley and captured so many supplies left by the fleeing Union troops that the Confederates nicknamed the Union commander, Commissary Banks.
Image: The Banks family in 1862
Credit: Waltham Historical Society
Department of the Gulf
President Abraham Lincoln selected Banks to replace General Benjamin Butler as commander of the Department of the Gulf (December 1862-September 1864) with its headquarters in Union-occupied New Orleans, Banks made some much needed changes in the city. He released political prisoners, loosened trade restrictions, established a sharecropping system between former slaves and their masters, and generally loosened the stranglehold residents had been subjected to under General Butler. He also recruited several regiments of black Union soldiers for the Corps d'Afrique.
Banks' military performance continued to be poor. He was ordered to join forces with General Ulysses S. Grant at Vicksburg, Mississippi and assume command of both armies, which would have made Banks the leading general in the West. Banks marched toward Alexandria, Louisiana, hauling off slaves, cotton, and cattle from a rich agricultural area, but stiff Confederate resistance slowed his progress. Although Banks ordered his men to avoid pillaging, they disobeyed him. A soldier of the New York 114th wrote:
The men soon learned the pernicious habit of slyly leaving their places in the ranks when opposite a planter's house. … Oftentimes a soldier can be found with such an enormous development of the organ of destructiveness that the most severe punishment cannot deter him from indulging in the breaking of mirrors, pianos, and the most costly furniture. Men of such reckless disposition are frequently guilty of the most horrible desecrations.
General Banks was ordered to capture the Confederate stronghold of Port Hudson, Louisiana, and then continue on to Vicksburg and help Grant. Assaults on Port Hudson on May 27 and June 14, 1863 were badly executed, and each attack resulted in many Union casualties. This was the first time African American soldiers were used in a major Civil War battle. Banks then settled into a 48-day siege, the longest in U.S. history. After learning that Vicksburg had fallen to Grant, the Confederate garrison at Port Hudson surrendered on July 9, 1863. The entire length of the Mississippi River was now under Union control.
Union military officials ordered Banks to organize a number of expeditions to Texas in the autumn of 1863. The purpose of these missions was to prevent the French in Mexico from coming to the aid of the Confederates and to establish Union government in the state of Texas. The result of these operations was the Union disaster at the Battle of Sabine Pass on September 8, 1863. Banks returned to New Orleans, where his superiors urged him to invade East Texas by way of the Red River.
Red River Campaign
In 1863 the outgoing General-in-Chief Henry Halleck continually promoted the Red River Campaign, an attempt to occupy eastern Texas. Banks disagreed with the plan, hoping instead to capture Galveston, but the movement was ordered by Halleck and approved by President Lincoln. Therefore, General Banks went ahead with the expedition under official protest. It is believed that Halleck told Grant the Red River Campaign was Banks' idea, in order to dodge responsibility if the plan failed.
The Red River Campaign (March 10-May 22, 1864) consisted of a series of battles fought along the Red River in Louisiana between the 30,000 Union troops under Banks and forces under CSA General Richard Taylor (son of former President Zachary Taylor), whose strength varied from 6,000 to 12,000. Banks' Army was routed at the Battle of Mansfield, and retreated twenty miles to fight the Battle of Pleasant Hill the following day.
At Alexandria they joined part of the Union fleet under Admiral David Porter. Banks needed Porter's fleet to continue his retreat, but the fleet was trapped above the falls at Alexandria because water levels were dangerously low. Banks approved a plan to build dams in order to raise what little water was left in the channel. Ten thousand men, constantly under fire, built two dams in then days, rescuing Porter's fleet and Banks' army.
Mary Theodosia Palmer Banks
Mrs. Banks spent time with the general in camp whenever possible. She had joined her husband in New Orleans months earlier and threw lavish dinner parties for the benefit of Union soldiers and their families. She created concerts and stage productions to entertain them as well, and on April 12, 1864, she played the role of the "Goddess of Liberty" surrounded by all of the states of the reunited country. She had no knowledge at that time that her husband forces had been overwhelmed at the Battle of Mansfield three days earlier – losing the battle and his military career.
To Washington DC
Banks' military career was over. General Edward Canby met Banks near the Mississippi and immediately replaced him as field commander of the Army of the Gulf. President Lincoln ordered Banks to return to Washington, DC, where he appeared before the Joint Committee on the Conduct of the War to defend his actions during the Red River Campaign and lobbied for the president's Reconstruction program. Admiral Porter had taken bales of cotton onto his ship during the Campaign and later made a tidy sum from the sale of the cotton, which dogged Banks' later political career.
After General Robert E. Lee surrendered at Appomattox, Banks briefly acted as commander of the Department of the Gulf again (April-June 1865), and was then mustered out of the U.S. Army on August 24, 1865. Congress later awarded him a pension of $1,200 a year.
Home Again
In late 1865, he was elected to fill a vacant seat in Congress as a Republican from Massachusetts. As chairman of the House Committee on Foreign Affairs (1865-1873), Banks voted for the purchase of Alaska from Russia. In July 1872, he was upset with President Ulysses S. Grant over administration scandals, and threw his support behind the presidential nominee of the Liberal Republican and Democratic Parties, Horace Greeley. Banks was not reelected to Congress that fall, but the next year he won a seat as an independent in the Massachusetts Senate, where he supported women's suffrage.
Image: Major General Nathaniel Prentice Banks
Monument at Waltham, Massachusetts
Sculpted by H. H. Kitson; dedicated 1908
Banks ran as an independent in 1874, and won a seat in the U.S. Congress; two years later he won reelection as a Republican. He served as U.S. marshal of Boston from 1878 until 1888, when he resigned while being investigated for misuse of funds. Banks was reelected to Congress in 1888, but he was already showing signs of dementia, probably Alzheimer's disease. Banks retired from public service in 1890 and spent his last years in Massachusetts with his family.
Nathaniel Prentice Banks died September 1, 1894 at Waltham, Massachusetts, at the age of 78. He was survived by his wife Mary, a son and two daughters.
Mary Palmer Banks died January 31, 1901 in Waltham, Massachusetts, at the age of 81.
The newspapers announced her death February 1, 1901:
Mary Palmer Banks, widow of Nathaniel Banks, who died at the old homestead last night with her daughters, Mrs. Sterling, wife of Rev. Paul Sterling of Melrose and Miss Maud Banks, the actress, at her bedside, was born in Charlestown. As a girl she became acquainted with Mr. Banks when 17 years old and married him when she was 28, in Providence. … a son, Joseph Banks, is a civil engineer in New York. Mrs. Banks always occupied a prominent social position owing to the prominence of her husband, who served as speaker of the national House of Representatives and as governor of Massachusetts. Mrs. Banks remained in camp with the general.
SOURCES
Mary Theodosia Palmer Banks
Wikipedia: Nathaniel P. Banks
National Archives: Nathaniel Prentice Banks