First Lady of the United States 1861-1865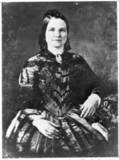 Mary Todd Lincoln supported her husband throughout his presidency, and witnessed his fatal shooting at nearly point blank range at Ford's Theater on April 14, 1865. Mary's life was difficult after her husband was assassinated; she suffered from depression and mental anguish, which led to her being hospitalized for a time.
Image: Mary Todd Lincoln in 1846
Mary Todd was born on December 13, 1818, in Lexington, Kentucky, the fourth of seven children born to banker Robert Smith Todd and Elizabeth Parker Todd. Robert Todd provided his children from two marriages with social standing and material advantages. When Mary was seven, her mother died. Mary's father remarried to Elizabeth Humphreys in 1826. This marriage eventually brought nine more children into the house. Mary had a difficult relationship with her stepmother, who was not sympathetic toward her stepchildren, which may have contributed to Mary's insecurities later in life.
Unlike most men of his era, Robert Todd believed that women should be well educated. At the age of eight, Mary began her formal education at Shelby Female Academy, where she studied grammar, geography, arithmetic, poetry, and literature. While Mary was trained in the social graces common to her class and time, the level of education she received was unusual.
At age 14, Mary entered Madame Victorie Mentelle's Select Academy for young ladies, just outside Lexington. There she learned to write and speak French fluently, studied dance, drama, and music. In 1837, she began attending Dr. Ward's Academy for advanced studies.
In 1839, after completing her education, Mary moved to Springfield, the new state capital of Illinois, to live with her older sister Elizabeth, who was married to Ninian Edwards, the son of a former governor of Illinois. At the age of 20, Mary was 5 feet 2 inches tall, with blue eyes and reddish-brown hair. The Edwardses were socially prominent, and Mary soon became a popular belle.
At a dance in Springfield, Mary met Abraham Lincoln, a junior partner in cousin John Todd Stuart's law firm, who was ten years her senior. They fell in love and were engaged at the end of the following year.
Mary Todd and Abraham Lincoln were a study in contrasts. Nine years older, Lincoln came from a comparatively poor and undistinguished background. He was socially awkward, with less than two years of formal education. Mary's vivacity and occasional flashes of the "Todd temper" was in marked contrast to his self-deprecating personality. Yet many things brought them together: a love of poetry, literature, and a keen interest in politics and political issues. Mary recognized Lincoln's intellectual depth and political ambition before others did.
Image: Mary Todd Lincoln House
A fourteen-room Georgian mansion in Lexington, Kentucky, the Mary Todd Lincoln House has the distinction of being the first historic site restored in honor of a First Lady. Mary moved here with her family in 1832 when she was 14 years old. For four years, she attended boarding school during the week but returned home on the weekends. She continued to live there until 1839, when she moved to Springfield, Illinois.
Elizabeth and Ninian Edwards did not approve of the relationship. They believed Lincoln was far beneath Mary. In January 1841, perhaps with his poor background and debt in mind, Abraham asked Mary to release him from the engagement. After much depression, a friend arranged for them to get together again. After another year of clandestine meetings and secret preparations, on November 4, 1842, Mary informed the Edwardses that they were getting married that day. Elizabeth realized it was inevitable.
Mary Todd married Abraham Lincoln in the the front parlor of the Edwards home on the evening of November 4, 1842. Inside the ring Lincoln gave to Mary was the inscription: "Love Is Eternal." He was 33 years old; she was 23. With Abraham earning a modest income, for the first two years of their marriage, they lived in an $8-a-week room at the Globe Tavern in Springfield.
Their four sons were all born in Springfield:
Robert Todd Lincoln (1843–1926), a lawyer, diplomat, and businessman.
Edward Baker Lincoln, known as Eddie (1846–1850)
William Wallace Lincoln, known as Willie (1850–1862), died while Lincoln was President.
Thomas Lincoln, known as Tad (1853–1871), died six years after his father's assassination.
In 1844, the Lincolns purchased their first and only home at Eighth and Jackson Streets in Springfield. Their home together from 1844 until 1861 still stands in Springfield, and is now the Lincoln Home National Historic Site.
In marrying Lincoln, Mary exchanged her life of relative ease and privilege for that of a working lawyer's wife. While he was gone for extended periods riding circuit, she was doing much of the household labor and raising four sons. But Mary continued to advance her husband's political career. He valued her judgment and once observed that he had no reason to read a book after Mary had reviewed it for him.
Still, Lincoln's career progressed slowly. One term in Congress came amidst several failures to gain his party's nomination for political office. He was elected to the House of Representatives in 1846 and the family moved to Washington, DC, living first at Brown's Hotel, then in Ann Sprigg's boarding house (now the site of the Library of Congress). Before his term ended, Mary returned to Kentucky with the boys in 1848.
In 1849 Lincoln's term ended and he returned to Springfield. Soon, the first of Mary's tragedies occurred when her father died of cholera in July 1849. Less than a year later, in February 1850, Eddie Lincoln died of diphtheria. He was not yet four years old. Afterwards, Mary could not speak his name without crying.
Image: Abraham Lincoln in 1857
Alexander Hesler, Photographer
Mary took an active role in promoting Lincoln's political career. When he was offered the governorship of the Oregon territory, she advised against his accepting the post since it would remove him from the national stage in the East. She often wrote to influential friends in Kentucky regarding Lincoln's views on slavery. As the division between the northern and southern sections of the country widened, Lincoln's speeches on limiting the spread of slavery, while preserving the Union, were much admired.
Mary's vigorous defense and support of Lincoln's presidential candidacy in 1860 her willingness to speak with reporters who came to Springfield to cover his campaign, and during the transition period between election and inauguration, prove her eagerness to assume a prominent public role in her husband's presidency.
Due to the sectional strife and imminent secession of South Carolina, however, Lincoln's 1861 inaugural was overshadowed by threats on his life. Many of the wealthy southern families who had dominated the social-political life of the national capital were leaving and those remaining social leaders, including the outgoing First Lady Harriet Lane, had pre-judged the western Mrs. Lincoln as unsuited to assume a social leadership role.
First Lady Mary Todd Lincoln
Mary Todd Lincoln was thrilled to become First Lady, at the age of 42. She held elegant buffet dinners, invited intellectuals and literary figures to the White House, and welcomed visitors and guests to her Thursday night receptions and spring and winter receptions. She balanced her social role with an interest in public affairs, reading political journals and newspapers, attending congressional debates, and advising her husband on administration appointments. But even as the public began to regard her as First Lady, she referred to herself as Mrs. President.
Media accounts described the new First Lady as plump and plain, and she took such reports as an insult, not just to her but to her husband. Everything she wore was scrutinized and critiqued in the newspapers, convincing her more and more that she needed to wear the very finest fashions. She spent more on clothes than her husband could afford, but her spending only added to the public ridicule. She was the first presidential wife to be called First Lady in the press, as documented in both the London Times and Sacramento Union newspapers.
Mary spoke her mind on political matters – sometimes in French – and in a time when women were supposed to be demure and soft-spoken, she came across too forcefully.
Mary Lincoln viewed her expensive 1861 White House redecoration (over-running a Federal appropriation of $20,000) as a necessary effort to create an image of the stability that would command respect not only for the President, but for the Union. She instead conveyed the image of a selfish and indulgent woman, inconsiderate of the suffering the nation's families were enduring as a result of the war her husband was managing.
Image: Mary Todd Lincoln during the Civil War
During her tenure at the White House, Mary often visited hospitals around Washington, where she gave flowers and fruit to wounded soldiers. In some cases, she helped with their correspondence. From time to time, she accompanied Lincoln on military visits to the field. Mary offered intelligence she had learned as well as her own advice to the President on military personnel, recommended minor military appointments to Secretary of War Edwin Stanton, toured Union Army camps and reviewed troops with her husband.
She was largely successful in her objective of using entertaining as a means of raising Union morale. She was not successful in her efforts to oust Treasury Secretary Salmon Chase, Secretary of State William Seward, General George B. McClellan and General Ulysses S. Grant.
Two public causes in which Mary Lincoln became involved attested to her genuine support of the Union Army and the freedom of slaves: the Sanitary Commission fairs, which raised private donations to supplement Federal funds for supplies for the soldiers fighting on the front, and the Contraband Relief Association. The latter raised private donations, for the housing, employment, clothing and medical care of recently freed slaves, an organization in which she became involved as a result of her friendship with her dressmaker, former slave Elizabeth Keckley.
Tragedy and Loss
Mary Todd Lincoln's life in the White House was marked by controversy and tragedy. As a well-bred woman of Kentucky, she was reviled by Southerners as a turncoat, while Northerners doubted her loyalty. Several of her siblings supported the Confederacy through marriage or military service. Not surprisingly, the divided loyalties within the Todd family fueled much controversy in the nation's press.
Mary's brother George R.C. Todd and her half-brothers Alexander Todd, David Todd, and Samuel Todd all fought in the Confederate Army. Two of her stepbrothers were killed in battle: Alexander at Baton Rouge; Samuel at the Battle of Shiloh. Of one of her stepbrothers, she said, "He made his choice long ago. He decided against my husband, through him against me. He has been fighting against us and since he chose to be our deadly enemy, I see no special reason why I should bitterly mourn his death."
Yet when her brother-in-law Brigadier General Benjamin Hardin Helm was killed fighting for the Confederacy in the Battle of Chickamauga, the Lincolns took in his widow, her stepsister Emilie Todd Helm, to live with them in the White House.
Mary Todd Lincoln suffered greatly in the White House. The pressures and anxieties of the war were unrelenting, and she watched her husband age visibly under the strain. In early 1862, when she lost eleven-year-old son Willie to typhoid fever, Mary was prostrate with grief. Mary sought out mediums and spiritualists to contact the dead boy, but they only bilked her out of another small fortune the Lincolns could not afford.
Mary Todd Lincoln suffered from frequent severe headaches throughout her adult life, and difficult bouts of depression, anxiety and paranoia. In a July 1863 accident, she was seriously injured when she was thrown from her carriage, knocked unconscious, and received a deep gash on her forehead. Even as she recovered from the carriage wreck, her other ailments became nearly as well-known as her name.
Mary also made irrational outbursts during Lincoln's presidency. For example, after an uncomfortable carriage ride to review the troops at City Point, Virginia, during which she was accompanied by Julia Dent Grant (whom Mary did not like), wife of General Ulysses S. Grant, Mary Lincoln unleashed her pent-up fury on her husband when he rode on horseback alongside the lovely wife of a general.
Such scenes were not infrequent in Mary Lincoln's life, and Abraham Lincoln's secretaries nicknamed her the Hellcat. Even in childhood, friends had observed that she was either "in the garret or in the cellar," emotionally. Such patterns indicate that Mary Lincoln may have suffered from bipolar disorder. Her mental illness worsened after her husband's assassination, when she disintegrated into inconsolable, pathological grief and went on manic shopping sprees, which partially accounts for her unpopularity with many people.
The Assassination of Abraham Lincoln
On April 9, 1865, General Robert E. Lee surrendered to General Ulysses S. Grant, and the war was officially over. Mary Lincoln hoped to renew her happiness as the First Lady of a nation at peace. However, on April 14, 1865, President and Mrs. Lincoln went to watch the comic play Our American Cousin at Ford's Theater. As they sat in theater box, her hand in his, John Wilkes Booth shot the president in the head at near point blank range. Mary accompanied her husband across the street to the Petersen House, where Lincoln's Cabinet was summoned. Mary was with her husband through the night along with her son Robert. Abraham Lincoln died at 7:22 the following morning.
Image: Lincoln Home in Springfield, Illinois
Bettina Woolbright, Artist
This Greek Revival style house at the corner of Eighth and Jackson Streets in Springfield, Illinois, was home to the Lincoln family from 1844 to 1861. The initial structure was built in 1839 as a five-room cottage. Mary was largely responsible for expanding the house to the size depicted here to better accommodate her growing family. The house, purchased by Abraham and Mary Todd Lincoln, was the first and only home Lincoln ever owned.
From all over the world, Mary Lincoln received messages of condolence. In time she would attempt to answer many of them personally. Even in her misery, her sense of duty and politeness remained. To Queen Victoria she wrote: "I have received the letter which Your Majesty has had the kindness to write. I am deeply grateful for this expression of tender sympathy, coming as they do, from a heart which from its own sorrow, can appreciate the intense grief I now endure." Victoria had suffered the loss of Prince Albert.
Deeply traumatized by her husband's murder, Mary Lincoln remained mostly bedridden in the White House for the next five weeks. She did not attend any of the president's funerals, either in Washington, along the route of the funeral train, or the final one on May 4, 1865, in Springfield. Finally on May 23, Mary walked down the White House stairs for the last time, accompanied by her two sons and Elizabeth Keckley.
The former First Lady returned to Illinois and there began the effort to settle her husband's estate. For a time, she lived in Chicago with her remaining sons, Robert and Tad. Embroiled in controversy over her finances and allegations of insanity, Mary wrote impassioned letters to friends and acquaintances, begging for money to pay her debts. She tried to sell the clothes she had worn while First Lady, and continued buying fancy jewelry clothing, though for years she never wore anything but black in public.
After Robert Lincoln married in September 1868, Mary and Tad moved to Germany, and from there began her battle with Congress about her presidential widow's pension.
Also in 1868, her former dressmaker and confidante, Elizabeth Keckley, published Behind the Scenes, or, Thirty Years a Slave, and Four Years in the White House. Although this book has, over time, proven to be an extremely valuable resource in the understanding and appreciation of Mary Todd Lincoln, the former First Lady regarded it as the breach of a close friendship.
In an act approved July 14, 1870, the United States Congress granted Mary Tod Lincoln a life pension as a president's widow, in the amount of $3000 a year. She had lobbied hard for this pension, writing numerous letters to Congress and relying on patrons such as Simon Cameron to work on her behalf. Almost crazed on the subject of money, she insisted that as the wife of the leading figure in the land, she deserved a pension just as much as the widows of soldiers.
In 1871, Mary returned to the United States. Eighteen-year-old Tad caught a cold on the trip back and never fully recovered from a respiratory infection. On July 15, 1871, he died of pneumonia and pleurisy in Chicago. Mary had now lost her mother, father, husband, three half-brothers and three sons. "One by one," she said, "I have consigned to their resting place my idolized ones, and now, in this world there is nothing left for me but the deepest anguish and desolation."
Mental Instability
After Tad's sudden death, Mary's mental health deteriorated rapidly. Increasingly dependent on medications such as laudanum and chloral hydrate for a variety of physical and emotional ailments, she had delusions, hallucinations and irrational fears of people trying to kill her. Her only living son, Robert, on his way to becoming a prominent attorney, became concerned for her health and safety.
Robert arranged an insanity trial after agonizing over his distressed mother's erratic behavior. Illinois law required a jury trial for involuntary commitment to a mental institution. In a June 1, 1875, letter to Mary's friend Sally Orne, Robert explained his difficult decision. "Six physicians in council informed me that by longer delay I was making myself morally responsible for some very probable tragedy, which might occur at any moment."
Mary did not realize that a public trial awaited her, and was forcibly taken to the courthouse on May 19, 1875. Isaac Arnold, a family friend who reluctantly became her defense attorney, did not contest the case, and allowed 17 witnesses to testify to her unstable condition, while not calling any witnesses of his own. During the trial, Robert testified, "I have no doubt my mother is insane. She has long been a source of great anxiety to me."
On May 20, 1875, Mary Todd Lincoln was declared insane at the age of 56, and confined to Bellevue Place, a private sanitarium in Batavia, Illinois. This news shocked the nation. The trial's verdict required Mary to be committed, but allowed her to stay in a private hospital such as Bellevue if finances allowed it. She also could have stayed in Robert's home, but her tumultuous presence there four years earlier had caused Robert's wife to leave temporarily.
Dr. Norbert Hirschhorn and Dr. Robert G. Feldman maintain that, "Symptoms imputed as insanity at her trial clearly had their origin in the organic disease of tabes dorsalis. The bizarre behavior in 1875 leading to hospitalization, with elements of acute anxiety, insomnia and delusions, most resembles post-traumatic stress disorder, coinciding with the tenth anniversary of her husband's murder."
Later in the day after the verdict was announced, Mary was so enraged that she attempted suicide. She went to the hotel pharmacist and ordered enough laudanum to kill herself. However, the pharmacist was suspicious and gave her a placebo.
With control of his mother's finances, Robert Lincoln tried to pay down his mother's debts, and returned much of the jewelry she had purchased but never paid for.
Meanwhile, Mary smuggled letters to her lawyer, James Bradwell, and his wife, Myra Bradwell, who was not only her friend but also a feminist lawyer and fellow spiritualist. Bradwell believed Mrs. Lincoln was not insane, and filed an appeal on Mary's behalf.
Mary wrote to the editor of the Chicago Times, known for its sensational journalism. Soon, the public embarrassments Robert had hoped to avoid were looming, and his character and motives were in question. The director of Bellevue, who at Mary's trial had assured the jury she would benefit from treatment at his facility, now in the face of potentially damaging publicity, declared her well enough to leave.
The former First Lady left Bellevue Place on September 11, 1875, and was released to the care of her sister Elizabeth in Springfield, to live in the same house where she had married Abraham Lincoln. On June 19, 1876, another court ruled that Mary had regained her sanity, and and was competent to manage her own affairs.
Mary traveled to Europe again, staying primarily in France at health spas. The former First Lady's final years were marked by declining health, possibly with undiagnosed diabetes, spinal arthritis and other ailments. She suffered from severe cataracts that affected her eyesight, which may have contributed to her increasing susceptibility to falls. In 1879, she suffered spinal cord injuries in a fall from a step ladder.
After four years abroad, Mary returned the United States to live again in the Edwards home in October 1880. She spent much of her last year in seclusion there. The following year, Robert visited with his eldest daughter, Mary Todd Lincoln, and Mary and Robert reconciled somewhat. Mary's pension was increased to $5000 in 1882.
Mary Todd Lincoln died on July 16, 1882, at the age of 63, possibly after having a stroke, although the doctor wrote "paralysis" on the death certificate. She was buried next to her husband and three sons at Oak Ridge Cemetery in Springfield. She was buried with her wedding ring, thin from wear, which still bore the words "Love Is Eternal."
Dedicated in 1874, the Lincoln Tomb in Springfield, Illinois, is the final resting place of Abraham Lincoln, his wife Mary, and three of their four sons, Edward, William, and Thomas. The eldest son, Robert Lincoln, is buried in Arlington National Cemetery. The 117-foot Tomb, designed by sculptor Larkin Mead, is constructed of brick sheathed with Quincy granite. Interior rooms of the Tomb are finished in a highly polished marble trimmed with bronze.
SOURCES
Mary Todd Lincoln
First Lady: Mary Lincoln
Wikipedia: Mary Todd Lincoln
Mary Todd Lincoln at Bellevue Place