Fiancee of Lincoln Assassin John Wilkes Booth
In 1862, Lucy Lambert Hale began a romantic relationship with famous stage actor John Wilkes Booth. Another of her admirers was Robert Todd Lincoln, eldest son of President Abraham Lincoln.
Lucy Lambert Hale was born January 1, 1841, in Dover, New Hampshire, the second eldest daughter of John Parker Hale and Lucy Hill Lambert Hale. John Parker Hale served in the U.S. House of Representatives from 1843 to 1845 and in the U.S. Senate from 1847 to 1853 and again from 1855 to 1865. Lucy was described as pretty, precocious, sweet and good.
Lucy attended a boarding school in Boston. At the age of 12, she was receiving poems from William Chandler, a Harvard University student. He was the first of her many romantic conquests. Lucy and Oliver Wendell Holmes, Jr. – a sophomore at Harvard and future Supreme Court Justice – met on vacation in Maine and began a romantic correspondence in 1858 when she was 17 years old.
Another of her admirers was Robert Todd Lincoln, eldest son of the future president Abraham Lincoln. Her father had entertained the hope that Lucy would marry Robert; and although Senator Hale's wishes did not come to fruition, the couple would remain good friends for many years.
When the Civil War began in April 1861, Lucy, Senator and Mrs. Hale and her sister, Lizzie went to live at the National Hotel in Washington, DC. Lucy was seen at many parties, dances, and social functions and became a belle of Washington society.
Soon Lucy was engrossed in work with the United States Sanitary Commission, a government agency created to coordinate the volunteer efforts of women who wanted to contribute to the war effort. During lulls in the fighting, Lucy visited the soldiers at the front lines with her mother, once riding into Virginia in a horse-drawn ambulance accompanied by Captain Oliver Wendell Holmes Jr., who was stationed nearby.
John Wilkes Booth
On Valentine's Day, 1862, Lucy Hale received an anonymous note:
My dear Miss Hale, were it not for the License which a time-honored observance of this day allows, I had not written you this poor note. … You resemble in a most remarkable degree a lady, very dear to me, now dead and your close resemblance to her surprised me the first time I saw you. This must be my apology for any apparent rudeness noticeable.
To see you has indeed afforded me a melancholy pleasure, if you can conceive of such, and should we never meet nor I see you again – believe me, I shall always associate you in my memory, with her, who was very beautiful, and whose face, like your own I trust, was a faithful index of gentleness and amiability. With a Thousand kind wishes for your future happiness I am, to you,
A Stranger
In the romantic antebellum era, this note must have had a great impact on twenty-one-year-old Lucy Hale, especially when she discovered who the author was: John Wilkes Booth, a wildly popular stage actor and notorious ladies man.
At twenty-four, already acclaimed one of the finest actors of his day, Booth had an allure for women, on and off stage. His performance as Romeo had caused ecstatic flutters from Chicago to Washington. He was outrageously handsome, and his manners made the most of the courtesy and flourish typical of the antebellum South, which he greatly admired.
Booth suffered from no lack of feminine company, but his approach to Lucy was undoubtedly quite different from his usual come-on. His courtship of Lucy was conducted with much secrecy, and it seems that Lucy succumbed slowly but surely to his charms. He was determined to marry her, and marriage to a prominent senator's daughter would have been a huge step upward for an actor.
Booth admitted his marriage plans to his mother, who wrote back to him:
The secret you have told me is not exactly a secret as Edwin (Booth's brother) was told by someone you were paying great attention to a young lady in Washington, and if the lady in question is all you desire – I see no cause why you should not try to secure her. … Her father … would he give his consent?
By early 1865, Booth and Lucy were often seen together in public and became secretly engaged. On March 4, 1865, Booth attended President Lincoln's second inauguration with a ticket of admission given to him by Lucy, who got it through her father. Booth remarked afterwards, "What an excellent chance I had, if I wished, to kill the President on Inauguration day!"
By then, Booth was already heavily involved in his plan to kidnap President Lincoln. Ulysses S. Grant, the commanding general of all Union's armies, suspended the exchange of prisoners-of-war in March 1864. This decision cut off a badly needed source of reinforcement for the outnumbered Confederate Army.
Booth, a Confederate sympathizer, formulated a plot to kidnap Lincoln and take him south, to hold him hostage in exchange for Southern soldiers in Union prison camps to fill the dwindling ranks of Confederate armies. The kidnapping attempt failed and evolved into the assassination plot.
By the spring of 1865, Lucy and Booth had begun to quarrel, perhaps as a result of Booth's distracted behavior and his fits of jealousy. Booth's sister Asia later reported that Booth had become enraged when he saw Lucy dancing with the President's son, Robert Todd Lincoln, one evening at the National Hotel.
The National Hotel was located at the corner of Pennsylvania Avenue and 6th Street, several blocks from the White House. Booth customarily stayed there when in Washington. Carl Sandburg wrote: "Most of the time until April 15, 1865, Booth lived in Washington, checking in and out of his National Hotel quarters, taking many trips on errands whose purpose he kept secret. He studied Lincoln's ways and habits, particularly as a theatregoer."
How intimate Lucy Hale had been with John Wilkes Booth is not known. They reportedly exchanged rings and poems. Historians have suggested that Lucy shared a room with Booth not long before the assassination, but the evidence is unclear. There is no reason to suspect that Lucy knew anything of his plot to kill the president.
The Hales were very much against Lucy's relationship with Booth. Senator Hale had worked very closely with President Lincoln, and as his term of office was ending, Hale approached the president and was granted an appointment as ambassador to Spain in an effort to separate Lucy from Booth.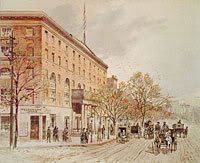 Image: The National Hotel was located at the corner of Pennsylvania Avenue and 6th Street. During the Civil War, it was the home of Lucy Lambert Hale and her family. Actor John Wilkes Booth also customarily stayed at the National when in Washington.
The Assassination
Witnesses reported seeing Lucy and Booth in conversation in a public room at the National Hotel on the morning of April 14, 1865. During the day, Lucy and her mother were preparing to accompany Mr. Hale to his new post in Spain.
The president's son Robert Todd Lincoln had returned to Washington that morning from Appomattox Court House, where as a member of General Ulysses S. Grant's staff, he had been present at General Robert E. Lee's surrender five days earlier.
Lucy allegedly spent the afternoon of April 14th studying Spanish with Robert Lincoln and another former admirer, John Hay, President Lincoln's assistant private secretary. Whether this affected Booth's mad determination to kill Lincoln is not known.
Sometime later, Booth learned that Lincoln would attend a performance at Ford's that night. He met with his team of conspirators, then calmly sat down for dinner at the National Hotel at 6:30 pm. According to at least one bystander, Booth dined with Lucy and her mother that evening.
Then just before 8 o'clock pm, Booth allegedly looked at his watch and stood to leave. He then took Lucy's hand and recited a line from William Shakespeare's Hamlet: "Nymph, in thy orisons [prayers] be all my sins remembered."
Two hours later, Booth entered the Presidential Box at Ford's Theatre and assassinated President Abraham Lincoln, and became the greatest villain in American history. The president died the next morning from a single gunshot wound to the back of the head.
Did John Wilkes Booth assassinate the president because of his views on slavery and the defeat of the Confederacy, or was he driven by a need for revenge because Lincoln had interfered with his relationship with Lucy by appointing her father to a post that would take her away from him?
The shooting at Ford's Theater put an explosive end to Lucy's romance with Booth. Lucy was devastated by the news of Lincoln's shooting, and found it impossible to believe her fiance had been the assassin. While Lincoln lay dying, investigators searched Booth's room at the National Hotel and found a letter that seemed to connect him to a plot against the president.
Everyone who had even the slightest connection to John Wilkes Booth was interrogated in the weeks following the assassination. Scores of people were arrested and detained, including John's brother Junius who spent two months in prison.
But there is no record that Lucy Hale or her mother were ever interviewed, even though they may have been with Booth just prior to the murder. John Parker Hale must have used every ounce of his influence to keep investigators at bay, and he posted notices in the media denying any relationship between Booth and Lucy.
In the New York Herald, without mentioning Lucy by name, the reporter wrote that Booth's fiancée, like the rest of the country, was "plunged in profound grief." Lucy, however, was pining for the assassin, not the president. "But with womanly fidelity she is slow to believe him guilty of this appalling crime," the Herald said.
Lucy Hale wrote to Edwin Booth, the renown Shakespearean actor and elder brother of her fiance. "I have had a heartbroken letter," Edwin wrote to his sister Asia, "from the poor little girl to whom he [John Wilkes Booth] had promised so much happiness."
Following the shooting, Booth fled on horseback to southern Maryland. He eventually made his way to the Garrett farm in rural northern Virginia, where he hid in the barn, which pursuing Federal troops set on fire. When he emerged, Booth was captured and killed on April 26, 1865. Lucy's photograph was found in Booth's pocket, along with pictures of four other women.
Eight of Booth's co-conspirators were tried and convicted, and four were hanged shortly thereafter, but Lucy Hale was never called as a witness. Secretary of War Edwin Stanton had no desire to increase the reputation of the co-conspirators by revealing Booth's relationship with her.
Lucy accompanied her parents to Spain, where her father took up his post as ambassador. She remained in Europe for five years, during which time she received and refused many offers of marriage from love-struck noblemen who courted her elaborately and were turned down without much ceremony. She visited France, Italy, and Switzerland; in Paris she went to the theater with former beaus Oliver Wendell Holmes, Jr. and John Hay.
Among all of Lucy's beaus, John Hay seems to have most sensitively expressed her peculiar charisma during her time of youth and beauty. From Madrid he wrote her in 1869:
I came back from the station [the day you left] wondering if there were anyone else in the world just like you; one of equal charm, equal power of gaining hearts, and equal disdain of the hearts you gain. The last glance of those mysterious blue-gray eyes fell upon a dozen or so of us and everybody but me thought the last glance was for him.
I have known you too long. Since you were a school-girl – yet even in those early days you were as puzzling in your apparent frankness and real reserve as you are today… You know how I love and admire you. I do not understand you, nor hope to, nor even wish to. You would lose to me something of your indefinable fascination if I knew exactly what you meant…
But when Lucy returned to America in 1870, Lucy Hale was no longer the fresh young girl who had so moved the hearts of most of the young men she met: she was twenty-eight years old and apparently determined to devote herself almost exclusively to the care of her ailing father in their home in Dover, New Hampshire.
Lucy's father died in 1873, and she suddenly began to respond to a series of passionate love letters from her first admirer, lawyer William Chandler, whose wife had died.
Lucy's Life
Lucy Hale married William Chandler in 1874 in a very private ceremony. The former belle, now a handsome young matron at 33 years of age, lived a respectable life as the wife of a politician and was active in civic causes. In March 1885, eleven years later, Lucy gave birth to their only child, John Parker Hale Chandler, when she was 44 years old.
Ironically, President Abraham Lincoln had appointed William Chandler to a government job the same year he was assassinated by Booth. The couple shuttled between Washington and Concord, New Hampshire, where Chandler was a lawyer and newspaper publisher.
During the 1880s, the Chandlers were to enjoy several years in Washington among old acquaintances during Chandler's service as Secretary of the Navy and U.S. senator. Lucy was a successful hostess at the many social functions they held there. If they ever spoke of John Wilkes Booth – or heard the never-ending whispers all around them – no record remains.
Lucy and William lived many years after that in the quieter atmosphere of Concord, New Hampshire. They raised funds to erect a monument to Lucy's father that was erected on the lawn of the state capitol, where his figure now stands with Daniel Webster, President Franklin Pierce and John Stark.
Lucy Lambert Hale Chandler died on October 15, 1915, at the age of 74. She was buried at Pine Hill Cemetery in her hometown of Dover, New Hampshire. William Chandler died two years later.
Lucy Lambert Hale appeared as a character in the 1998 television film, The Day Lincoln Was Shot. She was portrayed by American actress Jean Louisa Kelly, with Rob Morrow in the role of John Wilkes Booth.
Historian Thomas Goodrich stated in 2005: "For millions of people, particularly in the South, it would be decades before the impact of the Lincoln assassination began to release its terrible hold on their lives." The majority of Northerners viewed Booth as a madman or monster who murdered the savior of the Union, while in the South, many cursed Booth for bringing upon them the harsh revenge of an incensed North instead of the reconciliation promised by Lincoln.
SOURCES
The Elusive Trail of Lucy Hale
Wikipedia: Lucy Lambert Hale
Wikipedia: John Wilkes Booth