Wife of Founding Father Alexander Hamilton
Elizabeth Schuyler (Eliza Hamilton, Elizabeth Schuyler Hamilton) was born on August 9, 1757, in Albany, New York. She was the second daughter of Revoluntionary War General Philip Schuyler and Catherine Van Rensselaer Schuyler, one of the richest and most political families in the state of New York. Schooled at home, Elizabeth grew up mostly at her father's grand new mansion in Albany and at their summer home at Old Saratoga.
Alexander Hamilton was born a British subject on the island of Nevis, West Indies, on January 11, 1755. His mother, Rachel Fawcett Levine, was jailed in 1745 for "adultery and whoring with everyone." Her husband's divorce petition in 1759 declared she was the mother of two illegitimate children, one of whom was Alexander Hamilton.
He carried the name of James Hamilton, a Scottish immigrant who may have been his father. He and Rachel certainly lived together. By the time she died, they were separated. Alexander was sent to live with Rachel's family. The boy of twelve was put out to work as a clerk, but was soon longing for bigger things.
Alexander's superior intelligence was easily apparent to local patrons on Nevis Island, including his cousin, Ann Lytton Mitchell, who saw to it that Alexander was educated in America. He arrived in New York in 1772 and began classes at Elizabethtown Academy in New Jersey in the autumn of 1772 to prepare for college.
Hamilton's connections in Elizabethtown, New Jersey, were good ones. He boarded with the well-to-do lawyer William Livingston and his wife Susannah French Livingston. Elias Boudinot, another leading citizen, is believed to have helped Hamilton financially.
Both Livingston and Boudinot were trustees of the College of New Jersey (now Princeton), but Hamilton's application there was rejected. He was accepted at Kings College in New York City (now Columbia), and entered school there in the spring of 1774.
Hamilton had no sooner settled in college when he became involved in revolutionary politics. In December 1774, he published his first revolutionary pamphlets, A Full Vindication of the Measures of Congress, followed by another in February 1775. He believed that a principal purpose of government was to protect property. He believed the common man needed governing in the direction of the common good, because his natural interest is self-interest. This worldview, set down and published when he was 20 years old, continued unchanged until his death.
Hamilton and Washington
Hamilton began drilling with a military company in St. Paul's churchyard, and in August 1775 was part of an action to remove British cannons from a fort at the Battery that was under fire by British warships. He left Kings College without graduating, and in March 1776 was made captain in New York's provincial artillery.

The Battle of Brooklyn, fought on August 27, 1776, was the first major battle after the colonies declared themselves a nation and the largest battle of the entire conflict. Hamilton watched it from Bayard's Hill in Manhattan, and took part in the retreat north, where he engaged in the Battle of Harlem Heights.
After the American defeat, as the army was retreating again across the Hudson, Hamilton's battery fought a rear guard action against a Hessian Brigade. Shortly after, he began his four-year service as aide-de-camp to General George Washington, whose personal staff was comprised of 30 young officers he called his family. Hamilton was to be the favorite son.
Promoted to the rank of lieutenant colonel, Hamilton became the most relied upon and trusted member of the general's family. But even after he left the army, Hamilton continued to advise Washington on issues facing the new country, and this continued after Washington was made President.
Washington's faith in Hamilton may have been misplaced; Hamilton often criticized Washington as a general and as the president behind his back. He thought him a mediocre general and a poor thinker. John Adams told the story of Hamilton seeking a command at the Battle of Yorktown, flying into a rage and threatening, "to expose General Washington's conduct in a pamphlet."
Hamilton picked an argument with Washington that ended his tenure as aide-de-camp. Hamilton, writing to Philip Schuyler over his departure from Washington's staff, said,
"For three years past I have felt no friendship for him and have professed none."
For Washington's part, he continued to foster his protege's career for the remainder of his life.
Even as Secretary of the Treasury, Hamilton saw his true role in the government as prime minister. He admired the British form of government over American democracy. In the Constitutional Convention he would propose that "the rich and well-born" have a permanent role in controlling the masses. In his law practice, following the Revolution, Hamilton's specialty was representing Tories whose property or liberties were threatened in the new nation.
Marriage and Family
Elizabeth Schuyler was introduced to Alexander Hamilton at George Washington's headquarters in February 1780. They had met briefly a few years before, but now Alexander Hamilton was smitten, "a gone man," according to another aide.
Without his solid credentials as an officer in the Revolution and the contacts he made through his service with George Washington, Hamilton could not have hoped to marry a girl with the social connections of Elizabeth Schuyler. Her father, Major General Philip Schuyler, was delighted with the match; he had a feeling that Hamilton would go far.
The entire Schuyler family revered Hamilton as a young political genius. As for Alexander, it is possible that he considered marrying Elizabeth for her family's money and status. Yet, his true love seemed evident in their courtship correspondence. Believing his sincerity, Elizabeth became interested in military and political affairs. In many of his letters, Alexander also expressed his worry about his poverty and ability to provide for his future wife.
Elizabeth married Hamilton on December 14, 1780, at Schuyler Mansion. Over the next quarter-century, the Hamiltons lived in Philadelphia and New York. Elizabeth gave birth to their first child, Philip, in 1782, and seven more would follow over the next two decades; the Hamiltons also raised the orphaned daughter of a friend for 10 years.
A firm but affectionate mother, Elizabeth made sure her children had a religious upbringing, and ran the household so efficiently that an associate told Hamilton she "has as much merit as your treasurer as you have as treasurer of the wealth of the United States."

Alexander Hamilton
By John Trumbull
Financial Problems
The Hamiltons always struggled financially. Hamilton made more money once he left the army in 1783 to open his law practice in New York, but not enough to account for large investments he made in western land and other enterprises. With credit already stretched, Alexander bought fifteen acres in Harlem Heights, New York, and built his own estate, The Grange, named after his ancestral home in Scotland.
As successfully as he managed the nation's commerce, Hamilton seems to have managed his own very poorly. This was true of the Founding Fathers in general: They lived beyond their means and lost money on enterprise after enterprise. In Hamilton's case, he owned a townhouse in the city, in addition to his country home, sent his sons to exclusive private schools, and entertained lavishly. Even as Secretary of the Treasury, his salary was a modest $3500 a year.
Hamilton's family and biographers have generally refuted the notion that he accepted money to live on from the Schuylers. However, it is hard to understand how he and Elizabeth and their seven children lived as they did without either family assistance or corrupt practices in government. Hamilton was a genius and could have covered his tracks quite easily.
The Hamilton-Reynolds Scandal
Elizabeth Hamilton and her children usually spent summers with her family in Albany, away from the disease-ridden summers of urban Philadelphia. In the summer of 1791, 23-year-old Maria Reynolds approached 34-year-old Alexander Hamilton in Philadelphia, requesting his help. Claiming that her husband James Reynolds had abandoned her and her daughter, Maria asked Hamilton for enough money to transport them back to New York City, where her family lived.
Hamilton consented, and delivered the money in person to Maria later that night. He began an affair with Reynolds that would last at least three years. Through it all, James Reynolds was well aware of his wife's unfaithfulness, because he was blackmailing Hamilton, threatening to tell Elizabeth about the affair. Hamilton eventually paid Reynolds about $1000.
Years later, when James Reynolds was arrested for counterfeiting, he contacted several prominent members of Hamilton's opposition party, the Democratic-Republican Party, most notably James Monroe and Aaron Burr, saying that he could expose a top level official for corruption.
Presuming that James Reynolds could implicate Hamilton in an abuse of his position as President Washington's Secretary of the Treasury, Monroe and Burr questioned Hamilton, who insisted he was innocent of any misconduct in public office, but admitted to an affair with Maria Reynolds.
A journalist named James T. Callender published the story of the Hamilton-Reynolds affair in two pamphlets, the first in June 1797. Hamilton published a confession, providing the most lurid details of his affair. Though exposed to intense humiliation, Elizabeth forgave him; if she had not, his career and reputation would have been irrevocably ruined, but his reputation was damaged for the rest of his life.
The Hamiltons' personal relationship had become one of mutual respect. Elizabeth accepted his flirtatiousness. Alexander continued to solicit her advice on political and family matters, as he had early in their courtship. Throughout their married life, he read selections of his writings to her, seeking her opinion and approval. She listened to his early drafts of Washington's "Farewell Address" and excerpts from the Federalist Papers.
After the Revolutionary War, the Hamiltons set up house at 57 Wall Street and began to raise a family. Hamilton studied law, completing the three-year course in six months. In July 1783, he was admitted to the New York Bar after several months of study, and began a law practice in New York City, specializing in defending Tories and British subjects. In 1784, he founded the Bank of New York, now the oldest ongoing banking organization in the United States.
Hamilton and Politics
Hamilton's public career resumed when he attended the Annapolis Convention as a delegate in 1786. While there, he drafted its resolution for a Constitutional convention, and in doing so brought his longtime desire to have a more powerful, more financially independent federal government one step closer to reality.
In 1787, Hamilton served as assemblyman in the New York State Legislature, and was the first delegate chosen to the Constitutional Convention. In spite of the fact that he had been a leader in calling for a new Constitutional Convention, his direct influence at the Convention itself was quite limited.
Governor George Clinton had his own faction in the New York legislature who had chosen New York's other two delegates, John Lansing and Robert Yates, and both of them opposed Hamilton's goal of a strong national government. So while the other two members were present, they decided New York's vote; and when they left the convention in protest, Hamilton remained with no vote (two representatives were required for any state to cast a vote).
At the end of the Convention, Hamilton was still not content with the final form of the United States Constitution, but signed it anyway as a vast improvement over the Articles of Confederation. Since Lansing and Yates had already withdrawn, Hamilton was the only signer from New York.
He then took a highly active part in the campaign for the document's ratification in New York in 1788, which was a crucial step in its national ratification. Hamilton recruited John Jay and James Madison to write a defense of the proposed Constitution, which are now known as the Federalist Papers.
Hamilton made the largest contribution to that effort, writing fifty-one of the eithty-five essays (Madison wrote 29, Jay only five). Hamilton's essays were influential in New York state during the debates over ratification. The Federalist Papers are more often cited than any other primary source by jurists, lawyers, historians, and political scientists as the major contemporary interpretation of the Constitution.
In 1788, Hamilton served another term in what proved to be the last time the Continental Congress met under the Articles of Confederation. When Phillip Schuyler's term ended in 1791, the attorney-general of New York, Aaron Burr, was elected in his place. Hamilton blamed Burr for the outcome, and he began to criticize Burr in his correspondence thereafter, although they did work together from time to time on various projects.
Hamilton and the New Nation
Hamilton became one of the most important members of the new nation after its founding. President George Washington appointed Hamilton as the first Secretary of the Treasury on September 11, 1789. He left office on the last day of January 1795, and much of the structure of the Government of the United States was worked out in those five years, beginning with the structure and function of the Cabinet itself.
Hamilton's friendship with Washington was bolstered by that of their wives. Elizabeth (sometimes called Eliza) was one of Martha Washington's closest friends. As the wife of one of the nation's most prominent founding fathers and confidante to the First Lady, Elizabeth Hamilton became a familiar face in both New York and Philadelphia society.
By 1792, the coalition led by Hamilton was opposed by a group led by Thomas Jefferson and James Madison. Hamilton's Federalist Party now had to compete with Jefferson's Democratic-Republican Party. The parties fought over Hamilton's fiscal goals and national bank, as well as his foreign policy of extensive trade and friendly relations with Britain, especially the Jay Treaty which was ratified after a lengthy struggle between the two coalitions.
The Reynolds scandal started Hamilton's political free-fall. Publishing the details of his extra-marital affair was not evaluated as much on moral grounds as on the quality of the man's judgment. Hamilton resigned as the Secretary of the Treasury and returned to the practice of law in New York, but remained close to Washington as an advisor and friend.
Hamilton disliked his fellow Federalist President John Adams, and thought Adams was emotionally unstable. During the 1800 presidential elections, Hamilton foolishly wrote a document stating that Adams was unfit for office, which he intended for private circulation only.
Burr published the document written by Hamilton as a pamphlet – The Public Conduct and Character of John Adams, Esq., President of the United States – in which Hamilton attacked Adams and his presidency. The document caused an irreparable rift in the Federalist Party – and increased the enmity between Hamilton and Burr.
When Thomas Jefferson and Aaron Burr tied in the vote for president in the electoral college, Hamilton helped defeat his bitter personal enemy Burr and elect Jefferson as president. Hamilton's party lost faith in him as their leader and were courting Aaron Burr to head a New England confederacy that would secede from the union. This ended Hamilton politically.
Alexander Hamilton began to pay closer attention to his family, but a series of events would soon rip that family apart. In November 1801, their eldest son Philip, aged nineteen, was killed in a duel by an associate of Aaron Burr. After Philip's untimely death, their eldest daughter, Angelica, went insane. Six months later, Elizabeth bore their last child, also naming him Philip.
By 1802, Alexander Hamilton was severely depressed. He wrote to Gouverneur Morris, "What can I do better than withdraw from the scene? Every day proves to me more and more that this American world was not made for me." Some of Hamilton's biographers have written that he was a manic-depressive who suffered from bipolar disorder.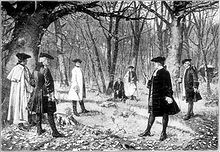 Burr sensed an attack on his honor and challenged A Hamilton to a duel. Hamilton's shot hit a tree; Burr's shot hit Hamilton in the abdomen, mortally wounding him.
The Duel
Soon after the 1804 gubernatorial election in New York – in which Morgan Lewis, greatly assisted by Hamilton, defeated Aaron Burr – the Albany Register published a letter, citing Hamilton's opposition to Burr and alleging that Hamilton expressed "a still more despicable opinion" of the Vice President at an upstate New York dinner party.
Aaron Burr, sensing an attack on his honor, and still smarting from the political defeat, demanded an apology. Hamilton refused on the grounds that he could not recall the incident. After an exchange of three angry letters, and despite attempts of friends to avert a confrontation, a duel was scheduled for July 11, 1804, along the west bank of the Hudson River on a rocky ledge in Weehawken, New Jersey. This was the same dueling site where Philip Hamilton had been killed three years earlier.
A letter Hamilton wrote the night before the duel states, "I have resolved, if our interview [duel] is conducted in the usual manner, and it pleases God to give me the opportunity, to reserve and throw away my first fire, and I have thoughts even of reserving my second fire." Did he mean that he might intentionally miss Burr. The circumstances of the duel, and Hamilton's actual intentions, are still disputed. There is a theory that the duel was an act of suicide.
At dawn, the duel began, and Vice President Aaron Burr shot Hamilton. Hamilton's shot broke a tree branch directly above Burr's head. Neither of the men who served as seconds at the duel could determine who fired first. Soon after, they measured and triangulated the shooting, but could not determine from which angle Hamilton fired.
Burr's shot had hit Hamilton in the lower abdomen above the right hip. The bullet caused considerable damage to his internal organs before becoming lodged in his first or second lumbar vertebra. The paralyzed Hamilton, who knew he had been mortally wounded, was ferried back to New York, where he received his final visits from his family and friends.
Alexander Hamilton died the following afternoon, July 12, 1804, at the age of 49. Gouverneur Morris, a political ally of Hamilton's, gave the eulogy at his funeral and secretly established a fund to support Elizabeth and her children. Hamilton was buried in the Trinity Churchyard Cemetery in Manhattan.
Widowhood
Hamilton left his family virtually destitute – he had spread himself too thin buying on credit. Elizabeth was forced to sell the country house, the Grange, that she and Hamilton had built together. To pay her husband's debts and raise their children (the youngest was two), Elizabeth sometimes relied on the help of friends and family.
Widowed at forty-seven, Elizabeth's life again changed dramatically when her father died four months later, though this death provided some financial relief through her inheritance of a substantial part of her father's large estate, including land near Schuyler Mansion which she then sold.
Elizabeth was then able to repurchase The Grange, which had been sold at public auction. She also petitioned the government for her husband's army pension, which he had waived. Not granted until 1837 through a special act of Congress, her petition finally provided her with $30,000 which included land.
Elizabeth did not spend her days in sorrow or self-pity, she also immersed herself in charitable work to help orphans and the homeless. She helped found New York's first private orphanage, the New York Orphan Asylum Society, in 1806. She was known to take homeless children into her own home.
Despite the Reynolds affair, Alexander and Elizabeth had been very close, and as his widow she began a decades-long campaign to ensure "her Hamilton" received the historical laurels he deserved.
Throughout her long widowhood, she strove to guard his reputation and enhance his standing in American history.
She staunchly defended her husband against his critics, and recruited biographers to do a proper work on her husband (the task eventually fell to a son), hired assistants to organize his papers, even wore a little bag around her neck with pieces of a sonnet he had composed for her in 1780.
She spent nearly fifty years after his death collecting and preserving Hamilton's papers and letters. She corresponded with and visited the leading Federalists to collect papers and other information concerning her husband. Ironically, none of her correspondence to Alexander survived, although she did save his letters to her.
James Monroe had accused Hamilton of financial irregularities during the Reynolds affair. Steadfast until the end, Elizabeth demanded a complete apology, which Monroe would not give, but before her death, he visited Elizabeth to reconcile their differences concerning her husband's reputation.
Elizabeth moved to Washington, DC, in 1848 to live with her daughter Eliza Hamilton Holly, and became a celebrated guest at the James K. Polk White House.
Alexander Hamilton's papers were not published until 1850 by his son John Church Hamilton, after the U.S. government had purchased them in 1849.
Elizabeth Schuyler Hamilton died on November 9, 1854, at the age of 97. She was buried with her husband in the graveyard of Trinity Church in New York City.

Alexander Hamilton Monument
Sculptor: James Earle Fraser
Location: White House
E Street & 15th
SOURCES
Alexander Hamilton
Elizabeth Schuyler Hamilton
Wikipedia: Alexander Hamilton
Women of the Republican Court
Wikipedia: Elizabeth Schuyler Hamilton
Duel: Alexander Hamilton, Aaron Burr and the Future of America
America's Founding Fathers: Delegates to the Constitutional Convention