Wife of President George Washington
Image: Martha Washington
Michael Deas, Artist
Although the title was not coined until after her death, Martha Washington was the first of the First Ladies of the United States. During her lifetime, she was known as Lady Washington. When George Washington took his oath of office in New York City on April 30, 1789, and assumed the new duties of President of the United States, his wife brought to their position a tact and discretion developed over 58 years of life in Tidewater Virginia society. Martha was a rather small, pleasant-looking woman, practical with good common sense.
The oldest daughter of John and Frances Dandridge, Martha was born June 2, 1731, at her parents' Chestnut Grove Plantation near Williamsburg, Virginia. As was typical of the time, she was educated at home by her mother and a tutor, and likely learned music, sewing, household management, and how to keep a family contented. Her later skills at plantation management, crop sales, homeopathic medicine, animal husbandry suggests a wider education than previously thought.

At the age of 18 – about five feet tall, dark-haired, and gentle in manner – Martha married Daniel Parke Custis, a rich planter two decades her senior. They lived at White House Plantation on the south shore of the Pamunkey River in Virginia, a few miles upriver from Chestnut Grove.
Martha had four children with Custis – a son and a daughter died when they were toddlers, but two other children, John (Jacky) and Martha (Patsy), survived to young adulthood.
In 1757, when Martha was 26, Daniel Parke Custis died after a brief illness. Jacky was three and Patsy was less than a year old. Martha was left with the duties of running the household, the estate, and raising her children. She was also a rich widow with independent control over her inheritance and trustee control over the inheritance of her minor children.
Martha Custis had considerable power through her wealth and privileged social status. Evidence of her business acumen in the lucrative tobacco trade is found in letters she wrote to the London merchants who handled the exportation of the large Custis crop output.
At a cotillion in Williamsburg, Martha met a young colonel in the Virginia Militia who was fighting for the British in the French and Indian War. His name was George Washington. In March 1758, he visited her twice; the second time he came away with either an engagement of marriage or at least her promise to think about his proposal.
Martha Dandridge Custis and George Washington married on January 6, 1759, at White House Plantation. Their wedding was a grand affair, and the couple honeymooned for several weeks before setting up housekeeping at George Washington's Mount Vernon, which he initially leased from his half-brother Lawrence's widow, and inherited it outright after her 1761 death. The marriage changed George from an ordinary planter to a substantially wealthy landowner.
Before his marriage, George had increased the size of Mount Vernon from the original one-and-one-half-story dwelling to a two-and-one-half story home. He had resigned his commission in the militia, so George, Martha, Jacky (4) and Patsy (2) moved to Mount Vernon in April 1759.
There, the couple delighted in raising their children and entertaining Virginia society. It is estimated that between 1768 and 1775 over 2000 guests visited the Washingtons, some staying for extended periods. Martha managed her husband's plantations during his absences.
Image: George Washington
By Charles Willson Peale, 1787
While George Washington oversaw all financial transactions related to the plantation, Martha was responsible for the not insubstantial process of harvesting, preparing, and preserving herbs, vegetables, fruits, meats, and dairy for medicines, household products, and food needed for those who lived at Mount Vernon – relatives, slaves, and servants – as well as long-staying visitors. Martha's greatest concern was the comfort and happiness of her husband and children.
Martha and George Washington had no children together, but they raised Martha's two surviving children. Patsy died during an epileptic seizure in 1773 at the age of 17, which led Jacky to return home from college to comfort his mother.
Jacky later married Nelly Calvert, and they had six children. Nelly was in poor health after the birth of a baby girl and as a result, the infant was sent to Mount Vernon to be nursed. After the birth and death of twins, another son was born, and he joined his sister at Mount Vernon.
When George's career led him to the battlegrounds of the Revolutionary War and finally to the Presidency, Martha followed him bravely. Her love of private life equaled her husband's; but, as she wrote to her friend Mercy Otis Warren, "I cannot blame him for having acted according to his ideas of duty in obeying the voice of his country." As for herself, "I am still determined to be cheerful and happy, in whatever situation I may be; for I have also learned from experience that the greater part of our happiness or misery depends upon our dispositions, and not upon our circumstances."
Around 1774, the political unrest in the colonies was becoming more vocal. The colonists were being burdened with an inordinate amount of taxes and levies. Some of the Washingtons' friends and acquaintances were soon to become the Founding Fathers. Martha was considerably torn. Her friends and family were split on both sides. Her son's in-laws were Loyalists as well as some of their neighbors.
George felt it was his duty to assume some role of leadership at the urging of some of his fellow patriots. He began by working on recruiting and training an armed force. Militia were organized by state. Realizing he would have to be away from home, George asked Jacky and his family to stay at Mount Vernon with Martha, which they did.
During the American Revolution, Martha Washington assumed a prominent role as caretaker for her husband, appointed the General of the American Army by the Continental Congress, and his troops. She also lent her name to support a formal effort to enlist women of the colonies to volunteer on behalf of the Continental Army. In appreciation, American servicemen addressed her as Lady Washington.
Martha often accompanied George to his headquarters during the war years. She spent the winter of 1775 in Cambridge, Massachusetts, and the spring of 1776 in New York. In the spring of 1777, she traveled to his headquarters in Morristown, New Jersey, but returned to Mount Vernon for the summer. The next winter, she joined her husband at Valley Forge, and later stayed with him during campaigns in New Jersey, New York, Pennsylvania, and Maryland.
Jacky Custis was serving as an aide to his stepfather, General Washington, during the siege of Yorktown in 1781. Almost at the very hour of Washington's victory over the British, Jacky died from camp fever only a few miles away. Arriving at the scene, Washington wept like a child. He vowed to Martha, "I adopt his two younger children as my own, from this hour."
Martha and George then raised her two youngest grandchildren – George Washington (Wash) Parke Custis and Eleanor (Nelly) Parke Custis. They also provided personal and financial support to nieces, nephews, and other family members in both the Dandridge and Washington families. Many years later, George Washington Parke Custis' daughter, Mary Custis, married Robert E. Lee.
When Jacky's widow Nelly married Dr. David Stuart in 1783, she and her two eldest daughters lived at the Stuart home in Abingdon, while Wash and Nelly continued to live at Mount Vernon. In 1784, Martha's 15-year-old niece, Frances Basset, came to live at Mount Vernon. She married George's nephew, Major George Augustine Washington, in 1785.
The Revolutionary War ended on November 25, 1783, when the British left their last stronghold. Washington said farewell to his troops at Fraunces Tavern in New York, and on Christmas Eve, he rode into Mount Vernon.
The Constitutional Convention was convening and George traveled to take part. He was named president of the convention and before ratification of the new Constitution, he was being urged to accept the role of the President of the United States. George returned to Mount Vernon, and in April, 1789, he was elected unanimously by the Electoral College.
Image: Lady Washington
Official First Lady Portrait
George Washington was inaugurated president on April 30, 1789. Unable to attend the inaugural ceremony in the first capital city of New York, Martha Washington followed the route George had traveled a month earlier. She and her grandchildren were hailed with fanfare all the way to New York, all of which was reported in the national newspapers.
By the time Martha arrived at the capital, her husband's secretary had created a series of rigid protocol rules that she found especially limiting of her, particularly the one that forbade her and the President from accepting invitations to dine in private homes.
Martha established her public role as hostess in a series of presidential mansions. Her duties included not only the operation of her own house, but planning and arranging formal dinners, parties, and receptions.
Despite the company of her grandchildren, Martha expressed a sense of loneliness in New York, where she had fewer personal friends than she would find in the next capital of Philadelphia (1790-1800). She also discovered that even her mundane activities, like shopping or taking her grandchildren to the circus, were recorded by the press.
Her eight years as First Lady of the United States were extremely unpleasant to her personally, but she viewed it as a duty to her husband and her country. Yet, she was greatly loved by Revolutionary War veterans, and was publicly known to provide financial support or to intercede on behalf of those among them in need. Not only Americans, but Europeans responded to Martha Washington as something of an American heroine, sometimes sending her lavish gifts.
On March 4, 1797, George Washington gave his farewell to Congress, and the Washingtons bid farewell to public life. They returned to their beloved Mount Vernon, where they were surrounded by kinfolk, friends, and a constant stream of guests eager to pay their respects to the celebrated couple. They celebrated George's sixty-seventh birthday with a wedding ceremony – young Nelly Custis married his nephew, Lawrence Lewis.
On December 12, 1799, Washington was caught out in sleet and snow while riding over his farms. The resulting illness progressed rapidly, and Washington suffered with a throat inflammation that made breathing extremely painful. Doctors arrived early on the morning of December 14, but could do little to ease his pain. He faced death with characteristic courage, saying, "I die hard, but I am not afraid to go."
With his wife at his side, George Washington, the father of our country, died December 14, 1799.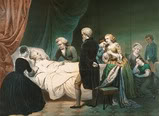 Image: Death of Washington
Four days later a solemn funeral was held at Mount Vernon. Martha was too grief-stricken to attend. She closed the door to their bed chamber and moved herself to a tiny garret chamber on the third floor of the mansion. She assured their privacy by burning all the intimate letters written during their courtship and time spent apart during her husband's many absences while serving a new immerging nation.
Although she curtailed her life to Mount Vernon, once the new capital city was established and named for her late husband, Martha Washington welcomed political figures who came to pay their respects to her. She expressed her loneliness for her late husband frequently and her desire to soon join him in death.
George Washington's will had ordered the freedom of half of his slaves, leaving the old and the young to remain. Martha freed them all in 1800. Her own health was deteriorating and in March of 1802, sensing her death, she made a will.
After becoming gravely ill and lingering for seventeen days, Martha seemed aware of her fate and requested the last sacraments from her minister. Dressed in a special white gown, she spoke to her assembled grandchildren and relatives. Exhausted, she laid back and fell asleep, never to awaken.
Martha Dandridge Custis Washington, the first of first ladies, died of severe fever on May 22, 1802. Her funeral took place three days later at Mount Vernon. Her service was modest attended only by family members, friends and neighbors. George and Martha Washington lie buried at Mount Vernon in an unpretentious tomb he had planned for them.
SOURCES
Martha Dandridge
Martha Washington
Wikipedia: Martha Washington
Virtualology: Martha Washington: First Lady
Meet the People: Martha Washington
First Lady Biography: Martha Washington