First Lady of the Confederate States of America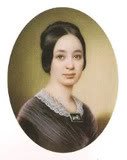 Varina Davis was the wife of Confederate President Jefferson Davis during the Civil War, and she lived at the Confederate White House in Richmond, Virginia during his term. After the war she became a writer, completing her husband's memoir, and writing articles and eventually a regular column for Joseph Pulitzer's newspaper, the New York World.
Image: Varina Davis in 1849
By John Wood Dodge
Varina Howell was born on May 7, 1826, at The Briars near Natchez, Mississippi, where her parents, William Burr Howell and Margaret L. Kempe, were visiting relatives. Her father, who fought in the War of 1812, settled in Natchez and married Kempe, a Virginia native whose father was Irish immigrant Joseph Kempe, who became wealthy through land speculation and planting in Mississippi and Louisiana.
William Burr Howell was from a distinguished family in New Jersey, and a relative of Aaron Burr and Jonathan Edwards. Howell was at times a planter, a merchant, a politician and a banker but long-term financial success eluded him. He lost the majority of his wife Margaret's sizable inheritance through bad investments, and his family, which would eventually include eleven children (eight of whom lived to adulthood) was frequently plagued by serious financial problems.
Jefferson Davis was born on June 3, 1808, the youngest of the 10 children of Samuel Emory Davis and Jane Cook Davis. During Davis's youth, the family moved twice; in 1811 to St. Mary Parish, Louisiana, and in 1812 to Wilkinson County, Mississippi.
In 1813, Davis began his education at the Wilkinson Academy, near the family plantation in the small town of Woodville. Two years later, Davis entered the Catholic school of Saint Thomas at St. Rose Priory, the only Protestant student there. He went on to Jefferson College in Mississippi, and to Transylvania University at Lexington, Kentucky. In 1824, Davis entered the United States Military Academy at West Point.
Varina Howell grew up happy and carefree at The Briars she would later claim in her memoirs. At a very young age, she developed an interest in reading—especially newspapers. She never tired of exploring the dry bayous near the river or playing in the lavish forest surrounding her home. Neighbors and family members often called her a tomboy for the daring feats she performed. Whether she was rolling down a steep canyon or turning somersaults on rough terrain, fear was an emotion she seldom expressed.
William Howell was for many years a successful merchant until he went bankrupt late in the 1830s. When Varina was a child, the family home and furnishings were seized by creditors and were redeemed only through the intervention of Margaret Howell's wealthy relatives. Varina nevertheless received an excellent education, attending a boarding school in Philadelphia during her teens. While she was in school, she developed a lifelong fondness for her Northern relatives.
When she returned to Natchez, Varina Howell had few marriage prospects. Her father was unable to provide a dowry, and she was better educated than most women of her generation. By the standards of the mid-nineteenth century, she was not attractive – tall and thin, with the olive complexion of her Welsh ancestors.
Courtship
In 1843, at age 17, Varina met Jefferson Davis at a Christmas party and quickly fell in love with him. He was a handsome thirty-five-year-old widower and a wealthy plantation owner. He also had developed a reputation as a recluse since the death of his wife Sarah Knox Taylor in 1835. Davis, then contemplating a career in politics, was a Democrat, while Varina shared the Whig views of her family.
In spite of their differences, Varina was attracted to the older man, writing her mother shortly after their first meeting that:
I do not know whether this Mr. Jefferson Davis is young or old. He looks both at times; but I believe he is old, for from what I hear he is only two years younger than you are. He impresses me as a remarkable kind of man, but of uncertain temper, and has a way of taking for granted that everybody agrees with him when he expresses an opinion, which offends me; yet he is most agreeable and has a peculiarly sweet voice and a winning manner of asserting himself. The fact is, he is the kind of person I should expect to rescue one from a mad dog at any risk, but to insist upon a stoical indifference to the fright afterward.
Jefferson was oblivious to any attraction Varina felt for him until the evening she entertained everyone with her reading at Hurricane Plantation, the home of Jefferson Davis' older brother Joseph, where Varina was visiting for the Christmas holidays. When she'd mastered the foreign phrases of the text, it was then something in Jefferson was moved. When that evening came to a close, Jefferson commented to his brother of her beauty and fine mind.
The ensuing days were filled with shared walks or horseback rides when the two would explore the green groves of moss-draped magnolias, oaks and cottonwoods. And just as the relationship began to blossom, Varina received a disappointing message from her parents calling for her to return home. Even the members of the Hurricane household were disappointed—everyone could clearly see the love that was growing between Jefferson and Varina.
In keeping with custom, Davis sought the permission of Varina's parents before beginning a formal courtship. Margaret Kempe Howell initially strongly disapproved of the relationship due to the differences in the pair and what she perceived as Davis' excessive devotion to his living relatives and to the memory of his first wife, but the Howells ultimately consented.
They became engaged soon after and from their surviving correspondence it is known that the wedding was set for Christmas of 1844, but was cancelled and the engagement broken shortly before, though the reasons are unknown. Soon after Varina became sick with fever. Davis proposed again.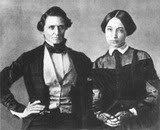 Image: Wedding Photograph
Jefferson was 36; Varina was 19.
Marriage and Family
On February 26, 1845, Varina Howell married Jefferson Davis at The Briars, the home of her parents, with only her parents and a very few friends in attendance. None of the groom's family was present.
Jefferson and Varina Howell Davis would have six children:
Samuel Emory Davis (July 30, 1852 – June 13, 1854_
Margaret Howell Davis (February 25, 1855 – July 18, 1909)
Jefferson Davis, Jr. (January 16, 1857 – October 16, 1878)
Joseph Evan Davis (April 18, 1859 – April 30, 1864)
William Howell Davis (December 6, 1861 – October 16, 1872)
Varina Anne "Winnie" Davis (June 27, 1864 – September 18, 1898)
When Jefferson took Varina to his sister's home Locust Grove, Louisiana – where his first wife had died – Varina expressed no jealousy or resentment when she learned the details of his first wife's death, but instead offered compassion and understanding to Jefferson. She wrote in her memoirs, "We carried flowers to her grave in the family burying-ground down by the garden before we left."
The newlyweds took up residence with Jefferson's brother Joseph at Hurricane until a suitable house could be built for them on the large tract of land Joseph had given to his youngest brother. Davis christened the home Brierfield, and it housed not only himself and his bride but his widowed sister and her seven children, a situation not relished by Varina.
Varina soon realized that Jefferson had conventional attitudes about gender, and he expected his wife to submit to his wishes. She also discovered that he revered the memory of his first spouse, Sarah Knox Taylor, who had died shortly after they were married – she was the daughter of President Zachary Taylor, who had disapproved of the couple's marriage.)
The marriage was often contentious in its early years due to personality conflicts and to problems with their families. Varina considered Jefferson's family, particularly his wealthy and patriarchal brother Joseph, as controlling of her husband, while the constant financial demands of Varina's family (her father frequently sought appointed positions from his son-in-law and Jefferson and Varina virtually raised the Howells' younger children) created embarrassment and resentment.
In 1846, the Mexican-American War began, and Davis resigned his house seat in June and raised a volunteer regiment, the Mississippi Rifles, becoming its colonel. On July 21, 1846, they sailed from New Orleans for the Texas coast. Davis participated in the successful siege of Monterrey, and at the Battle of Buena Vista, where he was shot in the foot.
After seven childless years, Varina Davis gave birth to a son named Samuel Emory Davis in July 1852. Her letters from this period reflect her happiness and portray Davis as an exceptionally doting father. They were devastated when Samuel died in infancy, but in the 1850s and 1860s, Varina gave birth to five more children, all of whom she adored.
Varina also enjoyed being rich. Her husband's fortune paid for a nice home, nice clothing, and a nice carriage. Her political views were more moderate than those of her husband. She once remarked that slaves were "human beings with their frailties," while Jefferson Davis publicly compared slaves to animals. She maintained friendships with people from both political parties, even as he became more aggressively pro-slavery and more partisan in the 1850s.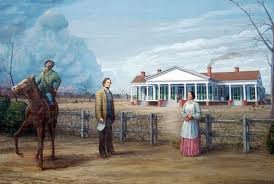 Image: Brierfield, the Davises' first home
Davis Bend, Mississippi
Life in Politics
In 1844, Jefferson Davis enjoyed his first political success, when he was elected to the United States House of Representatives, taking office on March 4, 1845, only days after marrying Varina. The couple were welcomed when Davis reported to Congress in Washington, DC. They first found lodging in a hotel where they socialized with the Washington elite, then settled in a remote boarding house on Pennsylvania Avenue.
Varina, who had felt extremely isolated on the Davis plantation, loved the vibrant social life of the capital city. An accomplished hostess and lively conversationalist with a strong interest in politics, she adjusted well to life as the wife of a politician in Washington. She was also close enough to regularly visit her extended family in New Jersey and Pennsylvania.
Varina soon established herself as a popular hostess and party guest, constantly attending and hosting parties whenever Congress was in session. Civil War diarist Mary Boykin Chestnut, wrote that it was during this time that Varina began developing an intellectualism, wit and repartee that would distinguish her throughout her life.
The governor of Mississippi appointed Davis to fill out the term of the late Jesse Speight in the U.S. Senate, and Davis took his seat December 5, 1847. The senate made Davis chairman of the Committee on Military Affairs. When his term expired, he was elected to the same seat. He had not served a year when he resigned (in September 1851) to run for the governorship of Mississippi, but his bid was unsuccessful.
Left without political office, Davis continued his political activity. He took part in a convention on states' rights held at Jackson, Mississippi, in January 1852. In the weeks leading up to the election of 1852, he campaigned in numerous Southern states for Democratic candidate Franklin Pierce.
Franklin Pierce won the presidential election, and in 1853 made Davis his Secretary of War. Four years later, Pierce lost the Democratic nomination to James Buchanan. Davis' term was to end with Pierce's, so he ran for and was again elected to the U.S. Senate. He took his seat on March 4, 1857.
Then came the secession crisis. As Davis explained in his memoir, The Rise and Fall of the Confederate Government, he believed that each state was sovereign and had an unquestionable right to secede from the Union, but he counseled delay among his fellow Southerners, because he did not think that the North would permit the peaceable exercise of the right to secession.
Having served as secretary of war, Davis also knew that the South lacked the military resources necessary to defend itself if war were to break out. Following the election of Abraham Lincoln in 1860, however, events accelerated. South Carolina adopted an ordinance of secession on December 20, 1860, and Mississippi did so on January 9, 1861. As soon as Davis received official notification of that fact, he delivered a farewell address to the Senate, resigned and returned to Mississippi.
First Lady of the Confederacy
Dressed in a black broadcloth suit with a stiff white shirt and black satin waistcoat, Jefferson Davis addressed the United States Senate for the last time in January 1861, after Mississippi seceded from the Union. Some say he wept after delivering this speech—regardless, he received an ovation and thunderous applause when he was done. Varina was depressed and sad to the leave Washington, DC, having spent most of the first fifteen years of her marriage there.
The Davis family that now included six-year-old Margaret, four-year-old Jefferson, and two-year-old Joseph returned to the family plantation at Brierfield. They were no sooner settled in than the call came for Jefferson to report to Montgomery, Alabama, and accept the nomination for President of the Provisional Government of the Confederates States of America. Varina confided to her mother that the South did not have the resources to win the war, but she had to do her duty.
In summer 1861, the Davises moved to Richmond, Virginia, the new capital of the Confederacy, and lived in the Confederate White House there. At only 35 years of age, Varina Howell Davis assumed official duties as the First Lady of the Confederacy, and began hosting social events. She followed Washington etiquette, holding open receptions for dozens of people as well as small dinner parties, and she dressed in tasteful, conservative clothes.
Varina, who was expecting her fourth child, renewed her friendship with Mary Boykin Chestnut. The two became inseparable, and Mary wrote candidly in her diary of her daily interactions with Varina. Mary's observations of Varina included the First Lady's disregard for her wardrobe, unlike her Northern counterpart Mary Todd Lincoln. Chesnut also made notations that Varina was skilled in managing her time, easily directing the servants, taking care of her children, visiting the hospitals, and making herself available if her husband needed to talk.
Varina enjoyed much public support and adulation for the first year of the Confederacy, but in many ways she was her own worst enemy. Her remarks about her Northern friends and relatives made her unpopular, and her political loyalties were suspect from the beginning. Her conversation, filled with literary references, baffled some of her peers. Her olive complexion was considered unattractive, and some white Richmonders compared her to a mulatto or an Indian squaw.
During the second year of the war, as living conditions in Richmond deteriorated and supplies became scarce, people began to criticize Varina. Some said she was insensitive to the hardships endured by the city's residents because she entertained at the Presidential mansion; others complained that she did not entertain lavishly enough. There were those who accused her of being uncouth and domineering, and having far too much influence over the President.
Despite the criticism, Varina continued in her support of the troops. She had relatives in both armies, and she visited Northern and Southern wounded in Richmond hospitals. She knitted countless articles of clothing for soldiers, donated rugs for blankets and made shoes of the scraps. She spent hours visiting soldiers in the hospitals, although she did not serve as a volunteer nurse at the request of her husband.
As Jefferson Davis began to feel the immense pressures of his position, an interesting shift took place between the couple. In the beginning of their marriage, Varina's health deteriorated at the onset of emotional distress; during the presidential years, Jefferson was frequently ill. He became thin, pale and haggard-looking. The press went so far as to report that he was near death. Varina took charge of canceling and rescheduling appointments and served as a liaison between him and his cabinet members until he was well enough to resume his post.
Between 1863 and 1864 was a mournful year for Varina Davis, but the deepest blow was the death of her son Joseph, who broke his neck in a fall from a balcony at the Confederate executive mansion on April 30, 1864. Varina wrote of his death in her memoirs:
I left my children quite well, playing in my room, and had just uncovered my basket in [Jefferson's] office when a servant came in for me. The most beautiful and brightest of my children, Joseph Emory, had in play climbed over the connecting angle of the banister and fallen to the brick pavement below. He died a few minutes after we reached his side.
On June 27, 1864, Varina gave birth to their last child, a girl named after herself – Varina Howell Davis – but nicknamed Winnie. An adorable child at a time when the war was not going well, Winnie Davis became known as the Daughter of the Confederacy, and tales and likenesses of her were distributed throughout the Confederacy. She would retain the nickname for the rest of her life.
The child-bearing years had now taken a toll on Varina's body – six children in twelve years. At the age of 37, she began to suffer heart ailments. Yet she overlooked her own health to continue to take care of her children and her husband.
Flight from Richmond
As the war raged on, Varina was more accepting of the Confederacy's defeat than her husband, who simply refused to yield. She began selling off her valuables such as silk, lace, gloves, books, china, and silver. She also began to prepare her family for flight.
When Jefferson was finally ready to acknowledge a possible defeat, Varina wrote:
Darkness seemed now to close swiftly over the Confederacy, and about a week before the evacuation of Richmond, Mr. Davis came to me and gently, but decidedly, announced the necessity for our departure. He said for the future his headquarters must be in the field, and that our presence would only embarrass and grieve, instead of comforting him.
Very averse to flight, and unwilling at all times to leave him, I argued the question with him and pleaded to be permitted to remain, until he said: "I have confidence in your capacity to take care of our babies, and understand your desire to assist and comfort me, but you can do this in but one way, and that is by going yourself and taking our children to a place of safety." He was very much affected and said, "If I live you can come to me when the struggle is ended, but I do not expect to survive the destruction of constitutional liberty."
The last week of March 1865, against her wishes, Varina and her children left by train and headed for Charlotte, North Carolina. Once there, she rented a house and waited daily for word from her husband. Richmond quickly fell and when Abraham Lincoln made his way into that city, he visited the Confederate Executive Mansion and sat at the desk of Jefferson Davis.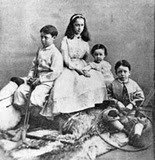 Image: Davis Children in 1866
This photograph of the Davis children was taken while they were in exile in Canada. From left to right: Jefferson, Jr, Maggie, Winnie and Billy.
After hearing of General Lee's surrender, Varina once again boarded a train with her children and headed for protection deeper into the South. Feeling vulnerable to capture on a train, she changed their method of transportation to wagons. For weeks, Jefferson tried to catch up with his wife, sometimes entering a town just hours after she had departed.
Finally, outside a town called Milledgeville, Georgia, Jefferson was able to overtake the wagon train, and he and Varina were reunited. Jefferson continued to travel with the wagons as much as possible. At times he would ride independently of them and send word back with the location of where they would encounter enemy troops. On May 9, 1865, Jefferson dared to spend the evening with his wife, and the following morning was awakened with news of raiders in the area. After a closer inspection, he noted that it was Union cavalry on their way – not raiders.
There are several accounts of what happened next, but this is Varina's account:
Knowing [Jefferson] would be recognized, I pled with him to let me throw over him a large waterproof which had often served him in sickness during the summer season for a dressing gown, and which I hoped might so cover his person that in the grey of the morning he would not be recognized. As he strode off, I threw over his head a little black shawl which was round my own shoulders, seeing that he could to find his hat and after he started sent my colored woman after him with a bucket of water, hoping that he would pass unobserved.
The press wasn't convinced of Varina's account and relentlessly exploited Jefferson's attempt to escape with cartoons of him dressed in petticoats.
On May 19, 1865, Davis was imprisoned at Fortress Monroe, on the coast of Virginia. He was placed in irons for three days. Davis was indicted for treason a year later. While in prison, Davis arranged to sell his Mississippi estate to one of his former slaves, Ben Montgomery.
Varina and her children were taken to a Savannah hotel and had a guard posted at their door. She was forbidden to leave the city or communicate by letter with her husband, officials, or friends. Although residents of that town welcomed her and provided her with necessities, Varina faced the darkest period of her life without her husband.
Varina complained of being a virtual prisoner. While she rarely ventured out, the children did. The soldiers and Union supporters treated the children cruelly. Fearing for their safety, Varina sent her older children to Montreal, Canada, with her mother, keeping Winnie with her.
Initially forbidden to have any contact with her husband, Varina worked tirelessly to raise awareness of what she perceived as his unjust incarceration. She spent four months petitioning key figures to allow her husband and her to communicate. Finally, on September 4, 1865, her efforts were rewarded when she finally received a letter from Jefferson.
From that day on, she carried Jefferson's letters in the bosom of her dress. The two were now permitted to communicate, but only about family matters, and all letters written by Jefferson were to be submitted to the Attorney General before being sent on to Varina.
In the spring of 1866, Varina was granted permission to visit her children in Montreal. While there, she received a distressing message that Jefferson was near death. She quickly wrote a letter to President Andrew Johnson begging for permission to see her husband.
He acquiesced and in May 1866, Varina and Jefferson were reunited at Fortress Monroe. She and their infant daughter Winnie were allowed to join him in his prison cell. Varina was frightened by his condition; he was thin, his eyes glassy, "his cheekbones stood out like those of a skeleton."
Livid over his living conditions—that included a bucket for water and a bed infested with lice—she once again went on a letter-writing campaign. Public sentiment turned towards Davis after the publication of several articles and a book on his confinement – writings that Davis himself said were much exaggerated. He was eventually moved to a more comfortable apartment in the officers' quarters of the fort.
On May 1867, Jefferson Davis was released on bail of $100,000, which was posted by prominent citizens of both Northern and Southern states, including Horace Greeley, Cornelius Vanderbilt and Gerrit Smith. In December 1868, the court rejected a motion to nullify the indictment, but the prosecution dropped the case in February 1869.
Image: Jefferson and Varina Davis
Photograph taken just after his release from prison in May 1867.
Davis is a shadow of his former self.
Although he was never tried for treason, Davis lost his home in Mississippi (Brierfield), most of his wealth, and his U.S. citizenship. However, he refused to request a pardon or the restoration of his citizenship.
The Davis family traveled constantly in Europe and Canada as Davis sought employment that would rebuild his fortune. While visiting their daughters who were enrolled in boarding schools in Europe, Jefferson received a commission as an agent for an English consortium seeking to purchase cotton from the southern United States, but the business collapsed, so Davis returned to the United States.
Varina remained in England to visit her sister who had recently moved there, but remained several months rather than the few days expected.
In 1869 Davis became president of the Carolina Life Insurance Company headquartered in Memphis, Tennessee, and the family resumed a life of some financial comfort until 1873, when the company went bankrupt due to market fluctuation and debt load.
The family was also saddened by the death of their son William from typhoid on October 16, 1872.
Davis was elected to the U.S. Senate but could not serve under the terms of Section Three of the Fourteenth Amendment to the U.S. Constitution, which forbade politicians sworn in before the war who then joined the Confederacy from serving again in public office after the war.
Through the 1870s and 1880s, Jefferson Davis was asked to make public appearances at soldiers' reunions, monument dedications, and state fairs. When his youngest daughter Winnie reached her twenties, she began making public appearances with her father.
Varina grew very resentful of Jefferson's attention to other women. Davis fell in love with Virginia Clay, wife of his friend and a former Confederate official, Clement Clay. Davis wrote passionate letters to her for three years, and in 1871 after he was discovered on a train with an unidentified woman (possibly Clay), the story appeared in newspapers all over the United States.
The legal system made divorce very difficult, however, and divorce had such a stigma that neither of the Davises discussed it in writing. But for several years, they lived apart far more than they lived together.
In 1877, Jefferson Davis accepted an invitation to visit Sarah Dorsey, a widowed heiress who owned a home near Biloxi, Mississippi, named Beauvoir. Mrs. Dorsey was the former Sarah Ellis, whom Varina had known in school, and she asked Varina to join them, but her letters to Jefferson during this time make it very clear that she found his relationship with the widow inappropriate.
Varina moved into the home of their married oldest daughter in Memphis, and a very gradual reconciliation with her husband began. Varina was with him when their last surviving son, Jefferson Davis, Jr., died during a yellow fever epidemic in Memphis in 1878, and ultimately became friends with Mrs. Dorsey during her grieving process.
In 1878, Davis began writing his two-volume memoir, The Rise and Fall of the Confederate Government, while at Beauvoir. After three years, the book was complete and although it did not do well in sales, Jefferson brushed that fact aside and said that he had not undertaken writing it for profit, but instead for the purpose of "setting the righteous motives of the South before the world."
Jefferson Davis' reputation in the South was restored by the book and by his warm reception on his tour of the region in 1886 and 1887. In numerous stops he attended "Lost Cause' ceremonies, where large crowds showered him with affection and local leaders presented emotional speeches honoring his sacrifices to the would-be nation.
Sarah Dorsey sold Beauvoir to the Davises in 1878. When she died the following year, she left them free title to much of the remainder of her estate, a move that left them less than wealthy but with enough financial security to enjoy some comfort in the final years of their marriage. They were joined by their daughter Winnie upon completion of her education and remained at Beauvoir for several years.
While they lived at Beauvoir, the Davises had little privacy. Dozens of people arrived every year to meet Jefferson Davis—veterans, newspaper reporters, curious strangers—and some of them wanted to talk to Varina Davis, too. She was a gracious hostess, but she admitted to a friend that she tired of the throng of visitors.
Jefferson Davis completed A Short History of the Confederate States of America in October 1889. Soon thereafter, Jefferson became ill with what doctors diagnosed as acute bronchitis, complicated by malaria. He lingered near death for days; Varina never left his side. She held his hand and comforted him. A few times he seemed to revive and Varina thought all would be well. When she attempted to give him his medicine for the last time, he simply uttered, "Pray, excuse me," and turned away from her.
On December 6, 1889, Jefferson Davis died in New Orleans at the age of 81. He died so quietly that those around him were uncertain exactly when the passing took place. His funeral was one of the largest ever staged in the South, and included a continuous cortège, day and night, from New Orleans to Richmond. As news of his death circulated, Varina was inundated with cards and letters from all over the world.
Widowhood
After her husband's death, Varina Davis bequeathed Beauvoir to the state of Mississippi, stipulating in the agreement that Beauvoir was be used as a home for Confederate veterans and widows and be preserved as "a perpetual memorial sacred to the memory of Jefferson Davis" and the Confederate cause.
She wrote her own memoirs of her husband, Jefferson Davis: A Memoir by His Wife (1890). The book sold poorly due to problems with the publisher.
With little income and poor health, Varina moved to New York City in 1890 with her daughter Winnie. Varina had always preferred urban life to country living, and she also enjoyed opera, theater, concerts, and the excitement of a large city. The widow Davis lived in Gotham for the rest of her life.
Varina supported herself by writing articles for Joseph Pulitzer's New York World, while Winnie published several moderately successful novels. Mother and daughter led a middle-class lifestyle, residing in apartment-hotels in Manhattan, receiving Northern relatives, and making new friends from all sections and all social backgrounds.
Varina also became an advocate of regional reconciliation, attended reunions of veterans from both armies, and was a member of both the Daughters of the American Revolution and the United Daughters of the Confederacy.
Varina met Julia Dent Grant, the widow of Union general and U.S. president Ulyssis S. Grant, who was among the most hated men in the south. The two women met by accident in 1893 at a resort on the Hudson River, and became friends. They had a good deal in common and genuinely liked each other. Their friendship was celebrated in much of the national press, although it was ignored by conservative white southerners.
When Winnie Davis died of a fever in 1898, the greatest tragedy of her later years, Varina again received sympathy messages from citizens all over the country. She also received calls to return to the South but declined.
In 1901, she met the African American leader Booker T. Washington in New York, and they had a brief conversation. Shaking hands with an African-American male as if he were an equal was seen as socially unacceptable for both parties to conservative southerners.
The same year, Varina proclaimed in an article in the New York World that God "in His wisdom" had allowed the North to prevail and the United States to survive. She was also far less sentimental towards the antebellum way of life than most apologists for the Confederacy were in the last years of the 19th century.
In many ways, Varina Howell Davis was happier in New York City than she had ever been in Mississippi. She enjoyed her old age in the big city, hosting visitors in her apartment overlooking Central Park, writing letters, reading books, going to the theater, and taking a daily ride in her carriage.
Varina continued to write for the newspaper and to appear socially until poor health forced her retirement from work and any public life in her final years.
In October 1906, she contracted pneumonia. She whispered to her daughter Margaret, "My darling child, I am going to die this time but I'll try to be brave about it. Don't you wear black. It is bad for your health and will depress your husband."
Varina Howell Davis died in New York City on October 16, 1906, at the age of 80. A company of artillery from Governor's Island escorted her funeral procession through the streets of the city, and the New York Camp of the United Confederate Veterans joined the procession.
On October 19, 1906, in Richmond, thousands lined the streets that led to Saint Paul's Church. The First Lady of the Confederacy was laid to rest beside her husband at Hollywood Cemetery in Richmond.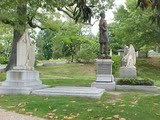 Image: Davis Grave Monuments
Varina's in left foreground, then Jefferson's,
and Winnie's in the distance
Hollywood Cemetery
Richmond, Virginia
In October 1978, Congress and President Jimmy Carter posthumously restored Jefferson Davis' American citizenship.
On August 29, 2005, Beauvoir, which housed the Jefferson Davis Library, was nearly destroyed when it took the full brunt of wind and water damage from Hurricane Katrina. The home was restored and reopened on June 3, 2008.
SOURCES
Wikipedia: Varina Davis
Wikipedia: Jefferson Davis
Civil War Home: Varina Howell Davis
Encyclopedia Virginia: Varina Howell Davis
The Life of Varina Howell Davis: First Lady of the Confederacy