Daughter of Confederate President Jefferson Davis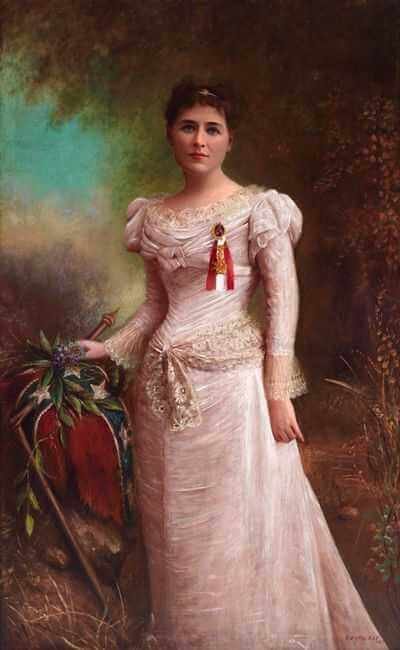 As the daughter of President of the Confederate States of America Jefferson Davis, Varina Anne 'Winnie' Davis appeared with her father at numerous Confederate veterans' events after the American Civil War and became known as 'Daughter of the Confederacy.' She also authored two novels and wrote for Joseph Pulitzer's New York World newspaper.
Early Years
Varina Anne Davis was born June 27, 1864 in the White House of the Confederacy in Richmond, Virginia – ten months before the end of the American Civil War. 'Winnie,' as she was called, was the second daughter and the youngest of six children born to Confederate President Jefferson Davis and his wife Varina Howell Davis.
Tragedy almost constantly touched the lives of the Davises. Eight weeks before Winnie's birth, her five-year-old brother Joseph had fallen to his death at the White House of the Confederacy. The Richmond Daily Dispatch article about this incident read:
Fatal Accident – A son of President Davis killed by a fall:

About five o'clock on Saturday afternoon, April 30, [1864] Joseph E. Davis, who had been playing about the yard earlier was missed, and in a short time he was found lying in an insensible condition on the brick area below the east portico of the residence, with his left thigh broken and a severe contusion on his forehead.

The exact cause of the unfortunate accident is not known, but as there was a step-ladder leading from the area in the yard to the porch above, a distance of from fifteen to twenty feet, it is conjectured that he was standing near its top, and losing his balance, fell over into the yard below.
Flying South
By early 1865, Varina had become more accepting of the Confederacy's defeat than her husband, and she began to prepare to leave Richmond. When Jefferson was finally ready to acknowledge that the South might lose the war, Varina wrote:
Darkness seemed now to close swiftly over the Confederacy, and about a week before the evacuation of Richmond, Mr. Davis came to me and gently, but decidedly, announced the necessity for our departure. He said for the future his headquarters must be in the field, and that our presence would only embarrass and grieve, instead of comforting him. Very averse to flight, and unwilling at all times to leave him, I argued the question with him and pleaded to be permitted to remain, until he said: "I have confidence in your capacity to take care of our babies, and understand your desire to assist and comfort me, but you can do this in but one way, and that is by going yourself and taking our children to a place of safety."
Against her wishes, Varina and her children – including nine-month-old Winnie – boarded a train headed for Charlotte, North Carolina the last week of March 1865. She rented a house there and waited for news from her husband. After hearing that General Robert E. Lee had surrendered the Army of Northern Virginia, Varina and her children once again prepared to leave by train, hoping to find greater protection in the Deep South. However, the thought that they might be more vulnerable to capture on a train, she changed their method of transportation to wagons. Jefferson Davis finally joined with his wife and children in Georgia, but Union authorities captured him and imprisoned him at Fortress Monroe in Virginia.
Life at Fortress Monroe
On May 10, 1865, Union cavalrymen arrested Jefferson Davis as a suspect in the assassination of President Abraham Lincoln. At Fortress Monroe, Davis was confined to a small unheated room known as a casemate. Varina, the formidable wife, immediately began to campaign for more humane treatment of her husband and to unchain the non-violent ex-Confederate President. In October 1865 he was moved to better living quarters in the officers' hall. In May 1866, Varina and baby Winnie took up permanent residence with Davis at Fort Monroe.
When investigators failed to establish a link between Davis and the Lincoln assassination, the U.S. government changed his charge to treason. On May 13, 1867, people like Horace Greeley, Cornelius Vanderbilt, and abolitionist Gerrit Smith signed Davis' $100,000 bail bond, and Davis was released from custody. President Andrew Johnson's Fourth Amnesty Proclamation, dated December 25, 1868, absolved former Confederate president Jefferson Davis of any guilt for his participation in the Civil War.
Jefferson Davis was then sixty years old, but the strain of the past four years had aged him prematurely. He was in frail health and blind in one eye. All of his properties had been confiscated.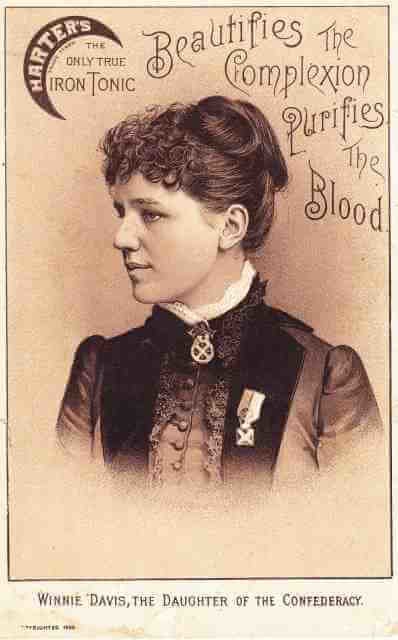 Winnie Davis accompanied her parents on several journeys to Europe and other places over the next several years. The Davises enrolled twelve-year-old Winnie in the Misses Friedlanders Boarding School in Karlsruhe, Germany. She studied there for five years, acquiring a slight German accent. She then studied in Paris for a short while before returning to the United States.
Life at Beauvoir
By the time Winnie Davis returned to the United States she would have been about seventeen years old. At that time her parents were living at Beauvoir, a plantation house built in the 1840s facing the Gulf of Mexico near Biloxi, Mississippi – a gift from an old friend of Jefferson's. Winnie's older sister Margaret had married, and her two older brothers had died young of natural causes. It would be just Winnie living with her parents.
After her husband's death in 1875, Sarah Dorsey – a wealthy widow and ardent supporter of the Confederacy – had learned of Jefferson Davis' difficulties and invited him to visit her at Beauvoir. Dorsey offered Davis a cottage near the main house, where he could live and write his memoirs. In 1878, while dying of cancer, Dorsey revised her will and left the whole estate to Jefferson Davis and his daughter Winnie. (Apparently she and Varina were not good friends.) Davis lived there for the remainder of his life.
Adopted by the Lost Cause
By the mid-1880s, white-haired Jefferson Davis had become the symbol of the South's Lost Cause and was invited to many veterans' events. Winnie sometimes accompanied him. In 1886, Winnie and her father visited West Point, Georgia while touring the South. On April 24, 1886, Georgia Governor and former Confederate General John Brown Gordon accompanied the Davises to an event at Atlanta. Brown introduced her as the 'Daughter of the Confederacy.' She became an instant icon for Confederate veteran organizations and would forever be known by that title. She became a great favorite with veterans across the South, whose reunions and rallies she regularly attended with her father.
Winnie's Beloved
Winnie was involved in a few well-known romantic relationships, none serious. While staying with family friends in Syracuse, New York during the fall of 1886, she met a successful New York attorney named Alfred (Fred) Wilkinson. Ignoring their North/South backgrounds, the two fell deeply in love and wanted to marry. Confederate veterans raised a great outcry when it became known that a New Yorker was wooing their lovely Winnie.
Winnie's mother Varina opposed the marriage due to complaints from her Southern friends that the relationship was an insult to the Davis legacy. Her father was finally persuaded to give his consent to an engagement, perhaps believing that his prestige might soften the public reaction. But Jefferson Davis died December 6, 1889, before an engagement could be announced. So everything was postponed indefinitely, and the strain wreaked havoc on Winnie's health.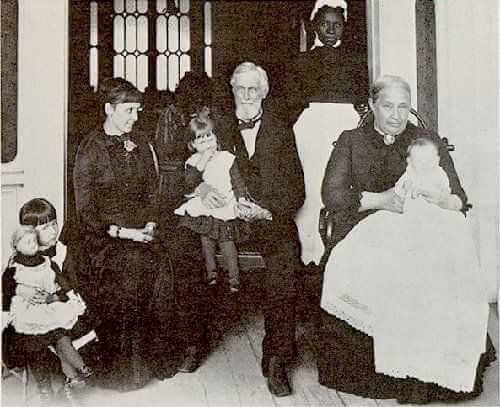 When Winnie finally announced her engagement to Wilkinson in 1890, there was a great outcry from the South. Her friends, family and the Southern groups who idolized her were shocked. However, the couple's engagement did not last long. Fred always claimed it was Mrs. Davis who destroyed whatever slim chances the couple had for happiness. Mrs. Davis said she was concerned that Fred would not be able to support Winnie properly. Varina finally relented, but it was too late. Winnie could not cope with the pressure.
In 1891, Varina and Winnie Davis moved to New York City, which alienated and upset many white Southerners. Both mother and daughter found work as correspondents at the New York World newspaper owned by family friend Joseph Pulitzer, who was married to a distant Davis cousin. The two women lived at the Gerard Hotel in what is now the theater district. During this time, Winnie also wrote for magazines, such as The Ladies Home Journal and authored two moderately successful novels – often dubbed Victorian romance novels: The Veiled Doctor – A Novel (1895) and A Romance of Summer Seas (1898).
Untimely Death
In July 1898, Winnie was drenched in a rainstorm at a Confederate Veterans' Reunion in Atlanta, Georgia. The following day, she traveled by train to meet her mother in Narragansett Pier, Rhode Island, where she and her mother vacationed every summer at the Rockingham Hotel. Winnie became deathly ill with what her doctors termed 'malarial gastritis.' She suffered for weeks from fever, chills, and loss of appetite. The Rockingham was scheduled to close for the season in early September, but the management allowed Winnie and Varina to stay on. Winnie died there on September 18, 1898 at the age of thirty-four.
Winnie Davis was interred at Hollywood Cemetery in Richmond, Virginia, adjacent to the graves of her father and brothers. Due to her service to Confederate veterans' groups, she was buried with full military honors. A year later, on November 9, 1899, a monument depicting a mourning angel was unveiled at her gravesite.
SOURCES
Wikipedia: Varina Anne Davis
This Day in Georgia History: Winnie Davis Died
Encyclopedia Virginia: Jefferson Davis' Imprisonment
OSU: The Life of Varina Howell Davis: First Lady of the Confederacy
Presidential History Blog: Winnie Davis: The Daughter of the Confederacy