Wife of Confederate General Robert E. Lee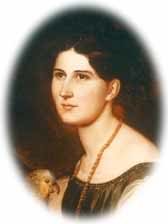 Mary Anna Randolph Custis, great-granddaughter of Martha Washington, was born on October 1, 1808, the only surviving child of George Washington Wash Custis and Mary Fitzhugh. Wash was raised by George and Martha Washington after the death of his father (Martha's son from a previous marriage). In 1802 he had settled his family in a quaint four-room brick home he named Arlington. As Mary grew, so did Arlington, as Wash invested time and money in its expansion.
Mary usually found willing playmates among the children of the Arlington slaves. It's interesting to note that neither Wash nor Molly supported or believed in slavery. Molly, like many abolitionists, set out to change things, and offered both educational and Sunday school classes to the slaves of Arlington in preparation for the day they would be free. In later years, Wash was instrumental in founding the American Colonization Society, a society with the goal of freeing the slaves and funding their return to Africa. Over the course of the society's existence, about 6,000 slaves had been freed and returned to Africa.
Arlington House was a festive place, as the Custis family played host to many visitors. There was always a captive audience wanting to hear Wash recount the many stories that George Washington had told him about the Revolutionary War. Mary was intrigued by the tales and grew to honor and value the memory of the first president of the United States as much as her father did.
Wash had been so enamored with the man that he spent the Custis family fortune buying many of Washington's heirlooms after his grandmother Martha passed away. His desire to own so much of the Washington treasure placed a financial strain on the family from which they would never really recover.
As Mary grew, her intellectual talents were not overlooked. In her early teens, she was already reading in French, Greek and Latin. She read several newspapers a day to keep abreast of current events. Those who knew Mary never described her as having physical beauty – she had inherited her father's sharp nose and chin – but they were captivated by her grace, charm and wit.
Image: Robert Edward Lee
During her late teens, Mary was considered a social butterfly, and many were drawn to her magnetic personality, but her choice was a man she had known since childhood, Robert Edward Lee. The two were distantly related and often played together at the Ravensworth estate, which was owned by William Fitzhugh, Mary's uncle.
In 1824, 16-year-old Mary was not surprised to learn that Robert had received an appointment at West Point. From 1824 through 1827, the two grew closer and Mary timed a visit to Kinloch, home of a distant cousin, the same time she knew Robert would be there. It was during that visit that Mary realized she loved Robert and wanted to marry him.
Robert graduated from West Point second in his class in 1829. He went to Arlington for a visit, and asked Mary to marry him, and she said yes. After his visit, they relied on letters to share their intimate feelings. The two set a wedding date of June 30, 1831.
After the ceremony, the newlyweds went to Ravensworth for a visit. There, Mary fell ill with fever, which took its toll on her. She appeared tired and drawn and never fully recovered her coloring. This would be the beginning of many physical ailments that plagued her throughout her life, including rheumatoid arthritis, which eventually crippled her.
Robert's new assignment was at Old Point Comfort, where Fort Monroe was under construction. The news pleased the Custis family, because Mary would remain close to Arlington. Mary spent her days at Old Point Comfort reading the Bible and enjoying the beauty that surrounded her.
Christmas was approaching, and Mary was pleased when Robert told her they would be able to make the journey to Arlington in time for the holidays. Mary felt such joy at being back home that she decided to stay at Arlington after the holidays. Robert made the return trip to Old Point Comfort alone.
Within a few weeks after his departure, Mary was overjoyed to learn she was pregnant. But the joy was short-lived, and she became ill again. As she recovered, Robert expressed in his letters how much he missed her and wished her to be with him. At six-months pregnant, Mary made the return voyage to Old Point Comfort.
On September 16, 1832, the first of the Lee brood was born, a healthy son they named George Washington Custis Lee. Mary's days were filled with caring for her baby, sewing, cleaning, and cooking. Even so, she found occasional time to read and paint. She even found time to tend to the black children in the fort who were not permitted to worship in the chapel. She opened her home to them and taught Bible classes, and bought Catechism books for the slaves at the garrison.
In January 1834, Robert received news that his next duty station would be Washington. Mary was thrilled at the prospect of being so close to home, and moved back into Arlington while Robert rented a room closer to his office in the city. Robert was away when their second child, a girl named Mary Custis Lee, was born on July 12, 1835. Shortly after the birth, Mary became ill once again, lost her appetite, remained feverish, and developed a chronic stiffness in her legs. Her inner thighs swelled with abscesses and within weeks, she was completely bedridden. After several weeks, she began to slowly improve.
Robert suggested she travel to Warrenton Springs, located along the Blue Ridge Mountains, where she could bathe in the springs that contained chemicals said to alleviate symptoms of arthritis and rheumatism. Mary did so and as her health returned, she learned she was pregnant with their third child. She also learned that Robert's next assignment was St. Louis.
On May 30, 1837, William Henry Fitzhugh Lee was born at Arlington and two weeks later, Robert was off to St Louis. It wasn't until Christmas of that year the Lees were all reunited at Arlington that Robert expressed his loneliness and asked Mary to return with him to St Louis, and she did. While there, she began writing a book on the life of George Washington, all the while keeping the house and raising the children.
On February 27, 1841, Eleanor Agnes Lee was born at Arlington and shortly thereafter, the family prepared to move to Robert's new duty station: New York. By this time, Mary's hands were full with raising the children, a task she continually struggled with and felt a failure. In all fairness to Mary, Robert was never around long enough to parent the children, and usually did so by way of letter. If anything, Mary should be praised for her child-rearing efforts – all the while suffering physical ailments.
Mildred Childe Lee was born on February 10, 1846. The seventh pregnancy took its toll on Mary, and she was again bedridden for several months. In May, when Congress declared war on Mexico, Robert asked for and received field duty. Mary and the children returned to Arlington once again, this time to wait out the end of the Mexican war.
Before the Civil War, Robert E. Lee freed most of his slaves and offered to pay expenses for those who wanted to go to Liberia. In November 1853, Lee's former slaves William and Rosabella Burke and their four children sailed on the Banshee, which left Baltimore with 261 emigrants. A person of superior intelligence and drive, Burke studied Latin and Greek at a newly established seminary in Monrovia and became a Presbyterian minister in 1857. He helped educate his own children and other members of his community and took several native children into his home.
As Mary Custis Lee moved into the later stages of her life, it is clear that she refused to let her poor health keep her from tending to the needs of her family and friends. Suffering from constant pain, she went about her life with an unwavering faith in God, a strong love and commitment to her husband and children, and a genuine desire to ease the pain and discomfort of those around her.
Mary was excited to learn Robert's next post was West Point; a blessing that meant the Lees would be close to Custis, who was then in his second year at the academy. They were no sooner settled in their quarters that Mary received word that her mother was dying. She left for Arlington, but didn't arrive in time to bid her mother goodbye.
In 1854, Mary was pleased when Custis graduated first in his class from West Point, and son Rooney was attending Harvard College. No sooner had Mary fallen into a comfortable routine, the family was uprooted once again as Robert accepted a field command in Texas.
During that year, Mary's health deteriorated, and she suffered more bouts of swelling, stiffness and pain. Walking became difficult and climbing the steps almost impossible. Much of the time she was confined to bed. But she kept up with current events, especially politics. Many topics were being debated, especially concerning slavery. She was still opposed to the institution.
Mary made a difficult journey to the springs in Berkley, hoping to find some relief from her pain and suffering. When she returned to Arlington, she found her father was quite ill. They had a few days together before he died on October 10 with Mary at his bedside. Robert immediately asked for, and was granted, two months leave to oversee his father-in-law's estate. While Robert grappled with finances that included decades of poor financial decisions and poor record keeping,
Mary stumbled upon her father's memoirs of his days growing up at Mount Vernon and arranged them into a book. Her crippling disease made the task difficult and painful, but she was persistent. In 1859, she completed the project, and it was published shortly thereafter under the title, Recollections and Private Memoirs of Washington, by his Adopted Son George Washington Parke Custis, with a Memoir of this Author by his Daughter. It received favorable reviews.
Image: Union Troops Occupy Arlington
Now a memorial to Robert E. Lee who lived there with his family before the Civil War, Arlington was seized by Union forces at the beginning of the war to prevent Confederate forces from using it as an artillery emplacement against the Federal capital across the river. The Georgian Revival house was built by George Washington's adopted grandson George Washington Parke Custis, Mary Lee's father.
Mary inherited Arlington House and its 1100 acres, as well as the slaves that were to be freed within five years of George Custis' death. She also inherited a mill and other property located in Alexandria and Fairfax counties. The will also contained a provision that when she died, everything would be passed on to her eldest son Custis. Son Rooney inherited White House Plantation, and Romancoke was willed to son Rob. Mary's daughters received $10,000 each that was to be drawn from the plantation proceeds, but the plantation wasn't profitable. Robert's two-month leave to bring order to Arlington's finances turned into two years.
When the Confederate States of America was formed, Mary wrote to her daughter Mildred:
With a sad and heavy heart, my dear child, I write, for the prospects before are sad indeed. And as I think both parties are in the wrong in this fratricidal war, there is nothing comforting even in the hope that God may prosper the right, for I see no right in this matter. We can only pray that in His mercy He will spare us.
At the same time Lincoln was sending out the call for 75,000 volunteers, he also offered command of the volunteer troops to Robert E. Lee. Mary remembered how her husband paced the gardens at Arlington waiting for the answer to come to him — it finally did. He tendered his resignation from the U. S. Army one day prior to Virginia's secession from the Union, then accepted a commission from Virginia Governor John Letcher as a major general and commander in chief of the Confederate army.
Robert urged Mary to leave Arlington, but she was not ready. However, she did pack up the most treasured of the family heirlooms and sent them to storage at various locations. She solely took to this task as her children were not at Arlington. Using her crutches, Mary walked the gardens trying to absorb the beauty around her. After several warnings from friends and relatives, Mary left for Ravensworth, escorted by Custis who had just received a commission in the Virginia Army.
As weeks passed, Robert urged Mary to seek refuge deeper into the Confederacy. During the Battle of First Bull Run, she was close enough to hear the artillery fire. Afterwards, she helped nurse the wounded. Mary traveled to White House plantation to stay with Charlotte, Rooney's wife, who was then pregnant with their second child. There, she heard many accounts of Arlington's fate – how buildings had been dismantled for fire wood, crops destroyed, animals stolen, and family heirlooms taken and put on display at the Patent Office.
Robert was still not satisfied with the safety of her location urged Mary to move again. At first she refused, but after ending up behind enemy lines, she agreed and asked for an escort to lead her back into the Confederacy. Union General McClellan approved the move and secured a pass for her. Once back in the Confederacy, she was briefly reunited with her husband who was surprised by her crippled state.
Still, when not tending to the needs of others, she spent every waking moment knitting socks for the soldiers, and nursed her son Rooney back to health after he had been shot in the leg during the Battle of Brandy Station, before he was removed from the house by a Federal posse and taken prisoner of war.
Image: General Robert E. Lee
On January 11, 1864, property taxes on Arlington became delinquent. Mary sent her cousin Phillip Fendall to pay the taxes, but the tax commissioner refused the payment, saying that the owner must pay in person. The government knew well of Mary's ailing health and her inability to make the journey. Arlington ended up on the auction block at Alexandria Courthouse where it was sold to the U.S. Government for a bid of $26,800.
In 1865, as the Yankees threatened to take Richmond, residents were packing up their valuables and fleeing the city — everyone except Mary. She and her daughters bolted their doors and windows and prepared to defend themselves. While hunkered down, they heard the explosions of the Confederate vessels in the river and the booms of the powder magazine blowing up.
Flames spread to the houses of the city and as the fire neared Mary's home, Union General Godfrey Weitzel approved a neighbor's request for an ambulance to take Mary to a safe place. Mary refused. Just as the flames threatened to engulf her home, the wind shifted and her house was saved. When the Yankees occupied the city, a sentry was placed at her door for her safety. Mary saw to it the Union sentry was well-fed.
On Sunday, April 9, she was startled to hear the sound of a cannon, and later learned it was artillery being fired to mark the end of the war. Robert E. Lee had surrendered. On Saturday, April 15, Robert and Rooney made their way home to Mary. With the war over, Mary petitioned the federal government to return her property, but they refused.
By this time, Mary's health had deteriorated so badly that she was unable to travel or move about on her own. She needed constant care. Her son Rob wrote of her condition:
She was a great invalid from rheumatism, and had to be lifted wherever she moved. When put in her wheelchair, she could propel herself on a level floor, or could move about her room very slowly and with great difficulty on her crutches, but she was always bright, sunny-tempered, and uncomplaining, constantly occupied with her books, letters, knitting, and painting…
In September 1865, Robert E. Lee accepted the position of president of financially-ailing Washington College in Lexington, Virginia, and traveled to Lexington to set up housekeeping. Custis Lee received a position at VMI, Rob and Rooney continued rebuilding the White House homestead that had been burned to the ground by the Yankees, daughter Mary traveled, and Agnes and Mildred stayed behind to care for their mother.
Mary's first task was to oversee the unearthing of the Washington treasures buried for safekeeping before the war. She was disheartened to find that the Washington letters and papers had been exposed to the elements over the years and were rotted. None could be salvaged and she had to burn them. The silver and the Washington carpets were recovered, and Mary was pleased to display those items in her new home in Lexington, where she was an admired hostess.
Through this time together, Mary was able to see the slow decline in Robert's health. One evening, as he returned from a church meeting, he placed his hat and coat in his room and entered the dining room. Mary became alarmed at his appearance, and he was immediately put to bed and slept almost continuously for two days and nights. At first, the doctor felt that Robert simply needed rest, but after he failed to improve Mary stayed constantly at his bedside.
Mary wrote of Robert E. Lee's passing:

We all sat up all night every moment almost expecting to be his last. He lay breathing most heavily and the Dr. said entirely unconscious of pain. I sat with his hand in mine all moist with heavy perspiration, and early in the morning and went into my room to change my clothes and get a cup of tea. When I went back he lay in much the same condition, only there were some more severe struggles for breath — these became more frequent and intense and after 2 very severe ones, his breath seemed to pass away gently, and he so loved and admired now lies cold and insensible…
Mary's own incapacitating disease made it impossible for her to attend the October 15 funeral service for Robert. Instead, she remained at home and reread the letters that Robert had sent to her during their courtship and early in their marriage. The days passed and Mary received hundreds of condolences from across the country.
Image: Mary Randolph Custis Lee in Old Age
Mary's heart ached for one last look at Arlington, and in June 1873, she made the trip:
I rode out to my dear old home, so changed it seemed but as a dream of the past. I could not have realized that it was Arlington but for the few old oaks they had spared, and the trees planted on the lawn by the General and myself which are raising their tall branches to the Heaven which seems to smile on the desecration around them.
Mary was unable to leave the carriage, and was delighted when the old servants still at Arlington came to see her.
Mary Anna Randolph Custis Lee died on November 5, 1873, at the age of 66. She is buried next to her husband at Washington and Lee University in Lexington, Virginia.
SOURCES
Mary Anna Custis Lee
The Library of Congress: The African-American Mosaic
Arlington House: The Robert E. Lee Memorial