Witness to the Assassination of Abraham Lincoln
Clara Harris was an American socialite. Harris and her then fiance Henry Rathbone were the guests of President Lincoln and First Lady Mary Todd Lincoln at Ford's Theatre on April 14, 1865, when John Wilkes Booth fatally shot the President.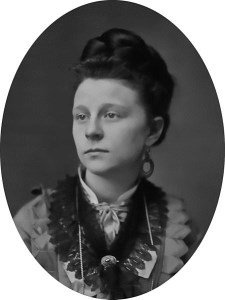 Early Years
Clara Harris was born on September 9, 1834 in Albany, New York, one of four children of Senator Ira Harris and his first wife Louisa Tubbs Harris. Clara's mother died 1845. On August 1, 1848, Ira Harris married widow Pauline Rathbone, who had two sons, Jared and Henry. From the ages of 13 and 11 respectively, Clara and Henry were raised in the same household. To their parents' dismay, the two fell in love and became engaged.
When Clara Harris arrived with her family in Washington, DC in 1861, it was a small community. Many members of President Abraham Lincoln's Cabinet lived on Lafayette Square. Secretary of State William Seward lived on the east side of the Square. Secretary of the Navy Gideon Welles lived on the north side. Clara lived with her family just off Lafayette Square at 15th and H streets.
Henry Rathbone in the Civil War
When the war began, Henry enlisted as an officer in the 12th U.S. Infantry. He fought in the battles southeast of Richmond in the spring of 1862. That September, he commanded a company at the Battle of Antietam in Maryland. In December, he was at the Battle of Fredericksburg, a bloody defeat for Union forces.
Records show the toll the war took on him. "His bodily health, never robust, suffered impairment from… fever in 1862," his Washington doctor, G.W. Pope, wrote. Henry was sick for two months that summer. In the winter of 1863-64 he fell ill again, suffering from a malaria-like illness. He returned to the Army against the doctor's advice and was sick again later in 1864. Once again, he returned to duty, despite his physician's advice that he seek an easier job in the service.
"I felt satisfied that these repeated attacks of a wasting and debilitating disease were likely to permanently injure your constitution," Dr. Henry Paine wrote to him later. Using his connections, Senator Ira Harris had arranged a desk job for Henry in the provost marshal's office, which was only a few blocks away from the Harris residence.
By 1865 Clara, now 30, had become a cultured, self-assured woman who moved in the highest Washington social groups. She had become an intimate friend of the first lady, Mary Todd Lincoln, with whom she often attended the theater, and was a familiar guest at the White House. Henry was 27, an intense-looking young man with receding, wavy auburn hair and mutton chops. Clara and Henry had been engaged for several years, but Henry had avoided setting a wedding date.
Backstory
On April 9, 1865, Confederate General Robert E. Lee surrendered to Union General Ulysses S. Grant. Early on the morning of April 14, famous stage actor and Confederate sympathizer John Wilkes Booth wrote in his diary, "Our cause being almost lost, something decisive and great must be done."
At around noon on April 14, while picking up his mail at Ford's Theatre, Booth learned that the President would be coming to the theater that night to see the play Our American Cousin. Booth had performed there several times and knew the layout of the building well.
That afternoon, Booth went to Mary Surratt's boarding house in Washington, DC and asked her to deliver a package to a tavern she owned in Surrattsville, Maryland, and to tell her tenant who resided there that Booth would pick up the guns and ammunition he had left at the tavern later that night. She did as Booth requested and made the trip.
At seven o'clock that evening, Booth met with his fellow conspirators, and gave them their assignments: Lewis Powell was assigned to kill Secretary of State William Seward; George Atzerodt was to kill Vice President Andrew Johnson; and Booth would shoot Lincoln during the play at Ford's Theatre. David Herold was to guide Powell to the Seward house and then to rendezvous with Booth in Maryland.
The conspirators were all to strike simultaneously at ten o'clock pm. Booth appears to have plotted the murders in the belief that the simultaneous assassination of three top government officials would throw the North and the Republican Party into chaos long enough for the Confederacy to reassemble.
The Assassination
On April 14, 1865, Clara Harris accepted a last-minute invitation to see the play Our American Cousin at Ford's Theatre with the President and First Lady that night. She and Henry were waiting at the Harris house when the big black presidential carriage arrived to take them to the theater. Despite the night chill, Clara recalled, the Lincolns were "in the gayest of spirits."
The Lincoln party arrived at the theater late and settled into the Presidential Box. The play was temporarily stopped while the orchestra played Hail to the Chief and the audience gave the president a standing ovation. It was now about 10:15 pm. During the intermission, the policeman who was supposed to be guarding the Presidential Box went to a nearby tavern for a drink.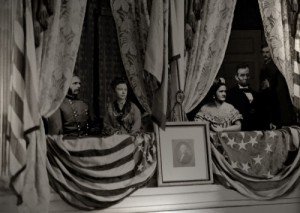 Image: Depiction of the Presidential Box at Ford's Theatre as it was on the night of April 14, 1865. Seated left to right are Henry Rathbone, Clara Harris, Mary Todd Lincoln and President Lincoln.
Because of his celebrity status, John Wilkes Booth's presence in the theater that night was not questioned; he used his connections there to gain access to the president's box. Since Booth knew the play by heart, he waited for the precise moment when the lead actor spoke the funniest line in the play, hoping that the laughter and applause of the audience would muffle the sound of the gunshot.
Just after the line in the play was delivered, Booth opened the door, rushed in and shot the President in the back of the head at point-blank range. Lincoln slumped over in his chair, mortally wounded. First Lady Mary Todd Lincoln reached out to catch him, and then screamed when she realized what had happened. Clara screamed: "The president is shot!"
Upon hearing the gunshot, Henry Rathbone quickly jumped from his seat and tried to prevent Booth from escaping. Booth drew a Bowie knife and slashed Rathbone's left arm, leaving a gaping wound from his elbow to his shoulder. Rathbone again tried to grab Booth, but he stabbed Rathbone in the chest and then jumped over the rail of the box down to the stage below.
In the process, Booth's riding spur became entangled in a flag, and he landed awkwardly on his left foot, breaking his ankle. He stood up quickly and hobbled across the stage, trying to make the audience believe that he was part of the play. Booth held his bloody knife over his head, and yelled, "The South is avenged!" as he exited the side door to the horse he had waiting outside.
The women's screams and Rathbone's cries of "Stop that man!" caused the audience to realize that Booth's actions were not part of the show. Some of the men in the audience chased after him when they noticed what was going on, but failed to catch him. Booth struck the man who was holding his horse in the forehead, leaped into the saddle and rode away into the night.
Blood was everywhere – all from Rathbone's stab wound. It soaked Clara's white dress, and streaked her hands and face as she tried to stop the bleeding with a handkerchief. The other theater goers were thrown completely into chaos when they saw what was happening in the President's Box. Mary Lincoln was inconsolable, and clung to Clara for support.
Doctors in the audience came forward and decided that Lincoln was too badly wounded to be transported to the White House. Instead, they carried him to the Petersen boarding house across the street from the theater and placed him a first-floor bedroom. Mary Todd Lincoln was hysterical. She shrieked every time she noticed Clara's dress, "Oh! My husband's blood!" But all of the blood was Henry's; the president's wound did not bleed externally.
Shortly after they arrived at the boarding house, Henry passed out and was taken by carriage to the Harris house. It is unclear how long Clara stayed with the first lady, but Dr. G.W. Pope later recalled that Clara was at home when he was called to tend to Henry, who lay stripped of his clothes and as pale as a corpse. Clara was calm, bringing water, towels and bandages as an Army surgeon stitched up Henry's wound.
In the meantime, Secretary of the Navy Gideon Welles and Secretary of War Edwin Stanton arrived at the Petersen house and took charge of the scene. Mary Todd Lincoln was so unhinged that Stanton ordered her out of the room by shouting, "Take that woman out of here and do not let her in here again!" Stanton took over the rear parlor and ran the United States government for several hours, taking reports from witnesses and issuing orders for the pursuit of Booth.
Abraham Lincoln died at 7:22am the following morning, April 15, 1865 at the age of 56. Mary was not present at the time of his death. The crowd around the bed knelt for a prayer. Afterward Edwin Stanton said either, "Now he belongs to the ages," or "now he belongs to the angels." Both statements fit the solemn occasion.
After a two-week manhunt, Federal troops cornered John Wilkes Booth in a barn in Maryland, where a Union soldier shot him in the neck. Booth died two hours later.
With Lincoln's death, Andrew Johnson ascended to the presidency, and the nation lost the one man that most contemporaries, and most American historians, believed best qualified to "bind up the nation's wounds" after four brutal years of war.
Henry Rathbone's physical wounds took a long time to heal, and Clara agreed with her father's recommendation that the wedding be postponed. Finally, Clara Harris and Henry Rathbone were married on July 11, 1867, and moved into an elegant 22-room home on the west side of Lafayette Square. They had three children, the eldest born on Abraham Lincoln's birthday in 1870.
Yet Henry was plagued by mysterious medical problems. During 1869 and again in 1870 he was treated for what a doctor described as "attacks of neuralgia of the head and face and in the region of the heart attended by palpitations and at times difficulty breathing." In December 1870, Henry abruptly retired from the Army.
Descent into Madness
Henry Rathbone never recovered from what happened at Ford's Theatre that spring night. His mental state deteriorated in the years following Lincoln's death, as he blamed himself for not preventing Lincoln's death. He suffered from "physical ailments, constant fears, and terrible delusions" that worsened over the years and eventually declined into mental illness.
Every year on the anniversary of Lincoln's death, journalists bombarded the couple with questions, increasing Rathbone's feelings of guilt. Clara wrote:
In every hotel we're in, as soon as people get wind of our presence, we feel ourselves become objects of morbid scrutiny…. Whenever we were in the dining room, we began to feel like zoo animals. Henry… imagines that the whispering is more pointed and malicious than it can possibly be.
Through the ensuing years, Rathbone's condition worsened; he became insanely jealous of men who paid any attention to Clara, and resented the attention Clara paid their children. He became obsessed with the notion that Clara was going to divorce him and take the children. Clara might have had thoughts of leaving him, but it was socially unacceptable to divorce or separate, and the stigma would have branded her for life.
The Rathbone Tragedy
Despite his ailments, Rathbone still had connections and money. Although he did not have to work, in 1877 his friends and relatives sent numerous letters to President
Rutherford B. Hayes asking him to give Henry the State Department post of charge d'affaires in Denmark. Two dozen letters came in from a host of backers.
Civil War hero General William Tecumseh Sherman and Admiral David D. Porter wrote on Rathbone's behalf. His old Civil War commander at Fredericksburg, General Ambrose Burnside, praised his gallantry and intelligence. Henry did not get the job. There is no account of his reaction, but his friends reported that over the next few years, he turned increasingly volatile.
Despite his erratic behavior, Henry Rathbone was appointed U.S. Consul to the Province of Hanover, Germany by President Chester A. Arthur. In late 1882, Henry, Clara, her sister Louise and the children – Harry, 13, Gerald, 12, and Pauline, 10 – left for Germany. According to one story Clara agreed to go only after Louise said she would go, too.
Henry had become even more depressed and erratic, people would recall later. He said he was afraid of himself. He had hallucinations. His relationship with Clara had grown even more tense. He was said to be so fearful that she would leave him that he would not allow her to sit by the window or be alone. He begged her to stay with him, and around this same time, he bought a revolver.
By December of 1883, according to a local German newspaper, the Rathbones had been living in an apartment on Heinrichstrasse in Hanover for about seven months. Henry was pallid and gaunt, suffering from dyspepsia, a chronic stomach ailment that historians say was then linked to so-called "nervous" disorders. Clara's diary entry for November 30, 1883 reads:
The truth is I have never loved him more than I have this last month. I have wanted to wail with pity over him… He mutters more than ever of our hours in the box at Ford's, forcing me to think of them, too.
According to most accounts, before dawn on December 23, 1883, Henry Rathbone either entered or tried to enter the room where his children were sleeping. Clara, afraid that he might hurt them, coaxed him back to the master bedroom and closed the door. There, Henry shot his wife several times; Clara Harris Rathbone died on Christmas Eve at age 49. He then stabbed himself six times before the servants intervened. Once again, the gunshot victim died, while Henry survived his knife wounds.
Clara's sister Louise took charge of the Rathbone children and moved them into a hotel. Her brother, William, who had served with Henry during the war, arrived in Germany from his home in Cleveland. Clara was buried December 28, 1883 in a plot in the city's ornate Engesohde cemetery. Louise, William and the children returned to the United States on February 4, 1884.
Word of Clara's murder quickly spread to the United States, where it was front-page news. Many believed that Henry Rathbone suffered from post-traumatic stress disorder as a result of what he witnessed at Ford's Theatre that April night. His Washington physician Dr. G.W. Pope told newspaper reporters at the time:
He never was thoroughly himself after that night… I have no hesitation in affirming that the dreaded tragedy, which preyed upon his nervous and impressionable temperament for many years, laid the seeds of that homicidal mania.
Henry Rathbone was institutionalized in a German asylum for the criminally insane. In January of 1911, a reporter for The Washington Post visited Rathbone at the monastery where he was held and related that his suite was like a hotel's, with its own dining room and library. Rathbone was then 73 and still looked like a man of refinement, but his doctor said that he scarcely ate, was chronically paranoid and constantly tormented by hallucinations. Henry Rathbone died there on August 14, 1911.
The story of Clara Harris Rathbone's murder that had made such sensational headlines in the United States soon faded from public interest. It is now but a haunting footnote to that April night in 1865 when a deranged man assassinated one of our greatest presidents and robbed our country of a future that probably would have been very different had Abraham Lincoln lived.
SOURCES
Wikipedia: Clara Harris
Wikipedia: Assassination of Abraham Lincoln
The Washington Post: A Tragedy's Second Act