First Lady for Her Bachelor Uncle, James Buchanan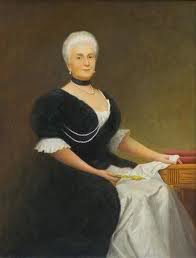 Harriet Lane (1830-1903) was the niece of lifelong bachelor and 15th United States President James Buchanan. At age 26 she moved into the White House and acted as First Lady of the United States from 1857 to 1861, one of the few women to hold that position while not being married to the president. Known as the Democratic Queen, Lane was admired for her beauty and vivaciousness, and she used her position to advocate for better living conditions for Native Americans.
Harriet Lane was born May 9, 1830 in Franklin County, Pennsylvania, the youngest child of merchant Elliott Tole Lane and Jane Ann Buchanan Lane. Harriet's mother died when she was nine years old; her father died two years later, leaving Harriet an orphan. She requested that her favorite uncle, James Buchanan, be appointed her legal guardian.
She moved into his home in Lancaster, Pennsylvania, where he provided her with her every need, including a piano. As a child, she was rather gawky and a little wild, something that alarmed her rather stoic guardian. Buchanan, an unmarried Democratic senator, indulged his niece, enrolling her in a day school run by Miss Young and later to Miss Crawford's Boarding School, which she disliked so much that her uncle placed her in a boarding school in Charleston, Virginia (later West Virginia).
Life Before the White House
When he became Secretary of State under James K. Polk (1845), James Buchanan placed Harriet in the highly regarded Academy of the Visitation Convent in the Georgetown section of Washington, DC, where she finished her education, graduating in 1848. Called Hal by the future president, Harriet became his closest confidante, and he introduced her to fashionable circles.
In 1848 James Buchanan purchased Wheatland, a large Federal style house and its 22 acres of land near Lancaster, Pennsylvania. Although she was already in love with her future husband, Henry Elliot Johnston, Harriet delayed her marriage so she could serve as hostess for her bachelor uncle. With her love of dancing, music and receiving people, Harriet was an asset to her uncle.
By the time Harriet was twenty-two, she was an accomplished hostess. With the election of Franklin Pierce in 1852, her beloved uncle was named American Minister to Great Britain. Harriet joined Buchanan in London in 1854, where she acted as her uncle's hostess at official functions.
When Harriet was presented to Queen Victoria and Prince Albert, her presentation was performed so flawlessly that the Queen decreed that Miss Lane be accorded the same respect due the wife of an ambassador. Harriet experienced life at the British court, becoming a favorite of Queen Victoria and a regular in Court circles.
First Lady of the United States
A Unionist and moderate Democrat, James Buchanan won the presidential election in 1856, because voters hoped that he could calm the bitter disputes between the North and South over slavery. Because he was the first bachelor President, rumors circulated about his longtime relationship with the also unmarried Senator William Rufus Devane King from Alabama. The two had lived together in Washington for sixteen years, and at the very least, shared a deep friendship.
When James Buchanan became President, Harriet Lane was asked to assume the duties of presidential hostess. The role did not intimidate the twenty-six-year-old because her uncle had educated her about politics, and always discussed political issues with her. Thus, when Harriet entered the White House, she took up her duties with great confidence.
She was a popular hostess during the four years of the Buchanan administration, and was thought to be the president's closest confidante. Her popularity was helped by her youth and cheerful, outgoing nature, in striking contrast to perpetually grieving previous First Lady, Jane Pierce. She filled the White House with gaiety and flowers, and guided its social life with enthusiasm and discretion, winning national recognition.
Miss Lane was highly visible, always at her uncle's side. In appearance she was of medium height with masses of golden hair, violet-blue eyes, a full figure with very regal in bearing – and a good dancer. Her youth and beauty captivated an American public and her penchant for carrying bouquets of roses and vacationing at exclusive spas made her a glamorous figure.
She was the first First Lady to be regularly referred to as First Lady and perhaps the first to become a pop culture icon. Women copied her hair and clothing styles (she lowered the neckline of her inaugural gown by 2.5 inches). Dances, waltzes, songs, colors and ships were named for her; thousands of parents named their daughters after her.
Lane used her position to draw attention to the fine arts, and began to lobby for a national art gallery. While in England, Harriet had begun collecting works of art, which led her to study, collect and promote Native American art. Upon her return to America, her interest in Native American art led her to take more interest in the cause of Native Americans.
The First Lady's appreciation of indigenous artistic expression led to her tolerance of minorities in general and to her interest in the welfare of Native Americans in particular. She worked with reformers to educate lawmakers about the medical and educational needs of the various tribes and improving the living conditions of Indians on reservations.
Lane was also the first First Lady to regularly invite artists, musicians, authors and other non-political celebrities to White House functions. For both her popularity and her advocacy work, she has been described as the first of the modern first ladies, and her popularity at the time is compared to that of Jacqueline Kennedy in the 1960s.
Lane was more than a social hostess for her uncle; she was in many ways James Buchanan's partner. He clearly appreciated Harriet's role and accorded her all the prestige enjoyed by a presidential spouse. Despite the pair's closeness, the relationship at times grew strained. Her discontent was evident when, in 1859, she took a three-month summer vacation from the capital and the President.
Still Lane remained an important source of support for her uncle during the sectional crisis. It appears that she privately opposed slavery and Southern secession, though she worried about the country's economic future if slavery were abolished. Publicly, however, she remained silent on the issue of slavery and insisted that her guests follow her example.
At an 1860 White House concert, the featured performance was the premiere of "Listen to the Mockingbird," a composition dedicated to the First Lady, which, according to news accounts of the time, was soon whistled, sang and played throughout the city.
In 1860, the Prince of Wales (later King Edward VII) arrived in the United States and was received at the White House. There was music for the royal guest but no dancing, because it had been banned since the Polk administration. The bedroom the Prince used (and where Willie Lincoln died in 1862) was long afterwards referred to as "The Prince of Wales Room." The royal visit was a great success.
The Presidential Yacht was named for Miss Lane – the first of three ships to bear her name. Her only error in judgment while serving as First Lady was when she invited friends on board the revenue cutter USS Harriet Lane for a party, only to be sharply reprimanded by her angry uncle and the press since the ship was government property.
As sectional tensions increased, Harriet Lane's social skills began to serve a political purpose as she manipulated complex seating arrangements for her weekly formal dinner parties and other entertainment with special care, to give dignitaries their proper precedence and still keep political foes apart.
Unfortunately, her efforts at keeping the peace at White House social gatherings translated neither into a smooth presidency for her uncle nor into peace for the nation. Seven states had seceded by the time Buchanan retired from office, and Lane and her uncle thankfully returned to his country home, Wheatland, near Lancaster, Pennsylvania.
Marriage and Family
The popular Miss Lane had always flirted happily with numerous beaus, calling them "pleasant but dreadfully troublesome." Buchanan often warned her against "rushing precipitately into matrimonial connexions." Having met Henry Elliot Johnston when both were in their teens, Harriet was pursued by Johnston and kept up a friendship with him through the years.
They announced their engagement in October 1864, to the great joy of James Buchanan. On January 11, 1866, Harriet Lane married Baltimore banker Henry Johnston at Wheatland; she was 35. The ceremony was performed by another uncle, the Rev. Edward Young Buchanan, who was married to the sister of Stephen Foster. The Johnstons lived in Baltimore and had two sons: James born in 1866 and Henry born in 1869.
In less than two decades Harriet Lane lost her entire family. Her beloved uncle James Buchanan died of respiratory failure on June 1, 1868, leaving her his 22 acre Wheatland estate. Incredibly, both sons of Harriet Lane and Henry Elliott Johnston died as young boys.
James 'Buck' Buchanan Johnston, the firstborn son, died of rheumatic heart disease on March 25, 1881 at age fourteen. Their younger son Henry Elliott Johnston Jr. also suffered from rheumatic fever. The family traveled to France with hopes that the climate would cure him of the dreaded disease, but he died on October 30, 1882 at age twelve.
Her husband Baltimore banker and railroad builder Henry Elliott Johnston died of pneumonia in 1884.
Late Years
What brought such sorrow into her life also brought power, for as the survivor she had the right to dispose of the money. Though by no means fabulously rich, she commanded, at the end, enough money to endow important philanthropic works.
Lane would become a very handsome older woman with snow-white hair. She finally decided to live in Washington, DC, among friends made during happier times. She moved there from Baltimore in 1890. She wrote her will in 1895 and lived another eight years, during which the country's general prosperity greatly increased the value of her estate, allowing her to increase her original bequests.
Harriet Lane died of cancer on July 3, 1903 at Narragansett, Rhode Island at age 73.
At her funeral, services were conducted by Bishop Satterlee and Canon DeVries of the Washington National Cathedral. She was buried in Green Mount Cemetery in Baltimore, and her grave was marked with a Celtic Cross.
At her death Lane left a sum of over $400,000 to endow a home for invalid children as a memorial to her sons. No facility had been available for her young sons when they were so ill. In 1906 the Trustees of the Harriet Lane Home elected to build the home at the Johns Hopkins Hospital in Baltimore, with the hospital providing the land and supplying the medical and nursing staffs.
In October 1912 the Harriet Lane Home for Invalid Children officially opened. The first hospital in the nation devoted to children, the Harriet Lane Home helped pioneer the practice of caring for patients in specialty clinics. Eventually treating over 60,000 children a year, the Home became an outstanding pediatric facility and a pioneer treatment, teaching and research clinic.
For nearly a century now, Johns Hopkins has provided primary health care services to the community in East Baltimore for almost a century – first as the Harriet Lane Home and currently as the Harriet Lane Outpatient Clinic, part of the Johns Hopkins Children's Center. The Clinic serves as a training site for medical students, pediatric residents and fellows, who provide comprehensive health care services for children and youth up to 21 years of age.
Since Lane's death Johns Hopkins Hospital has also published The Harriet Lane Handbook, considered the definitive guidebook for physicians in pediatric residency. Trusted by generations of residents and practitioners, the Handbook remains the first choice for fast, accurate information on pediatric diagnosis and treatment, including the latest treatment and management recommendations, immunization schedules, procedures and therapeutic guidelines.
Lane had added a codicil to her will in 1899 directing that a school building be constructed on the grounds of the Washington National Cathedral and asked that it be called the Lane-Johnston Building "to the end that the family names of my husband and myself may be associated with the bequest made in loving memory of our sons."
A codicil in 1903 had increased her gift by one third but said that only half the total was to be spent on the building. The remainder was "specially to provide for the free maintenance, education and training of choirboys, primarily those in service of the Cathedral."
In 1905, guests were summoned to see the cornerstone laid on the first building of what the invitation referred to as "The Lane-Johnston Choir School for Boys of the Washington Cathedral." Lane's bequest founded the prestigious boys' school that today is called St. Alban's School, which opened in October 1909 and still exists today.
Image: Lane-Johnston Building
St. Albans School
Washington, DC
Harriet Lane had also acquired a sizable art collection, largely of European works, which she bequeathed to the Smithsonian Institution, prompting an official there to call her "First Lady of the National Collection of Fine Arts." Her invaluable art collection eventually became the nucleus of the National Gallery of Art.
Though Harriet Lane was not the wife of a President, she nonetheless filled the difficult position of First Lady with the grace and elegance of a woman much older and much more experienced than she. Her legacy includes aid to Native American, children and the establishment of a national art gallery.
SOURCES
NNDB: Harriet Lane
Wikipedia: Harriet Lane
Miller Center: Harriet Lane
The White House: Harriet Lane
First Lady Biography: Harriet Lane