Wife of Union General Benjamin Franklin Butler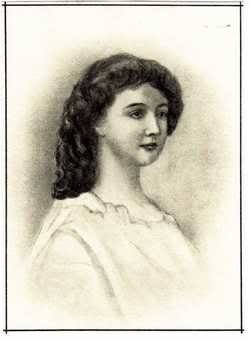 Sarah Jones Hildreth was born on August 17, 1816, in Dracut, Massachusetts, the daughter of Dolly Jones and Dr. Israel Hildreth. Having shown considerable talent in dramatics, she was sent to Boston at the age of sixteen for formal training, after which she acted onstage to great acclaim in Boston, New York, Charleston, South Carolina and Cincinnati, Ohio.
Benjamin Franklin Butler was born on November 5, 1818, in Deerfield, New Hampshire, the son of Captain John Butler, who served under Andrew Jackson in the War of 1812 (during the Battle of New Orleans). After the death of his father in 1828, Benjamin moved to Lowell, Massachusetts, with his mother, Charlotte (Ellison) Butler, where she operated a boarding house.
Butler attended high school and Exeter Academy, and was graduated from Waterville College, in Waterville, Maine, in 1838. He studied law, and was admitted to the Massachusetts bar in 1840, and began a successful practice in Lowell, gaining a widespread reputation as a talented trial lawyer.
Sarah Hildreth married Benjamin Butler on May 16, 1844, in Saint Anne's Episcopal Church in Lowell. Sarah was a stage actress and daughter of Dr. Israel Hildreth of Lowell, but she gave up her stage career after marrying Benjamin Franklin Butler, and the couple had four children, three of whom survived to adulthood: Blanche, Paul, and Benjamin (aka Ben-Israel). Their daughter, Blanche, married Adelbert Ames, a Mississippi senator who served in the Union Army during the Civil War.
Active in the Democratic Party, Butler served one term as state representative in 1853, one term as state senator in 1858, and ran unsuccessfully for governor in 1859. Butler was a delegate to the Democratic National Conventions in 1860, and he supported Southern Democrat John Breckinridge for president, and again lost his bid for governor, this time on the ticket of the Breckinridge faction.
When the Civil War began, Butler was a brigadier general in the Massachusetts militia, and during the Fort Sumter crisis rushed his unit to protect Washington, DC.
A major railroad connection from the Northeast passed through Baltimore, and immediately after the start of the war, it was unclear whether Maryland would stay in the Union. Butler arrived at Annapolis, Maryland, with the 8th Massachusetts Infantry Regiment by steamer on April 20, 1861. He employed his expert negotiation skills with the Governor of Maryland, and by April 22, Butler's regiment had disembarked and was put to work repairing damaged railroad tracks around Baltimore.
At the same time, the 7th New York Infantry arrived, and Butler assumed command of the entire force; his military career would be characterized by his eagerness to assume authority in the absence of official instructions. While Butler remained at Annapolis, the New Yorkers were the first Union troops to march into Washington following President Abraham Lincoln's initial call for volunteers. On May 13, 1861, Butler's remaining force occupied Baltimore without opposition. On the 17th, Butler was placed in command of the district of Annapolis, in which the City of Baltimore was located.
Impressed by his loyalty and initiative, Lincoln promoted Butler to major general and sent him to command Fort Monroe in Virginia. Soon afterwards, runaway slaves began to appear at the fort seeking protection. The slaveowners demanded that the runaways be returned. Butler refused, issuing a statement that he considered the slaves to be contraband of war, coining the term contraband to designate escaped slaves who crossed Union lines.
Butler in New Orleans
Butler soon returned to Massachusetts to recruit an expedition to the Gulf of Mexico. On March 23, 1862, the expedition reached Ship island, and on April 17, went up the Mississippi River. The fleet under Admiral David Farragut passed the forts and April 24, 1862, and virtually captured New Orleans. General Butler took possession of the City on May 1.
Butler's most famous (or infamous) action during the war was his controversial tenure as commander of the occupation forces in New Orleans in 1862. He seized the posh St. Charles Hotel as his initial headquarters. His administration instituted strict sanitary regulations, and compelled the rich secessionists to contribute to the support of the poor in the city.
On May 10, 1862, General Butler seized about $800,000 which had been deposited in the office of the Dutch consul, claiming that arms for the Confederates were to be bought with it. All the foreign consuls protested against this action, and the government at Washington, after an investigation, ordered the return of the money. On June 7, Butler had William B. Mumford hanged for hauling down a United States flag placed by Admiral Farragut on the United States Mint in New Orleans.
Though he was accused of financial misdeeds and drawn into potential scandals, Butler won praise for maintaining the peace in New Orleans, and his troops were considered impeccable in their demeanor, despite the fact that the spirited women of the city carried out a silent war against them. They held their handkerchiefs to their nose when a Union soldier passed, or lifted a skirt in an exaggerated manner; some made retching noises when Union soldiers were nearby, and finally onespat in a soldier's face. That was the last straw.
General Butler issued his famous Order No. 28:
When any female shall, by word, or gesture, or movement, insult or show contempt for any officer or soldier of the United States, she shall be regarded and held liable to be treated as a woman of the town plying her avocation.
In other words, the woman would be arrested for prostitution and faced a night in jail. This made Butler one of the most hated men in the South, and excited strong resentment, not only in the South, but in the North and abroad. New Orleans residents called him Beast Butler, but no woman was ever arrested in New Orleans because of it.
Butler's experiences in New Orleans also made him a confirmed abolitionist. When his requests to Washington for troop reinforcements went unheeded, he raised three regiments from New Orleans's freed black population. Confederate President Jefferson Davis accused Butler of "inciting African slaves to insurrection" by arming them for war. Davis issued a statement ordering that Butler "no longer be considered or treated simply as a public enemy of the Confederate States of America, but as an outlaw and common enemy of mankind, and that, in the event of his capture, the officer in command of the captured force do cause him to be immediately executed by hanging."
Enmity with Lincoln's Secretary of War, Edwin Stanton, ended Butler's tenure as New Orleans military governor in December of 1862. On December 16, 1862, General Butler was replaced by General Nathaniel Banks.
Other Commands
Butler had too much political clout to fire, and Lincoln had to find another job for him. Butler was returned to southern Virginia and the North Carolina border in late 1863, after a year of being idle. There wasn't much to do there, but Butler made sure his name regularly appeared in the newspapers. Eventually he was promoted to command the Army of the James based at Fort Monroe.
Image: General Benjamin F. Butler
In November 1863, General Butler was given the command of the Department of Virginia and North Carolina, and the forces under his command were designated the Army of the James. Butler was ordered to attack in the direction of Petersburg, Virginia, from the east, destroying the rail links supplying Richmond and distracting General Robert E. Lee, in conjunction with attacks from the north by General Ulysses S. Grant. Grant had little use for Butler's military skills, but Butler had strong political connections that kept him in positions beyond his competence.
Rather than striking immediately at Petersburg as he was ordered, Butler's offensive bogged down east of Richmond in the area called Bermuda Hundred, immobilized by the greatly inferior force of CSA General P.G.T. Beauregard. Butler was unable to accomplish any of his assigned objectives, and Grant was very disappointed with his unsuccessful operations. From then on Grant made sure Butler had plenty of adult supervision.
Lincoln had to keep Butler pacified politically as well, else there is no doubt a man with such a track record would have been sacked. There was a quid-pro-quo: Butler backed Lincoln for a second term, and Lincoln kept Butler in a job. But re-election and incompetence ended the compact. Lincoln no longer needed Butler.
In December 1864, Butler conducted an ineffectual expedition against Fort Fisher, near Wilmington, North Carolina. When he failed to capture Wilmington, Grant and Lincoln removed Butler from command in January 1865. Butler resigned from the army and returned to his home in Massachusetts, and there was talk that he would be made Secretary of State. This ended with Lincoln's assassination in April 1865.
After the war, Butler retreated to some property he acquired on the Massachusetts shoreline near Gloucester. It was called Bay View for its proximity to Ipswich Bay, and he liked to camp there during the summer months with his sons, while his wife and daughter stayed nearby. From this spot, Butler decided to run for a seat in the U.S. House of Representatives in 1866. He held the seat for four terms, and eventually replaced the tent with a grand home.
President Andrew Johnson's Impeachment Trial
Butler had joined the Republican Party, and he soon associated himself with the group that became known as the Radical Republicans, and backed their Reconstruction policies. An unrelenting critic of President Andrew Johnson, Butler argued in Congress that Southern plantations should be taken from their owners and divided among the former slaves. He also attacked Johnson when he attempted to veto the extension of the Freedmen's Bureau, the Civil Rights Bill, and the Reconstruction Acts.
In 1867, Butler joined others in claiming that Andrew Johnson had been involved in the conspiracy to murder Abraham Lincoln. He also implied that Johnson had been involved in tampering with the diary of John Wilkes Booth. In November 1867, the Judiciary Committee voted 5-4 that Andrew Johnson be impeached for high crimes and misdemeanors.
Benjamin Butler was one of the managers appointed by the House of Representatives in 1868 to conduct the impeachment proceedings against Andrew Johnson, President of the United States. Butler authored the tenth article of impeachment aimed at the President's verbal attacks on Congress. Johnson was the first and only president of the United States to be impeached.
On March 30, 1868, Johnson's impeachment trial began. It was held in the Senate, and was presided over by Chief Justice Salmon P. Chase. During the trial, Butler was one of Johnson's fiercest critics, but his poor performance has often been cited as a factor in Johnson's acquittal.
Although a large number of senators believed that Johnson was guilty of the charges, they disliked the idea of Benjamin Wade becoming president. Wade, who believed in women's rights and trade union rights, was considered by many members of the Republican Party as being an extreme radical. James A. Garfield warned that Wade was "a man of violent passions, extreme opinions, and narrow views who was surrounded by the worst and most violent elements in the Republican Party." Others Republicans argued that Johnson had less than a year left in office, and that they were willing to vote against impeachment if Johnson was willing to provide some guarantees that he would not continue to interfere with Reconstruction.
When the vote was taken, all members of the Democratic Party voted against impeachment. So also did those Republicans who were against Benjamin Wade becoming president. The result was 35 to 19, one vote short ofthe required two-thirds majority for impeachment. Another vote on May 26, also failed to get the necessary majority needed to convict Johnson. The Radical Republicans were angry that not all the Republican Party voted for conviction, and Butler claimed that Johnson had bribed two senators who switched their votes at the last moment.
Sarah Jones Hildreth Butler died on April 8, 1876, at 59 years of age.
Butler was elected to Congress, and served from March 4, 1877 to March 3, 1879; he declined to be a candidate for re-nomination. He was an almost perennial candidate for governor of Massachusetts, running unsuccessfully in 1871, 1873, 1874, 1878, and 1879. Disillusioned with the Republican Party, Butler rejoined the Democratic Party; in 1882 he was finally elected Governor of Massachusetts by the combined efforts of the Greenback and Democratic Parties.
In his final bid for office, Butler was the Presidential candidate of the Greenback-Labor and Anti-Monopoly parties in 1884, polling less than 2% of the popular vote. His program included plans for graduated income tax, the direct election of Senators, the establishment of a Department of Labor, and financial assistance to farmers. However, at the polls he was easily defeated by Grover Cleveland.
Butler then retired from public life, enjoying his remaining days as a lawyer and businessman. Butler's income as a lawyer was estimated at $100,000 per year shortly before his death, and he had become quite wealthy, having made prudent investments in land, a textile mill, railroads, and even a quarry. He had also shared in the profits from the illicit trade with the Confederates carried on by his brother at New Orleans and by his brother-in-law in the Department of Virginia and North Carolina, while Butler was in command.
Butler's memoir, Autobiography and Personal Reminiscences, was published in 1892.
General Benjamin Franklin Butler was on his way to Washington, DC, to argue a case before the Supreme Court, when he contracted pneumonia. He died in the city on January 11, 1893, at the age of 74. He was buried in Hildreth Cemetery, his wife's family cemetery, in Lowell, Massachusetts.
Image: Benjamin and Sarah Butler Gravesites
Butler's descendants include the famous scientist Adelbert Ames, Jr.; granddaughter Blanche Ames, women's rights activist and artist; Butler Ames; and George Plimpton.
SOURCES
Benjamin F. Butler
Benjamin Franklin Butler
Benjamin Butler Biography
Sarah Jones Hildreth Butler
Benjamin F. Butler Biography
Benjamin Franklin Butler Biography
Wikipedia: Benjamin Franklin Butler
Benjamin Franklin Butler 1818 – 1893
The Impeachment of Andrew Johnson