Wife of Union General George B. McClellan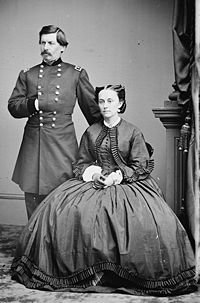 As a young lieutenant, George B. McClellan, was very fond of his commanding officer's young daughter, Ellen Mary Marcy, but she was in love with another future Civil War general, Ambrose Powell Hill, and it took McClellan seven long years to win her hand in marriage.
Image: Ellen Mary Marcy McClellan with her husband
Ellen Mary Marcy was born in 1836 in Philadelphia. She was the blonde, blue-eyed daughter of Major Randolph Marcy – explorer of the famous Red River and Federal chief-of-staff in the first years of the war. Marcy was an army officer who gained a good deal of fame in the decade just before the Civil War, as an explorer of the unsettled West. He was a strictly-business regular who blazed trails across the prairies and paved the way for the opening of the plains country.
George Brinton McClellan, the son of a surgeon, was born in Philadelphia December 3, 1826. He attended the University of Pennsylvania in 1840 at age 13, resigning himself to the study of law. After two years, he changed his goal to military service. With the assistance of his father's letter to President John Tyler, young George was accepted at the United States Military Academy at West Point in 1842. The academy had waived its normal minimum age of 16, and George graduated second in the class in 1846.
McClellan was appointed to the staff of General Winfield Scott during the Mexican War (1846-48), and won three brevets for gallant conduct. He taught military engineering at West Point (1848-51), and in 1855 was sent to observe the Crimean War in order to obtain the latest information on European warfare.
Due to his intimate knowledge of Texas and Indian Territory geography, Major Randolph Marcy was selected for the Red River Expedition of 1852. Along with several troops and a young army lieutenant he liked very much – George B. McClellan – Marcy set out to discover the source of the Red River. Unlike his predecessors, he did not use a boat, but explored mainly on horseback. He kept a meticulous diary, made friends with the Indians, and wrote a dictionary of the Wichita language.
In 1854 when McClellan was 27 years old, he met 18-year-old Ellen Mary Marcy, the daughter of his former commander, and it was love at first sight for him. He wrote to Ellen's mother: "I have not seen a very great deal of the little lady mentioned above, still that little has been sufficient to make me determined to win her if I can." Her father did everything he could to persuade the girl to accept him. He had no luck; Ellen simply did not love McClellan.
She loved Lieutenant Ambrose Powell Hill (future Confederate general). She wrote to her father, telling him that she was going to marry Hill, and Marcy promptly blew his stack. Any woman, he told his daughter, who married an army officer was simply asking for trouble; pay was low, absences from home were frequent and extended, and military life offered no particular future. McClellan was also a soldier, but he was planning to leave the army and enter private industry, and his family had money.
Ellen was to abandon all communication with Lieutenant Hill, and "if you do not comply with my wishes in this respect," her father wrote, "I cannot tell what my feelings toward you will become. I fear that my ardent affections will turn to hate…" Ellen was stubborn, but she listened to her father, and let the matter rest for nearly a year. In the end, Marcy had his way, and Lieutenant Hill at last faded out of the picture. General Ambrose Powell Hill was killed in battle one week before the Confederate surrender at Appomattox.
In June, McClellan proposed and Ellen promptly rejected him. It probably didn't help that she was two or three inches taller than McClellan. Leaving Washington, McClellan continued to keep in touch with Ellen and the family. Life for Ellen was going quickly as George continued his quest by mail. Before she reached the age of 25, she had received and rejected nine proposals of marriage.
McClellan left the United States Army in 1857 to become chief of engineering and vice president of the Illinois Central Railroad, where he became acquainted with Abraham Lincoln, the company's attorney. McClellan became president of the Ohio and Mississippi Railroad in 1860. He performed well in both jobs, but despite his successes and lucrative salary ($10,000 per year), he was frustrated with civilian employment and continued to study classical military strategy.
In 1859, Major Marcy was ordered west, and the family visited McClellan in Chicago. On October 20, George again proposed marriage, and this time Ellen accepted. Ellen and George were married at Calvary Church, New York City, on May 22, 1860. McClellan was 33 and Ellen was 25.
They had a son and a daughter: George Brinton McClellan, Jr. who was born in Dresden, Germany, during the family's first trip to Europe. Known to the family as Max, he served as a US Representative from New York State and as Mayor of New York City from 1904 to 1909. Their daughter Mary married a French diplomat and spent much of her life abroad. Neither Max nor Mary gave the McClellans any grandchildren.
The two would remain married for 25 years and were devoted to each other, writing daily when separated. "My whole existence is wrapped up in you," he wrote in one such letter. McClellan's personal life was without blemish. If Ellen Marcy ever regretted the turn of events, she left no record of it, coming down in history as a pretty, rather sad young woman looking out of the Brady photographs.
According to legend, Hill nourished a grudge against McClellan, and fought against him during the Civil War with more than ordinary vigor. Whenever the Confederates attacked the Army of the Potomac (which happened fairly often during the summer of 1862), the Union soldiers ascribed it to A. P. Hill and his personal feud with McClellan.
The story was told that McClellan was aroused from sleep early one morning by the crackling musketry from the picket line where Hill's division was opening another assault. McClellan detached himself grumpily from his blankets, and screamed these words: "My God, Ellen! Why didn't you marry him?"
McClellan offered his services to President Abraham Lincoln on the outbreak of the Civil War. On May 3, 1861, he was named commander of the Department of the Ohio, responsible for the states of Ohio, Indiana, Illinois, and later, western Pennsylvania, western Virginia and Missouri. On May 14, he was commissioned a major general in the regular army, and at age 34 outranked everyone in the Army except Lt. General Winfield Scott, the general in chief.
On July 26, 1861, the day he reached the capital, McClellan was appointed commander of the Military Division of the Potomac, the main Union force responsible for the defense of Washington. On August 20, several military units in Virginia were consolidated into his department, and he immediately formed the Army of the Potomac, with himself as its first commander. He reveled in his newly acquired power and fame.
George B. McClellan letter to Ellen, July 26, 1861
I find myself in a new and strange position here – President, Cabinet, General Scott & all deferring to me – by some strange operation of magic, I seem to have become the power of the land… I almost think that were I to win some small success now, I could become Dictator or anything else that might please me – but nothing of that kind would please me – therefore I won't be Dictator. Admirable self-denial!
During the summer and fall, McClellan brought a high degree of organization to his new army, and greatly improved its morale by his frequent trips to review and encourage his units. It was a remarkable achievement, in which he came to personify the Army of the Potomac and reaped the adulation of his men. He created defenses for Washington that were almost impregnable, consisting of 48 forts and strong points, with 480 guns manned by 7,200 artillerists.
But this was also a time of tension in the high command, as McClellan quarreled frequently with the government and the general-in-chief Lt. General Winfield Scott on matters of strategy. McClellan's view of slavery as an institution recognized in the Constitution – and entitled to federal protection wherever it existed – also received bitter criticism from Radical Republicans in the government.
Scott (along with many in the War Department) was outraged that McClellan refused to divulge any details about his strategic planning, or even mundane details such as troop strengths and dispositions. McClellan claimed not to trust anyone in the administration to keep his plans secret from the press, and thus the enemy.
On November 1, 1861, General Winfield Scott retired, and McClellan became general in chief of all Union armies. The president expressed his concern about the "vast labor" involved in the dual role of army commander and general-in-chief, but McClellan responded, "I can do it all." But Lincoln, as well as many other leaders and citizens of the northern states, became increasingly impatient with McClellan's slowness to attack the Confederate forces massed near Washington.
McClellan further damaged his reputation by his insulting insubordination to his commander-in-chief. He privately referred to Lincoln, whom he had known before the war, as "nothing more than a well-meaning baboon", a "gorilla", and "ever unworthy of… his high position." On November 13, the president visited McClellan at his home. McClellan made the president wait for 30 minutes, only to be told that the general had gone to bed.
McClellan insisted that his army should not undertake any new offensives until his new troops were fully trained. He believed that to keep resistance to a minimum, it should be made clear that Union forces would not interfere with slavery and would help put down any slave insurrections.
McClellan appointed Allan Pinkerton to spy on the Confederate Army. His reports exaggerated the size of the enemy, and McClellan was unwilling to launch an attack until he had more soldiers available. Under pressure from Radical Republicans in Congress, Abraham Lincoln decided in January 1862 to appoint Edwin M. Stanton as his new Secretary of War.
On March 11, 1862, Lincoln removed McClellan as general in chief, leaving him in command of only the Army of the Potomac, so that McClellan could devote all his attention to the capture of Richmond, the Confederate capital. Lincoln's order was ambiguous as to whether McClellan might be restored following a successful campaign.
Lincoln, Stanton and a group of officers called the War Board directed the strategic actions of the Union armies that spring. Although McClellan was assuaged by supportive comments from Lincoln, in time he saw the change of command very differently, describing it as a part of an intrigue "to secure the failure of the approaching campaign."
The Peninsula Campaign
McClellan and the Army of the Potomac took part in this major Union operation in southeastern Virginia from March through July 1862, the first large-scale offensive in the Eastern Theater. Lincoln disagreed with McClellan's desire to attack Richmond from the east, and only gave in when the division commanders voted eight to four in favor of McClellan's strategy.
On April 2, 1862, McClellan arrived with 100,000 men at the southeastern tip of the Virginia peninsula. He took Yorktown after a month's siege but let its defenders escape. He encountered the Confederate Army at Williamsburg on May 5 and was initially successful against the equally cautious General Joseph E. Johnston.
On May 31, Johnston's 41,800 men counterattacked McClellan's slightly larger army at Fair Oaks, only 6 miles from Richmond. Johnston was badly wounded during the Battle of Fair Oaks, and the aggressive General Robert E. Lee was assigned to replace him as commander of the Army of Northern Virginia.
McClellan had been unable to command the army personally because of a recurrence of malarial fever, but his subordinates were able to repel the attacks. Nevertheless, he received criticism from Washington for not counterattacking. McClellan spent the next three weeks repositioning his troops and waiting for promised reinforcements, losing valuable time as Lee continued to strengthen Richmond's defenses.
A series of engagements known as the Seven Days' Battle were fought from June 25 through July 1, 1862. On the second day, Union General Fitz-John Porter drove back a Confederate attack at Mechanicsville, 5 miles northeast of Richmond. Joined by General Stonewall Jackson, the Confederate troops constantly attacked McClellan.
As Lee continued his offensive, McClellan played a passive role, taking no initiative and waiting for events to unfold. In a telegram to Secretary of War Edwin Stanton, reporting on these events, McClellan blamed the Lincoln administration for his reversals. "If I save this army now, I tell you plainly I owe no thanks to you or to any other persons in Washington. You have done your best to sacrifice this army."
On June 27, a Confederate charge broke through the Union center at Gaines Mill. McClellan ordered the army to fall back toward the James River, where he would have the cover of Union gunboats. On July 2, after sharp rear guard actions at Savage's Station, Frayser's Farm and Malvern Hill, McClellan's troops reached Harrison's Landing and safety.
On July 1, 1862, McClellan and Lincoln met at Harrison's Landing, and McClellan once again insisted that the war should be waged against the Confederate Army and not slavery. Secretary of the Treasury Salmon P. Chase, Edwin M. Stanton and vice president Hannibal Hamlin led the campaign to have McClellan sacked, but Lincoln decided to put McClellan in charge of all forces in the Washington area.
The Maryland Campaign
Northern fears of a continued offensive by General Robert E. Lee were realized when he launched his Maryland Campaign on September 4, 1862, hoping to arouse pro-Southern sympathy in the slave state of Maryland. McClellan's pursuit began on September 5. He marched toward Maryland with six of his reorganized corps, about 84,000 men, leaving two corps behind to defend Washington.
Lee divided his forces into multiple columns, spread apart widely as he moved into Maryland. On September 10, 1862, he sent Stonewall Jackson to capture the Union Army garrison at Harper's Ferry, and moved the rest of his troops toward Antietam Creek. This was a risky move for a smaller army, but Lee was counting on his knowledge of McClellan's temperament.
However, Little Mac soon received a miraculous stroke of luck. Union soldiers accidentally found a copy of Lee's orders, and delivered them to McClellan's headquarters in Frederick, Maryland, on September 13. However, McClellan continued his cautious line, ordering his units to set out for the South Mountain passes the following morning. The delay gave Lee more time to prepare his defenses.
The Union army reached Antietam Creek on the evening of September 15. A planned attack on September 16 was put off because of early morning fog. On the morning of September 17, 1862, McClellan and General Ambrose Burnside attacked Lee at the Battle of Antietam. Although greatly outnumbered, Lee held out until A.P. Hill arrived with reinforcements.
McClellan sent in less than three-quarters of his army, enabling Lee to fight the Federals to a standstill. During the night, both armies consolidated their lines. McClellan did not renew the assaults. Lee continued to skirmish with McClellan throughout the 18th, while removing his wounded. After dark, the battered Army of Northern Virginia crossed the Potomac River, unhindered.
McClellan wired to Washington, "Our victory was complete. The enemy is driven back into Virginia." Yet there was obvious disappointment that McClellan had not crushed Lee, who was fighting with a smaller army with its back to the Potomac River. Lincoln was angry at McClellan because his superior forces had not pursued Lee across the Potomac.
The Beginning of the End
The Battle of Antietam was the single bloodiest day in American military history. Despite significant advantages, McClellan had been unable to concentrate his forces effectively. Historian James M. McPherson has pointed out that the two corps McClellan kept in reserve were in fact larger than Lee's entire force.
As a result of being unable to achieve a decisive victory at Antietam, Abraham Lincoln postponed the attempt to capture Richmond. A few days later came the order from Washington to "cross the Potomac and give battle to the enemy or drive him South." However, McClellan refused to move, complaining that he needed fresh horses. Radical Republicans now began to openly question McClellan's loyalty.
Abraham Lincoln finally recalled him to Washington with the words: "My dear McClellan: If you don't want to use the Army I should like to borrow it for a while." On November 7, 1862, Lincoln removed McClellan from all commands and replaced him with Ambrose Burnside.
McClellan wrote to Ellen:
Those in whose judgment I rely tell me that I fought the battle splendidly, and that it was a masterpiece of art… I feel I have done all that can be asked in twice saving the country… I feel some little pride in having, with a beaten and demoralized army, defeated Lee so utterly… Well, one of these days history will, I trust, do me justice.
In October 1863, George B. McClellan began his political career, and was nominated by the Democratic Party to run against Abraham Lincoln in the 1864 presidential election. Following the example of Winfield Scott, he ran as a U.S. Army general still on active duty; he did not resign his commission until election day, November 8, 1864. In an attempt to obtain unity, Lincoln named a Southern Democrat, Andrew Johnson of Tennessee, as his running mate.
The deep division in the party, the unity of the Republicans, and the military successes by Union forces in the fall of 1864 doomed McClellan's candidacy. Lincoln won the election handily, with 212 Electoral College votes to 21 for McClellan, and a popular vote of 403,000, or 55%. Lincoln's share of the vote in the Army of the Potomac was 70%.
After the 1864 election, McClellan set sail for Europe, and wrote to President Lincoln:
It would have been gratifying to me to have retired from the service with the knowledge that I still retained the approbation of your Excellency – as it is, I thank you for the confidence and kind feeling you once entertained for me, and which I am conscious of having justly forfeited…

In severing my official connection with your Excellency, I pray that God may bless you, and so direct your counsels that you may succeed in restoring to this distracted land the inestimable boon of peace, founded on the preservation of our Union and the mutual respect and sympathy of the now discordant and contending sections of our once happy country.
McClellan spent three years in Europe, returning to the US in 1867 to head the construction of a newly designed warship called the Stevens battery, a floating ironclad battery intended for harbor defense. In 1869, the project ran out of money, McClellan resigned, and the ship was eventually sold for scrap metal.
In 1870, McClellan became chief engineer for the New York City Department of Docks, and built a second home on Orange Mountain, New Jersey. Evidently the position did not demand his full-time attention because, starting in 1872, he also served as the president of the Atlantic and Great Western Railroad.
After resigning this position in the spring of 1873, McClellan established Geo. B. McClellan & Co., Consulting Engineers & Accountants, and then left for a two-year trip through Europe, from 1873 to 1875. His essays on Europe were published in Scribner's, and his analyses of contemporary military issues in Harper's Monthly and The North American Review.
In 1877, the Democratic Party in New Jersey was divided into several contentious factions, producing a deadlock in the race for the gubernatorial nomination. At the state convention in early September, McClellan was nominated on the first ballot, serving as governor of New Jersey from 1878 to 1881.
In late 1880, McClellan moved his family to Gramercy Park in Manhattan. Over the next few years, he and Ellen spent winters in New York City, Augusts at a resort in New Hampshire's White Mountains or Maine's Mount Desert Island, and the rest of each year in New Jersey.
McClellan's final years were devoted to traveling and writing. He justified his military career in McClellan's Own Story, published posthumously in 1887. In early 1885, McClellan was expected to be named secretary of war in the Grover Cleveland administration, but his candidacy was torpedoed.
General George B. McClellan died unexpectedly in 1884 at age 58 at Orange, New Jersey, after having suffered from chest pains for a few weeks. His final words, at 3 a.m. were, "I feel easy now. Thank you." He is buried at Riverview Cemetery, Trenton, New Jersey.
Ellen Mary Marcy McClellan, although in poor health, outlived George. She died in 1915 in Nice, France, while visiting daughter May at her home.
When this sad war is over we will all return to our homes, and feel that we can ask no higher honor than the proud consciousness that we belonged to the Army of the Potomac.
~General George B. McClellan
Abraham Lincoln, in a discussion with journalists about General George McClellan (March 1863):
I do not, as some do, regard McClellan either as a traitor or an officer without capacity. He sometimes has bad counselors, but he is loyal, and he has some fine military qualities. I adhered to him after nearly all my constitutional advisers lost faith in him. But do you want to know when I gave him up? It was after the Battle of Antietam.

The Blue Ridge was then between our army and Lee's. I directed McClellan peremptorily to move on Richmond. It was eleven days before he crossed his first man over the Potomac; it was eleven days after that before he crossed the last man. Thus he was twenty-two days in passing the river at a much easier and more practicable ford than that where Lee crossed his entire army between dark one night and daylight the next morning. That was the last grain of sand which broke the camel's back. I relieved McClellan at once.
SOURCES
George B. McClellan
Ohio History Central
National Park Service
1864: Lincoln v. McClellan
George Brinton McClellan
Mr. Lincoln and New York
Wikipedia: George B. McClellan
George B. McClellan (1826-1885)