Merry Christmas General Lee
By Mort Kunstler
December 25, 1862
It was a passing moment of cheer amid the harsh realities of war. General Robert E. Lee has attended a holiday dinner hosted by General Stonewall Jackson at Moss Neck Plantation near Fredericksburg, Virginia. General Lee is leaving the festivities, heading back to his winter headquarters.
During the Civil War, Christmas was celebrated in both the United States and the Confederate States of America although the day was not recognized until 1870, when President Ulysses S. Grant made Christmas an official Federal holiday in an attempt to unite north and south. The war continued to rage on Christmas Day and skirmishes occurred throughout the country.
Christmas Feasts
A pre-war Southern Christmas dinner might consist of baked ham, turkey, oysters and winter vegetables from the root cellar: squash, cabbage, potatoes, sweet potatoes, carrots and apples. Preserves, pickles, relishes, breads, pies and puddings would also be added to the table. Over the years some foods had become synonymous with the Christmas season: mince pie, eggnog and plum pudding.
Confederate nurse Kate Cumming was up before daylight making eggnog for the patients in the hospital where she worked. She could not find enough eggs to serve everyone so the holiday treat was given to the wounded, the cooks and the nurses. One of the doctors provided turkeys, chickens, vegetables and pies – a wonderful meal, but Kate's enjoyment was dampened by the thought that the men on the battlefield had not fared so well.
In Georgia, Julia Johnson Fisher wrote of the Christmas of 1864:
On Christmas day, we fared sumptuously. Mrs. Lynn dined with us and furnished the turkey. We had some chickens and a piece of fresh pork. Gussie had been off ten miles and brought oysters – so we had an oyster stew and chicken salad, minus the greens, potatoes and rice. The turkey was dressed with corn bread. Our dessert was a corn meal pudding… how we did relish it! We are always hungry – hungry the year round, but do not grow fat.
In South Carolina, Emma Holmes described her holiday dinner as consisting of a ham – a gift from a friend – a turkey she had raised and bread pudding sweetened with sorghum, a delicious meal for the times. But she could not enjoy it for worrying about her family members in the army, who probably had little or nothing to eat. As the Civil War dragged on, deprivation replaced the well-set table, and familiar faces were missing from the dinner table.
In Winchester, Virginia, Cornelia McDonald had worked tirelessly preparing rusks (light, sweetened biscuits) and cakes for her children for the holiday, when Union soldiers suddenly filled her yard. When a soldier tried to run off with the Christmas turkey, she ran into the yard and retrieved the turkey, but soon discovered that her kitchen was full of soldiers who were eating all of her baked goods.
Oh Christmas Tree
In the United States, the widespread customs of Christmas cards, carols and trees date back to the 1850s. A feature story in the magazine Godey's Ladys' Book initiated the most beloved symbol of the American family Christmas – the Christmas tree. The story was about Queen Victoria's and Prince Albert's Christmas tree, which was a custom Prince Albert brought to England from his native country, Germany.
The Christmas tree came into its own during the Civil War. Most trees were small and sat on a table and were usually decorated with sugared fruit, candles and mistletoe, all supposed to bring good luck to the household. Most decorations were homemade: strings of popcorn, ribbon, pine cones, colored paper and silver foil. Candles, greenery, holly and mistletoe were used to decorate mantels, windows and doors.
Although there was a war going many Christmas traditions began in the 19th century, one of which was Santa Claus. Cartoon artist Thomas Nast created many visuals which would influence both Union war efforts and Christmas traditions. He is credited with the first images of Santa Claus taken from his native German portrait of St. Nicholas. Nast drew many images of Santa Claus, but the most popular appeared in Harper's Weekly depicting Santa Claus in a red, white and blue suit with stars.
For children, Christmas was altered during the war. Presents were fewer, especially in the devastated South. By 1863, the Union blockade of the Southern coasts had made it nearly impossible for Santa Claus to visit homes in the South. Quite a few mothers explained to their children that there would be no presents because Santa Claus would not be able to run the blockade, or that the Yankees had shot him.
Ella Gertrude Clanton Thomas of Augusta, Georgia wrote:
I have written so much… and yet I have said nothing of Turner's and Mary Bell's party which we gave them last week in lieu of the Santa Claus presents. Mary Bell has been told that Santa Claus has not been able to run the blockade and has gone to war – yet at this late hour when I went upstairs Thursday night of the party I found that in the trusting faith of childhood they had hung their little socks and stockings in case Santa Claus did come.
For Southern slaves, the Christmas season had always meant a break from their duties for a day or two, and they celebrated with singing, dancing and possibly a brief reunion with separated family members from other plantations. Before the war they had received gifts from their masters and their semi-annual clothing allotment.
Near Atlanta, Dolly Lunt Burge, a widow living on a plantation with her daughter and her slaves, wrote on December 24, 1864:
This has usually been a very busy day with me, preparing for Christmas not only for my own tables, but for gifts for my servants. Now how changed! No confectionery, cakes, or pies can I have. We are all sad; no loud, jovial laugh from our boys [her slaves] is heard. Christmas Eve, which has ever been gaily celebrated here, which has witnessed the popping of fire-crackers [a Southern Christmas custom] and the hanging up of stockings, is an occasion now of sadness and gloom.

I have nothing even to put in Sadai's [her daughter] stocking, which hangs so invitingly for Santa Claus. How disappointed she will be in the morning, though I have explained to her why he cannot come. Poor children! Why must the innocent suffer with the guilty?

Sadai jumped out of bed very early this morning [Christmas day] to feel in her stocking. She could not believe but that there would be something in it. Finding nothing, she crept back into bed, pulled the cover over her face, and I soon heard her sobbing. The little Negroes all came in: "Christmas gift, mist'ess! Christmas gift, mist'ess!" I pulled the cover over my face and was soon mingling my tears with Sadai's.
In Richmond, Judith McGuire wrote in her diary that her family had received a box sent to them by a young officer who had captured it from the Yankees. The McGuires had been forced to flee their home in Alexandria early in the war, and Judith insisted on sharing the contents of the box with friends who were also refugees.
The most famous Christmas gift of the war was sent by telegram from General William Tecumseh Sherman to President Abraham Lincoln on December 22, 1864. "I beg to present you as a Christmas gift, the city of Savannah," wrote Sherman, "with 100 and 50 guns and plenty of ammunition, also about 25,000 bales of cotton."
But General Sherman's soldiers did not forget about the impoverished Southerners. On Christmas Day, they loaded several wagons full of food and supplies. Using tree branches as antlers, they turned their mules into 'reindeer' and delivered their gifts in the ravaged Georgia countryside. The destitute Southerners thanked the jolly Union Santa Clauses as the wagons were pulled away by their makeshift reindeer.
Christmas carols were sung both at home and in the camps by homesick soldiers during the Civil War. Some of the most popular were Silent Night, Away in a Manger, Oh Come All Ye Faithful, Joy to the World, What Child Is This? and Deck the Halls. But Christmas also made the heart ache for home. Instead of 'bringing in the tree' and caroling, the soldier in winter camp was scavenging for firewood.
Loved Ones at War
In Virginia, Lucy Buck wrote in her diary on December 25, 1861:
I cannot but feel a little sad this morning for my thoughts continually revert to those dear absent brothers who were wont to share our Christmas cheer and gladden the hours of this festive season for us. Poor boys! I wonder if they think of the blazing hearthstone at old Bel Air [the family home] and wish for a place in the home-circle. I think of it all and sicken when I think.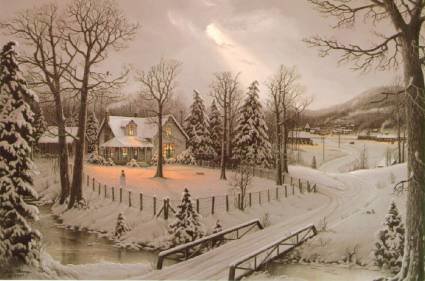 In Richmond, Sallie Brock Putnam spent her Christmas of 1861 sewing caps, stockings and scarves for the soldiers. She and her fellow citizens found the comfort of the soldiers during the coming winter to be foremost in their minds.
Christmas 1861 saw soldiers full of bravado, still relatively well fed and equipped, and eagerly anticipating Christmas boxes of treats from home. Often officers authorized extra rations of spirits and men engaged in greased pig-catching contests, footraces, jumping matches and impromptu pageants dressed as women. Soldiers erected small evergreen trees strung with hardtack and pork. Some were excused from drills, but the need to haul logs and forage for firewood prevailed no matter what day of the year it was.
On Christmas day 1862, Tally Simpson wrote to his sister:
This is Christmas Day. The sun shines feeble through a thin cloud, the air is mild and pleasant, a gentle breeze is making music through the leaves of the lofty pines that stand near our bivouac. All is quiet and still and that very stillness recalls some sad and painful thoughts. This day, one year ago, how many thousand families, gay and joyous, celebrating merry Christmas, drinking health to absent members of their family and sending upon the wings of love and affection long, deep, and sincere wishes for their safe return to the loving ones at home, but today are clad in the deepest mourning in memory to some lost and loved member of their circle… When will this war end? Will another Christmas roll around and find us all wintering in camp? Oh! That peace may soon be restored to our young but dearly beloved country and that we may all meet again in happiness.
On December 1, 1863, poet Henry Wadsworth Longfellow that his son Charles had suffered severe wounds during the Mine Run Campaign. Longfellow left at once for Washington, DC, where he found his son and brought him home. As he sat nursing his son and giving thanks for his survival, Longfellow wrote his pacifist poem, "Christmas Bells" on Christmas Day 1863. It was later set to music and became the popular carol, "I Heard the Bells on Christmas Day." The carol does not include two stanzas from the original poem that focused on the war.
The final Christmas of the war in 1864 found General Robert E. Lee's starving army lurking behind entrenchments around the city of Petersburg, Virginia. Confederate General John Brown Gordon wrote from his headquarters near Petersburg:
The one worn-out railroad running to the far South could not bring us half enough necessary supplies: and even if it could have transported Christmas boxes of good things, the people at home were too depleted to send them.
Residents of Richmond, during the final Christmas of the war, momentarily threw off the dark veil of impending doom and put on a merry holiday face for a gathering of children at St. Paul's Episcopal Church. President Jefferson Davis, along with his wife Varina Davis and their children, hosted the party.
Alice West Allen, age 11, had been sent to Richmond because General Philip Sheridan and his army had destroyed their native Shenandoah Valley. Alice and her siblings had been invited to see "a Christmas tree given to President Davis' children," and she later wrote:
The tree was a lovely holly laden with homemade candles and dolls made out of hickory nuts and Canton flannel; then there were cotton and Canton flannel rabbits, dog and cats, and numerous other presents all homemade, as was everything on the supper table – home-made coffee, tea, sugar, and everything. I never saw anything that looked so pretty to me.
The events of 1865 once again influenced th e Christmas holiday celebrations. The war was over, but the nation was still reeling from the assassination of President Lincoln. However, the Thirteenth Amendment to the Constitution became law on December 18, 1865, abolishing slavery in the United States forever. What better reason to celebrate?
I wish peace, love and joy to my readers and their families, and to Civil War buffs everywhere.
SOURCES
Christmas in the Civil War
Wikipedia: Christmas in the American Civil War
Smithsonian Associates Civil War Email Newsletter