Civil War Diarist and Refugee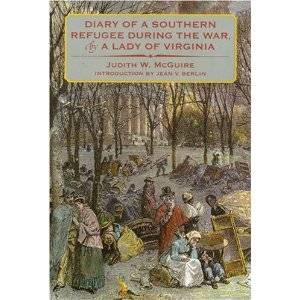 Judith Brockenbrough McGuire, the daughter of a Virginia Supreme Court justice and mother of two Confederate soldiers, was married to John P. McGuire, founder of the Theological Seminary in Alexandria, Virginia, where he taught until the beginning of the Civil War. He was elected to the Virginia secession committee and voted to secede from the Union.
Judith McGuire's journal, Diary of a Southern Refugee during the War, by a Lady of Virginia, (University of Nebraska Press, October 1995), is one of the best civilian records of the Civil War. The book is based on a diary she kept between May 4, 1861 and May 4, 1865.
Matthew Page Andrews' The Women of the South in War Times (1920) contains excerpts from McGuire's Diary with the following praise:
Her story is the simple record of a courageous, self-sacrificing wife and mother who endured privations without complaint, encouraged Southern soldiers on the way to battle and comforted the sick and wounded sent back to homes or to hospitals.
Judith McGuire's diary is a record of her family's experiences as refugees from 1861 to 1865. Her account tells how private citizens were uprooted from their homes and communities, and forced into the civilian workforce to obtain meager sources of support.
Diary entry, May 25, 1861
The day of suspense is at an end. Alexandria and its environs, including, I greatly fear, our home, are in the hands of the enemy. Yesterday morning, at an early hour, as I was in my pantry, putting up refreshments for the barracks preparatory to a ride to Alexandria, the door was suddenly thrown open by a servant, looking wild with excitement, exclaiming, "Oh, madam, do you know?" "Know what, Henry?" "Alexandria is filled with Yankees."

The question with us was, what was next to be done? Mr. [McGuire] had voted for secession, and there were Union people enough around us to communicate every thing of the sort to the Federals; the few neighbours who were left were preparing to be off, and we thought it most prudent to come off too. Pickets were already thrown out beyond Shuter's Hill, and they were threatening to arrest all secessionists. With a heavy heart I packed trunks and boxes, as many as our little carriage would hold…
Forced to flee their home, Judith McGuire and her family began their odyssey of taking refuge with various family members across the state. With great regret and sadness, she wrote of her fears for their property back in Alexandria.
September 12, 1861
There is no probability of our getting home and if we cannot go, what then? What will become of our furniture, and all of our comforts, books, pictures, etc. But these things are too sad to dwell on.

With my mind's eye I look first into one room and then another, with all the associations of the past; the old family bible, the family pictures, the library containing the collection of forty years, and so many things which seemed a part of ourselves. What will become of them? Who are now using or abusing them?
With the loss of her husband's salary, it became necessary for both of them to find work. Employment was scarce as hundreds of displaced persons vied for the same few positions. What modest income was earned went to pay exorbitant rents and inflated prices for everyday staples.
John McGuire found a job as a postal clerk, and later a hospital chaplain. Judith received an appointment to the Commissary Department, where she worked as a clerk. The couple moved several times during their stay in Richmond, seeking affordable housing. Despite her hardships, Judith knew her situation was better than most. They never went hungry and did not lack for influential friends or basic necessities. She sewed for the soldiers, nursed them in hospitals, and recorded the deaths of friends in battle:
Thus we bury, one by one, the dearest, the brightest. I wish I could sleep until the war is over.
McGuire shares common hardships, struggling to obtain food and lodging, but her position permits a glimpse of wartime Richmond society and meetings with General and Mrs. Robert E. Lee while they lived in Richmond.
July 15, 1863
There is more unhappiness abroad among our people than I have ever seen before. Sometimes I wish I could sleep until it is over – a selfish wish enough; but it is hard to witness so much sorrow which you cannot alleviate.

The number of refugees increases fearfully as our army falls back; for though many persons, still surrounded by all the comforts of home ask why they do not stay and protect their property, my only answer is, 'How can they?'

In many instances defenseless women and children are left without means of subsistence; their crops destroyed; their business suspended; their servants gone; their horses and other stock taken off; their homes liable at any hour of the day and night to be entered and desecrated by a lawless soldiery. How can they remain without even the present means of support, and nothing in prospect.
As the final days of the Confederacy pass, McGuire's diary entries reflect the anxiety and despair that all Southern people must have been feeling at that time.
April 10, 1865, in Richmond
Last night… between nine and ten o'clock, as some of the ladies of the house were collected in our room, we were startled by the rapid firing of cannon… We began to think it must be a salute for some great event. We threw up the windows, and saw the flashes and smoke of cannon towards Camp Jackson. Some one present counted one hundred guns. What could it be? We called to passers-by: "What do those guns mean?" At last a voice pertly, wickedly replied: "General Lee has surrendered, thank God!"
April 18, 1865
For ourselves, like the rest of the refugees, we are striving to get from the city [Richmond]. The stereotyped question when we meet is, "When and where are you going?" Our country relatives have been very kind. My brother offers us an asylum in his devastated home at W. While there we must look around for some other place, in which to build up a home for our declining years. Property we have none – all gone… The Northern officials offer free tickets to persons returning to their homes – alas to their homes! How few of us have homes!
April 20, 1865
The cars on the Central Railroad will run tomorrow, for the first time, under Federal rule, and the day after we will use our passports and free tickets to leave the city [Richmond] – dearer than ever, in its captivity and ruin. It is almost impossible to get current money. A whole-hearted friend from Alexandria met me the other day, and with the straightforward simplicity due to friendship in these trying times, asked me at once, "Has your husband any money?" I told him I thought not. He replied, "Tell him I have between twenty-five and thirty dollars… and he shall have half of it; tell him I say so."
Final entry, May 4, 1865
General [Joseph E.] Johnston surrendered on the 26th of April [at Bennett Place in North Carolina]. "My native land, good-night!"
SOURCE
Judith White McGuire: Diary of a Southern Refugee