Wife of Confederate General John Brown Gordon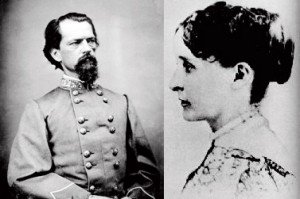 Rebecca (Fanny) Haralson, born on September 18, 1837, was the daughter of General Hugh Anderson Haralson of LaGrange, Georgia. Her father had represented Georgia in Congress for many years and was Chairman of the Committee on Military Affairs during the Mexican War.
Image: General John Brown Gordon and Fanny Haralson Gordon
John Brown Gordon was born in Upson County, Georgia, February 6, 1832, to Zachariah and Malinda Cox Gordon, the fourth of twelve children. His father was a prominent Baptist minister and plantation owner.
Around 1840, Zachariah moved his family to Walker County near Lafayette, where he built a summer resort hotel to take advantage of the medicinal appeal of the springs on the property. The hotel subsequently became one of the State's most fashionable vacation spots. Over two decades later, the Battle of Chickamauga was waged in part on the Gordon's property.
Fanny met John Brown Gordon after he left the University of Georgia in 1854 to study law in Atlanta. He was admitted to the Bar later that year, and began a law practice with Basil H. Overby and Logan E. Bleckly. Through them, Gordon met Fanny Haralson, who was the younger sister of the wives of both partners.
In love at first sight, 22-year-old John married Fanny on her 17th birthday, September 18, 1854. The wedding took place at Myrtle Hill, the Haralson's ancestral home near La Grange, Georgia. It was a small private affair in her father's bedroom, because his health had taken a bad turn. In fact, one week later her father, General Haralson, died. Shortly after the wedding, John and Fanny moved to Atlanta. Theirs was a long and happy marriage.
When his practice began to falter, Gordon switched to journalism and wrote for a newspaper in Milledgeville – then Georgia's capital – for a year before moving to northwest Georgia to open a coal mining company. It was there, at the juncture of Georgia, Alabama and Tennessee, that Gordon was living when the Civil War erupted in 1861.
John Brown Gordon was just 28 years old when the Civil War began, yet by the end of the war, he was second in command only to General Robert E. Lee. In 1861, he enlisted as a private soldier, and was elected captain of a volunteer company he recruited, which was composed of men from the mountains, and they became known as the "Raccoon Roughs."
By this time, the Gordons had two small boys and were operating a coal mining company. Husband and wife struggled with their loyalties to family and country. Gordon wrote in his memoir that Fanny "ended doubt as to what disposition was to be made of her by announcing that she intended to accompany me to the war." She left their children with relatives to free her up for what in her judgment was a higher duty. Because of Southern custom, she couldn't be a battlefield nurse, but she could stay in the camps while the battles in which John fought were raging nearby.
Fanny Gordon accompanied her general throughout the war, and is credited with saving his life when he was wounded five times at Antietam. Assigned by General Robert E. Lee to hold an essential position during the Battle of Sharpsburg, Gordon's men were tremendously outnumbered. Their only hope, he decided, was for his men to hold their fire until the enemy troops were practically on top of them and then all fire at once. Their first volley knocked down almost the entire Yankee front line. Subsequent lines of Yankees met a similar fate.
But many Confederates also fell at what would be called the Battle of Bloody Lane (a sunken road), including Gordon. First, a minie ball passed through his calf, a second ball hit him higher in the same leg, a third through his left arm, mangling the muscles and tendons in his arm were mangled and severing a small artery. A forth ball hit him in his shoulder. Despite pleas he go to the rear, Gordon continued to lead his men.
General Gordon was finally stopped by a ball that hit him in the face, passing through his left cheek and out his jaw, leaving him helpless and insensible on the field. He fell with his face in his cap and might have drowned in his own blood if there hadn't been a bullet hole in the cap.
Gordon was carried on a litter to a barn where 6th Alabama Assistant Surgeon Thaddeus J. Weatherly dressed his wounds. When Gordon revived late that night he found himself lying on a pile of straw. His spirited young wife Fanny came to the barn as soon as she learned her husband had been wounded. When she reached him, she suppressed a scream as Gordon struggled to joke with her, saying he had been to an Irish wedding.
Fanny nursed her husband for seven months. She dressed his wounds, fed him brandy and beef tea because his jaw was wired shut, and provided long hours of bedside care and devotion. "Thenceforward, for the period in which my life hung in the balance," the general wrote, "she sat at my bedside, trying to supply concentrated nourishment to sustain me against the constant drainage."
The facial wound caused his face to blacken and swell and his eyes to narrow, so much so that he could barely see. None of this deterred her. His jaw had been wired shut, which made feeding an extremely difficult proposition, but she knelt at his side and managed to get a little liquid nourishment past his clenched teeth.
When erysipelas, a serious bacterial infection, attacked his left arm, she painted it relentlessly with iodine. "Under God's providence, I owe my life to her incessant watchfulness night and day, and to her tender nursing through weary weeks and anxious months," Gordon recalled. With Fanny's care and his own strong will, Gordon miraculously recovered.
Gordon returned to duty in March 1863 and was given command of a brigade of six Georgia regiments in Lt. General Jubal Early's Division. After leading a successful assault on Marye's Heights in Fredericksburg during the Battle of Chancellorsville in May, Gordon was promoted to brigadier general.
After General Robert E. Lee restructured his army, Early's Division was absorbed into Lt. General Richard Ewell's Second Corps and marched into the Shenandoah Valley as part of Lee's second attempt to invade the North. At Gettysburg on July 1, 1863, Gordon's brigade of 1200 Georgians rolled up the Federal right flank north of the town and was driving the Yankees until ordered to halt by Early and Ewell, which Gordon later contended was a mistake that cost the Rebels the battle.
Gordon was a brilliant and captivating orator – a skill he put to effective use during the War to inspire his men. A Confederate officer at Gettysburg recalled that the sight of Gordon mounted on his magnificent, coal-black stallion as being "the most glorious and inspiring thing" he had ever seen. It was, he declared, an unforgettable "splendid picture of gallantry." Gordon "standing in his stirrups, bare headed, hat in hand, arms extended and, in a voice like a trumpet, exhorting his men" was "absolutely thrilling."
Fanny mostly kept pace, going to the rear before battles. Her husband marveled at her courage, writing:
It requires the direst dangers, especially where those dangers threaten some cause or object around which their affections are entwined, to call out the marvelous courage of women. Under such conditions they will brave death itself without a quiver.
In the Overland Campaign, Gordon commanded a division in Ewell's corps at the Battle of the Wilderness near the grounds of the Chancellorsville battlefield. His God-given ability to inspire his troops almost to madness was notably done on May 12, 1864, at the Battle of Spotsylvania Court House.
General Lee was prepared to lead the charge of Gordon's men when Gordon rode up and said: "General Lee, this is no place for you. These men behind you are Georgians and Virginians. They have never failed you and will not fail you here." Then they took up the chant, "Lee to the rear," and Gordon seized Lee's horse's bridle and ordered some men to take Lee to the rear.
Gordon's success in turning back the massive Union assault at the Bloody Angle prevented a Confederate rout, and his erect posture saved his life, as a ball went through the back of his coat, just missing his spine. Some believe that Gordon's success in turning back the Federals at the Bloody Angle gave the Confederacy an additional year of life.
After Cold Harbor, Gordon left with General Jubal Early for the Valley Campaigns of 1864. Unbeknownst to John, Fanny followed him on June 14, 1864. At one point, her carriage broke down and she was almost captured, but with the help of men from the command of Robert Rodes, she continued unmolested.
On September 19, 1864, Fanny rushed out into the street during the Third Battle of Winchester to urge Gordon's retreating troops to go back and face the enemy. With bullets flying all around her, she shouted, "Go back to the front lines, you cowards! Turn around and fight."
General Gordon was horrified:
I saw Mrs. Gordon on the streets of Winchester, under fire, her soul aflame with patriotic ardor, appealing to retreating Confederates to halt and form a new line to resist the Union advance. She was so transported by her patriotic passion that she took no notice of the whizzing shot and shell, and seemed wholly unconscious of her great peril.
Lt. General Jubal Early, a bachelor, had little patience with wives who tried to follow their officer husbands to war. He remarked that he wished the Yankees would capture Mrs. Gordon because she always seemed to be around. Yet when she teased him about the remark during a dinner, Early relented, saying, "General Gordon is a better soldier when you are close by him than when you are away, and so hereafter, when I issue orders that officers' wives must go to the rear, you may know that you are excepted."
In December 1864, Gordon was ordered to rejoin the Army of Northern Virginia as commander of the bulk of the Second Corps while Early remained in the Valley. Lee's army faced a siege at Petersburg, Virginia, by Lt. General Ulysses S. Grant and the Army of the Potomac.
Fanny Gordon stayed as near to the general as possible until late in the war – when she was incapacitated by childbirth, and ended up behind enemy lines in Virginia.
General Gordon's career was perhaps as brilliant as that of any officer in the Confederate army. In rapid succession he filled every grade – that of Major, Lieutenant Colonel, Colonel, Brigadier General, Major General, and near the end, was assigned to duty as Lieutenant General (by authority of the Secretary of War).
For General John Brown Gordon, April 9, 1865, began with leading his weakened and hungry forces into battle at Appomattox Court House, Virginia. When Lee's army had "been fought to a frazzle" and was surrounded by the enemy, General Gordon led the last charge of the Army of Northern Virginia, and captured the entrenchments and several pieces of artillery in his front.
Hours later, the Civil War was over. Gordon commanded, at the surrender at Appomattox, one half of the Army of Northern Virginia, under Robert E. Lee. On April 12, 1865, Gordon's Confederate troops officially surrendered to Major General Joshua L. Chamberlain, who was acting for General Ulysses S. Grant.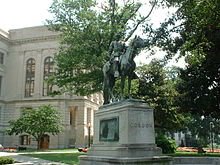 Image: General John Brown Gordon Statue
Georgia State Capitol
Atlanta, Georgia
After the war, because fighting in North Georgia had damaged the Gordon's coal mines, and they lacked the money needed to reopen them, General Gordon had to look for a new occupation. After briefly owning and managing some sawmills near Brunswick, he and Fanny moved to Kirkwood, an Atlanta suburb, and went into the insurance and publishing businesses.
Gordon rose through the ranks in civilian life as he had during the war. It must be said that after the war, he was a strong opponent of Reconstruction, and was generally acknowledged to be the titular leader of the Ku Klux Klan in Georgia during the late 1860s – another Southern military figure, fighting to preserve a way of life that had already been lost.
Gordon lost his first run for governor in 1868, but the state Legislature selected him to represent Georgia in the U.S. Senate, where he served from 1873 to 1880. In the Senate, he concentrated on economic issues and fostering national reconciliation. He was hailed by the New York Times as "the ablest man from the South in either House of Congress."
Gordon's career was tainted by scandal in 1880 when, having been reelected to the US Senate, he suddenly resigned to become general counsel of the state-controlled Western and Atlantic Railroad. When Governor Alfred Colquitt promptly appointed the railroad's former president Joseph E. Brown to fill Gordon's unexpired term as senator, a cry went up within his own Democratic Party that a corrupt bargain had been struck.
Although Gordon claimed that he was acting in the best interest of the party and his constituency by retiring from public life, he was never able to fully counter the charges by his critics that he was motivated strictly by personal gain.
None of this, however, detracted from his popularity. In 1886, he was elected governor of Georgia, and he stayed in the position until 1890, then rejoined the US Senate for another six years. When the United Confederate Veterans was organized in 1889, he was made the group's president.
As aggressive and optimistic in business as he had been in war, Gordon invested in a wide variety of businesses and a white elephant plantation in Taylor County. He lost most of his money in a failed venture to build a railroad from Georgia to Key West and establish a steamship line linking it to Latin America.
Mistakes made by the Memphis branch of the insurance company, whose Atlanta branch Gordon headed, caused the company to go bankrupt. Gordon's financial status remained precarious for the rest of life and gave substance to claims that he exchanged political favors for money.
During the last decade of his life," says Ralph Lowell Eckert (author of John Brown Gordon: Soldier, Southerner, American) "Gordon remained extremely active in his efforts to vindicate the South and at the same time to establish a new spirit of nationalism" by embarking on a career as a lecturer. He retired from politics in 1896. For several years he lectured, and he published his highly successful memoir, Reminiscences of the Civil War, in 1903.
With Fanny at his side, John Brown Gordon died in Miami at age 71 on January 9, 1904, three months after his memoir, Reminiscences of the Civil War, was published. Despite his extremely debilitated state, he managed a last look, a smile and a touch for the one who had loved him and been loved by him almost from the day their eyes met, who had been with him in body and in spirit for half a century and who had been all things to him.
The general even received a tribute from President Theodore Roosevelt, who summed up what many felt by saying, "A more gallant, generous, and fearless gentleman and soldier has not been seen by our country."
Fanny soldiered on without him for another 27 years, but her life was a pale copy of the life she knew with the knight known as John Brown Gordon, who, it was said, was the only Civil War commander who was never defeated or repulsed when he led a charge or when he was in command.
Rebecca (Fanny) Haralson Gordon died April 28, 1931, at the age of 93 – an almost unheard of longevity in those days.
SOURCES
John Brown Gordon
Shot by Cupid's Bow
John B. Gordon (1832-1904)
John and Fanny – A Love Story
Wikipedia: John Brown Gordon
The 9 Lives of General John Brown Gordon