Wife of Union General John A. Logan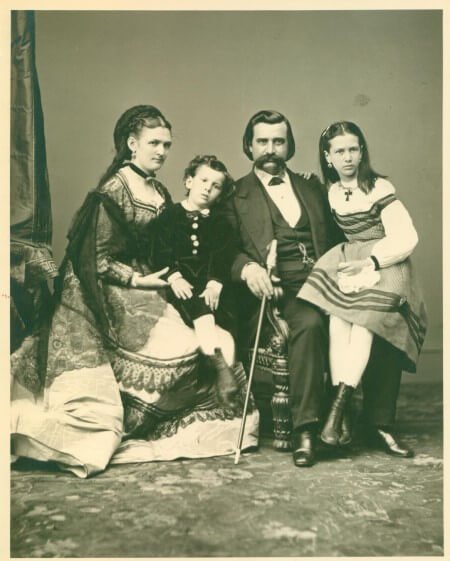 Image: John and Mary Cunningham Logan
With children John Alexander Logan and Mary Logan Tucker
Early Years
Mary Simmerson Cunningham was born August 15, 1838 in Petersburgh, Boone County, Missouri, the daughter of Captain John and Elizabeth La Fontaine Cunningham. Her parents were of Irish-French ancestry. Mary's maternal grandfather, La Fontaine, owned large tracts of land in Missouri that were farmed by slave labor, and her paternal grandfather was a slave owner in Tennessee. Shortly after her birth, Mary's parents moved to southern Illinois where her father became registrar of the land office as well as an army officer.
John Alexander Logan was born February 9, 1826 in what is now Murphysboro, Illinois. Raised in a home that was a center of political activity, he came to love politics at an early age.Deciding on a legal career, he enrolled at the University of Louisville Law School in 1850. After graduation Logan successfully ran for prosecuting attorney of the Third Judicial District. To more effectively perform his duties, Logan moved to the more centrally located Benton, approximately 30 miles away.
Shortly after, Logan resigned to run for the Illinois General Assembly. As a Democrat, he endorsed such typical beliefs as states' rights and territorial expansion. He also disdained the anti-slavery movement, regarding abolitionists as dangerous fanatics. Logan had the skills, looks, and family connections for a successful political career and was easily elected to the General Assembly in the election of 1852.
Many Southerners migrating from Kentucky, Virginia, and Tennessee had populated southern Illinois, they sympathized with the southern states on slavery, but they wanted little or no contact with African-Americans. Accordingly Logan introduced a bill to prohibit the immigration of free blacks into Illinois and fined free blacks and imposed a ten-day jail sentence, which the General Assembly easily passed.
Logan soon ran for the Ninth District U.S. congressional seat, allying himself with the rising star of Illinois politics, Stephen A. Douglas. Already in the Senate for several years, Douglas had grown to prominence for his sponsorship of the Kansas-Nebraska Act of 1854, a bill that proposed to solve the growing dispute over the expansion of slavery into federal territories by allowing the inhabitants of the territories to decide the issue for themselves.
Excerpt from an article at the Marion Illinois History Preservation website:
I attended school at the Convent of St. Vincent, near Uniontown, Kentucky, which is a branch of the far-famed Nazareth School, graduating from that school in 1855. I came home and soon after met my husband, General John A. Logan, who served during the War with Mexico with my father, and to whom I am said to have been given by my father when I was a child.
Marriage and Family
On November 27, 1855, Logan married seventeen-year-old Mary Simmerson Cunningham. The Logans' thirty-one year marriage produced three children: John Cunningham Logan, born in December 1856, died before his first birthday; Mary Elizabeth Dollie Logan, born June, 25, 1858; and Manning Alexander Logan, born on July 24, 1858. Mary later wrote:
I was very young when we were married and little suited for the duties and responsibilities of the wife of a promising young attorney. … We had the same struggle that all young people without money had in those early days, but the fact that in 1858 my husband was elected to Congress shows that we were not altogether unsuccessful. …
Life in Politics
After John Logan was elected to the U. S. House of Representatives in 1858, Adele Douglas, wife of Senator Stephen A. Douglas, tutored Mary Logan in the ways of Washington politics and society. This education enabled Mary Logan to freely join in discussions with her husband and other political figures. Mary Cunningham Logan, Adele Douglas, and Julia Grant, the wife of General Ulysses S. Grant, often met to discuss social issues and exchange perspectives on current issues of their time.
Image: Calumet Place
Home of Mary Cunningham Logan
Washington DC
Credit: Library of Congress
In the summer of 1863, Mary Logan was monitoring the situation at home in southern Illinois. She began to write to her husband, urging him to come to a meeting at the town of Marion. In one letter she wrote, "I fear there will be some excitement and trouble growing out of those men leaving here." She then indicated to her husband the hostility towards President Abraham Lincoln that had formed in southern Illinois. Her information prompted him to seek permission to begin a new regiment and urge the people of southern Illinois to join the Union cause.
Before John Logan's speech in Marion, Illinois August 19, 1861, Mary Logan had arranged for a few influential men to come and volunteer for his regiment. John Logan had no knowledge of this, and after the plan was accomplished, he momentarily lost full control of his emotions. Mary Logan wept with happiness, "for my husband had won, and my bit of stage managing had succeeded." With this initial success, Logan set out recruiting volunteers throughout the district for his newly formed Thirty-first Regiment. He then took his regiment to Cairo, Illinois. Mary Logan joined her husband shortly after.
Conditions in Cairo were unsanitary, causing disease and epidemics to spread quickly. There was no hospital facility. John Logan seized a small hotel for hospital purposes. Mary traveled to Carbondale and Marion to obtain furnishings for the hospital. Upon her arrival, she appealed to friends and families of the soldiers and secured everything that was necessary for the hospital. Within thirty-six hours she succeeded in collecting carloads of luxuries, including brightly colored handmade quilts. These quilts attracted so much attention nationwide that the hospital itself became known as the Striped Hospital of the Thirty-first Regiment. The government then provided the hospital with tents and a regular pavilion. Nothing of its kind had yet been developed in the West.
Logan in the Civil War
John Logan began his military service in the Western Theater, leading his Thirty-First Illinois at the Battle of Belmont (Missouri) on November 7, 1861. At the Battle of Fort Donelson (Tennessee) on February 15, 1862, Logan was wounded three times; Mary nursed him back to health. Appointed brigadier general in March 1862, Logan returned to the army just after the battle of Shiloh in April 1862 and commanded the first brigade of the Third Division in the Seventeenth Corps.
Logan was promoted to major general in February 1863 and performed admirably in the Vicksburg Campaign, commanding the entire Third Division of the Seventeenth Corps. At the battle of Champion Hill (Mississippi) on May 16, 1863, Logan's division played a pivotal role in a successful flank attack made by General John C. Pemberton. Logan was elevated to full corps commander in October 1863, commanding the Fifteenth Corps in the Army of the Tennessee.
During the Atlanta Campaign in the summer of 1864, Logan again proved his leadership skills at the Georgia battles of Dallas (May 25-28, 1864), Atlanta (July 22, 1864), and Ezra Church (July 28, 1864). His coolness under fire and indifference to danger inspired his men, who affectionately referred to him as Black Jack.
At the battle of Atlanta, Logan capably directed the entire Army of the Tennessee after its commander, General James B. McPherson, was killed. For his efforts, Logan expected General William Tecumseh Sherman (commander of all Union forces in the West) to name him as permanent commander of the Army of the Tennessee. Sherman, however, chose General Oliver Otis Howard. Logan was crushed and correctly suspected that he was denied the appointment because he was not a West Point graduate. He ended his military career as commander of the Fifteenth Corps.
After the War
John Logan was elected to the U.S. Senate in 1871 and again in 1874. Throughout his political career, he was a strong advocate for public education. In 1884, he was James G. Blaines' vice-presidential running mate. During the campaign, Logan commissioned the painting that became the center for Atlanta's famed Cyclorama.
His concern for veterans led him to take part in Illinois' first veterans memorial services at Woodlawn Cemetery in Carbondale in 1866. In 1868, he became the founder of Memorial Day as a national holiday, and he and Mary supported of the organization of the Grand Army of the Republic (GAR) and its auxiliary, the National Woman's Relief Corps (WRC).
John and Mary Cunningham Logan were also early supporters of the American Red Cross and, following General Logan's death, Mary continued with the organization and enjoyed a deep friendship with Clara Barton. Mrs. Logan was very active in the organization and held several positions on the American Red Cross Board, and served as Vice-President and Interim President following Clara Barton's resignation in 1904.
John Logan was considered a leading candidate for the Republican presidential nomination in 1888, but he became ill in early December 1886. Doctors diagnosed his ailment as rheumatism. By the Christmas holidays, Logan had lapsed into semi-consciousness. He died on December 26, 1886. His death was widely mourned across the country. After his body lay in state at the U. S. Capitol on December 30-31, he was buried on January 1, 1887 in Rock Creek Cemetery in Washington, DC.
Image: Mary Cunningham Logan in later years
Mary Cunningham Logan is the author of Thirty Years in Washington, or, Life and Scenes in Our National Capitol (1901); The Part Taken by Women in American History (1912) with her daughter as co-author; and a series of articles for Hearst's Cosmopolitan magazine that were compiled into Reminiscences of a Soldier's Wife: An Autobiography (1916).
His devoted wife would not allow John A. Logan's fame to die with him. Through her tireless efforts, equestrian statues were erected in Chicago and Washington, DC in the general's honor. Bronze plaques from Arlington Cemetery to Denver, Colorado attest to his creation of the Memorial Day holiday. Yet Logan's fame did fade during the turmoil of the mid- to late-twentieth century. In May 1986, the Washington Post wrote that this was "pretty shoddy treatment" for the man who founded Memorial Day.
Mary Cunningham Logan died in 1923, at the age of 84. Following her funeral service, members of Congress served as pallbearers. She was buried beside her husband in Soldier's Home National Cemetery in Washington, DC.
SOURCES
Mary Logan: A Distinguished American Woman
Traditions of the Senate, Mrs. John A. Logan, 1901
John Alexander Logan: Democrat, General, and Radical Republican
Marion Illinois History Preservation: Mary Cunningham Logan (1838-1922)