Wife of Union General Oliver Otis Howard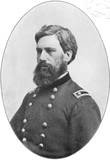 Oliver Otis Howard met Elizabeth Ann Waite, daughter of Alexander B. Waite of Portland, Maine, in the summer of 1846. Engrossed with his schoolwork, he was taken by the beauty of the young girl, and fell madly in love with her. She would be his only sweetheart.
Image: General Oliver O. Howard
Oliver Otis Howard was born November 8, 1830, in Leeds, Maine. His father, Rowland Bailey Howard, died when Oliver was 9 years old. After studying at some local schools, Oliver entered Bowdoin College in 1846. When he fell in love with Elizabeth Waite he was sixteen; she was fifteen. He even quit cigar smoking for her. (He would be unable to shake the habit and would soon take up smoking again, but he never drank liquor.)
During his junior year at Bowdoin, Oliver and Elizabeth were engaged. While his love life blossomed and while he taught school during winter, Oliver still had no idea what to do with his life. He had acquired a considerable amount of knowledge by his senior year, and finished near the top of his class. He wanted to make use of himself somehow, but he was as clueless as ever as to what his career would be. Oliver graduated from Bowdoin in 1850 at the age of 19.
He then attended the United States Military Academy at West Point, graduating in 1854, 4th in a class of 46, as a second lieutenant of ordnance. Ten of his classmates would become Civil War Generals, including J.E.B. Stuart. He served at the Watervliet Arsenal near Troy, New York, and was the temporary commander of the Kennebec Arsenal in Augusta, Maine.
Elizabeth Ann Waite married Oliver Otis Howard on February 14, 1855, in Portland, Maine, and they had seven children: Guy Howard, Grace Ellen, James Waite, Chauncey Otis, John Howard, Harry Stinson, and Bessie.
In 1857, Oliver was transferred to Fort Brooke, Florida for the Seminole Wars. While in Florida, he experienced a conversion to evangelical Christianity, and considered resigning from the Army to become a minister, but eventually decided to make the army his career. His religious beliefs would later earn him the nickname, the Christian general.
When the American Civil War began with the surrender of Fort Sumter, Howard threw himself into the Union war effort after the firing on Fort Sumter. He obtained a commission as Colonel of the Third Maine Infantry Regiment, and temporarily commanded a brigade at the First Battle of Bull Run on July 21, 1861. He fought in the East through the Gettysburg Campaign.
Howard was promoted to Brigadier General effective September 3, 1861, and given permanent command of his brigade. He then joined the Army of the Potomac for the Peninsula Campaign.
On June 1, 1862 at the Battle of Fair Oaks, Howard was wounded, while leading a charge. He was struck in the right arm by a bullet near the wrist, but did not leave the field until he was wounded by another shot at the elbow of the same arm. He was carried to the field hospital in the rear, where surgeons amputated his right arm.
Oliver informed Elizabeth the day after in a letter, writing, "I am on my way with only my left arm." He maintained his sense of humor by joking with General Philip Kearney, who had lost his left arm in the Mexican War, that they would need to buy only one pair of gloves between the two of them from now on.
In the words of a friend:
Weak and fainting from hemorrhage and the severe shock which his system had sustained, the next day he started for his home in Maine. He remained there only about two months, during which time he was not idle. Visiting various localities in his native State, he made patriotic appeals to the people to come forward and sustain the Government.

Pale, emaciated, and with one sleeve tenantless, he stood up before them, the embodiment of all that is good and true and noble in manhood. He talked to them as only one truly loyal can talk – as one largely endowed with that patriotism which is a heritage of New England blood. Modesty, sincerity and earnestness characterized his addresses, and his fervent appeals drew hundreds around the national standard.
This was the only time during the war that Howard was off duty. At Antietam on September 17, 1862, Howard succeeded General John Sedgwick, who was wounded, in command of his division. On December 13, 1862, at the Battle of Fredericksburg, Howard led his division in the heroic charge made on the rebel position in the rear of that city.
Howard was promoted to Major General in late 1862, and assumed command of the XI Corps in April 1863, replacing Major General Franz Sigel, who had resigned. Almost half of the XI Corps was composed of German immigrants, many of whom spoke no English. They were enthusiastically devoted to General Sigel, and did not understand why he had been taken from them.
The German soldiers were resentful of Howard and openly called for Sigel's reinstatement. Just thirty-two years old, Howard had demonstrated his ability in the first two years of the war, but he was not a man gifted with obvious leadership qualities, but his empty sleeve gave him some moral weight.
Howard at Chancellorsville
On May 2, 1863, Howard's Corps was on the right flank of the Union line, northwest of the crossroads. General Joseph Hooker warned Howard that his flank was in the air – unanchored by a natural obstacle, such as a river – and that Confederate forces might be on the move in his direction. Howard failed to heed the warning.
Generals Robert E. Lee and Thomas J. "Stonewall" Jackson had created a plan in which Jackson's entire Corps would march secretly around the Union flank and attack Howard's unit. That evening Jackson's troops struck Howard's position just before dark. Howard had failed his unprotected right flank.
Under the crushing blow of the assault, the soldiers of the XI Corps broke and ran, causing a panic and forcing the entire corps to withdraw in haste. The entire right wing of the army collapsed – despite Howard's attempts, with the Stars and Stripes tucked under the stump of his missing arm, to rally the men. Howard's soldiers were humiliated, and the rest of the army never forgave the foreign XI Corps.
When General Hooker gave up the battle a few days later, he blamed Howard for the dismal Union defeat at Chancellorsville, and so did an army review board. Angry division commander Major General Carl Schurz wrote Howard so bitter a letter that, said Howard, "I thought I should never survive it, but I have."
Yet Howard survived this blow to his career. Newspaper criticism led Hooker to send Howard to Washington to explain the battle to President Abraham Lincoln in person to correct false impressions. Howard's interview with the president was the first time they had ever met. Treasury Secretary Salmon P. Chase and General Henry Halleck also wanted Howard ousted.
Lincoln, however, showed patience, telling critics, "Give him time, and he will bring things straight." He recognized that it was an error of inexperience, and that Howard's qualities were such that the war effort needed him. In the end, Howard's previous record saved him, and he was permitted to remain in command of the XI Corps.
Howard at Gettysburg
On orders from General John Reynolds, General Howard started his corps from Emmitsburg on the ten mile march north to Gettysburg at about 8:00 a.m. on July 1. At 10:30, he was within sight of the town when an orderly from Reynolds told him the battle had started. Howard rode into Gettysburg, where he observed the last of the morning's fighting west of town and where, at 11:30 am, he was told that Reynolds had been killed. Howard was now commanding officer on the field. He selected Cemetery Hill as his headquarters and established his reserve there.
At 2:00 pm, he sent a dispatch to General George Meade, commander of the Army of the Potomac, informing him briefly of the situation. Howard received a dispatch from cavalryman General John Buford, warning him of the approach of a mass of Confederates three or four miles to the northeast. In response, Howard deployed his two divisions at right angles to the First Corps line to face the new danger from the north.
CSA General Robert Rodes' division attacked them from the northwest and pressed Howard's men in their front. Soon afterward, CSA General Jubal Early's division attacked Howard's vulnerable right rear from the northeast. As if perfectly timed, the jaws of the attack crushed the XI Corps line, and they quickly retreated through the streets of Gettysburg, leaving many prisoners behind.
At that moment, USA General Winfield Scott Hancock of the Second Corps rode up. Hancock had been sent by General Meade with written orders to take command, but Howard insisted that he was the ranking general present. Howard quarreled with Hancock about who was in command of the defense. Eventually he relented. Reinforcements arrived, and a defensive line was soon assembled. The new Union position on the hilltops southeast of Gettysburg was not attacked by the Confederates for the rest of the day.
Once General Meade arrived that night, Howard's responsibility shrank to that of his XI Corps front, which was limited to the north face of Cemetery Hill. It would be attacked only once – at dusk on July 2, by two brigades of Early's division. When the men in Howard's front line came reeling back, he threw in his two nearest regiments. The line held, and the Southerners fell back to their original positions near town.
On July 3, Howard was not attacked, and only observed as Pickett's Charge hit the Second Corps position on Cemetery Ridge in the afternoon. What people would remember about Howard would be the events of July 1. His XI Corps had lost 3000 men – half of them captured. He was also criticized for remaining so far to the rear, making it appear that there was "no directing person on the field."
General Howard started circulating the story that his Corps' failure had been triggered by the collapse of General Abner Doubleday's I Corps to his west, but this excuse was never accepted at the time or by history – the reverse was actually true – and the reputation of the XI Corps was ruined. Howard does receive some credit for the eventual success at Gettysburg, because he wisely stationed one of his divisions on Cemetery Hill as a reserve.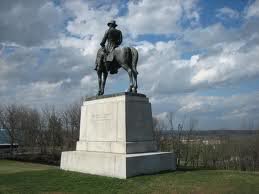 Image: General O.O. Howard Monument
Cemetery Hill, Gettysburg National Military Park
In a conversation with President Lincoln in Washington, DC in 1863, General Howard was asked to consider creating a university for the people in the Appalachia-Cumberland Gap region of Tennessee after the Civil War ended. The people in this area were very poor, and President Lincoln was interested in creating a school there that would be open to anyone regardless of race, national origin, sex, age or religion.
The Western Theater
In September 1863, Howard and the XI Corps were sent West to become part of the Union Army of the Cumberland, which had just been defeated at the Battle of Chickamauga, and was then under siege in Chattanooga, Tennessee. In the Battle of Chattanooga (November 24, 1863) the XI Corps joined the assault that captured Missionary Ridge, forced the retreat of CSA General Braxton Bragg, and opened the way for future operations against Atlanta.
During General William Tecumseh Sherman's Atlanta Campaign (May through August 1864), the greatest battle of the campaign took place on July 22, during which the brave and beloved General James B. McPherson, commander of the Army of the Tennessee, was killed. Choosing a replacement for him was Sherman's most important personnel decision of the campaign.
After several days of deliberation, Sherman named General Howard commander of the Army of the Tennessee on July 28, 1864. It was a controversial move, for Howard was a relative newcomer to the Western armies, and this was the army that Grant had commanded at Shiloh and Vicksburg, and Sherman had commanded at Chattanooga.
Sherman knew, however, that Howard was a superb administrator. Command of the Army of the Tennessee involved not only leading men into battle, but knowing how to administer a large military organization of 80,000 men and hundreds of guns. With this appointment, Howard held the unusual record of holding major commands in all three of the main Union field armies during the Civil War.
Sherman was with him for the rest of the war and directed strategy, Howard simply put it into operation. In an official report, Sherman wrote: "In General Howard throughout, I found a polished and Christian gentleman, exhibiting the highest and most chivalrous traits of the soldier."
Howard led the right wing of the army during General Sherman's March to the Sea through Georgia and the Carolina Campaign. Arriving in Savannah on December 9, 1864, Sherman made that city a splendid Christmas gift to the President, and to the nation. Congress promoted Howard to the rank of Major General, effective March 13, 1865.
Early in February 1865, the march through the Carolinas began, and Howard again led the right wing, moving towards Beaufort, and menacing Charleston, and finally entering Columbia. Then they pressed into North Carolina, where they met and whipped CSA General Joseph E. Johnston's Rebel army at Averasboro on March 20, 1865. While marching toward Raleigh on April 12, they were delighted by the news of Lee's surrender at Appomattox, which ended the war.
The Freedmen's Bureau
On May 15, 1865, General Howard was selected by President Andrew Johnson as Commissioner of the Freedmen's Bureau to educate four million ex-slaves and help them find jobs, homes and health care. This was a gargantuan task to perform with meager resources and a public that was not yet aware of the immense human need to educate, train and protect the freed slaves. From May 1865 to July 1871, Howard spent more than $5 million on education, focusing his efforts on African American schools at all levels.
No sooner had President Johnson installed Howard in this post, than he began trying to dismantle the Bureau and undermine its mission. He understood that he did not have much time in which to work, and he prioritized education – the setting up of schools. The Bureau was a department of the Army, and the employees were officers. Howard selected his assistant commissioners from his comrades in the army, but in too many instances, they took advantage of their position to enrich themselves at the expense of those whom they were sent to protect.
There were, doubtless, very many who administered their difficult task with perfect honesty and justice, but the number who did not was so large that the title of Assistant Commissioner of the Freedmen's Bureau became almost a term of reproach. General Howard was unwilling to believe any report concerning his old comrades, and sometimes kept them in place when he should have removed them.
Many ex-slaves were working under contracts designed by the Bureau to give them economic freedom, but utilized by their new employers – often their old owners – to rob them of their livelihood. There are numerous theories as to who was responsible for these failures. In some analyses, Howard bears more of the guilt than in others. Everyone agrees he was not a good administrator.
His open non-comprehension of racism attracted tenacious enemies who repeatedly brought the bookkeeping practices at the Freedmen's Bureau under public scrutiny. It exposed him to public ridicule, drained his pocket book (he had to pay for his own legal defense), and alienated him from the political mainstream.
By 1870, the Bureau had fallen into such a condition that an investigation into its affairs was ordered, which exonerated the commissioner of serious blame, though this result came about rather from the imperfect nature of the investigation, than from his innocence of wrongdoing. The Freedmen's Bureau was virtually abolished in 1872.
General Howard began a successful speaking career on the lecture circuit around 1870, when he was low on cash. He spoke to audiences about the Civil War; about specific battles, including Gettysburg; about the need for love to heal the country. An inspirational speaker, he was popular enough to keep doing it all his life.
Howard University
In 1869, Howard had a key role in the founding of Howard University in Washington, DC, which was named in his honor, and where he served as president from 1869-1873. The brainchild of a Congregational Church bible study group to which he belonged, Howard University was founded specifically to educate ex-slaves – black lawyers, doctors, dentists and teachers. Howard was responsible for locating land for the campus within the boundaries of the District of Columbia, using Freedmen's Bureau money to help pay for the land.
The General Oliver Otis Howard House is located on the campus of Howard University. Constructed between 1867 and 1869, it was the home of General Howard from 1869 to 1873. The house still retains many of its decorative elements such as the high mansard roof, elaborate dormer windows, tower and decorative iron balustrades. The Board of Howard University purchased a one-acre lot including a frame building to begin operation of the school. The Howard House was among the first buildings constructed.
Indian Wars
As the Freedmen's Bureau self-destructed, General Sherman advised Howard to request a transfer to the field, and in 1874, he was given command of the Department of the Columbia. The Howards arrived in Portland, Oregon in 1874. By this time, they were a family of nine: Howard and Elizabeth and their seven children: Gus, Grace, James, Chauncey, John, Bessie and Harry.
Howard found Portland to be filled with "much wickedness." He responded to this by throwing himself into volunteer work. He transferred to Portland his Washington, DC memberships in the Congregational Church and the YMCA. Howard adored the YMCA, which embodied all his values: temperance, education, evangelism and ecumenicalism.
The Howards' official Fort Vancouver residence, built for their family of nine plus servants, was ready after the Nez Perce campaign in 1878. Howard and Elizabeth entertained often, but always without alcohol. President Grant and his wife, heading home from Japan at the end of a two-year tour of the world, stopped to visit the Howards at Fort Vancouver. The large reception he and Elizabeth held in Grant's honor was very enjoyable, and no alcoholic beverages were served.
Howard's Fort Vancouver command began under President Grant's Peace Policy. Howard was familiar with the Peace Policy. In 1872, he had taken time out from his job as a bureaucrat to travel, with one aide and three civilian guides (two of them Apache), to the remote camp of the renegade Chiricahua Apaches fighting under Cochise. Acting as Peace Commissioner, he entered the camp unarmed, and accompanied by one aide. He negotiated with Cochise for eleven days. They reached mutually-agreed-upon terms, and the peace was lasting.
Howard had ample opportunity to observe the plight of Native Americans during the era of rapid American expansion into the Great Plains and the Southwest. Again, he performed well, mixing humanitarian concern for his enemy with able administration of far-flung resources across a developing land.
Howard began to write a weekly column for the Portland Bee. He was a talented writer and entertaining storyteller, with a wry sense of humor. Encouraged by his success at the paper, he began a longer project, a children's book based on his own childhood. Donald's School Days and Henry In The War, both written in Portland, launched his writing career. He would remain active as a writer the rest of his life.
General Oliver Howard was awarded the Congressional Medal of Honor on March 29, 1893, for his heroism at Fair Oaks. His citation reads "Led the 61st New York Infantry in a charge, in which he was twice severely wounded in the right arm, necessitating amputation."
He retired from the United States Army on November 8, 1894, with the rank of Major General, at age 64, after forty-four years of continuous military service.
Oliver Howard remained active as a writer, lecturer and fundraiser for the various groups and causes he supported. He wrote biographies of General Zachary Taylor and General William Tecumseh Sherman, and non-fiction about his own experiences: Nez Perce Joseph (1881), Isabella of Castile (1894), and My Life and Experiences among Our Hostile Indians (1907).
Lincoln Memorial University
Howard's lecture agent, Cyrus Kehr of Chicago, mentioned to Howard that he would like to establish an educational institution as a living memorial to Abraham Lincoln's principles and legacy, and he mentioned this to General Howard in early 1896.
In June 1896, Howard planned to visit Chattanooga to tour its battlefields. The Reverend A.A. Myers wrote to Howard, asking him to stop at Cumberland Gap on his way. Myers and his wife had worked since 1890 in this region to create schools for underprivileged mountain families. They had been successful in starting fifteen elementary schools, plus the Harrow Academy (a high school), but no college had yet been established in the Cumberland Gap area.
This region was in dire need of help, because an industrial boom in the early 1890s, had gone bust. The Four Seasons Hotel, a 700-room resort near the gap, was now defunct. Howard stopped at Cumberland Gap on his way to Chattanooga. He gave a lecture and shared the proceeds of the lecture with the Harrow Academy. Meeting with Myers and several others on the evening of June 18, 1896, on the verandah of the school, Myers made a pitch to Howard for help.
During this talk, Howard recalled his last meeting with Lincoln in late September 1863. Lincoln had spoken of his own desire to help the mountain people after the war was over. "They are loyal, there, General," Lincoln had said. Howard also recalled Cyrus Kehr's desire to create a college dedicated to Lincoln's ideals.
Events moved quickly after that. It was decided to name the institution Lincoln Memorial University, and to buy the Four Seasons Hotel property as a campus. Howard left the local arrangements up to Myers. A charter was issued, dated February 12, 1897, and Howard was named a member of the board of trustees. He worked tirelessly to raise money, serving as a contact person for the huge network of acquaintances he had developed in industry and politics outside Appalachia.
Tragedy struck the Howard family in February 1900, when son Guy Howard was killed in battle in the Philippine War. Oliver and Elizabeth deeply mourned his loss. "My strong helper… my hope for the future," Howard called him. "[C]rowds and crowds of hopes are baffled and dashed to the ground in his death," he wrote. Partially to help himself heal, Howard immersed himself in his work for Lincoln Memorial University.
Image: General Howard in 1908
By 1901, Oliver Howard was ready to reduce his role in the university, because of advancing age and worsening health problems, and cut back his work a great deal. After a year of semi-retirement, he was asked to resume his active role at the university in 1902, and he served as managing director until 1907. Howard managed to raise enough money to build up half a million dollars in the university endowment by 1908.
Howard's biographer, John Carpenter, wrote that "the college for the mountain folk is not only a memorial to Lincoln; it is also a living monument to the one-armed soldier," more than 107 years after he impulsively offered to contribute his energy and passion to the establishment of an Appalachian university dedicated to Abraham Lincoln.
From Autobiography of Oliver Otis Howard (1908):
Dedicated to my wife, whose abiding influence for sixty years has supported my efforts to undertake and accomplish the work given me to do. Children and grandchildren have already risen up to call her blessed; and her husband honors her affection and strength of character.
On the afternoon of October 26, 1909, General Oliver Otis Howard suffered a stroke while in Burlington, Vermont. He died that evening, two weeks short of his 79th birthday, after fifty-five years of service to his country, to his soldiers, to African Americans and Native Americans. He is buried in Lake View Cemetery in Burlington, Vermont.
SOURCES
Oliver Otis Howard
Howard at Gettysburg
Wikipedia: Oliver O. Howard
Oliver Otis Howard (1830 – 1909)
Autobiography of Oliver Otis Howard
Brigadier-General Oliver Otis Howard
Major General Oliver Otis Howard, USA
Oliver Otis Howard and Lincoln Memorial University – PDF File
Oliver O. Howard: Bentonville's Controversial Christian General – PDF File