Founder of Decoration Day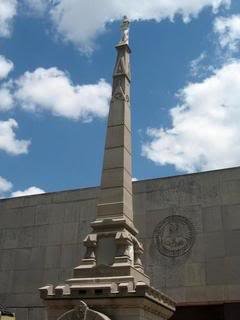 Image: Confederate Monument
This monument on the grounds of the Mississippi State Capitol in Jackson, Mississippi sits about 60 feet high with a life-sized statue of a Confederate soldier on top of it.
Inside the monument is a plaque that reads:
It reeks not where their bodies lie
By bloody hillside, plains or cave;
Their names are bright on famous skies,
Their deeds of valor live forever.
Decoration Day
Originated in Jackson, Mississippi,
April 26, 1865
By Sue Landon Vaughn
Susan Hutchinson Adams was born on October 12, 1835, in St. Charles, Missouri, on the Missouri River northwest of St Louis. She and her sister Sallie were the daughters of John and Margaret Ann Gill Adams. John Adams was from Lexington, Virginia, and Margaret's family was from Culpeper County, Virginia.
Susan Adams was educated at the Fulton Synodical College in Missouri, receiving a Mistress of LHD (Doctor of Humane Letters) degree, an honorary degree given to those who have distinguished themselves in areas other than science, government, literature or religion. She lived at the home of her uncle, Senator Robert Adams of Mississippi and was a teacher.
During the Civil War, she was a Confederate nurse, spy and blockade runner. She carried medical supplies from St. Louis to Vicksburg, Mississippi, in a carpet bag on the boats that operated on the Mississippi River. Posing as a missionary, she entered Union lines innumerable times, supposedly to minister to the needs of the troops, and committed to memory all the military information she could obtain.
On the evening of April 25, 1865, news arrived at Jackson, Mississippi, that Federal troops under Generals Richard Taylor and Edward R. S. Canby would be arriving the next day to demand the surrender of the town. Susan Adams issued An Appeal to the Daughters of the Southland, calling for local women to meet at the cemetery the following morning to, "Garland the graves of our fallen braves."
On April 26, 1865, Susan Adams was walking with her friends among the many soldiers' graves in Greenwood Cemetery in Jackson decorating the graves of Confederate soldiers. Adams also decorated the graves of four Union dead, saying, "I will garland them with pink roses for the mothers and sisters who sobbed prayers as they marched away." This is now recognized by many as the earliest Decoration Day commemoration.
The date of April 26, 1865 – 17 days after General Robert E. Lee surrendered the Army of Northern Virginia at Appomattox Court House – was also the day that CSA General Joseph E. Johnston surrendered his Army of Tennessee to USA General William Tecumseh Sherman at Bennett Place in North Carolina.
Susan Adams subsequently organized a group of like-minded young women to decorate the graves annually. A friend heard of Adams' activities and suggested to Major General John Alexander Logan, Commanding Officer of the Grand Army of the Republic, a patriotic organization composed of Union veterans of the Civil War, that the practice be established nationwide.
Three years later General Logan issued his famous General Order No. 11 directing all Grand Army of the Republic Divisions (individual state organizations) that May 30, 1868, be designated "for the purpose of strewing with flowers or otherwise decorating the graves of comrades who died in defence [sic] of their country during the late rebellion."
Three years after the Civil War ended, on May 5, 1868, the head of an organization of Union veterans — the Grand Army of the Republic (GAR) — established Decoration Day as a time for the nation to decorate the graves of the war dead with flowers. General Logan declared that Decoration Day should be observed on May 30, 1868. It is believed that date was chosen because flowers would be in bloom all over the country.
The first large observance was held that year at Arlington National Cemetery, across the Potomac River from Washington, DC. The ceremonies centered around the mourning-draped veranda of the Arlington mansion, once the home of General Robert E. Lee. Various Washington officials, including General and Mrs. Ulysses S. Grant, presided over the ceremonies. After speeches, children from the Soldiers' and Sailors' Orphan Home and members of the GAR made their way through the cemetery, strewing flowers on both Union and Confederate graves, reciting prayers and singing hymns.
It is clear that prior to May 30, 1868, both Southern and Northern families decorated the graves of their Civil War fallen. The founding of Decoration Day has many claimants, but there can be no doubt that on April 26, 1865, Susan Adams decorated the graves of both Union and Rebel soldiers, epitomizing the feelings we now have on Memorial Day.
On August 14, 1876, Susan Adams married Judge Cornelius Lewis Neville Vaughan in Sacramento, California. Judge Vaughan died April 18, 1893. That same year, Susan Vaughan moved to Arlington, Virginia. She lived with her sister Sallie Adams next door to the Shreve family, and befriended their daughter Marie Shreve, who later married Frank Ball.
Susan Adams Vaughan died July 22, 1911, at the Masonic and Eastern Star Home in Washington, DC. (Her name is often given as Susan – or Sue – Landon Vaughan, but I could not find the origination of the Landon name.) She was buried at Mt. Olivet Cemetery in Arlington.
For many years, the grave of Susan Landon Vaughan was unmarked. In his book Mt. Olivet: Arlington's Pioneer Church, published in 1954, Frank Ball, Marie Shreve's husband, wrote:
There is now a plan on foot, fostered by my wife who, as a young lady, knew and loved her, to place a monument here equal to the one in Jackson as a much deserved tribute to a courageous, merciful and compassionate Christian woman whose great heart took in both her friends and enemies.
In July 1960, Marie Shreve Ball wrote to the United Daughters of the Confederacy asking for their participation in the cost of a monument. In her letter she states, "In 1961 the Civil War Commission from every town, city, and hamlet will be observing the 100th anniversary of the beginning of the Civil War throughout the whole United States, thus making this a memorable time for such an event as placing a monument to honor the founder of Confederate Memorial Day." Apparently, there was no material response, for again in 1965 she wrote to the United Daughters of the Confederacy seeking help.
In January 1967, the Mount Olivet Committee on History and Records met and discussed the possibility of "…having Mrs. Vaughan's grave properly inscribed." Discussions continued for the next eight months consummating in the placement of the present gravestone September 29, 1967 – 56 years after Susan Vaughan's death. Funds for the marker came from the History and Records Committee budget.
The grave of Sue Landon Vaughan in the Mount Olivet Cemetery has been the location for many memorial services and the subject of many newspaper articles. Throughout all this time, Marie Ball faithfully placed flowers on Sue Landon Vaughan's gravesite. Today, Barbara Ball Savage continues that tradition with love and joy.
The Mount Olivet gravestone mistakenly shows Vaughan's birthdate as 1837. The Arlington Historical marker at the Mount Olivet cemetery erected by Arlington County states her married name as Vaughn.
Today, Confederate Decoration Day or Memorial Day is an official holiday and/or observance day in parts of the U.S. South as a day to honor those who died fighting for the Confederate States of America. Eight states officially observe this day: Alabama, Florida, Georgia, Mississippi, North Carolina, South Carolina, Tennessee, and Texas.
SOURCES
Susan Landon Vaughn
Confederate Memorial Day
Civil War Center: Memorial Day