Fiancee of General James B. McPherson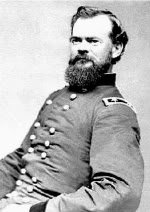 Emily Hoffman met James B. McPherson while he was stationed in San Francisco, California in 1858, and they soon became engaged. McPherson returned east in 1861 to serve in the Union army. He was finally granted leave to marry Emily in spring 1864, but the wedding would never happen.
Image: General James B. McPherson
Emily Hoffman was born at Baltimore, Maryland, in 1839. Her father was a prominent businessman. Born in Clyde, Ohio, in 1828, James Birdseye McPherson left home at 13 to clerk in the Green Springs store of Robert Smith, who helped McPherson get an appointment to West Point. There he excelled academically, developing into a skilled engineer, horseman, and tactician, graduating first in the class of 1853.
In 1858, McPherson took charge of the Pacific Coast harbor defenses at Alcatraz Island in San Francisco Bay. Handsome, worldly, and personable, he became a favorite with fellow officers and San Francisco society. There he met Emily Hoffman, of a prominent Baltimore family, who became his fiancee. He idolized her Victorian combination of blue eyes, golden hair and chaste daintiness.
At the outbreak of the Civil War, McPherson returned east where he served as General Henry Halleck's aide, and later as General Ulysses S. Grant's chief engineer. With Grant at Forts Henry and Donelson and at Shiloh, McPherson became deeply attached to his commander. McPherson's courage under fire, professionalism and loyalty brought rapid promotion.
Following the Battle of Shiloh in May of 1862, he was appointed Brigadier General of Volunteers. On October 8, 1862 he was promoted to Major General. His next appointment was to lead the Union's 17th Corps during the campaign to capture Vicksburg, Mississippi. It was his first time as commanding officer in charge of a military campaign.
On July 4, 1863, General Ulysses S. Grant gave McPherson the honor of leading the victorious Union troops into Vicksburg. He drew criticism in the North for his compassionate treatment of Vicksburg's war-torn families. He responded, "When the time comes that to be a soldier, a man must forget… the claims of humanity, I do not want to be a soldier."
When General Grant went east in early 1864 to take command of all the Union armies, he credited his trusted friends, McPherson and Sherman, with his successes of 1862 and 1863. Sherman received command of the West, and McPherson succeeded him as commander of the 30,000-man Army of the Tennessee.
During the spring of 1864, McPherson was granted leave for the first time in three years, and headed for Baltimore to marry Emily Hoffman, but en route General William Tecumseh Sherman ordered him back to Huntsville, Alabama, to prepare for the drive against Atlanta. During the Atlanta Campaign, McPherson earned the respect of his superiors and the trust and affection of his army.
With all these responsibilities, he did not write his Baltimore fiancee as often as he should. He knew that Emily, the daughter of a prosperous local merchant, was exposed to many attentions, and perhaps he had also heard that a girl will not wait forever. In any case, by the summer of 1864, he feared that Emily was growing impatient. Now, with the Atlanta campaign under way, there would be even less time to write.
General Sherman wrote to Emily, explaining her fiance's importance to the army and begging her to be patient:
Head-Quarters
Military Division of the Mississippi
Acworth, Ga.
June 9, 1864
My Dear Young Lady,
I hardly feel that I should apologize for intrusion, for I can claim an old acquaintance with your Brother and Sister in California, and feel almost that I know you through them, and others of your honored family. It has come to my knowledge that you are affianced to another close friend and associate of mine Maj General McPherson, and I fear that weighing mighty matters of State but lightly in the Realm of Love, you feel that he gives too much of his time to his Country and too little to you.

His rise in his profession has been rapid, steady and well earned. Not a link unbroken. Not a thing omitted. Each step in his progress however has imposed on him fresh duties that as a man and a soldier, and still more as a Patriot, he could not avoid.

I did hope as he returned from Meridian, when his Corps the 17th was entitled to go home on furlough, that he too could steal a month to obey the promptings of his heart, to hasten to Baltimore and I so instructed, but by the changes incident to General Grant's elevation, McPherson succeeded to the Command of a separate Army and Department, and could not leave.

There is no rest for us in this war till you and all can look about you and feel there is Reason and Safety in the Land. God purifies the atmosphere with tempests and storms which fall alike upon the just and unjust, and in like manner he appeases the jarring elements of political discord by wars and famine. Heretofore as a nation we have escaped his wrath, but now with the vehemence of anhundred years accumulation we are in the storm, and would you have us shrink?

But I will not discuss so plain a point with one who bears the honored name of Hoffman, rather tell you of him whose every action I know fills your waking and sleeping thoughts, him so young but so prominent, whose cause is among the gallant and brave, who fight not for oppression and wrong but that the Government bequeathed to us by your ancestors shall not perish in ignominy and insult: but which shall survive in honor and glory, with a power to protect the weak and shelter the helpless from the terrible disasters of a fratricidal war.

I know McPherson well, as a young man, handsome and noble soldier, activated by motives as pure as those of Washington, and I know that in making my testimony to his high and noble character, I will not offend the Girl he loves.

Be patient and I know that when the happy day comes for him to stand by your side as one Being identical in heart and human existence you will regard him with a high respect and honor that will convert simple love into something sublime and beautiful.

Yours with respect
W. T. Sherman
Thus admonished, Emily sat at home trying to be patient while the Union Army swept through Georgia, establishing the right "to come and go when we please."
On July 17, 1864, Jefferson Davis replaced General Joseph E. Johnston with McPherson's old West Point roommate, John Bell Hood. Hood's first engagement against Union troops as commander, was north of Atlanta at Peachtree Creek. On the 20th, Hood was defeated and moved his forces into Atlanta. Meanwhile, McPherson advanced from Decatur meeting little opposition so that in the afternoon of the 21st of July, he had captured the outer earthworks guarding Atlanta.
On July 22, 1864, Sherman felt that, due to the lack of enemy in front of him, Hood had evacuated Atlanta, and ordered an advance. But McPherson knew his old roommate, and knew he would not give up Atlanta without a fight. If Atlanta was void of large concentrations of enemy troops, McPherson believed that Hood planned to attack the Union rear and side.
McPherson was discussing this possibility with Sherman at headquarters, when they heard a large concentration of gunfire from the direction of Decatur. General William Hardee had begun his attack. McPherson jumped on his horse and sped toward his troops. He found Grenville Dodge's corps struggling against a fierce assault. After giving orders to Dodge, he followed a line of the 16th Corps towards the 17th Corps, traveling only with his orderly.
Entering the woods that separated the two corps, McPherson had traveled only about 150 yards when he heard a cry of "Halt!" He stopped for an instant and saw a line of gray skirmishers, wheeled his horse, raised his hat, and made a quick dash to his right. The skirmishers let go with a volley.
McPherson staggered in the saddle for a short distance, and then fell to the ground. Within an hour, the Union lines were re-established, but the 35-year-old general lay dead in the arms of a broken-hearted Union private.
The general's body was sent through the lines under a flag of truce, and Sherman wept over his young friend, until tears dripped from his unkempt beard. He felt pangs of guilt for having denied McPherson's request for a furlough to be married. "The country has lost one of its best soldiers, and I have lost my best friend, " General Grant said after hearing the news.
The following day, a messenger appeared at the Baltimore residence of Samuel Hoffman, bearing a telegram for Emily's mother. Mrs. Hoffman's only son was in the Confederate service, and that perhaps made it less inexcusable when she remarked, as she handed Emily the message, that here at last was "some good news:"
Red'd, BALTIMORE, 23 1864,
To Mrs Saml Hoffman Franklin St

Genl Barry desires me to say that Genl McPherson was killed in battle yesterday. His remains were sent to his home last evening in charge of his staff.

JC VAN DUSEN
CAPT and ASST SUPR
Emily fled to her room and locked the door. She was still there three weeks later when a servant handed her a second letter from General Sherman. It was written from outside Atlanta – the city now lay under siege and victory was in sight – but the General's thoughts were far from jubilant:
HEADQUARTERS, Military Division of the Mississippi
In the Field, near Atlanta Geo.
August 5, 1864
My Dear Young Lady,A letter from your Mother to General Barry on my Staff reminds me that I owe you heartfelt sympathy and a sacred duty of recording the fame of one of our Country's brightest and most glorious Characters. I yield to none on Earth but yourself the right to excel me in lamentations for our Dead Hero. Why should death's darts reach the young and brilliant instead of older men who could better have been spared?

Nothing that I can record will elevate him in your mind's memory, but I could tell you many things that would form a bright halo about his image. We were more closely associated than any men in this life. I knew him before you did; when he was a Lieutenant of Engineers in New York, we occupied rooms in the same house.

Again we met at St. Louis, almost at the outset of this unnatural war, and from that day to this we have been closely associated. I see him now, so handsome, so smiling, on his fine black horse, booted and spurred, with his easy seat, the impersonation of the Gallant Knight.

We were at Shiloh together, at Corinth, at Oxford, at Jackson, at Vicksburg, at Meridian, and on this campaign. He had left me but a few minutes to place some of his troops approaching their position, and went through the wood by the same road he had come, and must have encountered the skirmish line of the Rebel Hardee's Corps, which had made a Circuit around the flank of Blair's troops.

Though always active and attending in person amidst dangers to his appropriate duties, on this occasion he was not exposing himself. He rode over ground he had twice passed that same day, over which hundreds had also passed, by a narrow wood road to the Rear of his Established Line. He had not been gone from me half an hour before Col. Clark of his Staff rode up to me and reported that McPherson was dead or a prisoner in the hands of the Enemy.

He described that he had entered this road but a short distance in the wood some sixty yards ahead of his Staff and orderlies when a loud volley of muskets was heard, and in an instant after, his fine black horse came out with two wounds, riderless. Very shortly thereafter, other members of his staff came to me with his body in an ambulance. We carried it into a house, and laid it on a large table and examined the body. A simple bullet wound high up in the Right breast was all that disfigured his person. All else was as he left me, save his watch and purse were gone.

At this time the Battle was raging hot and fierce quite near us, and lest it should become necessary to burn the house in which we were, I directed his personal staff to convey the body to Marietta and thence North to his family. I think he could not have lived three minutes after the fatal shot, and fell from his horse within ten yards of the path or road along which he was riding. I think others will give you more detailed accounts of the attending circumstances. I enclose you a copy of my official letter announcing his death.

With affection & respect,
W. T. Sherman
The letter did little good. Emily remained secluded in her room, blinds drawn, mourning her lost love. Food was left on a tray outside her door. She allowed no one to enter except her sister Dora, who gradually ruined her eyes reading aloud in the darkness. It was exactly a year later, when Emily Hoffman finally emerged, and spent the rest of her life as a spinster.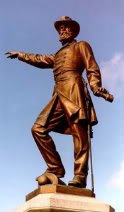 Image:McPherson Monument
Clyde, Oho
In 1876, the Society of the Army of the Tennessee unveiled its memorial – an equestrian statue at McPherson Square in Washington, DC. Five years later, President Rutherford B. Hayes opened ceremonies at Clyde, Ohio, where 20,000 people cheered as Sherman dedicated the monument erected over McPherson's grave.
Emily Hoffman died June 15, 1891, at Baltimore, Maryland.
SOURCES
James Birdseye McPherson
Death of High-Ranking General
Major General James B. McPherson