Civil War Nurse, Educator and Humanitarian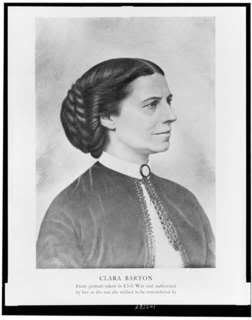 Clara Barton – pioneer teacher, government clerk and nurse – is one of the most honored women in American history. She began teaching school at a time when most teachers were men. She was among the first women to gain employment in the federal government. Barton risked her life when she was nearly 40 years old to bring supplies and support to soldiers in the field during the Civil War. Then, at age 60, she founded the American Red Cross in 1881 and led it for the next 23 years.
Childhood and Early Years
Clara Harlowe Barton was born on Christmas day, 1821, in Oxford, MA, to Stephen and Sarah Barton. Clara's father was a farmer and horse breeder, while her mother Sarah managed the household. Her parents were abolitionists, and helped found the first Universalist Church in Oxford.
Clara was the youngest of five children in a middle-class family, and most of her education came from her two brothers and two sisters. With their help, Clara received a vast and diverse education. By the time she started school at age four, she could already spell three-syllable words. She found school to be quite easy and studied such subjects as philosophy, chemistry and Latin. Barton was extremely shy, but her instinctual gift for nursing started at the age of eleven, when she nursed her brother David through a serious illness for two years.
Clara became a teacher in Massachusetts' Worcester County. During the next six years, she taught in several schools, before establishing her own school in North Oxford. At the age of 29, after more than ten years of teaching, Clara yearned for a change. She entered the Liberal Institute in Clinton, New York, an advanced school for female teachers, where she studied writing and languages and took private classes in French.
After a year in Clinton, Clara accepted a teaching position in New Jersey. She subsequently opened a free school in Bordentown. In the fall of 1853, Clara was shocked to learn that she would not be principal of the school that she had founded. Instead a man was hired, at twice her salary. Upset over the loss, Clara moved to Washington DC, and began work as a clerk in the U.S. Patent Office – the first woman to receive a substantial clerkship in the federal government.
When the Civil War began, Clara was still working as a clerk in the nation's capital. When the 6th Massachusetts Regiment arrived in the city after the Baltimore Riots, she organized a relief program for the soldiers, beginning a lifetime of philanthropy.
When she learned that many of the wounded from the First Battle of Bull Run had suffered, not from want of attention but from need of medical supplies, Clara resigned from the Patent Office to work as a volunteer. She advertised for supplies and distributed bandages, socks, and other goods to help the wounded soldiers.
The relief operation was successful, and in 1862, U.S. Surgeon General William A. Hammond granted Clara a general pass to travel with army ambulances "for the purpose of distributing comforts for the sick and wounded, and nursing them," which she did for the next two years.
Clara refused to take a salary from the government, and dedicated herself to aiding soldiers at the front. Never before had women been allowed in hospitals and camps, or on battlefields, and initially, military and civil officials declined her help. Eventually, she gained their trust and began receiving supplies from all over the country.
Clara Barton Letter dated December 1862:
Head Quarters 2nd Div.
9th Army Corps-Army of the Potomac
Camp near Falmouth, Va.
December 12th, 1862 – 2 o'clock A.M.

My dear Cousin Vira:
Five minutes time with you; and God only knows what those five minutes might be worth to the many-doomed thousands sleeping around me.

It is the night before a battle. The enemy, Fredericksburg, and its mighty entrenchments lie before us, the river between – at tomorrow's dawn our troops will assay to cross, and the guns of the enemy will sweep those frail bridges at every breath.

The moon is shining through the soft haze with a brightness almost prophetic. For the last half hour I have stood alone in the awful stillness of its glimmering light gazing upon the strange sad scene around me striving to say, "Thy will Oh God be done."

The camp fires blaze with unwanted brightness, the sentry's tread is still but quick – the acres of little shelter tents are dark and still as death, no wonder for us as I gazed sorrowfully upon them. I thought I could almost hear the slow flap of the grim messenger's wings, as one by one he sought and selected his victims for the morning…

Mine are not the only waking hours, the light yet burns brightly in our kind hearted General's tent, where he pens what may be a last farewell to his wife and children, and thinks sadly of his fated men. Already the roll of the moving artillery is sounded in my ears. The battle draws near and I must catch one hour's sleep for tomorrow's labor.

Good night near cousin, and Heaven grant you strength for your more peaceful and less terrible, but not less weary days than mine.

Yours in love,
Clara
Clara's nursing work at Bermuda Hundred attracted national notice, and she formed her only formal Civil War connection with any organization when she served as superintendent of nurses in Major General Benjamin F. Butler's command. She followed army operations throughout the Virginia theater and in the Charleston, SC, area. As a result of her untiring work, she became known as the Angel of the Battlefield.
In 1864, Barton was given the position of superintendent of Union nurses, and began obtaining camp and hospital supplies, assistants, and military trains for her work. She practiced nursing exclusively on the battlefields, experiencing first-hand the horrors of war. Her work at Fredericksburg, VA, hospitals, caring for the casualties from the Battle of the Wilderness, was exceptional.
She also expanded her concept of soldier aid, traveling to Camp Parole, MD, to organize a program for locating men listed as missing in action. Through interviews with Federals returning from Southern prisons, she was often able to determine the status of some of the missing and notify families.
During the years following the war, Clara lectured about her war experiences and continued her work in locating missing soldiers. She was also highly dedicated to fighting for women's rights, and she worked closely with Susan B. Anthony, Lucy Stone, and others.
However, by 1869, she was suffering from exhaustion. Following her doctor's orders she traveled to Europe to rest and regain her health. There she learned about the concept of the Red Cross as outlined in the Treaty of Geneva, and observed their work while traveling with volunteers serving in the Franco-Prussian War. Twelve nations had signed the treaty, but the Unites States had not.
When Clara returned to the United States in 1873, she began a crusade for the Treaty of Geneva and the Red Cross. She moved to Washington DC to lobby for her causes, and due to her efforts, the United States signed the Geneva Agreement in 1882.
The American Red Cross organization was formed in 1881, and Clara served as its first president, a position she held for twenty-two years. She also wrote the American amendment to the Red Cross constitution, which provided for disaster relief during peace time as well as war.
The Red Cross's early work included aiding victims and workers in the floods of the Mississippi and Ohio Rivers in 1882 and 1884, the Texas famine of 1886, the Florida yellow fever epidemic in 1887, an earthquake in Illinois in 1888, and the 1889 Johnstown, Pennsylvania, flood.
The first wartime experience for the American Red Cross was in the Spanish-American War in 1898. The last operation Clara personally directed was relief for victims of the Galveston, Texas, flood in 1900.
Clara Barton was the most decorated American woman, receiving the Iron Cross, the Cross of Imperial Russia, and the International Red Cross Medal. Her final act was founding the National First Aid Society.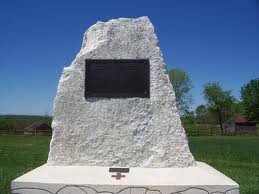 Image: Monument to Clara Barton
Antietam National Battlefield
The symbolic red cross was made with a brick from the chimney at her childhood home. Inscription: During the battle of Antietam, September 17, 1862, Clara Barton brought supplies and nursing aid to the wounded on this battlefield.
In 1904, Clara resigned as President of the American Red Cross at the age of 83, and retired to her home at Glen Echo, outside Washington, DC. She enjoyed good health and remained quite active, riding her horse and keeping abreast of current events.
Clara Barton died at her home on April 12, 1912, at the age of 91. She is buried less than a mile from her birthplace in a family plot in Oxford, MA.
SOURCES
Clara Barton
Clara Harlowe Barton
Clarissa Harlowe Barton
Clara Barton Birthplace Museum
Clara Barton: Founder American Red Cross