Poet and Writer in the Civil War Era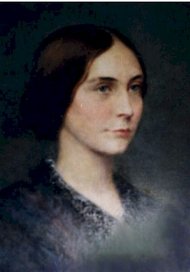 Susan Arnold Elston Wallace was an American author and poet who wrote six books that were published in her lifetime: The Storied Sea (1883), Ginevra (1887), The Land of the Pueblos (1888), The Repose in Egypt (1888), Along the Bosphorus and Other Sketches (1898) and The City of the King (1903). The wife of author and Civil War General Lew Wallace, she completed his autobiography after his death.
Early Years
Susan Arnold Elston was born on December 25, 1830 in Crawfordsville, Indiana to wealthy and influential parents, Isaac Compton and Maria Eveline (Aken) Elston. Susan had eight siblings, three brothers and five sisters. In 1835, Isaac Elston built an impressive, two-story brick mansion for his family on a forty-acre tract of ground known as Elston Grove.
Susan was educated in Crawfordsville and at Dr. Gibbon's Friends Boarding School in Poughkeepsie, New York. After graduation, she returned to her home in Crawfordsville, where she met Lewis Wallace at the home of her sister, Joanna M. Lane. Wallace had served as an officer under Joanna's husband during the Mexican-American War.
Lew and Susan had a great deal in common. They both loved literature, writing and music – she sang and played guitar and piano, he played the flute and violin. Wallace was intelligent, handsome, and well-read. He even reformed his youthful ways by studying law in his father's law office.
At the time of their engagement, Susan's father was not particularly certain that Wallace would ever be successful. However, Susan accepted Lew's marriage proposal and agreed to wait until he could establish himself as a lawyer. It took three years to accomplish that goal and win the approval of the Elston family.
Susan Elston married Lew Wallace on May 6, 1852, and then moved to Covington where Wallace had opened his law office. Their only child, a son named Henry Lane, was born in Covington on February 17, 1853. Two months later, the young family permanently relocated to Crawfordsville.
Rose Blair Marsh, the niece of Susan's sister, Helen Elston Blair, gave the following description of Susan's marriage:
Hers was a match for love, to a poor man, and for years she lived in a most humble way, doing her own work. And afterwards, when fame and wealth were hers, she used to look back on those early years as the happiest of her life… She cared little for society, much preferring her beloved books.
She told me once to make my friends among my books, for if they bored me I could cast them aside without hurt feelings and take them up again at will, and that they were the truest friends to own… She was a woman of quiet dignity and reserve and display meant nothing to her; she knew the worthwhile things that really count.
Susan was a talented writer and musician, although she preferred to remain largely in the shadows as her husband's companion. In truth, and Wallace frequently acknowledged this, Susan was his editor, reader and critic. He attributed much of his success in writing to her.
However, Susan Wallace was published long before her husband with her very popular poem "The Patter of Little Feet," which appeared in the Cincinnati Daily Gazette on April 17, 1858. She was published in over thirty magazines, newspapers, journals and books of poetry in her lifetime.
Lew Wallace in the Civil War
I never heard music as fascinating and grand as that of battle. ~ Lew Wallace
In April of 1861, Lew Wallace was appointed Adjutant General of Indiana. He organized the first six regiments from Indiana to serve in the Civil War. After resigning that position he was commissioned Colonel of the 11th Indiana Infantry Regiment, which routed Confederate troops at Romney, Virginia. In August 1861 Wallace re-organized the 11th, which was then assigned to Paducah, Kentucky.
Promoted to Brigadier General on September 3, 1861, Wallace commanded of the Third Division of the Army of the Tennessee from February to June 1862, and participated in operations along the Cumberland River in Tennessee and was instrumental at the battle of Fort Donelson. As a result, he was promoted to Major General of U.S. Volunteers on March 21, 1862.
He commanded the Third Division during the Battle of Shiloh in April 1862 and during the siege of Corinth, Mississippi. In September 1862, he was sent to Cincinnati, Ohio, where he organized a civilian defense to withstand an attack by General Kirby Smith. Due to his strong fortifications, Smith chose not to attack the city.
On November 20, 1862, General Wallace was assigned to duty as president of the Buell Commission, which investigated the operations of the army under Union General Don Carlos Buell in Kentucky and Tennessee. Wallace also managed operations for the Union Army in Indiana in July 1863 when Confederate General John Hunt Morgan invaded the state during Morgan's Raid.
On March 22, 1864, President Abraham Lincoln asked that General Wallace be appointed to command the 8th Army Corps and the Middle Department, headquartered at Baltimore, Maryland. On July 9, 1864, he fought the Battle of Monocacy, which is said to have saved the city of Washington, DC.
From February to April 1865 he was detached on a secret service assignment to Mexico where he was to investigate reports of Confederates attempting to continue their fight south of the border. Wallace was also to make contact with Benito Juarez, who was fighting for Mexican Independence from the French.
Image: General Lew Wallace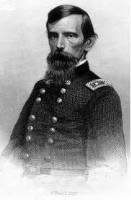 On April 1, 1865, Wallace was assigned as second officer of the military court that tried those involved in the assassination plot against President Lincoln. In August 1865, he was assigned to duty as President of the military court for the trial of Henry Wirz, commandant of Andersonville Prison. Wallace resigned his commission on November 30, 1865, and was honorably discharged from the service.
In September 1878 Lew Wallace was appointed Governor of the New Mexico Territory. Described by some as a reward for his support for President Rutherford B. Hayes, it was not a favor, but a tense and dangerous political post. Susan followed him to Santa Fe several months later.
With all of the troubles in New Mexico, Wallace did not especially enjoy his time there. However, he did manage to legislate some educational reforms and witnessed the advent of the railroad to the territory. Perhaps, the greatest accomplishment of Wallace and his wife Susan was the salvaging of the territory's archives. It was also at Santa Fe's Palace of Governors that Wallace put the finishing touches on his novel, Ben-Hur.
Wallace wrote seven major works. He began writing his first novel The Fair God (1873) in the late 1840s about the conquest of the Aztec Empire by the Spanish. He developed and refined this novel over the next twenty-five years. He drew on these life experiences in Mexico to better depict his characters and settings.
Ben-Hur: A Tale of the Christ (1880), a novel set during the time of Jesus Christ in the Roman Empire, was Lew Wallace's most popular work. The best-selling novel of the 19th century, Ben-Hur was translated into at least 20 different languages, and has never been out of print. The book's main character, Judah Ben-Hur, accidentally causes injury to a high-ranking commander, for which he and his family suffer trials and tribulations.
Wallace and Benjamin Harrison were good friends. When Harrison was nominated for president in 1888, he turned to Wallace to produce his campaign biography. Harrison was elected the twenty-third president of the United States, and The Life of Ben Harrison (1888) remained the standard Harrison biography for over seventy years.
When President James A. Garfield appointed Lew Wallace as U. S. Minister to Turkey, Susan accompanied her husband on this assignment in June of 1881. During their stay, Susan wrote articles for American newspapers and periodicals about her travels. Publishers later collected these essays and issued them in book form.
Lew Wallace: An Autobiography was to be the crowning achievement for one of the favorite authors of the late nineteenth century. In it there is a wonderful tribute to his wife, a part of which reads:
Her gentle soul has controlled me and bent me to her wishes, but unselfishly, and always for my good, and always so deftly I was as one blind to the domination. My temper has never been so hot she could not lay it. She has decided me in doubt, defended me against interruptions, saved me my time at the sacrifice of her own, cheered me when down at heart, lured me back to my tasks when the tempter would have whisked me away, held my hand in defeat and rejoiced with me in my triumphs…
Her faith in me began with the beginning, when I was unknown and uncertain of myself, and the world all too ready to laugh at my attempts. Hers is a high nature, a composite of genius, common-sense, and all the best womanly qualities. The marvel, her memory, has always been at my service. Most fortunately for me the books she loves are the best and she knows them by heart. With her in call, I have no use for dictionaries of quotation… What of success has come to me, all that I am, in fact, is owing to her.
Lew Wallace died at home on February 15, 1905.
After the general's death, Susan Wallace wrote to a relative:
The life of my life is gone. I am now 76 years old and my heart is a tired hour glass. It seems hardly worthwhile to watch the slow dropping of the sands… the past is ever present with me, and though I look through all the faces in the world, I shall never see another like that of my first, last and only love.
Unfortunately, at the time of his death, Wallace had only completed his autobiography up to the Battle of Monocacy, leaving forty years of his life unrecorded. Susan Wallace, with the assistance of friend and author Mary Hannah Krout, completed Lew Wallace: An Autobiography, using correspondence and articles written by Lew.
Susan Wallace died October 1, 1907, two years after her husband. They are buried together at Oak Hill Cemetery in Crawfordsville, Indiana.
Largely forgotten by modern readers, Susan Wallace's works focus on home, friends, travel and Christianity. She was also very interested in women's roles, especially after traveling with her husband to Turkey and the Middle East.
In her lifetime, she published extensively in literary magazines and newspapers, and also published six books:
The Storied Sea, 1883.
Ginevra; or, The Old Oak Chest, A Christmas Story, 1887.
The Land of the Pueblos, with illustrations by Lew Wallace, 1888.
The Repose in Egypt: A Medley, 1888.
Along the Bosphorus and Other Sketches, 1898.
The City of the King: What the Child Jesus Saw and Heard, 1903.
SOURCES
Wikipedia: Lew Wallace
Wikipedia: Susan Wallace