First African American Woman Doctor in New York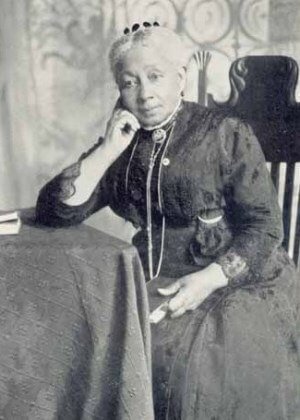 Only five years after the Thirteenth Amendment to the Constition abolished slavery in the United States, Susan McKinney Steward graduated from medical school and became the first African American woman physician in New York and only the third black female doctor in the country. She practiced medicine in Brooklyn and Manhattan most of her life.
Early Years
Susan Maria Smith was born in Brooklyn, New York in the year 1847. She was the seventh of ten children born to Sylvanus and Anne Springstead Smith, who were both multi-racial. Her mother was the daughter of a Shinnecock Indian woman and a French colonel. Her father's ancestors included a Montauk Indian and an African who escaped from a slave ship. Her parents were successful farmers, and were among the elite of Brooklyn's Black community.
As a child she learned to play the organ performed as organist for Siloam Presbyterian Church and the Bridge Street African Methodist Church for many years. Her early education qualified her for teaching positions and she taught school in Washington, DC and New York City.
Medical Education
Medicine was an unusual career choice for any woman in the mid-nineteenth century, but especially for an African American woman. Steward might have decided to become a physician after the death of two of her brothers during the Civil War. In 1866, she witnessed a cholera epidemic in Brooklyn, in which more than 1,200 people died. During her youth, Steward also cared for a sick niece. Any of these experiences could have influenced her to become a doctor.
Because women were not welcome in existing male medical schools, all-female institutions began to open up. In 1867 Steward enrolled in the New York Medical College for Women in Manhattan, where Steward was living with one of her sisters. The College had been founded in 1863 by Dr. Clemence Sophia Lozier, a wealthy physician who was sympathetic to African Americans. Lozier became Steward's mentor and the two remained close friends until Lozier's death in 1888.
Students at the New York Medical College for Women were required to study anatomy, physiology, chemistry, materia medica (medicines), surgery, obstetrics and medical jurisprudence. Clinical lectures were given at the New York Homeopathic Dispensary and the New York Ophthalmic Hospital. When a lack of funds forced the college to send students to Bellevue Hospital for clinical work, male students frequently taunted their female classmates.
Although her prosperous parents could have afforded to pay for her medical school education, Steward paid her own tuition with money she had earned teaching music in an African American school in Washington DC for two years.
Career in Medicine
When Steward graduated from medical school as valedictorian of her class in 1870, she became the first African-American female physician in New York and only the third in the country. She established a medical practice in her Brooklyn home, which she ran from 1870 to 1895. Her patients were a diverse group: young and old, black and white, poor and rich – and they affectionately called her Dr. Susan.
Before long, Dr. Steward became widely known, and she opened another office in Manhattan. She achieved wealth and a local reputation as a successful physician with an interracial clientele. Dr. Steward excelled, especially in prenatal and pediatric care and the treatment of childhood diseases, which became her specialty. She maintained her offices in Brooklyn and Manhattan for many years and treated a variety of patients regardless of income or ethnicity.
Marriage and Family
In 1871, Susan married William G. McKinney, an Episcopal minister from South Carolina who was 17 years older than she. The couple lived in Steward's parents' home until 1874, when they moved to a predominantly white area of Brooklyn. The couple had two children: Anna, who became a schoolteacher, and William Sylvanus, who became an Episcopal priest. The family lived comfortably in Brooklyn.
In 1890, William McKinney suffered a cerebral hemorrhage and was unable to maintain his normal work schedule. Susan supported the family, as well as six of her relatives who lived in the McKinney home. William McKinney died in 1892.
Medical and Social Reform
Steward was active in Kings County Homeopathic Medical Society and Homeopathic Medical Society of the State of New York. During the 1880s, she presented two important papers to the New York group – the first about a pregnant woman who was incorrectly treated; the second about childhood diseases. She was a founding member of the Alumni Association of the New York Medical College for Women and taught at the school in 1882-1883.
During the 1880s and early 1890s, in addition to her medical practice, Dr. Steward was very active in establishing medical facilities for African Americans and the aged. She was one of the founders of the Brooklyn Women's Homeopathic Hospital and Dispensary (1881), which served the African American community, and she served as a surgeon on the staff. During these years, Dr. Steward also continued her medical education; she was the only woman in a post-graduate class at Long Island College Hospital in Brooklyn (1887-1888).
In addition to surgical rounds at the Brooklyn Women's Homeopathic Hospital and Dispensary, Dr. Steward was a physician for the elderly at the Brooklyn Home for Aged Colored People, where she also served as a board member (1892-1895). She also found time in her busy schedule to practice at New York Medical College and Hospital for Women in Manhattan (1892-1896).
Participating in social reform issues of the day, Dr. Steward became a member of the Women's Local Union of New York (a leading black women's club) and the Equal Suffrage League of Brooklyn. She was active in Bridge Street's missionary work and was president of the Women's Christian Temperance Union Number 6. At the Brooklyn Literary Union, she organized musical programs and sold tickets to musical events.
Steward had a love of music throughout her life. As a child, she took organ lessons from famed organists John Zundel and Henry Eyre Brown. Since her youth, she served as the organist and choir director for the Siloam Presbyterian and Bridge Street AME churches. She also contributed to many of the Brooklyn Literary Union's musical programs, often accompanied by her children, who shared her talent.
Second Marriage
Susan married Theophilus Gould Steward November 26, 1896; he was an ordained minister and chaplain of the 25th U.S. Colored Infantry, who were known as the Buffalo Soldiers, the nickname was given to them by the Native American tribes they were fighting. This unit was established by Congress as the first peace-time all-black regiments in the regular U.S. Army.
After having spent her entire life in Brooklyn, Dr. Steward moved several times as Reverend Steward was stationed at various army posts in the West, earning medical licenses and practicing medicine in Montana and Wyoming. The Stewards also traveled extensively. In 1897, Dr. Susan Steward traveled to Haiti to deliver her first grandson.
From 1898 to 1902, Reverend Steward was working in Cuba and the Philippines. In 1898 Wilberforce University in Ohio hired Dr. Steward as a resident physician and a health and nutrition teacher. In 1902, the reverend was stationed at Fort Niobrara, Nebraska and Susan joined him there. In 1906, the Stewards moved to Fort McIntosh, near Laredo, Texas. After leaving Texas, Dr. Steward returned to her job at Wilberforce University, and Reverend Steward joined the faculty as a history teacher.
Late Years
In 1911, the Stewards attended a Universal Race Congress in London. The meeting brought together Africans, Asians, Americans and Europeans seeking to improve relationships and cooperation between the East and West. Dr. Steward, an accomplished public speaker, presented a paper at the conference, titled "Colored American Women," which dealt with achievements of famous African American women including Phyllis Wheatley, Ida Wells Barnett, and Mary Church Terrell.
In 1914, Dr. Steward delivered a speech "Women in Medicine" before the National Association of Colored Women's Clubs in Wilberforce, Ohio. In this speech she examined the history of women in medicine from Biblical times to 1914. Steward concluded that there was no need for separate medical schools for women, but that they should have equal opportunity for internships. She stated:
Fortunate are the men who marry these [black] women [doctors] from an economic standpoint … They are blessed in a three-fold measure … [taking] unto themselves a wife, a trained nurse, and a doctor. … [I caution such women] to avoid becoming unevenly yoked … such a companion will prove to be a millstone hanged around her neck.
Dr. Susan McKinney Steward died suddenly on March 7, 1918 at Wilberforce University at age 71. Her body was returned to Brooklyn, New York for burial in Green-Wood Cemetery. At her funeral, Hallie Quinn Brown delivered the eulogy. Dr. William S. Scarborough, president of Wilberforce University, and author Dr. W.E.B. DuBois also spoke at the funeral.
Hallie Quinn Brown's eulogy included this description of Steward:
She was great in the estimation of those who knew her capacity, her ability, her real worth. She was not a spectacular woman. She was modest. A woman absolutely self-reliant, honest to herself and to her friends. … She was one of those generous natures that love peace, order, and harmony. But she could strike, and strike hard, in what she believed to be a righteous cause. With her it was justice on the one side, and injustice on the other.
Image: Dr. Susan McKinney Steward Grave
Green-Wood Cemetery, Brooklyn
In 1974, the New York Board of Education named a Brooklyn school the Dr. Susan Smith McKinney Junior High School. During the 1980s, African-American women doctors in New York, New Jersey and Connecticut named their medical society after Steward.
SOURCES
Susan M. Steward: Pioneer in Medicine
Encyclopedia.com: Susan McKinney Steward
BlackPast.org: Susan Smith McKinney Steward
Women in History: Susan McKinney Steward