Educator and Suffragist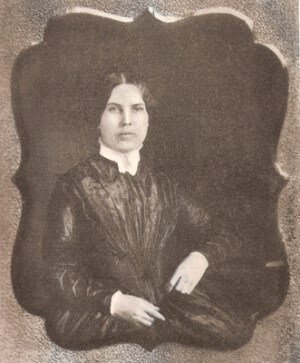 Mary Stafford Anthony was the youngest sister of the famous social reformer and feminist Susan B. Anthony. Often overshadowed by her older sibling, Mary was a suffragist and educator who served as the first female school principal in western New York. She played an active role in several social reform organizations, including the New York Women's Suffrage Association.
Image: Mary Stafford Anthony
At about 25 years of age
Early Years
Mary Stafford Anthony was born April 2, 1827 to Daniel and Lucy Read Anthony in Battenville, New York. Her parents had different religious beliefs; he was a liberal Quaker abolitionist. Although Lucy was a Baptist in her younger years, the Anthony children were raised as Quakers. Anthony had three sisters and two brothers. One of her older sisters was suffragist Susan B. Anthony.
Mary's father was at various times a successful businessman. While the family lived in Battenville, he owned a mill, and established a school in his house for his children and some fron the neighborhood. Mary received much of her early education there. The Anthony family followed the Quaker traditions:
… men and women were partners in church and at home, hard physical work was respected, help for the needy and unfortunate was spontaneous, and education was important for both boys and girls.
During the Panic of 1837, Daniel Anthony lost everything, and he and his family gave up all they owned to be sold at auction. Their most personal belongings were saved, however, by Daniel's uncle, Joshua Read, who bid for them and returned them to the family.
Career in Education
When Mary was seventeen, she followed in her sister Susan's footsteps, and became a teacher at a district school in Fort Edward and received $1.50 per week. She taught for one year there, and then the family moved to a small farm in Gates, New York, west of Rochester in 1844.
In 1845 they moved again, this time to Rochester, New York. Mary remained at home for the next eight years, helping with the farm and the household duties; in her spare time, she studied. The farm became a meeting-place for anti-slavery activists, including Frederick Douglass.
In 1854, at the age of twenty-seven, Mary Anthony returned to teaching and taught in the Rochester public schools for 27 years. In 1868, she was offered a position as a school principal in Rochester, and she was one of the first women to serve in that role. She accepted the job provided her salary would equal that of her male predecessor, quite a demand in those days when women were often expected to take as little as half of a male teacher's salary.
Mary Anthony House
This is now known as the Susan B. Anthony House, but Mary Anthony owned it. During her career as a feminist and suffragist, Susan lived with her sister. While the Civil War was waging, this two-story, twelve-room red brick house in the Italianate style was constructed at 17 Madison Street between 1859 and 1864. In 1864, Mary's older sister Guelma and her husband Aaron McLean moved into the structure as tenants.
Image: Mary Anthony House
Although this structure is now known as the Susan B. Anthony House, Mary Anthony owned the home from 1873 until her death in 1907.
Mary Anthony, her sister Susan, and their mother Lucy Read Anthony moved into the home in 1865. In 1866, Lucy purchased the house for $3,500. Mary purchased the house from her mother in December 1873 for $4,500; Mary owned it from that time until her death in 1907. Rochester city water mains were connected to Madison Street in 1876; water was piped into the kitchen, and a bathroom was added. The Anthonys had previously relied on a rainwater cistern.
Career in Activism
Mary Stafford Anthony shared her sister's devotion to social reform; she was the first to enlist in the crusade for equal rights for women. Mary, plus her mother and father, attended the first Women's Rights Convention in Rochester on August 2, 1848, two weeks after the historic first women's rights meeting in Seneca Falls. At that time, Rochester was a thriving community of 30,000 citizens.
On August 2, 1848, Mary attended the Women's Rights Convention at the Unitarian Church in Rochester. The function had been planned by Amy Kirby Post, Sarah Hallowell, Sarah Fish, and Sarah Owen. They chose Abigail Bush to chair the convention, marking the first time a woman led such an event. Major women's rights activists and abolitionists were present: Elizabeth McClintock, Elizabeth Cady Stanton, Lucretia Mott and Frederick Douglass.
In 1878, Mary represented Monroe County at the Rochester convention of the National Woman Suffrage Association. In 1885, she organized and hosted the first meeting of the local Women's Political Club (later the Political Equality Club); she served as its president from 1892 to 1903. She became corresponding secretary for the New York State Woman Suffrage Association in 1893 and helped run a suffrage campaign headquarters out of her home at 17 Madison Street.
Mary Anthony served as the family breadwinner, caregiver, and household manager, enabling Susan to devote her time and energy to the cause of women's rights and suffrage. Mary contributed financially to Susan's journal, The Revolution (1868-1872), and supported the campaign to convince the University of Rochester to accept women students.
After her retirement from a career in education in 1883, Mary had more time to support her causes and to travel. She and Susan toured Europe in 1899 and again in 1904 to attend meetings of the International Council of Women. Both sisters were present in Berlin when the International Woman Suffrage Alliance was established; Mary and Susan were its first members.
Mary Anthony became an ardent suffragist and a respected leader in Rochester and the national movement. She often supported her sister Susan financially. In 1892 Susan was elected president of the National American Woman's Suffrage Association (NAWSA) and 17 Madison Street became the headquarters for that organization. In 1893, Mary Anthony became corresponding secretary of the New York State Woman Suffrage Association.
Renovations performed in 1894 repurposed several areas of the house at 17 Madison. First floor parlors became public offices where Susan met with famous reformers like Lucretia Mott and Ida B. Wells Barnett. Guest rooms were used for handling mail during the New York State Constitutional Campaign. A telephone was installed in the house.
A third story was added to the house in 1895, where Anthony helped research and write the multi-volume opus entitled History of Woman Suffrage with Stanton, Matilda Joslyn Gage, and Ida Husted Harper. It was published in six volumes (1881-1922); its 5700 pages offer primary documentation about the women's suffrage movement.
From home, Mary and other suffragists challenged New York voting policies; a law passed in 1918 allowed women to vote in some New York elections.
University of Rochester
The University of Rochester was founded in 1850 as an all male institution. In the 1880s, women began to petition the University to open its doors to women. The Board of Trustees voted to allow women to enter the University in 1898 – if they raised $100,000 (about $2,000,000 today) to help defray expenses. Over the next two years, a committee of women raised $40,000.
In June 1900, the Board agreed to admit women students, if they could contribute $10,000 more; but the deadline came and they had only raised $2,000 more. Mary Anthony donated $2,000, received that same amount from Sarah Willis, and a third from the Reverend William Channing Gannett. Still short $2,000, at the last moment Susan B. Anthony pledged her life insurance policy, and the University of Rochester admitted the first class of women in the fall of 1900.
Image: Mary Stafford Anthony (left)
With Susan B. Anthony in their later years
Rochester Public Library Local History Division
In 1901, Mary became a Life Member of National American Woman Suffrage Association, which had the sole objective of securing the right to vote for women citizens.
Property Taxes
As a homeowner Mary Anthony paid property taxes – but not without protest. She believed that women should not have to support a government that did not allow them the right to vote. She sometimes enclosed a letter to the county treasurer:
Enclosed find County tax for 1904. A minor may live to become of age, the illiterate to be educated, the lunatic to regain his reason, the idiot to become intelligent – when each and all can decide what shall be the laws, and who shall enforce them; but the woman, never. I protest against paying taxes to a Government which allows its women to be thus treated. Please so record it.
The Anthony sisters took their last trip together to attend the National American Woman Suffrage Association Convention in Baltimore in 1906.
Susan B. Anthony died March 13, 1906 at home at the age of 86.
Mary Stafford Anthony died from leukemia February 5, 1907 at age 79.
The Anthony sisters are buried beside each other at the historic Mount Hope Cemetery in Rochester, New York.
While Susan's contribution to this effort has been appropriately noted, Mary's significant contributions remain undeservedly overlooked. Mary Stafford Anthony wrote:
… taxation without representation is just as great tyranny today … as it was in 1776 … until we can establish equality between men and women we shall never realize the full development of which manhood and womanhood are capable.
SOURCES
Wikipedia: Mary Stafford Anthony
Susan B. Anthony Museum and House
Rochester Voices: The Other Anthony Girl