One of the First Feminists in the United States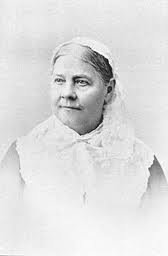 Lucy Stone (1818–1893) was a prominent American abolitionist and suffragist, and a tireless advocate of rights for women. She began her career in social reform by speaking out against slavery at a time when women were discouraged and prevented from public speaking. She was a pioneer in the women's rights movement, addressing several legislative bodies and urging them to pass laws giving more rights to women. Stone was also the first recorded American woman to keep her maiden name after marriage.
Lucy Stone was born near West Brookfield, Massachusetts, on August 13, 1818. As a young girl, Lucy noticed that her mother was totally dependent on her father, even having to beg him for spending money. That must have made an indelible impression on her. Her father paid tuition for her brother to receive an education, but would not do the same for Lucy. The attitude at that time was that an education would be wasted on a girl: she would only marry and have children.

So Lucy taught school to pay her own tuition. At the age of 25, she had finally earned enough to pay for one year at Oberlin College, the first college in the country to admit women and blacks. She continued to teach and keep house to pay her way, and graduated in 1847 at the age of 29. Stone was asked to write a commencement speech for her class, but she refused. Someone else would have had to deliver the speech, because women were not allowed to speak in public.
Stone returned to Massachusetts and made a career of lecturing and writing in support of women's rights. She delivered her first public speech from the pulpit of her brother's Congregational Church in Gardner, Massachusetts.
In 1848, the American Anti-Slavery Society hired her as an organizer. William Lloyd Garrison, whose ideas were dominant in the Anti-Slavery Society, said of her the year she began working with them:
She is a very superior young woman, and has a soul as free as the air, and is preparing to go forth as a lecturer, particularly in vindication of the rights of women. Her course here has been very firm and independent, and she has caused no small uneasiness in the spirit of sectarianism in the institution.
Stone traveled the country giving speeches on abolition and the rights of women. Trying to promote civil rights for slaves and for women caused problems, so she began to speak for women's rights only on weekends, earning $7000 in three years, a tidy sum for the times. Her controversial views drew huge crowds, but some jeered and threw things at her.
In 1850, Stone was a leader in organizing the First National Women's Rights Convention, held in Worcester, Massachusetts. For two days, more than 1000 delegates from 11 states filled Brinley Hall to overflowing. Speakers, most of them women, demanded the right to vote, to own property, to be admitted to higher education, medicine, the ministry and other professions. Although it was negative, press coverage of the convention helped bring it to the attention of a broad national audience and build support for the movement.
Lucy had sworn not to marry, but at the age of 35, she met a Cincinnati businessman, Henry Blackwell on one of her speaking tours, and everything changed. Henry was the brother of Dr. Elizabeth Blackwell, the first U.S. female physician. How lucky she was to find such a husband; he vehemently opposed slavery and supported women's rights. Lucy was especially impressed when he rescued a fugitive slave from her owners.
Henry, seven years younger than Lucy, courted her for two years. When she finally accepted his proposal of marriage, she wrote to him, "A wife should no more take her husband's name than he should her's. My name is my identity and must not be lost." Henry agreed with her. Lucy married Henry in 1855, at the age of 37, and kept her maiden name. The couple kept Lucy's property in her name, and she refused to pay property taxes on her home, considering it taxation without representation because women were not allowed to vote.
Stone gave birth to a daughter at the age of 39. A son died at birth; Lucy and Henry had no other children. Lucy retired from active touring and public speaking, and devoted herself to raising her daughter. The family moved from Cincinnati to New Jersey. "… for these years I can only be a mother – no trivial thing, either."
All activities supporting the rights of women ceased while the Civil War raged on for four years, but in 1867, at the age of 49, Stone again undertook a lecture tour, campaigning for the right of women and blacks to vote. She and Henry began to publish a weekly suffrage newspaper, The Woman's Journal. For the first two years, it was edited by Mary Livermore, and then Lucy and Henry became the editors. Stone found working on a newspaper far more compatible with family life than taking to the lecture circuit.
Considered a radical proponent of women's rights at the beginning of her speaking and writing career, Stone is usually considered a leader of the conservative wing of the women's movement in her later years. Stone's speech in 1850 converted Susan B. Anthony to the suffrage cause, but Stone later split with Anthony over strategy and tactics, splitting the suffrage movement into two major branches after the Civil War.
The National Woman Suffrage Association, led by Susan B. Anthony and Elizabeth Cady Stanton, decided to oppose the Fourteenth Amendment, because of the language "male citizen." Lucy Stone, Julia Ward Howe and Henry Blackwell led those who sought to keep the causes of black and woman suffrage together, and in 1869 they founded the American Woman Suffrage Association.
Stone continued working as long as her health allowed. In 1893, at the age of 75, she gave lectures at the World's Fair in Chicago.
A few months later, Lucy Stone died of cancer. It is said that her last words to her daughter were, "Make the world better." A true pioneer until the end.
Image: Lucy Stone Monument in Boston
The Boston Women's Memorial celebrates three important contributors to Boston's rich history: Abigail Adams, Lucy Stone and Phillis Wheatley. These women had progressive ideas that were ahead of their time, were committed to social change and left a legacy through their writings that had a significant impact on history. The sculptures were dedicated on October 25, 2003 on historic Commonwealth Avenue Mall in Boston.
In her lifetime, Lucy Stone achieved a number of important firsts:
• First woman in Massachusetts to earn a college degree.
• First woman to keep her maiden name after marriage.
• First person in New England to be cremated.
Lucy Stone is less well known today than Anthony, Stanton and Howe, nevertheless her contributions were just as important. Her daughter, Alice Stone Blackwell, published her mother's biography, Lucy Stone, Pioneer of Woman's Rights, in 1930, helping to keep her name and important work known.
SOURCES
Lucy Stone
Wikipedia: Lucy Stone
About.com: A Soul as Free as the Air