Wife of Union General James A. Garfield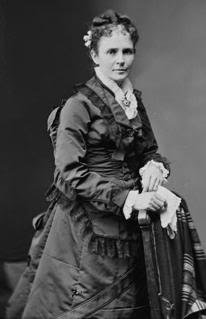 Lucretia Rudolph was born on April 19, 1832, in Hiram, Ohio, the eldest of four children of Zebediah Rudolph, a prosperous carpenter-farmer, and Arabella Mason Rudolph. Her family were devout members of a religious sect called the Disciples of Christ. Lucretia's father was a leader in both the business and religious communities. Her parents firmly believed in the importance of education, and insisted that their daughter attend school. Although Lucretia was a sickly child, she received a thorough education. She liked school and was a very good student, and at a young age she developed a love of literature that would last throughout her life.
Education
Lucretia attended Garrettsville Public Grammar School in Garrettsville, Ohio, from 1838 to 1847, and Geauga Seminary in Chester, Ohio – a private academy – from 1847 to 1849. There she was a boarding student and took a course of study that focused on Greek and Latin, and also included history, algebra, science, geography, and music.
In 1850, Lucretia entered Hiram Eclectic Institute in Hiram, Ohio, where she was an excellent student. She studied French, continued with Greek and Latin, and widened her expertise in classical literature. She helped to organize a literary society, which staged elocution, debate, and oratorical presentations, often taking the stage herself to defend the rights of women to do so, at a time when many men considered it improper for women to publicly present themselves. She also worked as editor and illustrator of The Eclectic Star, a school magazine.
James Abram Garfield was born on November 19, 1831, near Orange, Ohio, the youngest of Abram and Eliza Garfield's four children. James worked on the family farm and later on a canal boat before attending Geauga Academy. In 1851, he began attending Hiram Eclectic Institute, and during this time he became a minister in the Disciples of Christ Church.
Lucretia first met James Garfield in 1849 when they were classmates at Geauga Seminary. James was also an intensely devout Disciple of Christ, who had been raised in poverty and was trying to pay his way through school by working menial jobs. When Lucretia and James were both attending the Eclectic Institute, they began dating. Lucretia was somewhat plain in appearance, but James was attracted to her keen intellect and her appetite for knowledge. He once admitted that she gave better speeches than he did.
Their very different personalities – she was reserved and stiff, while he was impetuous and outgoing – made their courtship quite difficult. He confided in his diary that he admired her abilities, but found her dull, and her letters to him suggest that she feared losing her independence if she married him. When James went on to Williams College in Massachusetts in 1853, their relationship continued through correspondence.
In 1854, Lucretia graduated from the Eclectic Institute and became a teacher, and continued to write to James. She began her teaching career by teaching French, Algebra, and Latin at the Eclectic Institute. From there, she moved away from home to take a teaching job at Ravenna, Ohio – proud to be out on her own.
The Garfield Marriage
In 1856, when Lucretia went to Massachusetts to attend James' graduation from Williams College, she was upset at the presence of another young woman, Rebecca Selleck, with whom Garfield soon admitted to carrying on a romance. James confessed his fear of commitment to Lucretia, because she did not display emotion or give freely of physical affection. Lucretia forgave him, and they committed themselves to a future marriage; she left her teaching job, prepared to be a full-time wife and mother.
When they decided to wait a few years until he was earning more money, James returned to the Eclectic Institute as a professor, and a year later he became president of the college. Lucretia took a job as a teacher in Cleveland, Ohio, rather than returning to her hometown. She rented a room at a boardinghouse and took drawing lessons, attended lectures, theater, musical concerts, and art shows. In the spring of 1858, she began a stint as an art teacher in Bryan, Ohio.
In summer 1858, James proposed and she accepted, but their relationship was still sometimes difficult. Lucretia was still very shy with James, and she had difficulty expressing her love to him in person. He became exasperated on numerous occasions, wishing that she was as outgoing in person as she was in her letters. However, they did have many things in common. Aside from sharing the same religious beliefs, they were both interested in politics and strongly opposed to slavery.
Lucretia Rudolph married James Garfield on November 11, 1858, in her family's home in Hiram. They were both 26 years old. The Garfields did not honeymoon after their wedding, but moved into two rented rooms on the second floor of a home in Hiram. Lucretia continued to teach until the birth of their daughter in 1860. Over the next 14 years, she gave birth to six more children. Their first child died in 1863; a son died in 1876; and five children survived to adulthood.
By this time, Garfield had become well known in the area due to his positions as president of the college and as a minister. In 1859, he was approached by local Republicans interested in nominating him for a state senate seat. Garfield consented and after winning the Republican nomination in August, 1859, he won the general election two months later.
The Civil War
Following the attack on Fort Sumter, James Garfield joined the Union Army. He helped to raise troops for the Union cause and was appointed colonel of the 42nd Ohio Volunteer Infantry by Governor William Dennison. After training at Camp Chase in Columbus, Ohio, Garfield and the 42nd joined General Don Carlos Buell's Army of the Ohio at Louisville, Kentucky. Garfield then received command of the 18th brigade, which included the 42nd Ohio.
Garfield's first assignment was to help halt the Confederate advance into eastern Kentucky. In late December 1861, he set out to intercept the Rebels under the command of Brigadier General Humphrey Marshall. On January 9, 1862, Garfield and his 1,700 men found Marshall's 1,500 soldiers positioned on a ridge at Middle Creek, Kentucky, near the Kentucky/Virginia (now West Virginia) border. The next day, he launched a series of attacks against the Confederates that lasted throughout the day. He could not dislodge the Rebels, and the fight ended in a draw. The next day, the Confederates retreated into Virginia.
Middle Creek was Garfield's first experience in combat, and while not an overwhelming success, he did achieve his objective. He was awarded a promotion to the rank of Brigadier General and his victory was publicized in newspapers throughout the North, which had not had much success to celebrate at this point in the war.
Garfield then rejoined Buell and the Army of the Ohio, which was now at Nashville, Tennessee. However, the 18th brigade was sent to Louisville, and Garfield was placed in command of the 20th brigade. Garfield led his new brigade to Shiloh, where they arrived on the second day of the battle – April 7, 1862 – as the Confederates were retreating. Garfield and his brigade took part in the pursuit of the Confederates and in the Federal capture of Corinth, Mississippi. While at Corinth, Garfield was struck by a severe case of dysentery. He took a leave of absence and returned to Ohio.
While recovering in Hiram, Garfield was nominated as the Republican candidate for Congress, and in October 1862, he won the seat from the 19th District. However, his term would not begin until December 1863, and so he remained in the army. He received orders to report to Washington, where he served as a judge in the court martial of Major General Fitz John Porter for his actions at the Second Battle of Bull Run. After Porter was found guilty, Garfield received orders to report to Major General William Rosecrans' Army of the Cumberland.
After joining the Army of the Cumberland in Tennessee, Garfield became Rosecrans' chief of staff, and was with Rosecrans nine months later at the Battle of Chickamauga, Georgia. On the second day of the battle, September 20, the Confederates broke through the Union right flank, and forced two of the three Federal corps to retreat to Chattanooga. The remaining corps, under the command of George Thomas, was holding off the Confederates as best as it could.
Retreating back to Chattanooga with Rosecrans, Garfield volunteered to return to Chickamauga to alert Thomas as to the condition of the rest of the army. Garfield remained with Thomas during the rest of the battle, keeping Rosecrans updated on Thomas' situation until Thomas finally withdrew. For his actions at Chickamauga, Garfield was promoted to the rank of major general, and was being considered for command of a division, but Garfield resigned his commission to begin his term in Congress.
Long Separations
Because of Garfield's service in the Ohio state legislature from 1859 to 1861 and in the Union army from 1861 to 1863, the family had spent little time together. As they had done before, the Garfields continued a lengthy correspondence in the early years of their marriage. Lucretia calculated that they had spent a total of only six weeks together during their first six years of marriage.
In her letters, Lucretia expressed the tremendous degree of frustration and anger she felt towards Garfield for his lack of compassion for her, his frequent absences from home, and his leaving her alone to care for his demanding mother and a boarder – his admiring woman teacher and friend, Almeda Booth.
In response, Garfield frankly expressed his regrets at their marriage, and pursued a love affair with a New York woman, Lucia Calhoun, which he later greatly regretted and confessed to his wife. However, after the death of the Garfields' first child in 1863, he firmly committed himself to the marriage, and it blossomed in their mutual love of literature and the classics.
In the Congress
Ohioans had elected Garfield to the US House of Representatives, although he was still on active military duty and had not campaigned. President Abraham Lincoln persuaded him to resign his army commission, and Garfield took his seat in the House in December 1863. He went on to serve there for the next 18 years, and quickly gained a reputation as an honest, incorruptible politician.
After Garfield spent his first lonely winter as a freshman Representative, the family moved to Washington, DC, where Lucretia gave birth to six more children, five of whom survived to adulthood. Lucretia was thrilled with her husband's success. With a home in the capital, as well as their home in Mentor, Ohio, called Lawnfield, she devoted herself to running happy and comfortable homes. The family enjoyed traveling back and forth between their residences in Washington and Ohio.
Although Lucretia had held strong views on women's rights and her own independence, she tempered her position as her husband's political career advanced, and she did not publicly disagree with him on any issue. With the passage of time, Lucretia became more and more her husband's companion. With her constant presence in his public life now, Congressman Garfield came to rely on her advice, and he later commented that whenever he sought her help, she was discreet and wise.
In 1869, they built a large home in Washington, DC. Lucretia set aside one room for herself where she was able to write, read, and paint in private. She often expressed her frustrations at the expectations of being a wife and mother, yet believed that it was ultimately a situation that could be enjoyed by adjusting one's attitude.
By 1870, Lucretia Garfield had succeeded in overcoming her shyness with her husband, and the couple's relationship became a truly loving one. They were both voracious readers, and joined the prestigious Burns Literary Society on Capitol Hill together. They enjoyed dining out and giving small dinner parties for their many friends. They shared intellectual interests and traveled in company until by 1880, they were as nearly inseparable as his career permitted.
In June 1880, Garfield attended the Republican National Convention in Chicago. After the Convention became deadlocked between supporters of Ohio Senator John Sherman, Maine Senator James G. Blaine, and former President Ulysses S. Grant, Garfield won the nomination as a compromise candidate. That summer and fall, Garfield campaigned from Lawnfield against the Democratic candidate, former Union General Winfield Scott Hancock.
In November 1880, Garfield was elected the 20th President of the United States. While winning the popular vote by less than 10,000 votes, he won the electoral vote 214 to 155. His term began with a battle against members of his own party and against Congress over the appointment of cabinet positions and the patronage system.
First Lady
When James A. Garfield took the oath as President in March 1881, his Inauguration was held at the Smithsonian Institute, where an electric lamp was on display to the amazement of all who attended. Lucretia was not very interested in her role as the First Lady, but she entered the White House with enthusiasm and high hopes. At the age of 49, she was still slim and lovely, a small graceful woman with clear dark eyes, her brown hair beginning to show traces of silver.
During the years her husband had served in Congress, Lucretia had avoided the Washington social circuit. Thus, when Garfield became President, she was an inexperienced and anxious hostess, who viewed both her husband's new duties and her own as a "terrible responsibility." Though she recognized the importance of being a social leader, Lucretia was more comfortable being a political wife. But she was deeply conscientious, and her genuine hospitality made her dinners and twice-weekly receptions enjoyable.
Highly attuned to the issues of the day, she quietly supported women's equality, believing such treatment to be a right, not a privilege. She was well aware of the frustrations that motherhood imposed on women with professional interests; a few years before becoming First Lady, she noted how "horrible" it was "to be a man, but the grinding misery of being a woman between the upper and nether millstone of household cares and training children is almost as bad."
Although she did not publicly support the fight for women's suffrage because she felt the leadership used aggressive tactics, Lucretia Garfield strongly supported their ultimate goal. Her daughter attested to the fact that even as an older woman, Lucretia Garfield vigorously believed in "equality of the sexes," and saw "no reason why woman should not be entitled to all the privileges that men enjoy."
By the time the Garfields occupied the White House, the executive mansion was in a state of disrepair. Lucretia wanted to do more than just turn it into a comfortable home for her family; she wanted to refurbish the White House in a way that reflected the building's rich history. She wanted to recreate some historical ambiance that recalled the earlier residents of the mansion, and lobbied Congress for funds to fix the mansion's structural problems. She spent hours in the Congressional Library researching White House rooms, ensuring that work done on the building would be historically accurate.
As First Lady, Lucretia was gracious but tough. She refused to be intimidated by snobbish social matrons or by groups seeking her patronage. It was a stance her husband praised. A notation in her papers suggests that she intended to draw attention to the arts by inviting authors, artists, poets, and sculptors to the White House as dinner guests.
However, Lucretia was often ill, and she pursued her projects between bouts of sickness. James was deeply worried about her health: "When you are sick, I am like the inhabitants of countries visited by earthquakes." She nearly died at the White House in May 1881 from a bout of malaria and exhaustion; during this time, the President canceled appointments and personally nursed the First Lady. He wrote that he found himself unable to conduct the affairs of government, so distracted was he by her illness.
By mid-June, Lucretia was well enough to travel, and her doctors suggested a trip to a seaside resort in New Jersey, hoping that the salt air would speed her recovery. The President believed that the stress of living in the White House contributed to his wife's ill health, and he escorted her to the Washington train station.
The Assassination

On July 2, 1881, at 9:30 am, President Garfield was walking through the Sixth Street Station in Washington to take a train to New Jersey to see Lucretia who was still recuperating in New Jersey. His plan was to then continue on to his alma mater, Williams College in Massachusetts, where he was scheduled to deliver a speech. The President was accompanied to the train station by Secretary of State James Blaine, Secretary of State Robert Todd Lincoln (son of Abraham Lincoln), and two of his sons.
As they entered the waiting room of the station Charles Guiteau stepped forward and shot President Garfield from behind at point-blank range. "My God, what is that?" Garfield cried out, flinging up his arms. Guiteau fired again and Garfield collapsed. One bullet grazed Garfield's shoulder; the other lodged in his spine but missed his spinal cord. Lucretia was informed that afternoon of the president's wounding. He had been in office only four months.
Several days before she became ill, Lucretia had welcomed Guiteau to the White House at an open reception. Unbeknownst to her, he was a mentally unstable member of the Stalwarts – the New York faction of the Republican Party – who was disgruntled because of his failed attempts to be appointed United States consul in Paris – a position for which he had no qualifications. Guiteau had intended to shoot the President at the train station on the day Lucretia left for the Jersey shore, but she appeared so weak and frail that Guiteau decided to spare the First Lady the anguish of witnessing her husband's assassination.
The First Lady hurriedly returned to Washington by special train though still quite ill – "frail fatigued, desperate," reported an eyewitness at the White House, "but firm and quiet and full of purpose to save." As her train raced south, the engine broke a piston in Bowie, Maryland, and nearly derailed. Lucretia was thrown from her seat, but not injured. After an anxious delay, she reached the White House and immediately went to her husband's bedside. It was he who now faced probable death.
For the next two-and-a-half months, Lucretia was at the president's side constantly, exhibiting a calm courage for both her husband and the nation. She was a tireless nurse, showing remarkable courage as he fought for his life. Newspapers reported in detail how the First Lady managed herself and encouraged the President, and at times he seemed to rally. Her grief, devotion and fortitude won the respect and sympathy of the country.
Extreme measures were taken to save the president's life. Attending doctors were unable to locate a bullet lodged in Garfield's stomach, and called in Alexander Graham Bell to search for the location of the bullet with an electrical device he had invented, but to no avail. In probing for the bullet, the doctors turned a three-inch wound into a twenty-inch gouge that was massively infected. On September 15, 1881, symptoms of blood poisoning appeared.
President James A. Garfield died on September 19, 1881, two months shy of his fiftieth birthday, and just six months after taking office, Lucretia and daughter Mollie at his side. On the night of his death, according to the doctor, she exclaimed, "Oh, why am I made to suffer this cruel wrong?" The nation was outraged at his suffering and death, and the hearts of the people went out to the First Lady. After services in Washington and in Cleveland, President Garfield was entombed at Lakeview Cemetery in Cleveland.
Lucretia Garfield's tenure in Washington had lasted but 200 days. Because her husband's presidency was cut short, Lucretia Rudolph Garfield will be remembered mostly for her loving devotion to her dying husband. Yet she was much more: a scholar and an intellectual, a political advisor to the president – a fitting role model for future First Ladies who wanted to be more than just wives and their nation's social hostesses.
An outpouring of national support translated itself into a trust fund for her and her children that totaled $360,000; this in addition to the $5,000 annual congressional pension she was awarded, left Lucretia Garfield financially comfortable for the rest of her life. Her most immediate responsibility was in continuing the education of her children.
Life After Washington
Lucretia Garfield retired to Lawnfield – the Garfield home in Mentor, Ohio – and spent the next 36 years preserving her husband's legacy. For several winters, the former First Lady visited Washington, and she was a frequent guest of her successors Frances Cleveland and Ida McKinley. She corresponded with other former First Ladies Julia Tyler and Harriet Lane. Although she refused to grant interviews or even to have pictures of herself and her children printed in newspapers, Lucretia had an active interest in presidential politics.
At home, Lucretia led a strictly private, but busy and comfortable life, active in preserving her husband's records. She added a wing to her home in Ohio, and created the first presidential library, a research room, and a vault that held President Garfield's papers. She kept a firm control over his letters, consistently refusing permission to those who wrote her requesting their use; she wished to first have them all published in an authorized biography of him.
Lucretia Garfield then focused on various memorials to her husband. She was directly involved in the design and building of his burial monument in Cleveland. She consulted with the sculptor Charles Niehaus, who created the standing figure of the late president that stood in Cincinnati, as well as the bust of him that would eventually be displayed in the President's Room of the U.S. Capitol.
Finding Ohio winters too cold, Lucretia moved to California in 1901, and had a house built in South Pasadena, in the Arts and Crafts style, designed in 1904 by a distant relative of the prestigious Greene & Greene firm. There she joined a literary club, where she delivered frequent talks on books she had read. She also continued to write essays on subjects that ranged from the deteriorating manners of children to the reliability of corn as a cash crop. She developed a fascination with architecture and engineering as well. She was also a prominent figure driven in the annual Tournament of the Roses Parade on New Year's Day in Pasadena.
Lucretia eventually came to support the Democratic Party under the leadership of Woodrow Wilson, in whose Cabinet her son served. During World War I, she volunteered with a Red Cross Unit in Pasadena, and rolled bandages for the soldiers.
Lucretia Rudolph Garfield died at her Pasadena home on May 14, 1918, at the age of eighty five. Her remains were taken to Cleveland, where her casket was placed beside the coffin of her husband in the lower level crypt of the Garfield tomb at Lakeview Cemetery.
SOURCES:
James A. Garfield
Lucretia R. Garfield
American First Lady
James Abram Garfield
James Garfield Biography
James Abram Garfield Page
Wikipedia: Lucretia Garfield
Assassination of James A. Garfield
WhiteHouse: Lucretia Rudolph Garfield 1832 – 1918
First Lady Biography: Lucretia Garfield
James Garfield Marries Lucretia Rudolph
Presidential Notes: Lucretia Rudolph Garfield