19th Century Author and Women's Rights Activist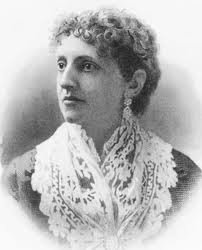 Lillie Devereux Blake was a leading feminist and reformer, as well as a prominent fiction writer, journalist, essayist and lecturer, who worked with Elizabeth Cady Stanton and Susan B. Anthony for women's suffrage (the right to vote).
She was born Elizabeth Johnson Devereux on August 12, 1833 to planters George Pollock Devereux and Sarah Elizabeth Johnson Devereux in Raleigh, North Carolina, but spent much of her early childhood on a plantation in Roanoke, Virginia. George Devereux called his daughter Lily because of her fair complexion, and she continued through life as Lillie.
When her father died in 1837, her mother decided to leave Roanoke and return with her daughters to her family in New Haven, Connecticut, where Lillie grew up. Lillie attended Miss Apthorp's School for Girls in New Haven until age fifteen, where she took the usual lessons in music, dancing and drawing. She was then taught mathematics, philosophy and "other courses pursued by young men in the sophomore and junior classes at Yale" by a private tutor – a young theological student from the university.
According to her diary, Lillie realized at sixteen "the position of my sex, feeling with indignation and humiliation… the role assigned to women." She wrote that she intended to redress the wrongs done to her gender by trifling with men's hearts. Although she abandoned this particular form of feminism, the difficulties of expressing her independence within the limited roles allowed by her social station would prove a continuing theme in her life.
Lillie's relationship with her Yale tutor caused a minor scandal. The young man's affections became too serious and she rejected him. He retaliated with stories of a disgraceful affair, implying a sexual relationship. He was expelled by the college for impugning her character. In her autobiography, Lillie denied there was an affair and expressed regret that the student had been expelled. She also noted that the story was not taken very seriously in social circles as she still received offers of marriage.
Literary Career
In 1855 Lillie married Frank Geoffrey Quay Umsted, a lawyer from Philadelphia. Her first daughter, Elizabeth, was born in 1857, the same year Lillie's first story was published in Harper's Weekly. Her second daughter, Katherine, was born the following year. Lillie published her first novel, Southwold, in February 1859. Three months later, after losing her inheritance, her twenty-six year old husband killed himself.
Traumatized by her husband's suicide, she resisted remarriage as a solution to her financial woes and began writing again. To support her family she wrote feverishly: short stories, novels and newspaper articles. She also wrote for mass market magazines, using various pseudonyms. Her publications in the Saturday Evening Post, the New York Leader, the Sunday Times and other periodicals allowed her to be independent, fulfilling her resolution to "owe her position to her own exertions and not to any man's protection."
Lillies stories depicted strong female protagonists in standard sentimental plots which reflected her own resistance to the roles that she was expected to fill in her own life. Her second novel Rockford was published in 1862. She wrote "patiently and continuously" for more than thirty years in fifty different magazines. By 1882 she had written approximately five hundred stories, articles, speeches and lectures and five full-length novels.
Civil War Correspondent
What generated the most money and fame for Lillie was her job as a correspondent in Washington, DC during the Civil War. In 1861 she moved to Washington after she was contracted as a correspondent for several publications, including the New York Evening Post, the New York World, the Philadelphia Post and the War Press. Few women worked in Washington as journalists during the war.
She visited the White House, describing people and dress at the presidential receptions. Her description of President Abraham Lincoln noted his "kindness and sadness of expression." The War Press commissioned several serials and short stories, demanding "themes of blood and love." On a second stay in Washington in 1864, she met another native North Carolinian, Andrew Johnson, and General Ulysses S. Grant.
In 1866 Lillie married Grinfill Blake, a wealthy New York merchant, but continued to support herself by writing. Among her works are a collection of short stories, a collection of essays, hundreds of uncollected short stories and essays and five novels.
Blake's later fiction reflected the realism she gained as a journalist during the Civil War. Her most famous novel Fettered for Life, or, Lord and Master: A Story of To-Day is an attempt to draw attention to the myriad of complex issues facing women. Wound through the plot's many twists is Blake's powerful message: Only when women are allowed their full share of humanity and autonomy can a marriage of true minds take place.
Fettered for Life synopsis from Publishers Weekly:
Blake's tale originally was published in 1874 and gives today's reader an authoritative insight into the status of women in the 19th century, as well as an unexpectedly relevant narrative… She tells the story of Laura Stanley, a young woman who arrives in New York City to seek her fortune. From a wealthy farm family, Laura leaves the questionable comforts of home, trading her father's oppression for the chance to use her education to support herself. Once in the city, Laura quickly realizes that there is little opportunity and many obstacles for a woman on her own.
From the corrupt judge and politician who tries to kidnap her to the boss who pays her less than the man who previously had her job, Laura is exposed at every turn to society's biases against women. As Laura faces these prejudices, she is also exposed to another very modern problem that women must face – that of negotiating the line between love and retaining one's independence in a relationship with a man. Blake's novel should be appreciated not only for its historical insight, but for the surprisingly good read that it is.
Barnard College
In October 1873, Lillie Devereux Blake petitioned President F. A. P. Barnard, on behalf of her daughters and other qualified young women, to open Columbia College to females. Invoking the authority of the college's charter, which dedicated the institution to the training of the "youth of the city," she argued that "youth" should be understood to include women as well as men. Barnard presented her plea to the Columbia Board of Trustees with his endorsement two days later, and the board referred the matter to a committee chaired by the Reverend Morgan Dix.
A leading Columbia Trustee, and a fervent opponent of woman suffrage coeducation, Dix persuaded the board at its next meeting that "it is inexpedient to take any action on the subject." Undaunted, Blake enlisted the help of Sorosis, the pioneering New York club for professional women, which renewed her plea in 1876, the year of the nation's centennial. Again, she met defeat.
In 1883, the Reverend Dix gave a series of sermons, published as Lectures on the Calling of a Christian Woman and Her Training to Fulfill It, in which he warned the public that educating women and men together would lead to revolution. Blake attacked Dix after he asserted that woman's inferiority was supported by the Bible. Her lectures, published as Woman's Place To-Day (1883), stated that if Eve was inferior to Adam because she was created after him, then by the same logic Adam was inferior to the fishes.
Excerpt from Woman's Place To-Day:
Every denial of education, every refusal of advantages to women, may be traced to this dogma [of original sin], which first began to spread its baleful influence with the rise of the power of the priesthood and the corruption of the early Church.
While Blake failed in her attempt to open Columbia College to women, the Columbia Trustees finally capitulated to public opinion in 1883 by authorizing a 'Collegiate Course,' whereby women could qualify for a Columbia College degree by studying on their own and passing the requisite exams. A small handful of women did so before a campaign led by Annie Nathan Meyer led to the founding of Barnard College in 1889.
Women's Rights Activist
Lillie Devereux Blake's second career began in 1869 when she joined the women's rights movement and began speaking all over the United States in support of women's rights. Along with Matilda Joslyn Gage and others, Blake signed the 1876 Centennial Women's Rights Declaration. Her accomplishments as a women's rights activist included serving as president of the New York State Woman Suffrage Association (1879-1890), the New York City Woman's Suffrage League (1886-1900) and the Civic and Political Equality Union of New York City (1898-1900).
Blake's writing was also channeled to the movement and included a main contribution to Elizabeth Cady Stanton's Woman's Bible (1892 and 1895), a publication which asserted that there was "no explanation for the degraded status of women under all religious, and all so-called 'Holy Books.'" The book created a sensation, with widespread coverage in New York papers. The clergy declared it the work of Satan.
Blake led successful campaigns to establish pensions for Civil War nurses (1892), open civil service positions to women, give women joint custody of their children, enable women to serve on school boards, and to work in public institutions where women were incarcerated. She urged women to become involved in civic affairs and to study law in school. She was the author of the law providing for matrons in the police stations, passed in 1891.
Blake was also active in the National Woman Suffrage Association, later the National American Woman Suffrage Association (NAWSA). However, Blake and Susan B. Anthony [link] disagreed on the basic purpose of the women's movement. Anthony wanted to focus solely on suffrage; Blake wanted to pursue a broader course of reform: complete social, political and economic equality, as well as access to higher education.
This split in strategy was caused by a deeper theoretical divide. Blake developed a theory of gender that was radical for her time, arguing that gender roles are learned behaviors and that women and men share a common nature. Therefore, women should have the same rights as men in all areas. Anthony and her followers instead emphasized the unique nature of women, their separate sphere and innate moral authority as justification for their right to suffrage.
Blake failed in an attempt to succeed Anthony as president of NAWSA in 1900, and thereupon withdrew to form her own National Legislative League (circa 1903), lobbying to change discriminatory family and labor laws. She worked on improving immigration laws for women and furthering equality in society. Ill health forced her to retire from public life after 1905.
Lillie Devereux Blake died in Englewood, New Jersey on December 30, 1913.
Blake's daughter, Katherine Devereux Blake (1858-1950) was a pacifist, suffragist, teacher and an advocate for progressive women's education. She co-authored (with Margaret Louise Wallace) Champion of Women: The Life of Lillie Devereux Blake (1943), a memoir based on her mother's papers.
Fiction writer, journalist and essayist, Lillie Devereux Blake published seven novels, two collections of stories and essays, and hundreds of other pieces during her lifetime. She also played a major role in the struggle for women's rights. Yet for all her remarkable achievements, she has been largely forgotten, and her contributions to the women's rights movement were simply ignored in the official histories sanctioned by Susan B. Anthony.
My favorite Lillie Devereux Blake quote:
We are tired of the pretense that we have special privileges and the reality that we have none; of the fiction that we are queens, and the fact that we are subjects; of the symbolism which exalts our sex but is only a meaningless mockery.
In Lillie Devereux Blake: Retracing a Life Erased (2004) author Grace Farrell argues that Blake's erasure from the history of feminism was the result of 'exclusionary tactics' within the women's movement itself and the rivalry between Blake and Susan B. Anthony. Blake's work in the National American Women's Suffrage Association and her contributions to the official History of Woman Suffrage were systematically excluded.
SOURCES
Blake Family Papers
NCpedia: Lillie Devereux Blake
Wikipedia: Lillie Devereux Blake