Wife of Confederate General John Hunt Morgan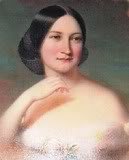 Martha Ready was born near Murfreesboro, Tennessee, on June 21, 1840. She was the sixth of eight children, and the second of four girls born to Colonel Charles Ready, Jr. and Martha Strong Ready. Affectionately known as "Mattie," she was described as a "very attractive young woman of medium height, with a shapely figure, a fair, creamy complexion, large blue eyes, and dark hair."
Mattie attended the very prestigious Soule College in Murfreesboro and the Nashville Female Academy during the 1850s where young ladies could receive a traditional Southern education in cultural studies and social graces.
As the teenage daughter of Charles Ready, a U.S. Congressman from Tennessee, Mattie Ready was caught up in the festivities of pre-Civil War Washington, DC. She had many suitors including Illinois Representative Samuel Scott Marshall. Marshall was 36 years old, successful, and considered a "good catch," but Mattie wasn't in love with him, and when he proposed, she gently told him "not now."
Four years later, the Readys – strong supporters of the Confederacy – returned to their home in Murfreesboro. They offered both support and hospitality to the officers encamped in the area, including the dashing cavalryman from Kentucky, Captain John Hunt Morgan.
On February 27, 1862, Morgan moved his headquarters to Murfreesboro. Shortly thereafter, Colonel Ready met Captain Morgan and invited him to dinner. He sent a slave home with word that "the famous Captain Morgan was coming. Tell Mattie that Captain Morgan is a widower and a little sad. I want her to sing for him."
In a diary entry of March 3, 1862, sister Alice describes a visit by Captain Morgan to the Ready home the previous evening: "… Morgan is an extremely modest man, but very pleasant and agreeable, though one to see him would scarcely imagine him to be the daring reckless man he is. An immense crowd collected at the front door to see him, and two or three actually came in and stood before the parlor door."
Although his stay in Murfreesboro was brief, the 36-year-old Captain Morgan made quite an impression on twenty-one year old Mattie. After a brief courtship, they became engaged in March, 1862.
The wedding of Mattie Ready and John Hunt Morgan was held at the Ready home near the Courthouse on the square in Murfreesboro on Sunday evening, December 14, 1862. The Ready House was described as having been built in the 1850s, and being a two-story wooden structure.
Morgan immediately left on his Christmas Raid – an action that would culminate with the destruction of the Louisville and Nashville Railroad Muldraugh trestles.
In the summer of 1863, Morgan's pursuit of danger would lead him on the Great Raid into Indiana and Ohio, and ultimately into the awaiting arms of the Union army – he was captured and imprisoned.
Back in Tennessee, Mattie, who was pregnant, anxiously awaited his every letter. Morgan managed to escape on November 27, 1863, the same day Mattie gave birth to a little girl. The baby struggled to live, and died as Morgan finally made his way to freedom.
Now General John Hunt Morgan made his miraculous escape from the Columbus, Ohio prison on November 27, 1863 (the day his daughter was born), and managed to reach his beloved wife in time for Christmas.
When Morgan and Mattie were reunited, they were more devoted than ever, and more determined than ever to be together. He promised her he would never be captured again. True to his word, Morgan grew more cautious in his exploits and struggled to put together another army of men to replace those who were still held in the prison in Ohio.
Mattie accompanied John to Richmond in early January of 1864. For nearly three months, they were wined, dined, and extensively made over in the Confederate capital.
At the end of March 1864, Gen. Morgan was given command of the Confederacy's Southwestern Virginia Department, which included part of northeastern Tennessee, and they moved to the headquarters in Abingdon, Virginia. This was Morgan's first and only departmental command and one of the most undesirable in the entire army.
At this time in his career, Morgan was a very disenchanted man. There were clouds of suspicion and disgrace from previous unauthorized military actions hovering around him, and a court of inquiry threatening to ruin his career. His intense love for Mattie was the only bright spot in his life during this troubled time.
Image:General John Hunt Morgan Inspecting his Troops
by Artist Mort Kunstler
On his way back to Abingdon from what would be his last Kentucky Raid, he wrote: "How very anxious I am to see you & to hold you in my arms. Do not think I shall permit myself to be separated from you again."
Morgan appeared to be a tired, sick man who had aged considerably. Basil Duke, one of Morgan's officers who had just been released from the Ohio prison, was appalled at the change in Morgan. The new command was a mixed group, with many untrustworthy elements among them, while most of his former command was still in prison.
By the late summer of 1864, Mattie was pregnant again, and Morgan was still trying to whip his men into shape, with varying degrees of success. Several of them had been involved in the robbery of a civilian bank in Mt. Sterling, Kentucky, on the last raid. The resulting condemnation by both the North and South, caused tension between Morgan and Mattie.
On August 28, 1864, Morgan and his men once again rode off from Abingdon, Virginia, to Greenville, Tennessee. Though Tennessee was a Confederate state, it was widely divided, and this part of east Tennessee was primarily pro-Union.
Though strongly advised not to separate himself from his men, Morgan selected the largest and most comfortable house in the area for his headquarters, that of Mrs. Catherine Williams, a friend and possibly Mattie's distant cousin.
Mrs. Williams had three sons, two of whom were fighting for the Confederacy. The third son was in the Union Army, and his wife Lucy was a member of Mrs. Williams' household. During the previous summer, John Morgan had enraged Lucy Williams by revoking the parole of a Union officer she had befriended.
Someone, very likely Lucy Williams, rode to a nearby Union encampment and informed the officer there that General Morgan was sleeping at the Williams house. Although there was no evidence to prove that Lucy had informed the Yankees of Morgan's location, it was generally believed that she did. She never denied the accusations.
The next morning, all in the Williams House were awakened by the sounds of gunfire from the Union cavalry as they rode into town. Morgan and his staff immediately arose and prepared to run for their horses, which were stabled across the street. They had arisen so quickly that they hardly had time to dress. General Morgan was still wearing a nightshirt when he attempted his escape.
With the street filling quickly with Federal cavalry, it became apparent to the men that they would be unable to reach the stable. Morgan and his staff ran to a nearby church for concealment, but they were soon discovered and a decision had to be made.
General John Hunt Morgan – remembering his promise to Mattie – tried to escape, but was shot in the back and died a few minutes later.
According to eyewitness accounts, Morgan's body was desecrated – "his body was thrown over a mule, paraded around town before being dumped in a muddy ditch… devoid of almost all clothing… while his enemies shouted and screamed 'in savage exultation.'" This certainly could nOt have made the burden any easier for Mattie to bear.
Many believe that Morgan was murdered after he had already surrendered. Others feel that he chose death over surrender and indefinite separation from Mattie. Perhaps the covenant he and Mattie had agreed upon previously entered into his decision to gamble on life, rather than death.
Thus ended one of the greatest love stories of the War Between the States. Their marriage had lasted a total of 630 days. Mattie learned of her husband's death and claimed his body under a flag of truce. Grief-stricken and pregnant, the 24-year-old widow returned to Augusta, Georgia to stay with relatives.
Image: General John Hunt Morgan
Seven months after the death of General Morgan, Mattie gave birth to a daughter – Johnnie Hunt Morgan was born on April 7, 1865, just two days before General Robert E. Lee's surrender at Appomattox.
The child was a great comfort to Mattie in her grief. In a letter to her mother-in-law a few months later, Mattie wrote: "She has indeed proved a blessing to me direct from God, and the only happiness I look forward to in the future is that of rearing her. She is said to be a perfect little Morgan in appearance."
During the summer of 1865, Mattie and little Johnnie returned to her parents' home in Murfreesboro, where she devoted most of her time and energy to raising her young child, and representing her late husband as the widow of a Lost Cause hero.
Mattie's involvement in the Ladies Aid Society, which would evolve into the United Daughters of the Confederacy, brought both honor and remembrance to those living and dead who had fought for the South. In 1984, a UDC Chapter in Murfreesboro was organized and named in her honor.
After grieving for years, on January 30, 1873, Mattie married Judge William Henry Williamson of Lebanon, Tennessee, a one-armed Confederate veteran. Together, they raised Johnnie and had two sons and two daughters of their own.
Johnnie Morgan was known as a loving older sister. She grew up to become an attractive and accomplished young woman. After graduation with distinction from a school in Maryland, she was described as: "In appearance, she is very much like her father, has a gifted mind, particularly in elocution, and in her manner has that peculiar magnetism that so characterized her father and gave him influence over men."
In the early 1880s, Mattie was described in Prominent Tennesseans as "noted for her fine address, intellectual vigor and cultivation, her strength of character and devotion to her children. Handsome in person, and clothed with the graces of the highest order of womanhood, she is naturally of great influence in the community."
Martha Ready Morgan Williamson fell seriously ill and died in November 1887, at the age of 47, most likely of tuberculosis.
Six months after her mother's death, Johnnie married the Reverend Joseph W. Caldwell, a Presbyterian minister from Selma, Alabama. On June 28, 1888, at age 23, shortly after her honeymoon, Johnnie died of typhoid fever, thereby leaving no direct descendants of John Hunt and Martha Ready Morgan.
Mattie and Johnnie, along with Judge Williamson and some of the other children, are buried in Lebanon, Tennessee's Cedar Grove Cemetery. Buried nearby, and keeping watch over all of them, are men from the 2nd Kentucky who were with John Hunt Morgan and were killed in Lebanon in May of 1862, the year that it all began.
SOURCES
Martha Ready Morgan