Social Reformer and Early Social Worker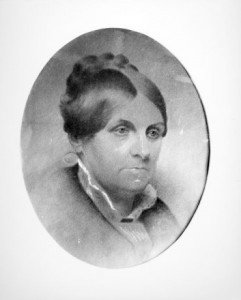 Abigail "Abby" May Alcott (1800–1877) was an abolitionist, women's rights activist, pioneer social worker and one of the first paid social workers in the state of Massachusetts. Abigail was also the wife of transcendentalist philosopher and educator Bronson Alcott and mother of four daughters, including Civil War novelist Louisa May Alcott, providing the model for "Marmee" in Louisa May's novel, Little Women.
Early Years
Abigail May was born October 8, 1800, the youngest child of Dorothy Sewall May and prominent Unitarian layman Joseph May. Abigail was given a largely informal education, though like the rest of her family, she was well-read. As a young adult she studied history, languages and science by her tutor Abigail Allyn in Duxbury, Massachusetts.
At nineteen, Amos Bronson Alcott sailed to Norfolk, Virginia, hoping to teach in the South, but could not find employment as a teacher. Reluctant to return home, he worked for five years as a peddler in Virginia and North Carolina. Among the Quakers of North Carolina he absorbed the doctrine of the "inner light," which became the central idea of his belief in each individual's direct relationship with God.
After returning home, from 1823 until 1828 Alcott served as an innovative schoolmaster in Cheshire and Bristol, Connecticut. His progressive approach attracted attention: a report in the Boston Recorder and Telegraph called his Cheshire school "the best common school in the State, perhaps in the United States." Alcott lost his position after parents objected to his methods.
In 1827 Samuel May, the Unitarian minister in Brooklyn, Connecticut, invited Alcott to visit. Greatly impressed, May arranged a position for him at the Charity Infant School in Boston the following year. Having met Alcott while staying with her brother in Brooklyn, Abigail May applied for the position of assistant in Alcott's new Boston school.
Marriage and Family
Abby May married Bronson Alcott on May 23, 1830. In early 1831 their first child Anna was born, and eighteen months later a second daughter, Louisa May, followed by Elizabeth in 1835 and Abigail May in 1840.
Based upon his experience teaching in Boston, Bronson Alcott wrote Observations on the Principles and Methods of Infant Instruction in 1830. Impressed by the pamphlet, wealthy Pennsylvania Quaker Reuben Haines hired Alcott to organize a progressive private school, and at the end of the year, the newlyweds moved to Germantown, Pennsylvania.
When his patron Haines died suddenly in 1831 the Germantown school was left without funding. Alcott kept it going for another year, then found another patron who helped him to establish a progressive school in Philadelphia. Here, as in Connecticut, parents questioned his methods and soon began to withdraw their children from the school.
In 1830 Bronson Alcott had been one of the founding members of the first Boston anti-slavery organization. Abby also regularly attended abolitionist meetings and her closest friend was Lydia Maria Child, an abolitionist and advocate of equal rights for women. Abby wrote in her journal, "Every woman with a feeling heart and thinking head is answerable to her God, if she do not plead the cause of the oppressed."
Bronson Alcott would become one of America's most influential reformers of education. He was also part of the Transcendentalist movement, which encouraged the perfection of the individual. As an educator, Bronson Alcott stressed the intellectual, physical, and emotional development of each child on his or her own terms, through dialogue between teacher and child.
In the fall of 1834, after Abby suffered a near-fatal miscarriage, the family moved back to Boston where Bronson Alcott opened his progressive School for Human Culture, commonly known as the Temple School. To assist him with teaching, he relied on two of the brightest women in Boston – Elizabeth Peabody and Margaret Fuller.
The Temple School classroom was elegant and airy – an innovation – and the curriculum stressed discussion, outdoor play and journals. When Alcott enrolled an African American girl in his school, insisting on a school policy of color blindness, parents began to withdraw their children. The school closed by 1840, and the Alcotts nearly went bankrupt. This ended his teaching career.
Although frequently frustrated by his inability to support his family, Abby believed in Bronson and his ideals even when it seemed the rest of the world did not. She wrote in her journal that she could never live without him: "I think I can as easily learn to live without breath."
In the spring of 1840, at the urging of Ralph Waldo Emerson and with financial help from Abby's father and brother, the Alcott family moved to a farm in Concord, Massachusetts. Alcott proposed to be a philosopher-farmer, making a living for his family entirely off the land. However, needing more money than this life provided, Alcott worked for others as a laborer. Abby and her daughters took in sewing.
During their last years in Boston, Abby had two disheartening pregnancies – first a stillborn child and then in 1839 the birth of a "fine boy, full grown, perfectly formed" who died after only a few minutes. Soon after they arrived in Concord she gave birth to their fourth and last daughter, Abigail May.
In 1841 Abby's father died, but Abby's small inheritance was not available because a lien against the estate had been filed by the Alcotts' creditors. The rest of the year was difficult, the debt from the failed schools growing and the family falling into poverty. Abby was disillusioned with her husband's philosophy.
In 1842 Emerson, hoping to bring Alcott "one moment of pure success," sponsored a trip to England for Bronson Alcott, where he could meet a group of his admirers with whom he had corresponded and who had embraced many of his educational ideas. These "Sacred Socialists" showed him their experimental school, "Alcott House," in Surrey.
After prolonged conversations Alcott and his English friends decided to establish a new Utopian community in America. After six months absence, Alcott returned to New England, bringing with him two of the Alcott House leaders, Henry Gardiner Wright and Charles Lane, and Lane's little son William.
The newcomers joined the Alcott household, creating dissension. Lane added new restrictions to the Alcotts' already strict vegetarian diet. Wright soon departed, claiming he was being pushed aside by Lane. Abby, feeling that Lane was taking over her home, fled Concord over Christmas. When she returned a new agreement was reached with Lane, allowing her the right of "approval to whatever is done."
Fruitlands
Eager to put his Transcendentalist, pacifist and vegetarian principles into practice, Bronson Alcott joined Charles Lane in founding a communal farm. With funds provided by Lane and Abby's brother Samuel, they purchased a farm they called Fruitlands near Harvard, Massachusetts in May 1843.
The six Alcotts and two Lanes were joined by five adult recruits, some of them quite eccentric. They worked through the summer, plowing, planting, repairing the house, and taking time to philosophize. The needs of the many curious visitors imposed an extra burden on Abby, who complained that she was forced to work "like a galley slave."
Despite their work the soil was too poor to produce a sufficient harvest, there was no fruit, and during the harvest season Alcott and Lane left on a lecture tour. According to Louisa's account she, her mother, her sisters and William Lane hauled the grain inside to prevent it from being destroyed.
By the time snow began to fall, only the Alcotts and the Lanes remained. Alcott was torn between Lane's celibate ideal and the claims of his family. Abby grew increasingly suspicious of her husband's close relationship with Lane, and at her request, her brother Samuel did not pay the next installment on Fruitland's debts.
When Abby announced her intention to take the children and move out, Lane and his son left to join a Shaker community. Passing through a suicidal crisis, Bronson Alcott decided to choose his family over the dream of a utopia. Early in 1844 the family took refuge in the home of a compassionate neighboring farmer. The family remained in Harvard for a year, without work and deeply in debt.
In 1845 Abby's inheritance was finally made available, and with Emerson's help, the Alcotts bought an old house and moved back to Concord. At their new home, Hillside, Alcott farmed and formed a lasting friendship with Henry David Thoreau, frequently visiting the famous cabin at Walden Pond.
Abby and her daughters thrived in their new environment, and Louisa May started developing her writing skills. Her novel Little Women was based partly on the family's experience there. She used her family as models for the characters in the novel: Abby was the beloved Marmee, Louisa was Jo, Anna was Meg, Elizabeth was Beth and May was Amy.
Social Work and Women's Rights
The new Alcott home, however, proved expensive to maintain. It was rented and in 1848 the Alcotts moved back to Boston. There Abby found work to support her family as a "Missionary to the Poor," paid first by a circle of subscribers then by the Friendly Society of the South Congregational Unitarian Church.
Abby accepted a full-time job as a social worker for the city of Boston in 1848, one of the first in the state. Facing a torrent of impoverished immigrants, Abby Alcott concentrated on helping those whose lives could be turned around. She wrote: "We do a good work when we clothe the Poor, but a better one when we make the way easy for them to clothe themselves – the best when we so arrange Society as to have no Poor."
Between 1850 and 1852 Abby ran an employment agency to help young women find jobs in domestic service. As a woman serving women needing work, she joined the women's movement and sent a petition to the Massachusetts State Constitutional Convention on behalf of women's suffrage.
This period of activism ended in 1852 when the Alcotts sold their Hillside property to Nathaniel Hawthorne. The proceeds enabled Abby to retire from her demanding work, but she remained an active advocate for women's rights throughout the rest of her life.
Abby Alcott imbued strong values in her four daughters, and her strong and kind nature provided a stable and nurturing home. Louisa once wrote in her journal that Bronson was not the only philosopher in the family:
All the philosophy in our house is not in the study; a good deal is in the kitchen, where a fine old lady thinks high thoughts and does kind deeds while she cooks and scrubs.
With encouragement from Ralph Waldo Emerson, Bronson Alcott began a career as a philosopher-conversationalist in the Boston area and on tours in upstate New York and Ohio. In 1853 Alcott was invited to lead a course of Conversations on Modern Life at the Harvard Divinity School, and finally achieved recognition for his ideas on education and transcendentalism.
In 1853 Abby Alcott authored a petition seeking a change in the state constitution to grant equal political rights to women. "On every principle of natural justice, as well as by the nature of our institution, she is as fully entitled as man to vote, and to be eligible to office," she wrote. Years later she declared, "I am seventy-three, but I mean to go to the polls before I die, even if my daughters have to carry me."
Abby's daughters did not have the chance to carry their mother to the polls, but they did carry on her dream. Although Louisa May Alcott was usually too busy earning a living to attend women's rights conventions, she lent her support by writing pieces for the events and articles for The Woman's Journal, the leading suffrage paper.
In 1857 the Alcotts moved back to Concord. After moving twenty-two times in thirty years, they found their most permanent home at Orchard House, where they lived from 1858 to 1877 with the Hawthornes and Emersons as neighbors. Daughter Elizabeth Sewall Alcott, the model for Beth in Little Women, died there of scarlet fever on March 14, 1858.
Late Years
During the Civil War, Bronson Alcott served as Superintendent of Schools in Concord, and in 1879, thanks to the financial support of his admirers, he was able to achieve a lifelong dream at age eighty and founded the Concord School of Philosophy. One of the first summer schools for adults, it continued for nine years and drew people from all over the United States.
Louisa May Alcott, whose literary earnings finally brought financial security to the family, had written her two best-selling novels at Orchard House after spending time as a Civil War nurse: Little Women in 1868 and Little Men, the sequel inspired by her sister Anna's plight as a recent widow, in 1871.
For the remainder of their lives Bronson and Abigail lived primarily in Concord, where Bronson published his book, Concord Days in 1872.
Abigail May Alcott died in November 1877.
In 1882 Bronson Alcott suffered a paralyzing stroke, bringing an end to his career as a philosopher-conversationalist. He died in 1888 and was buried next to Abby in the family plot in Concord's Sleepy Hollow Cemetery. Their unwed daughters Elizabeth and Louisa May, who died just two days after her father, were buried there as well.
SOURCES
Wikipedia: Abby May
Wikipedia: Bronson Alcott
Bronson and Abigail Alcott
The Alcotts and Orchard House