Civil War Nurse and Social Reformer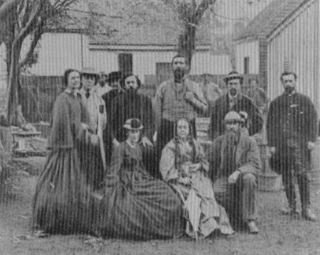 Abigail Hopper Gibbons (1801–1893) was a schoolteacher, abolitionist and social reformer, who assisted in founding numerous programs and societies during and following the Civil War. She grew up in a Quaker family, and her father Isaac Hopper spent much of his time and money aiding runaway slaves. Gibbons spent much of her life working for social reforms, including prison reform, welfare and civil rights, and a nurse during the Civil War.
Image: Gibbons is in the center of the front row
Abigail Hopper was born in Philadelphia in 1801, the third of ten children. Her father, Isaac Hopper, spent much time and money harboring runaway slaves on their way to freedom. Her father was of the Hicksite branch of Quakers and became an active and leading member of the Pennsylvania Abolition Society, and was often in direct confrontation with slave kidnappers who had deluged Philadelphia. Hopper also sheltered many poor Quakers in his house.
Abigail helped her parents make ends meet by selling tea with her mother, and by founding a Quaker day school in 1821, which she ran for almost ten years. In 1822, Abigail's mother died. Her father remarried and moved to New York City with his new wife and his younger children in 1829. In 1830, Abigail joined them, and found a job in a Friends' school.
Abigail Hopper married James Sloan Gibbons, a Philadelphia Quaker, on February 14, 1833. He sold dry goods and later became a banker. In 1836, Abigail and James moved to New York City, where they had six children. Two of their sons died in infancy, and a third died suddenly after an accident in which he was involved while attending Harvard University.
James shared the Hoppers' commitment to abolition and other reforms, and his success in business enabled his wife to pursue her interest in charitable work. Together they became active in the Manhattan Antislavery Society. In 1841, Abigail's husband and father were disowned by the New York Monthly Meeting of the Society of Friends – Hicksite Branch. The organization, which had come under conservative control, opposed their abolitionist activities. Abigail resigned from the society a year later, when the decision was confirmed by the Yearly Meeting. She never formally forgave the Quakers.
Gibbons' interests as a social activist were broad: she became involved in the temperance movement, she opposed capital punishment, and she helped impoverished people. Although she was never formally involved in the struggle for women's rights, she criticized inequities between men and women, and worried about how cloistered women's lives were. For twelve years, she was also president of a German industrial school for street children.
In 1845, "Abby" became a leader in the Female Department of the Prison Association of New York City, an organization founded by her father to rehabilitate convicts. She lobbied for improvements in the city's prisons, advocated the hiring of police matrons, and urged the establishment of separate prisons for women. She frequently visited the various prisons in and around New York.
The next year, Abby was elected to a women's committee which oversaw The Home, a shelter for women who had just been released from prison. The name of this institution later became the Isaac T. Hopper Home, in honor of her father. In 1853, the Female Department became a separate society, the Women's Prison Association and Home, and Gibbons was involved for years in its management.
Under her leadership, the WPA undertook an aggressive program of legislative lobbying. She protested jail overcrowding and demanded that women prisoners be searched only by female matrons. At that time, most of the WPA's clients were Irish immigrants struggling with alcohol dependency, made worse by the extreme poverty in which they lived. Abby and her staff worked tirelessly to provide these women with a place to stay, a supportive community, and practical skills training. They created programs for these women, who had previously only known poverty and trouble in their lives.
With the coming of the Civil War, Abby knew that nurses would be needed to care for the wounded. She was immediately ready to give her all for the Union. The United States Sanitary Commission was established in 1861, shortly after the war began. The purpose of the commission was to recruit nurses and to provide adequate medical care to the Union wounded. When the Commission set up a training base at David's Island Hospital in New York, Abby was among the trainees. Abby traveled to Washington, DC to help at the Washington Office Hospital, helping the wounded and distributing supplies. She also helped to establish two field hospitals in Virginia.
Abby became a Civil War nurse, and advocated on behalf of Black contrabands. She became a controversial figure when she began criticizing hospital managers and army surgeons. At Point Lookout, Maryland, the government took over a hotel and 100 guest cottages and converted them into a hospital complex with accommodations for 1500 soldiers. It was named Hammond General Hospital. Abigail vied with Dorothea Dix, the Union Superintendent of Nurses, for control of the hospital, and Abby was finally appointed its head matron. She left the hospital in 1863, when it was converted into Point Lookout Confederate Prison.
Abby and James Gibbons lived at 339 West 29th Street in the 1850s and 1860s, and it was a station on the Underground Railroad. Because of their well-known abolitionist activities and their close friendship with Horace Greeley, their home was specifically targeted for destruction during the Draft Riots of 1863, as indicated by numerous letters, police reports, and insurance claims. The family and the famous lawyer, Joseph Hodges Choate, escaped the raging mob by running over the rooftops of the neighboring buildings (which were of virtually uniform height). They were saved by a Mr. Herrman, who let them into the Hebrew Orphan Asylum at the end of the block.
Following the war, Abby was involved in several New York charities, including the Labor and Aid Society, which helped returning veterans find work. Gibbons felt that the highlight of her life came in 1892, with the passage of legislation to establish a women's reformatory in New York City. Her last public appearance was made in support of this measure.
Abigail Hopper Gibbons died of pneumonia on January 16, 1893 at the age of 91.
During the course of Abigail Hopper Gibbons' inspiring life, she contributed much towards alleviating the plight not only of slaves, but of poor women. She served as a nurse during the Civil War, created the historic Hudson (German) Industrial School and the Protestant orphanage on Randall's island, and was instrumental in instituting prison reforms for women, including having female, rather than male, guards do body searches.
Today, the Women's Prison Association still provides programs through which women can acquire the life skills necessary to lead a productive life and to make good choices for themselves and their families. It is the nation's oldest advocacy organization working exclusively with women prisoners. Over the past 160 years, the WPA has adapted to the changing needs of its clients and offered them alternatives to their previous lives of crime.
And they have Abigail Hopper Gibbons to thank for that.
SOURCES
Women's Prison Association
Wikipedia: Abigail Hopper Gibbons
Historic Hopper-Gibbons Home in Manhattan