Pioneer Author in Realistic Fiction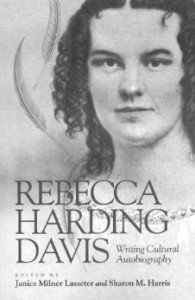 Rebecca Harding Davis (1831-1910) was a journalist and author who began writing realistic fiction more than two decades before the height of American literary realism. Her most important work, the novella Life in the Iron Mills, was published in the April 1861 edition of the Atlantic Monthly, which quickly made her an established female writer. Throughout her lifetime, Davis sought to effect social change for blacks, women, Native Americans, immigrants and the working class by writing about the plight of these marginalized groups.
Rebecca Blaine Harding was born on June 24, 1831, the oldest of five children of Richard and Rachel Wilson Harding. The couple lived in Huntsville, Alabama; yet, Rachel traveled to her sister's home in Washington, Pennsylvania, to deliver Rebecca. In 1837, when Rebecca was six, the Harding family moved to Wheeling, Virginia (now West Virginia).
Early Years
Public schools were not yet available in her hometown, and Rebecca's education was mainly undertaken by her mother, with occasional instruction from tutors. While being home-schooled, Rebecca read such authors as Harriet Beecher Stowe, sisters Anna and Susan Warner and Maria Cummins, which initiated her interest in literature. Without any other knowledge of literature she began to write.
Despite Wheeling's productivity and its accessible location along the Ohio River, Davis described her childhood as having belonged to a slower, simpler time, writing in her 1904 autobiography Bits of Gossip that "there were no railways in it, no automobiles or trolleys, no telegraphs, no sky-scraping houses. Not a single man in the country was the possessor of huge accumulations of money."
Rebecca returned to Washington, Pennsylvania when she was fourteen to live with her mother's sister and attend Washington Female Seminary. She described the school as "enough math to do accounts, enough astronomy to point out constellations, a little music and drawing and French, history, literature at discretion." She graduated as class valedictorian in 1848, at the age of seventeen.
After returning home, Rebecca returned home to assume the domestic life expected of a young woman of her age and class. She continued her education by reading and conversing with her brother Hugh, who was attending Washington College and frequently brought her books.
At the time, Wheeling was developing into a productive factory town, the concentration of which was iron and steel mills, and Rebecca witnessed the impoverishment that went along with working in the mills.
She worked for a time as a reporter for the Wheeling Intelligencer, submitting reviews, stories, poems and editorials, and serving briefly as an editor in 1859. She socialized very little, staying largely within her own family circle, and continued this isolated way of life for thirteen years.
Literary Career
In 1860, Harding submitted her first and most famous work, the groundbreaking novella Life in the Iron Mills, to the Atlantic Monthly. It was accepted in January and published in April 1861. A startling story about the laboring class, the book began her pioneer work as a writer of realistic fiction, which includes real-life situations that many people face.
Life in the Iron Mills was one of the first works to explore industrialization in American literature. It is set in a small village whose center is industrial work. It is described as a polluted and oppressive village, inhabited by laborers, mostly "masses of men, with dull, besotted faces bent to the ground, sharpened here and there by pain or cunning; skin and muscle and flesh begrimed with smoke and ashes."
The novella's protagonist is Hugh Wolfe, an iron mill worker who possesses artistic talent and a spiritual desire for higher forms of pleasure and fulfillment. Despite the hopefulness of Wolfe's artistic drive, he becomes the story's tragic hero, as his yearning for a better life leads to his imprisonment and ultimate death.
Although realism is the genre most prominently used in Harding's works, naturalism is also prevalent in her writing style. Where realists strive to depict reality, naturalists also delve into the psychological influences on characters due to their environments. In Life in the Iron Mills, the two genres are blended to create a realistic portrayal of the everyday life of iron mill worker Hugh Wolfe, as well as to illustrate the effects of that environment on him.
Few people in Wheeling could have imagined that this novella about the struggles of workers in the mills had been written by their 30-year-old spinster neighbor, Rebecca Harding. She had obviously been influenced by the change in Wheeling from an idyllic Virginia village to a smoke-filled mill town.
The Civil War created an even more dramatic change in Wheeling and in her subsequent work, she told of the savagery of war and the "general wretchedness, the squalid misery, which entered into every individual life."
At the request of editor James Fields, Harding submitted more stories the Atlantic Monthly. Her first novel Margaret Howth (published in 1862) was first serialized in six installments in the Atlantic Monthly beginning in October 1861. At Fields' suggestion, Harding reluctantly wrote a happier ending to the novel in order to make it more appealing to the public.
Set in an Indiana mill town during the fall and winter of 1860, it depicts the suffering of the working poor at a time when industrialization was growing across America. The story opens as Margret Howth begins her new job working on the ledgers at a woolen mill. She works alone, in a dirty room high in the mill; on the floors below, workers slave in suffocating heat and deafening noise, amid the caustic fumes of dyes.
Howth has taken the job to make money to take care of her impoverished parents; her father, a former schoolteacher, has gone blind and can no longer support the family. Through this character Harding illustrates the power that patriarchal society has over the nineteenth-century female, while also presenting a strong female character who recognizes her moral independence.
Harding goes further in her exploration of the true female identity by addressing the role domesticity plays in the lives of her characters. Domesticity, which once defined the roles of nineteenth-century women, is altered by her placement of women in the iron mills. By describing the harsh conditions under which these women labored, she shows that women are capable of integrating work life and home life.
Rebecca Harding quickly rose to literary prominence, and in June 1862, she traveled with her brother Wilson to Boston and New York. Her travels included visits with family friends General John C. Fremont and his wife Jessie Benton Fremont. This trip around the North originated with James Fields' desire to meet Harding personally. In Boston, she spent the summer with Fields and his wife Annie, and the two women became close friends.
At Concord, Massachusetts, Harding was introduced to Bronson Alcott and his daughter Louisa May Alcott, and Oliver Wendell Holmes. While staying at the home of Nathaniel Hawthorne, she also became acquainted with Ralph Waldo Emerson, who acknowledged her as a "brave new voice." Her head must have been spinning to meet these writers, whom she so greatly admired.
Marriage and Family
After Life was published, Harding had received a letter from an apprentice attorney, L. Clarke Davis, admiring her work. Over time he continued to correspond with her. On her journey back home, Harding met Davis in Philadelphia. They fell in love and became engaged one week after meeting.
Rebecca Harding married L. Clarke Davis on March 5, 1863 and took up residence in Philadelphia. Clarke was four years younger than Rebecca and not yet financially or professionally established in the world. They had three children: the first son named Richard Harding Davis after her father was born on April 18, 1864, Charles Belmont Davis was born on January 24, 1866 and their daughter Nora Davis was born in 1872.
Although Rebecca battled debilitating depression in the early years of her marriage, she was the primary income provider for the family while Clarke worked to establish his law career. She became a regular contributor to the New York Tribune and later the New York Independent and the Saturday Evening Post.
From 1863 to 1893 Harding Davis wrote for Peterson's Magazine, writing potboiler romances and melodramatic suspense stories. She wrote mainly to help support her family, although she was against the women's suffrage movement. With "In Pro Aris et Focis-A Plea for Our Altars and Hearths" (1870), Davis stated her belief that in marriage and childbearing women find their true vocation.
She went on to publish ten novels and a collection of short stories in book form, an additional sixteen serialized novels, hundreds of short stories and essays for adults, more than a hundred short stories for juveniles, and a memoir. Her writings addressed major political and social issues of the 19th century – the relationship of capitalists and laborers, abolition, the Civil War, Reconstruction and the changing roles of women.
However, by 1870 Harding Davis had faded substantially from the literary world. That year Clarke Davis stopped practicing law and became the managing editor of the Philadelphia Inquirer. From 1893 until his death in 1904 Clarke Davis was editor of the Philadelphia Public Ledger.
Late Years
Throughout the remainder of her life Harding Davis tried to write another story which would bring her the fame that Life in the Iron Mills had, but she was never able to duplicate the success of her first publication. Always a supporter of human rights, she authored "Put Out of the Way," exposing mental institutions and the treatment of the insane. In 1892, she received a small critical and popular success with Silouettes of American Life but it was her last.
Rebecca's son Richard Harding Davis became the most celebrated journalist of his era. On his mother's seventieth birthday in 1901, he wrote in tribute:
From the day you struck the first blow for labor in the iron mills, on to the editorials… with all the good the novels, the stories brought to people, you were always making the ways straighter, lifting up people, making them happier and better. No woman ever did better for her time than you and no shrieking suffragette will ever understand the influence you wielded, greater than hundreds of thousands of women's votes.
After her husband's death in 1904, she spent much of her time at Richard's estate at Mt. Kisko, New York. In the last decade of her life, she wrote children's stories, reflecting her continued concern with moral uplift. Her last published work was a short story in 1909, which appeared in Scribner's.
Rebecca Harding Davis died at her son's estate on September 29, 1910, at the age of 79.
Her obituary in The New York Times on September 30, 1910, read "…mother of Richard Harding Davis, the novelist and dramatist, and herself a novelist and editorial writer of power, died here tonight of heart disease at Cross Roads Farm, the home of her son."
A prolific writer, Rebecca Harding Davis is credited with over 500 published works, but was almost forgotten by the time of her death. However, she was rediscovered in the very early 1970s by feminist writer Tillie Olsen, who found a collection of Harding Davis' works in a junk shop.
Olsen quickly recognized the talent and significance of Davis' writings, and personally endeavored to reintroduce Davis' work. In 1972, The Feminist Press published Life in the Iron Mills with Olsen's own biographical interpretation of Rebecca Harding Davis' life.
Most scholars now recognize Harding Davis as the realist writer whose theory of the "commonplace" preceded that of William Dean Howells' work, a legacy that may be traced from Nathaniel Hawthorne to Harding Davis to Howells. Her critique of industrialism and important nineteenth-century social issues is matched only by the fervor of her compassionate spirit.
SOURCES
Wikipedia: Rebecca Harding Davis
Rebecca Harding Davis (1831-1910)
A Groundbreaking Realist: Rebecca Harding Davis
The Society for the Study of Rebecca Harding Davis and Her World