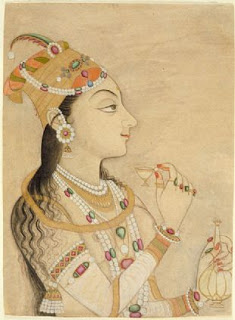 Of all the women I have researched and written about so far,the story of Nur Jahan is the most complete, the most reasonably well documented, and plenty has been written about her. In the first part of this post I will focus on the life of Nur Jahan with reference to the gardens.
From Wikipedia: The Mughal Empire or Mogul (also Moghul) Empire in traditional English usage, was an imperial power in the Indian subcontinent south (India Pakistan Bangladesh) and from about 1526 to 1757. The Mughal emperors were Muslims and direct descendants of Genghis Khan through Chagatai Khan and Timur. At the height of their power in the late 17th and early 18thcenturies, they controlled most of the subcontinent.
A woman living during Mughal times did not have the freedoms that many women have today. As a member of royalty even a Mughal Queen lives in the harem with all the other women who attend the emperor. These women include female family members of the emperor, concubines and other wives of the emperor,ladies in waiting, serving girls, entertainers, slaves, and female guards for the Queen. The women lived their lives in the harem and did not leave unless,for example, on pilgrimages and visiting other family. Women came to the harem through marriage, birth, appointment, as purchases or gifts.
There are many stories about Nur Jahan and her husband the emperor Jahanjir. Some have their basis in fact but many were hearsay and can't be verified. It is said that Jahanjir first saw Nur Jahan in the garden and fell in love with her on sight when he was still a young Prince Salim and she was still known as Mehrunisa (or Mihrunnisa, there are many variants in spelling). She is supposed to have been a beauty, as well as charming and intellectual.
Nur Jahan was born into a noble family from Persia. Her father, Mirza Ghiyas Beg and her mother Asmat Begam along with other family members were leaving Persia after the family suffered a reversal of fortune to find a better life in India. Mughal India was at this time open to receiving new immigrants, and was tolerant of other faiths and clans. The family joined a caravan but were robbed of their valuables by bandits while traveling. When they arrived in Kandahar Asmat Begam gave birth to her fourth child, a girl whom they named Mehrunisa, "the Sun of Women". The family reaches the city of Fatehpur Sikri where Mirza Ghiyas Beg is presented to the Emperor Akbar and is given a post in the court of the emperor.
Little is known of Mehrunisa's (Nur Jahan) early life. She would have learned about the arts and literature of her heritage as well as her family's new country. She would also have been instructed in her religion,Shia, and would have learned to read the Quran. When young, Mehrunisa learned to sew and embroider. She loved all fine arts, wrote poetry, and was adept at cooking. During her life with the Emperor Jahanjir her achievements and contributions included literature, architecture,gardening, dress designing, decorating, hunting, and shooting. She was most certainly an intelligent, cultured woman who also eventually enjoyed the fruits of power and who had the desire and ability to run the country while her emperor husband Jahanjir was ill.
Mehrunisa was married to Ali Quli Istajlu in 1595. Like her, he was another Persian immigrant with a noble background. Ali Quli Istajlu was a soldier of war who became famous for shooting a tiger single-handedly while in the employ of Jahanjir. When Jahangir ascended the throne, he appointed AliQuli Istajlu the title of Sher Afghan. The couple had a daughter, however the marriage did not last long as Sher Afghan was killed in 1605. The death of Sher Afghan changed Mehrunisa's life. She was appointed to the service of Salima Begum, the widow of Akbar (Jahanjir's father) and she was now to live in a small room in the harem.
It does not seem to be known with certainty how Mehrunisa came to be known by Jahanjir. Maybe it was an encounter in the garden before her marriage to Sher Afghan. More likely they met in 1611 during the celebrations of the Nauroz, one of two annual holidays celebrated at court. Jahanjiris reported to have fallen in love at first glance and they married two months later on May 25, 1611. He bestowed on Mehrunisa the title of Nur Mahal (Light of the Palace) and later Nur Jahan (Light of the World). It is worth noting that Nur Jahan was 35 years old with a child when they married. Women of this age, widowed with children did not expect to marry again; they were 'old maids'. Nur Jahan most probably was an extremely beautiful woman to be so fortunate to marry a second time. As it turns out their relationship was one of great love.
Nur Jahan was not the first Mughal queen who created gardens. Many of Jahanjirs female ancestral relatives created gardens in the areas of Agra and Kabul. Jahanjir himself was a great lover of gardens and he had gardens built in his name alone as well as with his queens.  Nur Jahan's involvement elevated the garden from a place for parties, celebrations, art displays and meditation to a place where court business could take place. With this change gardens became more elaborate and refined in design; the intention was to make a statement to all about the emperor's power and place in the Mughal world.
The world for royal women in the harem began to improve and expand. Prior to this time the only reason women could leave the harem and travel was for religious purposes such as visiting shrines and making pilgrimages,accompanying men on military and diplomatic campaigns and to visit family outside the court. Such travel was always accompanied with a retinue of male family. These confinements began to ease with Nur Jahan's involvement. Women began to be allowed to leave the court for reasons of pleasure – by today's standards they could behave like tourists and see the sights and partake in social activities previously unknown to them.  Travel became more commonplace and Jahanjir helped to make this more pleasurable for all by adding allees of trees on frequented routes, and adding buildings as rest stops for the comfort of the women.
The couple were both totally enraptured with gardens. Jahanjir had made gardens before their marriage but the two of them constructed many gardens together and apart. In their earlier years together the couple had gardens constructed in the area of Agra. Agra is situated on the banks of the Yamuna River with the surrounding area being flat. Agra suffers from extremities of climate with scorching hot summers, chilly winters and occasional monsoons. The couple also traveled further north to the valleys in the Himalayas to the area known as Kashmir. While the climate of this mountainous region also has highs and lows, it was the beauty of the area that attracted them: mountains and valleys, rivers, lakes and waterfalls, and especially the great variety of flowers of the region. Nur Jahan introduced many plants from Kashmir such as the Blue Kashmir Lily, now immortalized in the Taj Mahal. The flower as art was incorporated into the designs of many of the gardens she created.
Blue Kashmir Lily – Nymphaea nouchali
Jahanjir was a lover of life, an aesthete. He was not at his best in the political world like his father Akbar and his grandfather Babur before him (both great gardeners). He loved the drink and the opium like his brothers did. This constant consumption of wine and opium wreaked havoc on his body and made him very ill over the years, shortening his life. Fortunately for him he had a wife, a queen of strong character and intellect, who was endowed with the skills necessary to fill in at court when he could not. Jahanjir passed on the affairs of the state to Nur Jahan and it was she who ruled much of their time together. Criticisms on her character and her rise of power were a constant during these times. These criticisms continued after her death by historians or biographers of the time and of course later as well. Regardless, she was given the power by the emperor and she took it and used it as she felt necessary up until Jahanjir died in 1627. He was buried in Lahore in the garden of Dilkusha, a garden created by Nur Jahan. Nur Jahan was exiled to Lahore after the Emperor's death. Normally she would have been able to stay at court as a widow, however there was much politics involved (which I have spared you all along). She spent the rest of her life in Lahore until her death in 1645. She was buried in a modest grave near Jahanjir, in a tomb decorated in geometric and floral patterns she designed herself.