Civil War Nurse and Stage Actress
Jean Margaret Davenport (May 3, 1829, Wolverhampton, England – August 3, 1903, Washington, D.C.), later Mrs. Frederick William Lander, was an English actress with a career in both England and the United States.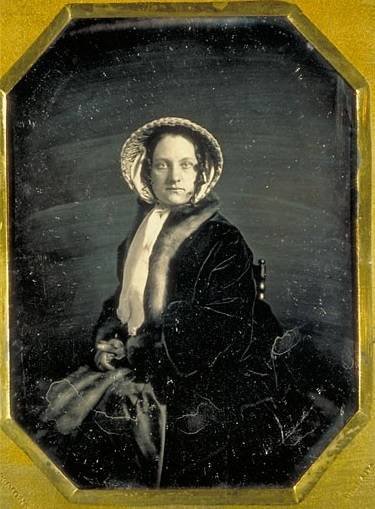 Early Years
Jean Margaret Davenport was born May 3, 1829, in Wolverhampton, England. Her father was a lawyer, but he left the bar for the stage and became the manager of the Richmond Theatre in the London borough of Richmond Upon Thames. At the age of seven, Jean made her first professional appearance at that theater as Little Pickle in The Manager's Daughter, and in Dion Boucicault's version as The Young Actress.
Jean traveled to the United States in the fall of 1838, and her first appearance was at the National Theatre in New York City. She then played in starring roles in Boston, Philadelphia, Baltimore, Washington, and New Orleans.
In 1842 she returned to Europe and traveled in Italy and France. Jean received her education from private tutors, studying music under Manuel Garcia in Paris.
In 1846, she traveled to the Netherlands, acting with an English company in Amsterdam, Rotterdam, and The Hague. They later performed in Germany at Hamburg and Hanover. The tour continued for two years. In England in 1848 she made her appearance as a public reader, being one of the first females to give readings from Shakespeare.
Miss Davenport's second visit to America was made in 1849, and she was determined to make it her home. Her father died at Cincinnati, Ohio on July 5, 1851. The following year, Jean returned to England to settle the affairs of her parents' estate and to study for the next theater season. In 1853, she returned to the United States and made her first visit to California in 1855, traveling to England a few times between 1856 and 1859.
Frederick West Lander
Lander was born in Salem, Massachusetts, the son of Edward and Eliza West Lander; his sister, Louisa Lander, was a sculptor. He was educated at several academies, including the Governor's Academy in Byfield, Massachusetts and Norwich Military Academy in Northfield, Vermont.
The United States government employed Lander on several transcontinental surveys, hoping to find a route for a Pacific railroad. He endured great hardships and hostility from Native Americans but eventually built an overland wagon route, which he completed in 1859. The Lander Road became popular with wagon trains traversing through Wyoming and Idaho on their way to Oregon. Photographer Albert Bierstadt and painter Francis Seth Frost created some of the earliest images of the American West.
Marriage and Family
On October 12, 1860, Jean Davenport married transcontinental explorer and poet Frederick Lander in San Francisco, California. Their married life was happy, but the couple had no children. The Civil War began five months after their wedding, and Lander joined the Union Army.
Frederick Lander in the American Civil War
During the early part of the Civil War, Frederick Lander served as a volunteer aide de camp on the staff of General George B. McClellan. Lander was later promoted to brigadier general of volunteers and took part in the battles of Philippi and Rich Mountain.
At the end of the Western Virginia campaign, General Lander was assigned to command a brigade in Charles Stone's Division of the Army of the Potomac. A short time later, he was assigned to command the District of Harpers Ferry and Cumberland, Maryland. Lander was involved in fighting at Edwards Ferry October 22, 1861, (the day after the Battle of Ball's Bluff) during which he was badly wounded in the leg and was taken to the rear.
Ball's Bluff Poem
Frederick Lander wrote the following popular poem about Ball's Bluff, as well as other patriotic poems that drew national attention. Oliver Wendell Holmes, future supreme court justice and an officer in Lander's Brigade, survived a nearly fatal wound at Ball's Bluff and is mentioned in Lander's poem, which was published in a volume called Battle Pieces and Aspects of the War in 1866.
Aye, deem us proud, for we are more
Than proud of all our mighty dead;
Proud of the bleak and rock-bound shore,
A crowned oppressor cannot tread.
Proud of each rock, and wood, and glen;
Of every river, lake and plain;
Proud of the calm and earnest men
Who claim the right and the will to reign.
Proud of the men who gave us birth,
Who battled with the stormy wave
To sweep the red man from the earth, (!?)
And build their homes upon their grave.
Proud of the holy summer morn
They traced in blood upon its sod;
The rights of freemen yet unborn;
Proud of their language and their God.
Proud that beneath our proudest dome
And round the cottage-cradled hearth
There is a welcome and a home
For every stricken race on earth.
Proud that yon slowly sinking sun
Saw drowning lips grow white in prayer,
O'er such brief acts of duty done,
As honor gathers from despair.
Pride, it is our watchword; 'clear the boats'
'Holmes, Putnam, Bartlett, Peirson-Here'
And while this crazy wherry floats
'Let's save our wounded', cries Revere.
Old State – some souls are rudely sped –
This record for thy Twentieth Corps –
Imprisoned, wounded, dying, dead,
It only asks, 'Has Sparta more?'
~ Frederick West Lander
General Lander was then given the command of a division in the Army of the Potomac with the task of protecting the upper Potomac River. When Confederate forces under General Stonewall Jackson bombarded Hancock, Maryland, Lander refused to surrender the town. His actions forced the Confederates to withdraw towards West Virginia.
He led a successful charge against Confederates at Bloomery Gap on February 14, 1862. About two weeks later he suffered a chill. General Frederick West Lander died from complications of pneumonia at Camp Chase, Paw Paw, Virginia (later West Virginia) on March 2, 1862.
After Frederick's death, Jean Margaret Davenport worked for two years as a supervisor in charge of the nurses in the Union Army hospitals at Beaufort, South Carolina.
Theater Actress
On February 5, 1865, Jean Davenport Lander resumed her acting career, performing at Niblo's Garden Theatre in New York City. Her performance of Queen Elizabeth was first seen at the National Theatre, Washington, DC in April 1867. She was the original representative, in America, of Marguerite Gauthier, a part which she named Camille. Her last appearance was made at the Boston Theatre, January 1, 1877, in Nathaniel Hawthorne's The Scarlet Letter.
The later years of Davenport's life were passed in retirement in Washington, DC, in a house that stood where the Supreme Court building is now located. She donated a Tiffany window to St. Mark's Church on Capitol Hill.
Jean Margaret Davenport died at her summer residence in Lynn, Massachusets on August 3, 1903, aged 74. She was buried in Oak Hill Cemetery in Washington, DC.
SOURCES
Revolvy: Jean Margaret Davenport
Wikipedia: Jean Margaret Davenport
Child Performers: Jean Margaret Davenport