Stage Actress and Theater Manager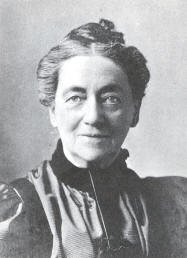 Louisa Lane (1820-1897) was an actress and theater manager of British birth, who commanded great respect as the first female manager of a major American theater. Known for her skill as a character actor and comedian, Louisa Lane was a stage star who ultimately became the matriarch of one of the greatest acting families of all time: the Barrymores. Her legacy lives on in her descendants, including her great-great-granddaughter Drew Barrymore.
Louisa Lane was born January 10, 1820 in London, England, the daughter of actress and singer Eliza Trenter and actor and stage manager Thomas Frederick Lane. Her father died during her infancy, and Louisa's first experience on the stage occurred when she was only nine months old: her mother carried Louisa onto the stage in a play called Giovanni in London.
Theatrical Career
On June 7, 1827 seven-year-old Louisa landed in New York City with her widowed mother. In September she made her stage debut as Margaretta in No Song, No Supper, at the Walnut Street Theater in Philadelphia. In September she appeared as the young Duke of York in Shakespeare's Richard III, with Junius Booth.
Like many children of her era, she had little formal education. Instead, Louisa grew up in the world of theater, traveling throughout the United States with her mother. In March 1828 Lane made her New York debut as "Little Pickle" in The Spoiled Child at the Bowery Theater.
Young Louisa was a very talented mimic and quick to memorize lines, which made her ideally suited for comedy and able to play many roles. She was soon recognized as a prodigy and became well known in the theater world. On January 5, 1829 the following was published in a Philadelphia newspaper:
This astonishing little creature appeared at the Chestnut Street Theatre last evening. She is not more than ten years of age, and evinces a talent for and a knowledge of the stage beyond what we find in many experienced performers of merit."
In 1833, at age 13, she toured the United States with the Bowery Theater Stock Company. Louisa often acted in male roles such as Romeo, Mark Antony and other Shakespearean roles. In 1836, at age 16, she married Henry B. Hunt, an Irish actor who was 40 years old.
Shortly after this marriage, Lane became a leading lady, starring in plays with Edwin Forrest, a well-known American actor. In 1838 she was employed as an actress by the Walnut Street Theater, a position she held until 1850. She later divorced Hunt, and in 1848, married George Mossop, an Irish singer and comedian who died the following year.
Lane's fame increased during the pre-Civil War era, when she gave magnificent performances as Lady Teazle in The School for Scandal and Mrs. Malaprop in The Rivals, both written by Richard Brinsley Sheridan. Malapropos became part of the language, meaning a pretentious and humorous misuse of words.
In 1850, Lane married John Drew, another Irishman. Lane had no children from her first two marriages. Although she was 30 when they wed, Lane gave birth to three children in five years: Louisa Drew, John Drew Jr. and Georgiana (Georgie) Drew (later Barrymore).
A continually working mother, she also began to choose more comedic roles, for which critics considered her best suited, and which helped her husband become America's leading Irish comedic actor. For years Lane and Drew toured together and separately.
In 1853 John Drew was appointed the manager of the prestigious Arch Street Theater in Philadelphia. He was not particularly suited for management, and left Philadelphia several times during his tenure to perform as far away as Australia. Unhappy stockholders made Lane the manager in 1861, renaming it Mrs. John Drew's Arch Street Theater.
John Drew returned to Philadelphia in 1862 and drew big audiences. Drew died suddenly at home in May of that year at age 34, after tripping and falling and fatally hitting his head during a party for daughter Georgiana.
After her husband's death Lane adopted a baby boy and named him Sidney. With a family to support on her own, Lane intensified her managerial work while also continuing to act. Her efficient production methods were very successful, and under her direction the theater became one of America's most successful stock companies. She held this position for the next 31 years, commanding great respect as the first female manager of a major American theater.
During the Civil War, many renowned performers appeared with Louisa Lane's stock company at the Arch Street Theatre including Edwin Forest, Charlotte Cushman, Edwin Booth and John Wilkes Booth. Lane Lane starred with John Wilkes Booth in Shakespeare's Macbeth, his last role before killing President Abraham Lincoln.
The Barrymores
Lane's son John Drew Jr. also became a stage actor in New York, where he met English actor Herbert Chamberlayne Blyth, who had scandalized his family by choosing a career in acting rather than the law. Taking the stage name Maurice Barrymore to spare his family the shame of having an actor in the family, he fled England in 1874 for New York.
John Drew Jr. introduced Maurice Barrymore to his sister Georgiana, which was the beginning of the Barrymore legend in the United States. Georgie married Barrymore on December 31, 1876 and gave to three children: Lionel (1878), Ethel (1879) and John Barrymore (1882).
In the years that followed, Maurice and Georgie Barrymore became one of the nation's most successful theatrical couples. With their parents so often away on tour, the Barrymore children grew up largely under their grandmother's care. When they were not at school, they were around the theater. Lane considered acting the 'family trade' and encouraged her grandchildren's participation.
In 1880 or 1881, Lane played Mrs. Malaprop in Richard Brinsley Sheridan's The Rivals: "I forget how many miles… we traveled that season… but I know 19,000 and some." Her young grandsons Lionel and John Barrymore both made their stage debuts with their grandmother in The Rivals at her theater in Philadelphia.
The three Barrymore children treasured their vibrant mother's time at home and suffered greatly when Georgie Drew Barrymore died of tuberculosis at age 38, and their father left the family because he needed to mourn alone. Maurice Barrymore resumed his stage work, remarried exactly one year after his wife's death, and left his three children with their grandmother, who had raised them.
In 1893 Louisa Lane wrote:
The keenest sorrow of my life came to me… when my dearest daughter, Georgie, died in California, where she had gone in search of health, and only found death. My eldest daughter died some five years ago and now my son John [Drew Jr.] is the only remaining link with his father's memory. I look on him with considerable pride…"
Lane's other grandchildren were Georgie Drew Mendum an actress (from her daughter Louisa and Charles Mendum) and Louise Drew, also an actress (from her son John Drew Jr. and his wife Josephine) and S. Rankin Drew (Sidney's son with his wife Gladys Rankin).
In 1897 an ailing Louisa Drew spent the summer at her annual Larchmont, New York retreat with her grandsons Lionel and John Barrymore.
Louisa Lane died on August 31, 1897 at age 77. She was buried with her husband at Mount Vernon Cemetery in Philadelphia.
At the time of her death The New York Times wrote:
Mrs. John Drew probably had a longer career than any other actress. She was a remarkably versatile and intelligent actress, and although her efforts late in life were exclusively confined to comedy, yet she won respect in tragedy as well, and had, in fact, acted all sorts of characters from Little Pickle to Jane Shore, from one of the smothered Princes in Richard III to Rosalind and Ophelia.
Louisa Lane's Autobiographical Sketch of Mrs. John Drew was published in 1899. John Drew Jr. wrote:
The following retrospect of a life well spent in the pursuit of the most exacting of professions was written down for the immediate delectation and edification of the children and grandchildren of the gifted woman who penned it. I think, however, that when such an example may teach so much; where the life of an actress has been so full of incident and accident, and all resulting – through force of character and absolute intrinsic worth – in ultimate personal and professional regard and reverence, I think that the record of such a life, reaching over seventy years of dramatic history of our country, cannot be without interest to all who have at heart the development of art at its best…
The first of the Barrymore siblings to become a star, Ethel Barrymore made her Broadway debut in 1901 and first motion picture in 1914. A noted beauty, she rejected a marriage proposal from Winston Churchill before marrying Russell Griswold Colt in 1909. Barrymore won an Oscar for Best Supporting Actress for her role in the 1944 film None but the Lonely Heart opposite Cary Grant.
SOURCES
Wikipedia: John Drew
Wikipedia: Louisa Lane Drew
National Women's History Museum: Louisa Lane