Writer and Theater Actress in the Civil War Era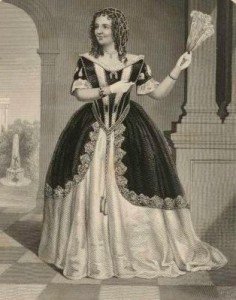 Anna Cora Mowatt (1819–1870) was an author, playwright and actress. She was the first upper-middle-class woman to make a career in the theater, and her successes helped to legitimize acting as an occupation for women. Mowatt is generally regarded as a significant contributor to the development of American drama.
Early Years
Born on March 5, 1819, in France, Anna Cora Ogden was one of fourteen children born to Samuel and Eliza Lewis Ogden, both descendants of old colonial families. Eliza Ogden's grandfather was Francis Lewis, one of the signers of the Declaration of Independence. Samuel Ogden was one of the principal distributors of Bordeaux wines in the United States, and moved his sizable family to France in 1818.
In 1826, the Ogden family sailed for America. At the beginning of their journey, their ship was severely damaged by a storm, and son Gabriel perished at sea. The rest of the family spent a few agonizing days aboard the disabled ship, wet and miserable, and stricken with grief at the loss of Gabriel. Anna would later blame this experience for the recurrent respiratory troubles that plagued her throughout her life.
Anna and her family settled in New York. After some initial misgivings on the part of the younger children, who spoke only French, the family settled into a mostly happy life. Anna and some of her sisters attended various schools for girls. At home, their chief amusement was staging plays for family and friends.
Ironically, Anna developed a distaste for the theater as a result of the fiery sermons given by the minister of their church. The rest of the family did not share her views, and often attended plays. She did join her family for the farewell performance of Fanny Kemble, and lost her dislike for the theater that evening.
For some time Anna had been courted by successful New York lawyer James Mowatt, who was thirteen years older than she. He was quite persistent in his pursuit of Anna, whose father agreed to their marriage if the two still wanted to marry when Anna turned seventeen. Mowatt began to persuade his young fiancee to elope, and soon after her fifteenth birthday, she agreed.
Anna eloped with James Mowatt on October 6, 1834. The couple settled on the Melrose estate in Flatbush, Long Island, and threw parties for the upper crust of New York City.
In her Autobiography, Mowatt says:
What could a girl of fifteen know of the sacred duties of a wife? What could she comprehend of the trials, the cares, the hopes, the responsibilities of womanhood? I thought of none of these things. I only remembered I was keeping a promise. I had perfect faith in the tenderness of him to whom I confided myself. I did not in the least realize the novelty of my situation.
As he had done before her marriage, James Ogden continued to direct Anna's education. She read an astonishing number of books, between ninety and one hundred a year. The young bride also began to write. Her first work, published by James Mowatt in 1836, was a verse romance titled Pelayo or The Cavern of Covadonga, written under the pseudonym "Isabel."
Writing and Acting Careers
Having weak lungs and fearing tuberculosis, Anna took the then recommended sea voyage in 1837. Along the way she saw performances by the great European actresses of the day and on her return to the United States was inspired to write a six act play, Gulzara or the Persian Star, which was published in the New World magazine in 1841.
James Mowatt became temporarily blind by an eye ailment, prompting the couple's return to New York. His vision continued to deteriorate, forcing Mowatt to retire from his law practice. The couple's finances became tight, and they were forced to sell Melrose, their beloved estate in Flatbush.
James Mowatt's attempt at a partnership in a printing business also failed, despite the fact that Anna published several works with the firm, including a biography of Goethe and two novels, one under the pseudonym Helen Berkley.
To earn a living, Anna became a public reader. Her first performance was October 28, 1841, at the Masonic Temple in Boston. Among her audience was Edgar Allan Poe, who wrote quite a favorable review of the evening's entertainment, saying, among other things, that "a more radiantly beautiful smile is quite impossible to achieve."
Although Anna was successful, it was not enough to improve their finances. Her career as a public reader was cut short by another recurrence of respiratory trouble, which turned her into an invalid for almost four years. While convalescing Anna wrote a play, Fashion or Life in New York, in 1845, which became her best known work, garnering high praise and rave reviews.
Shortly after the publication of Fashion, Anna Cora Mowatt made her debut as a theater actress, causing quite an uproar. Intense curiosity helped fill the Park Theatre to capacity, not with the usual spectators, but with the finest of New York high society. By all accounts, Anna was a sensation, made even more amazing by the fact that she had no formal training.
Anna's acting career flourished as she brought to life characters from Shakespeare's plays, popular melodramas and her own plays. Her second play, Armand, the Child of the People, (1847) was also successful. Her career took her all the way to London in 1847, where she enjoyed as much success as she had in New York.
After James Mowatt died on February 15, 1851, Anna returned to America. She continued her acting career until June 3, 1854, when ill health forced her to retire.
On June 7, 1853, Anna married William Foushee Ritchie, editor of the Richmond Enquirer, who had been courting her for some time. Her second wedding was the complete opposite of her first; lavish, elaborate and planned. The couple lived in Richmond, Virginia.
After her marriage, Mowatt continued to write, publishing her Autobiography of an Actress (1854), her most significant work after Fashion. Autobiography offers a lively depiction of life in the theater and the development of her career. She wrote Mimic Life; or, Before and Behind the Curtain, a collection of fictional stories, in 1855 and Twin Roses; a Narrative in 1857.
Anna's second marriage was not a happy one. She returned to the North at the outbreak of the Civil War, and never returned. Until her father's death April 5, 1860, she remained with him.
A few months later, Anna traveled to Europe to visit her ailing sister, and lived in Europe for the rest of her life. She spent two years in Paris (1861-63), where she wrote The Mute Singer, published in serial form in The New York Ledger between January and March 1861. This, too, was a success.
Anna moved to Florence in 1863. In 1865 she wrote another novel, Fairy Fingers, in which she uses the story to illustrate the plight of women and to address some of the issues concerning women. In the same year, Mowatt returned to England and attempted to resume her acting career, but failed, in part due to the respiratory condition that had plagued her since childhood.
The once celebrated actress and author spent the remaining years of her life ill and alone, writing articles about London society for American journals in order to earn money.
Anna Cora Ogden Mowatt Ritchie died in Twickenham, England, on July 21, 1870, at the age of 51. Her body was buried in Kensall Green Cemetery in London beside her first husband, James Mowatt.
Historians have found her autobiography and stories about the theater to be valuable sources for details of the daily lives of people who lived and worked behind the curtain. Feminist historians find Mowatt to be a valuable and articulate example of an unconventional woman, sensitive to the problems of working women and women in the theater.
SOURCES
Anna Cora Mowatt
Wikipedia: Anna Cora Mowatt
Portraits of American Women Writers: Anna Cora Mowatt