Women in Theater: Dramatic Stage Actress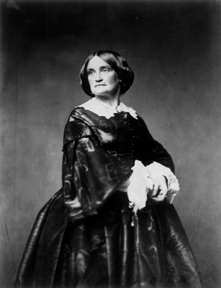 Charlotte Cushman (1816-1876) was the most famous American actress of the nineteenth century, enjoying success on the stage in both the United States and Europe. Cushman's acting career spanned four decades during which she performed many roles in plays by William Shakespeare, such as Lady Macbeth in Macbeth, Queen Katherine in Henry VIII and Romeo in Romeo and Juliet. While performing in Washington, DC, Cushman's audience included President Abraham Lincoln and Secretary of State William Seward.
Charlotte Saunders Cushman was born in Boston, Massachusetts on July 23, 1816, the eldest of the four children of Elkanah and Mary Eliza Babbitt Cushman of Boston, Massachusetts. Her father rose from poverty to be a successful West Indian merchant, but lost his fortune and died, leaving his family in dire straits. When Charlotte was thirteen, her father suffered financial troubles and soon died, leaving his family with nearly nothing.
With the help of her father's friends, Charlotte received the best musical training and developed a voice of remarkable compass and richness. Though Charlotte was a good student, she left school to pursue a career in the opera in order to support her family. She made her first appearance at the Tremont Theater in Boston as the Countess Almaviva in The Marriage of Figaro with great success.
Theatrical Career
Cushman went to New Orleans, where her voice, which had been strained by the soprano parts assigned to her, suddenly failed. In later years Cushman would claim that she had strained her voice trying to sing a soprano role (instead of one in her natural contralto range) in the large St. Charles Theater. Whatever the reason, theater manager James Caldwell advised Cushman to become an actress.
She turned to leading actor James Barton to coach her. On April 23, 1836, Charlotte Cushman debuted as Lady Macbeth. Her interpretation of the role was much more energetic and powerful than was customary at the time. Spectators and critics reacted favorably to her performance.
After a successful season in New Orleans, she went to New York City under contract with the Bowery Theater, where she appeared for a season in leading tragic roles. She was to be a "walking lady" in the stock company. As such, she played a wide variety of roles – young and old, star and walk-on, male and female.
Having taken responsibility of supporting of her family, Cushman also sought other sources of income. Through correspondence, she became friends with Sarah Josepha Hale, the editor of Godey's Lady Book. Short stories and poetry by Cushman were published in that magazine and also in the Ladies Companion.
These "ladylike pieces" served the double function of putting Cushman's name before the public and creating a wholesome image of her. Early on, Cushman seems to have realized the value of publicity, particularly the sort that would identify her as a member of genteel society and offset the general suspicion that actresses were not virtuous women.
Miss Cushman then secured an engagement in Albany, where she acted for five months. She was a great success there, again portraying Lady Macbeth and also several male roles. Cross-dressing by actresses – called "breeches parts" – was a popular practice in the nineteenth-century theater. Male attire, including tight pants, displayed more of the woman's body and appealed to male and female audiences.
After the Albany season ended, Cushman again sought work on the more prestigious New York City stage. Hired at the Park Theater as a "walking lady," she was called upon to fill in at the last minute as the gypsy Meg Merrilies, the Gypsy fortuneteller in Guy Mannering. Cushman's Meg was a physically unattractive yet powerful old crone. The effect was startling to her audience, and the performance was a triumph.
Muscular with strong features and a commanding stage presence, Cushman was playing to her strength. She was not a conventionally beautiful woman. Tall and robust with a square face, lantern jaw and heavy brows, she relied not on feminine prettiness but rather on energy and wit to appeal to spectators.
By 1839, her younger sister Susan Cushman became an actress, and the two sisters became famous for playing Romeo and Juliet together, with Charlotte playing Romeo. Susan did not feel the same enthusiasm for the stage as her sister, but the performances of the Misses Cushman were popular with the public. The daintily pretty Susan took ingenue roles opposite her sister in breeches. Charlotte played more than thirty masculine roles during her career.
Since success on the British stage was considered essential for a Shakespearean actor, a tour of England was important to Charlotte Cushman's career. On October 26, 1844, she sailed for England. In London she achieved success in the parts of Lady Macbeth, Rosalind, Mrs. Haller, Bianca in Fazio and Emilia. Her success in the United States and Europe helped make a life in the theater respectable for women.
The power of Cushman's impersonation created a sensation in London, and later in Dublin. Her house in Mayfair became a center of artistic and literary society, and during the dramatic season she acted with undiminished popularity in London and the provinces, while part of her winters she spent in Rome.
In England Cushman became acquainted with women artists and writers, including journalist, novelist and part time actress Matilda Hays. The two women became close friends, and after a short amount of time and some correspondence, they became romantic partners on stage and off. For the next ten years the two would be together almost constantly.
Cushman coached Hays in acting and toured the British Isles with her in Romeo and Juliet and The Lady of Lyons. Hays was never comfortable as an actress, however, and soon withdrew from the profession. The two remained partners, became known for dressing alike, and in Europe were publicly recognized as a couple.
Cushman returned to America in 1849 and played throughout the country. Now a recognized star, she was able to demand pay equal to that of the most prominent male actors. She made her farewell performance at the Broadway Theater on May 15, 1852, then visited friends in England and traveled on the continent.
By late 1852, after sixteen years, Cushman decided to retire from the stage, taking up residence with Hays in Rome, Italy. They began living in a large American expatriate community there, made up mostly of lesbian artists and sculptors. Cushman established a household of "jolly bachelor" women that included Hays, journalist Grace Greenwood and sculptor Harriet Hosmer.
Cushman used her fortune and fame to champion the work of women artists, including African American/Native American sculptor Edmonia Lewis, whom Cushman greatly admired, and Emma Stebbins, a painter who had come to Rome to study sculpture.
In 1854, Hays left Cushman for sculptor Harriet Hosmer, which launched a series of jealous interactions between the three women. Hays eventually returned to live with Cushman, but the tensions between them would never be repaired. By late 1857, Cushman was secretly involved in a passionate relationship with sculptor Emma Stebbins.
One night while Cushman was writing a note, Hays walked in on her. Suspecting that the note was to Stebbins, Hays demanded to see it. Although the note was not to Stebbins, she refused to show it to Hays. Hays became enraged, and began chasing Cushman around the house pounding her at every opportunity with her fists.
The relationship ended immediately, and Hays moved out. She then sued Cushman stating in her claim that she had sacrificed her own career to support Cushman's career, and therefore was due a certain payment. Cushman paid her an unknown sum, and the two women parted company forever.
Emma Stebbins moved in with Cushman shortly after the break-up. Cushman traveled to America for a short tour a few months later. Although Cushman maintained that she was devoted to Stebbins, she became involved with another woman not long after her relationship with Stebbins began. Cushman met an 18 year old actress, Emma Crow and fell for her. The two women began an affair, and Cushman often called her "my little lover."
Before her departure to Rome, Cushman offered a farewell performance at the Washington Theater in the title role of Hamlet. The poster advertising her appearance describes her as "a lady universally acknowledged as the greatest living tragic actress." Crow followed Cushman to Italy. Not long after arriving there, Crow attracted the attention of Cushman's nephew, Ned Cushman. In April 1861, Ned Cushman and Emma Crow were married.
In 1857 Cushman returned to the United States and performed during the winter and the spring of 1858, and returned to Rome, establishing herself in a spacious permanent winter home in January 1859. In 1860 she again acted in New York, appearing on several occasions for the benefit of the Sanitary Commission, a relief agency that supported sick and wounded soldiers of the Union Army during the Civil War.
Last Years
In 1869 Cushman was diagnosed with breast cancer. Accompanied by Stebbins, she went to Scotland for surgery, which did not entirely eradicate the disease. Stebbins ignored her own sculpting career and devoted all of her time to caring for Cushman. After a brief return to Rome, they moved back to the US, where Cushman went back on stage despite the pain of her condition.
No longer having the stamina for plays, she developed a remarkable ability as a dramatic reader, giving scenes from Shakespeare, ballad poetry, dialect poems and humorous pieces with great success. At her appearance in New York, William Cullen Bryant recited an ode in her honor, and the show was followed by a parade on Fifth Avenue.
Her farewell appearance was announced at least seven times in as many years. After a reading tour to Rochester, Buffalo and Syracuse, New York, Cushman finally retired with a large fortune to her villa at Newport, where she was seized with her final illness, and in October 1875 went to Boston for medical treatment.
On February 18, 1876 Charlotte Cushman died of pneumonia in her hotel room at the Omni Parker House Hotel in Boston at age 59.
On the morning following her death, William Winter wrote in the New York Tribune:
When she came upon the stage she filled it with the brilliant vitality of her presence. Every movement that she made was winningly characteristic. Her least gesture was eloquence, Her voice, which was soft or silvery, or deep or mellow, according as emotion affected it, used now and then to tremble, and partly to break, with tones that were pathetic beyond description. These were denotements of the fiery soul that smouldered beneath her grave exterior, and gave iridescence to every form of art that she embodied.
In the wake of her death there were numerous tributes to Charlotte Cushman, then one of the most famous women in the world. At the time, romantic friendships between women were accepted because the women participating in them were seen as chaste. Physical desire was considered a masculine trait. As ideas evolved the perception of Cushman changed, and her life and achievements were trivialized.
SOURCES
Wikipedia: Charlotte Saunders Cushman
Female Ancestors: Charlotte Cushman