Performing at Ford's Theatre When Lincoln Was Shot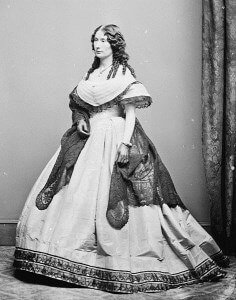 Laura Keene was a British-American stage actress who became known was the first powerful female theater manager and is credited with establishing New York City as the leading theatrical center in the United States. She was the featured actress in the production of Our American Cousin at Ford's Theatre, during which John Wilkes Booth shot President Abraham Lincoln.
Early Years
She was born Mary Frances Moss July 20, 1826 in Winchester, England to Jane Moss and Tomas King. In 1844, she married British Army officer John Taylor. They had two daughters, Emma (in 1846) and Clara Marie Stella (in 1849). After being discharged from the army, Taylor opened his own tavern. He was later arrested (the crime he committed is not known), convicted and was reportedly sent from England to Australia on a prison ship.
Taylor left his wife and her two daughters alone with no money, Mary Taylor decided to change her name to Laura Keene and pursue an acting career. Keene attempted to locate Taylor to divorce him but never found his whereabouts. They remained married until Taylor's death in 1860.
Theatrical Career
Laura Keene made her professional debut as Pauline in The Lady of Lyons in London. She decided that starting anew in America was the best for herself and for her family. After less than a year performing in Britain, Laura Keene accepted an offer from James William Wallack to serve as the leading lady in the stock company at his theater in New York City. Her first performance there was in The Will as Albino Mandeville. She enjoyed great popularity during her time at Wallack's theater (1852-1853).
She rose quickly on her talents as an actress to become the first female entrepreneur in the New York theater scene. She became a theater manager with the help of John Lutz, whom she married in 1860. She left Wallack's company unexpectedly and moved to Baltimore, Maryland, where she leased the Charles Street Theater (1853-1854) and acted as manager, director and performer.
Keene began touring performances in California, in Australia, and again in California (1854-1855). After spending a month as manager of the Union Theatre in San Francisco, she toured Australia with famous actor Edwin Booth, whose drunken behavior put an end to their relationship and their tour.
On her return to California, she managed the American Theatre until a new law banned any form of entertainment on the Sabbath. This greatly decreased the attendance of theatre performances and gave Keene left to start a new project in New York.
Upon returning to New York City, Keene leased the Metropolitan Theatre and renamed it Laura Keene's Varieties, and served as manager, director and star performer until William Burton bought the building.
At this point, she lined up investors and an architect who specialized in theaters, and a new theater was constructed to her specifications. Named Laura Keene's Theatre, it opened on November 18, 1856. An 1857 show called The Elves ran for a record 50 performances. The play Our American Cousin debuted in Laura Keene's Theater in 1858.
In November 1860, Keene premiered the musical The Seven Sisters, which featured extravagant sets and ran for 253 performances, an astonishing total for the time. By 1863, Keene was forced to give up managing due to poor health. After deciding to give up her theater, Keene continued as manager and star of a company which toured the United States for most of the next ten years.
Image: Laura Keene Playbill
The Lincoln Assassination
John T. Ford's theater on 10th Street in Washington, DC was in its second season when English actress and producer Laura Keene opened a two-week engagement with Ford's stock company that would conclude with a production of the British hit comedy Our American Cousin. Keene would appear in the role of Florence Trenchard, supported by two other guest stars from her own New York company, the English-born John Dyott and Harry Hawk.
The performance, scheduled for April 14, 1865 would also be a benefit for Keene (meaning that the house proceeds would go to her). By persuading President Lincoln to attend, Ford used both the benefit and Lincoln's presence as lures to pack the theatre with playgoers. The tickets, costing 75 cents each, would entitle the bearers to a seat in the first tier of the theater, on the same level with the box the president would occupy that night. The president and Mary Todd Lincoln arrived a little late at the theater with friends Henry Rathbone and Clara Harris.
It has been greatly debated among historians as to whether Laura Keene ever entered the presidential box that night. The following excerpts are from the book Lincoln's last hours by Army Surgeon Charles Leale, who also attended the play that night:
Suddenly there was a cheering welcome, the acting ceased temporarily out of respect to the entering Presidential party. Many in the audience rose to their feet in enthusiasm and vociferously cheered, while looking around. Turning, I saw in the aisle a few feet behind me, President Lincoln, Mrs. Lincoln, Major Rathbone and Miss Harris…

For a few moments all was quiet, and the play again held my attention until, suddenly, the report of a pistol was heard, and a short time after I saw a man in mid-air leaping from the President's box to the stage, brandishing in his hand a drawn dagger. His spur caught in the American flag festooned in front of the box, causing him to stumble when he struck the stage, and he fell on his hands and knees…"

I instantly arose and in response to cries for help and for a surgeon, I crossed the aisle and vaulted over the seats in a direct line to the President's box, forcing my way through the excited crowd. The door of the box had been securely fastened on the inside to prevent anyone following the assassin before he had accomplished his cruel object and made his escape. The obstruction was with difficulty removed and I was the first to be admitted to the box…

As I looked at the President, he appeared to be dead. His eyes were closed and his head had fallen forward. He was being held upright in his chair by Mrs. Lincoln, who was weeping bitterly. From his crouched down sitting posture it was evident that Mrs. Lincoln had instantly sprung to his aid after he had been wounded and had kept him from tumbling to the floor…

I lifted his eyelids and saw evidence of a brain injury. I quickly passed the separated fingers of both hands through his blood matted hair to examine his head, and I discovered his mortal wound. The President had been shot in the back part of the head, behind the left ear. I easily removed the obstructing clot of blood from the wound, and this relieved the pressure on the brain.

The assassin of President Lincoln had evidently carefully planned to shoot to produce instant death… which had sent a large round ball on its awful mission through one of the thickest, hardest parts of the skull and into the brain… I then pronounced my diagnosis and prognosis: "His wound is mortal; it is impossible for him to recover."

While we were waiting for Mr. Lincoln to gain strength, Laura Keene, who had been taking part in the play, appealed to me to allow her to hold the President's head. I granted this request and she sat on the floor of the box and cradled his head on her lap.
Dr. Leale somewhat revived the President by forcing air into his lungs, and finally detected shallow breathing and a faint heartbeat. There was nothing more to do but wait for Lincoln's condition to stabilize as much as possible. Dr. Leale and several other men later carried the President across the street to the Peterson boarding house, where he passed away peacefully a little after seven o'clock the following morning, without ever regaining consciousness.
Image: The Presidential Box, much as it was on April 14, 1865
Late Years
Following the assassination, Laura Keene managed to continue working; she undertook management of the Chestnut Street Theatre in Philadelphia in 1869 and then journeyed west. Among her many projects at this time were editing a magazine Fine Arts, writing plays, lecturing and acting. Her second husband, John Lutz, died on April 18, 1869.
Comic actor Joseph Jefferson noted this about Laura Keene:
Although a somewhat puffy‐faced, heavy‐featured woman, she was esteemed a great beauty in her youth; even afterwards her rich and luxuriant auburn hair, clear complexion and deep chestnut eyes, full of expression, were greatly praised; but to me it was her style and carriage that commanded admiration, and it was this quality that won her audience. She had, too, the rare power of varying her manner, assuming the rustic walk of a milkmaid or the dignified grace of a queen.
Laura Keene achieved a level of independence and success that was unheard of for a woman not only in her own time, but for decades thereafter. She served as manager of the Chesnut Street Theatre in Philadelphia from September 1869 through March 1870. Her final theatrical performance was on July 4, 1873, while touring in northern Pennsylvania.
On November 4, 1873, Laura Keene died of tuberculosis at the age of 47 at Montclair, New Jersey, and was buried in Green-Wood Cemetery in Brooklyn.
SOURCES
Wikipedia: Laura Keene
Laura Keene Arrested at Harrisburg
Lincoln's last hours by Charles A. Leale