Slave Who Escaped from Bondage in Maryland
Image: Exhibit at New Castle Court House Museum
Simulates Sam and Emeline Hawkins in jail in New Castle, Delaware
This exhibit Emeline Hawkins: Her Journey from Slavery to Freedom on the Underground Railroad chronicles the compelling story of Hawkins and her family. They were arrested in the slave state of Delaware while attempting to reach the free state of Pennsylvania.
In 1845, three noted abolitionists guided Emeline Hawkins and her family on their journey along the Underground Railroad. Conductor Samuel Burris led the Hawkins family out of Maryland and into Delaware. Station Masters Thomas Garrett and John Hunn fed and sheltered the family, and aided their escape through the state of Delaware and on to the free state of Pennsylvania.

Emeline was a slave of James Glanding of Queen Anne's County, Maryland. Sam Hawkins was a free black man who lived nearby and owned his own home. Sam and Emeline considered themselves man and wife, but they could not be legally joined together; slaves were not permitted to marry. The couple had six children, all slaves and all spread out among separate farms in the Beaver Dam section of Queen Anne's County. For a time, the owners of her family members allowed close contact between them.
When James Glanding died in 1839, Sam and Emeline's eldest sons, Chester and Samuel, were given to Glanding's son, Charles. Emeline was not mentioned in Glanding's will, but a woman named Elizabeth Turner spoke up in court, claiming that she owned Emeline. Historical records either do not exist or have not been found to indicate how Turner acquired Emeline. Nevertheless, she was sent to live on Turner's property. While living there, Emeline gave birth to four more children, and they automatically became Turner's slaves.
Sam Hawkins wanted his family to be free. He had attempted to purchase his wife and children's freedom for several years, but he was always refused. When rumors began to spread that Elizabeth Turner was having financial difficulties and might be forced to sell her slaves, Sam offered once again to purchase his family's freedom and again he was rejected. He had witnessed similar situations when slave families were separated and sold. After his offers to buy his family's freedom were again rejected in 1845, Sam decided to take his family and head North.
Taking Flight
In November 1845, Sam and Emeline fled from bondage in Maryland in a wagon. At that time, they were parents of six children: Chester, 16 and Samuel, 14; their four younger children were aged 18 months to 8 years. Samuel Burris, a free black conductor on the Underground Railroad, directed them to the home of a Quaker named Ezekiel Jenkins in Camden, Delaware. He gave them a letter to present to his cousin John Hunn in Middletown, Delaware.
Traveling through a driving snowstorm on a December morning in 1845, they finally arrived in six inches of snow at the residence of Quaker John Hunn. He partnered with well-known abolitionist Thomas Garrett in Wilmington, Delaware and the Underground Railroad in Delaware to help escapees making their way through Delaware. At Hunn's home the slaves were fed and cared for, and some of them rested in the barn. In his article entitled "The Underground Railroad in the Eastern Shore of Maryland and Delaware", William T. Kelley wrote this about Hunn:
In my day it has been more to John Hunn's labors and preaching that the Underground Railroad was kept running through Delaware and the Eastern Shore of Maryland than to any other person.
A nosy neighbor saw what they called unfamiliar Negroes at Hunn's farm and reported their activities to the Constable, who arrived shortly afterward, followed by five slave hunters from Maryland. The Maryland men presented a runaway advertisement valuing the slaves at $1,000 and demanded they be handed over. The Hawkins family was resting in the barn, waiting for Hunn to bring their breakfast, when Sam heard the commotion and guessed correctly that he had been found out.
Sam showed his papers proving he was a free man, but the search party declared they were false. One of the men from Maryland attested to the fact that Sam was free, but he was apparently guilty of absconding with several of his family members who were slaves. He was arrested for aiding in their escape and taken to the magistrate's office in Middletown, Delaware.
At the magistrate's office, one of the men from Maryland drew Sam aside and promised him that, if he gave up his two older sons, he would be allowed to continue north with his wife and younger children. Sam agreed and John Hunn, in spite of his misgivings, sent a note to his wife to bring Emeline and the children to the magistrate's office. However, the man had lied to Sam; he took the entire family into custody and brought them to New Castle, Delaware. Emeline and the younger children wept as Sam and the older boys were put in handcuffs.

Image: Thomas Garrett and John Hunn
Two of the most celebrated Station Masters on the Underground Railroad in Delaware
Businessman and station master Thomas Garrett of Wilmington, Delaware had been alerted to the situation regarding the Hawkins family earlier that day. Although he lived in a slave state, Garrett was entirely uncompromising in his beliefs about slavery. He arranged a meeting with the Chief Justice of Delaware during which the Judge declared their commitment illegal and released the entire family. Garrett had readied a wagon to take the family to his home. After a short stop there, the Hawkinses traveled on a wagon to Pennsylvania, where they were blessedly, finally free.
The Trials of 1848
Six weeks later, the owners of Emeline Hawkins and her children – Charles Glanding and Elizabeth Turner – filed civil suits against Thomas Garrett and John Hunn for loss of property. Both plaintiffs claimed that the entire Hawkins family had been enslaved and that Garrett had violated the Fugitive Slave Act of 1793 when he assisted them in their escape from bondage. The proceedings were held at the United States District Court in New Castle, Delaware before Chief Justice Roger Brooke Taney and Judge Willard Hall during the May Term in 1848.
There were six trials: two involving John Hunn and Thomas Garrett was the defendant in four trials. U.S. Senator John Wales represented Thomas Garrett; Wales was Delaware's representative to the First National Convention of the Abolition of Slavery. James Bayard, a lawyer who would go on to become the U.S. District Attorney for President Martin Van Buren, prosecuted Garrett and Hunn. Hearings lasted from May 24 through May 29, 1848.
Thomas Garrett and John Hunn were convicted by a jury of local slave-owning farmers, who granted the plaintiffs even more money than they had requested, leaving the two men almost penniless. Hunn was assessed a total of $2,500; Thomas Garrett was fined a total sum of $5,400 – huge sums at that time.
When the trial was over, Thomas Garrett was given permission to speak. In the room where he had just been convicted, he stated that he would continue to help fugitive slaves to escape from bondage, probably even more so:
I have assisted over 1400 runaways in 25 years on their way to the North. And I now consider the penalty imposed might be as a license for the remainder of my life. But be that as it may, if any of you know of any slave who needs assistance, send him to me, for I now pledge myself to double my diligence and never neglect an opportunity to assist a slave to obtain freedom.
John Hunn later reported that Emeline Hawkins and her family "went from Wilmington to Byberry, Pennsylvania, and settled near the farm of Robert Purvis" of the Pennsylvania Antislavery Society. They changed their surname to Hackett, the name of Sam's former owner, probably in an attempt to avert the attention of Maryland slave catchers. Records show that their oldest sons Chester and Samuel were apprenticed to individuals in that area.

Image: Major Underground Railroad Routes in the United States
Sam Hawkins died two or three years after securing his family's freedom. No historical records have been found to indicate what happened to the family after his death.
A compromise settlement was reached with the court to place a $5400 lien on Thomas Garrett's house, which would remain until he paid the fine in full. With the aid of friends, he paid the fine and continued to run his iron and hardware business. In a letter to the editors of the local newspaper, The Blue Hen's Chicken, Garrett wrote:
I am sorry to have to admit this truth, that the slave states and slave interests have ruled this nation from the Declaration of Independence till the present time… They have provided a large majority of our Presidents, Cabinet officers, Foreign Ministers and Judges of our Supreme Courts from the slave states. They have made our laws to suit their peculiar institutions. It was slave holders that demanded the Admission of Texas into this union… The south always managed to have it their own way… The admission of Texas was the cause of the Mexican War; where hundreds of millions of the peoples' money has been wasted, and thousands of valuable lives sacrificed by sword and climate, all for the slave interest…

Slavery is an institution that cannot bear investigation. … This is what Abolitionists have been laboring for, to have the subject fairly canvassed by the people… Look at the nations around us. The cause of freedom is progressing with railroad speed. … I have not correctly read the signs of the times if the days of slavery are not numbered in this country. The south will have to yield to the growing anti-slavery feeling of the north and west; or before ten years from this date there will be a dissolution of this Union.
The Beginning of the End of Slavery in Delaware
White employers in Delaware relied on free blacks for labor, and did not want to lose them. In 1832, the General Assembly began to pass black codes to control the lives and activities of freedmen. However, an 1847 bill for gradual emancipation that would have freed all African-Americans born into slavery in Delaware after 1850 made it out of committee, with a recommendation of approval on economic grounds:
The carelessness, slovenly and unproductive husbandry visible in some parts of our state, undoubtedly result mainly from the habit of depending on slave labor. It is no longer a disputable question that slave labor impoverishes, while free labor enriches people.
The House passed the bill, by a vote of 12 to 8, but it was tabled in the state Senate by one vote.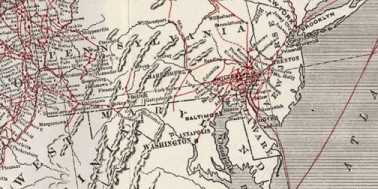 Image: Map of Underground Railroad Routes
While this map is very difficult to read, the mass of red lines at right center illustrate the intense activity along UGRR routes in northeastern Maryland, northern Delaware, and southeastern Pennsylvania and are clearly visible.
Delaware's congressional delegation, on instruction from the General Assembly, had opposed the extension of slavery in 1819, in the crisis that led up to the Missouri Compromise. The General Assembly had passed resolutions against the annexation of Texas and the spread of slavery into territories conquered from Mexico. Yet the same General Assembly would not end slavery where it had power to do so, at home.
Although Delaware was still officially a slave state, by 1861 it was home to only about 1800 slaves. That fall, President Abraham Lincoln proposed a plan that would compensate the remaining slave holders in Delaware with federal funds if they agreed to free their remaining slaves. The proposal was never implemented, and Delaware's slaves remained in bondage until the ratification of the Thirteenth Amendment was ratified in late 1865.
SOURCES
Hawkins Family
The People: Emeline & Sam Hawkins
Archives of Maryland: Thomas Garrett
Archives of Maryland: Emeline Hawkins
Thomas Garrett, Born August 21, 1789