Female Soldier Disguised as a Man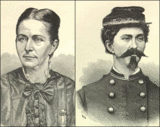 Loreta Janeta Velazquez was born into an aristocratic Cuban family in Havana in 1842. Her father was a Spanish government official who owned plantations in Mexico and Cuba. As a young girl, Loreta developed an admiration for Joan of Arc, and expressed a desire to emulate her deeds and to make a name for herself as a woman of courage who would fight for a great cause.
In her early teens, Loreta was sent to New Orleans, where she attended Catholic schools and was educated in English, Spanish, and French. She met a dashing young officer in the United States Army named William. Since her family disapproved of the relationship, she eloped with him in 1856, and they spent the next few years at different army posts. Four years later in 1860 they were in St. Louis mourning the death of their three children. Loreta was 18.
When the Civil War began, Loreta was an enthusiastic supporter of the Confederacy. She talked her husband into renouncing his commission and joining the Confederate army. Unable to persuade her husband to let her fight for the Confederacy, Loreta simply waited for him to leave.
Loreta was measured for two uniforms by a tailor in Memphis, Tennessee, flattened her breasts with wire shields and braces, donned a man's wig and a fake mustache and beard, and transformed herself into Lieutenant Harry T. Buford.
Wearing her disguise, she managed to fool officers and soldiers because she walked with a masculine gait, smoked cigars, perfected the ability to spit, and padded the arms of her coat to appear more muscular.
Loreta proceeded to Arkansas to raise a battalion for the Southern cause, the Arkansas Grays. She claimed that she enrolled 236 men in four days and shipped them to Pensacola, Florida, where she presented them to her astonished husband as his to command. Unfortunately, he was killed a few days later demonstrating a weapon to his troops.
The bereaved widow turned the men over to a friend and proceeded to search for military adventure at the front. After the First Battle of Bull Run, Loreta grew weary of camp life and borrowed female attire from a farmer's wife so that she could go to Washington, DC to gather intelligence for the Southern cause. She finally returned to the South, where she was rewarded for her services by being assigned to the detective corps.
But again Loreta grew weary of her assignment, and left her duties to go fight in Tennessee, where fought in the siege of Fort Donelson until the surrender. She was wounded in the foot and examined by an army doctor. She escaped detection, but decided to flee to New Orleans, where she was arrested on suspicion of being a Union spy and a woman in disguise. After she was released, she enlisted again to get away from the city.
And so it continued until April 1862, and the Battle of Shiloh, the scene of her greatest military triumph. There she found the battalion she had raised in Arkansas and joined them for the fight. She was wounded by a shell while burying the dead after the battle, and an army doctor discovered that she was a woman.
She fled again to New Orleans and was there when Union Major General Benjamin F. Butler took command of the city in May 1862. Believing that her military career was at an end because too many people now knew her true identity, she gave up her uniform and traveled to Richmond, Virginia.
While there, Confederate authorities hired her as a spy, and she traveled all over the country, across enemy lines, providing information for the Confederacy. During this time, she married Dr. Thomas DeCaulp, but he died soon thereafter in a Chattanooga hospital.
She then traveled north, gained the confidence of Northern officials and was hired by them to search for herself. During her search, she continued to serve the Southern cause by trying to organize a rebellion of Confederate prisoners held in Ohio and Indiana.
After the war, Loreta spent a number of months traveling throughout Europe and the South. She also married for a third time. She and her new husband, a Major Wasson, left the United States as immigrants to Venezuela.
When her husband died in Caracas, Loreta returned to America. She then headed west, stopping long enough in Salt Lake City to have a baby and meet Brigham Young. She claimed to have married again for the fourth time to an unnamed gentleman in Nevada.
Then Loreta was off again. "With my baby boy in my arms, I started on a long journey through Colorado, New Mexico, and Texas, hoping, perhaps, but scarcely expecting, to find the opportunities which I had failed to find in Utah, Nevada, and California."
Her final plea was to the public to buy her book so she could support her child. She wasn't ashamed of her behavior and hoped that her conduct would be judged with "impartiality and candor," and that credit would be given her for "integrity of purpose. I did what I thought to be right," she said.
Everything that is known about Loreta Janeta Velazquez comes from her 600-page book, The Woman in Battle: A Narrative of the Exploits, Adventures, and travels of Madame Loreta Janeta Velazquez, Otherwise Known as Lieutenant Harry T Buford, Confederate States Army. How much of it is true is unknown. Some denounced the 1876 publication as a fraud.
No record remains of her life after about 1880, or of the circumstances of her death in 1897.
SOURCES
Lieutenant Harry Buford
Wikipedia: Loreta Janeta Velazquez
Madame Loreta Janeta Velazquez: Heroine or Hoaxer