Confederate Soldier in the Civil War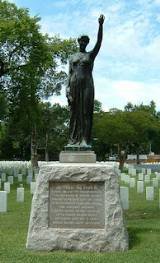 One of the most famous Confederate female soldiers, who served in both cavalry and infantry, was Amy Clarke. At the age of 30, she enlisted as a private in a cavalry regiment with her husband, Walter, so she would not be separated from him. She disguised herself as a man, using the name Richard Anderson. She fought with her husband until his death at the Battle of Shiloh, Tennessee, on April 6, 1862.
Image: Rhode Island Civil War Monument
Bronze female figure on a pink granite baseNew Bern, North Carolina
Clarke was tired of cavalry life, and decided to join the infantry. Her request was approved, and Private Richard Anderson was transferred to the 11th Tennessee Infantry. Her regiment under General Braxton Bragg fought in many battles. On August 29, 1862, the 11th Tennessee met Federal troops in the Battle of Richmond Kentucky. Amy was wounded and taken prisoner by the Union Army, and they discovered that she was a woman. Her wound was treated, and she was taken to the prison at Cairo, Illinois.
The many hardships she had endured during 10 months service had affected her health. Clarke wanted to go home to Mississippi. She promised prison officials that she would wear suitable clothing for her gender, and not to dress as a man ever again. When the people of Cairo heard of her predicament, they donated money to buy the proper clothing for her, and she was exchanged with the next batch of prisoners.
BUT, The Mississippian newspaper reported in December 1862:
Among the strange, heroic and self-sacrificing acts of woman in this struggle for our independence, we have heard of none which exceeds the bravery displayed and hardships endured by the subject of this notice, Mrs. Amy Clarke. Mrs. Clarke volunteered with her husband as a private, fought through the battle of Shiloh, where Mr. Clarke was killed—she performing the rites of burial with her own hands.

She then continued with Bragg's army in Kentucky, fighting in the ranks as a common soldier, until she was twice wounded—once in the ankle and then in the breast, when she fell a prisoner into the hands of the Yankees. Her sex was discovered by the Federals, and she was regularly paroled as a prisoner of war, but they did not permit her to return until she had donned female apparel. Mrs. C. was in our city on Sunday last, en route for Bragg's command.
At first, I thought this information must be a bunch of hooey, but she may have re-enlisted after her release from prison, for in August, 1863, a Texas cavalryman wrote a letter to his father in which he described a scene at Turner's Station, Tennessee:
One of the soldiers directed my attention to a youth apparently about seventeen years of age well dressed with a lieutenant's badge on his collar. I remarked that I saw nothing strange. He then told me that the young man was not a man but a female.
Supposedly, Amy was that female Lieutenant. If that information is true, it is the last written account of Amy Clarke.
I once thought that women who enlisted in the armies during the Civil War were totally nuts! Now I have begun to see why they would have made that choice. If they had no children to take care of at home, nor family to live with, it might be quite frightening to remain at home alone, especially if the Civil War was raging nearby.