Women Educating Women in the New Nation
Image: Mills College
Women as far away as the Pacific Coast also had access to higher education by 1852, when the Young Ladies Seminary was established at Benicia, California – the first women's college west of the Rockies. Susan Tolman Mills served as its president for 19 years.
Women's Education in Colonial America
In the 18th century, most wealthy parents were willing to invest in education for their sons because it increased his chances of establing a profitable career. In general, the purpose of women's education in colonial America was to become skilled at household duties in order to find a suitable husband. A woman who was well educated in academic subjects was thought to be unusual and not good marriage material.

Education in colonial America was based on European traditions. Wealthy girls might be taught by a governess or sent to a convent school to learn the basics of reading and writing. Middle class families could generally only afford to educate their sons and in lower class families neither the boys nor the girls were educated. As America grew, private tutors were slowly replaced by town schools.
In New England, both girls and boys attended a dame school, which offered a program equivalent to that of today's kindergarten. A local woman would take in several children and teach them their numbers and ABC's as well as some other basic curriculum such as reading and writing while going about her daily chores. The program prepared boys with the basic skills needed to enroll in a town school. The female students were taught skills such as sewing and knitting.
After dame schools, boys were given the option to continue their education but most girls were not. All but a few towns in New England specifically barred girls from town schools. Towards the end of the 18th century, girls were permitted to attend town schools, but the change was slow and girls were often taught separate from the boys.
The 1780s and 1790s witnessed a number of important educational experiments for women in Pennsylvania. One of the most pivotal events in the history of women's education was the opening of the Young Ladies Academy in Philadelphia in 1787. It was said to be the first all female academy in America, and it set an example for the many academies and seminaries that were opened in the late 1700s and early 1800s.
Sponsored and supervised by many of Philadelphia's male religious and political leaders, including Benjamin Rush, the Academy offered an extensive curriculum to its students: reading, writing, English grammar, mathematics, geography, rhetoric, composition, chemistry and natural philosophy – all taught by male teachers.
Less than a year after it opened the Academy had enrolled almost one hundred girls. It also gave young women a visible civic role by holding annual public examinations for graduates. These events, which were well attended by prominent Philadelphians, featured orations by students and prizes for academic merit, and sermons by male visitors.
Benjamin Rush gave his lecture Thoughts Upon Female Education in 1787 at the first public ceremony. Rush believed in education for women, only for the purpose of passing on their knowledge to their young sons. Some Academy students challenged limitations imposed by men. In her 1794 salutary speech to the Young Ladies' Academy, Priscilla Mason argued:
Our high and mighty Lords (thanks to their arbitrary constitutions) have denied us the means of knowledge, and then reproached us for the want of it. Being the stronger party, they early seized the sceptre and the sword; with these they gave laws to society; they denied women the advantage of a liberal education; [and] forbade them to exercise their talents on those great occasions which would serve to improve them.
In 1783, Washington College in Chestertown, Maryland, appointed the first women teachers at any American college or university, Elizabeth Callister Peale and her sister Sarah Callister – members of the famous Peale family of artists – taught painting and drawing. In 1803 Bradford Academy in Bradford, Massachusetts was the first institution of higher learning in Massachusetts to admit women. It was founded as a co-educational institution, but became exclusively for women in 1837. In 1826, the first public high schools for girls were opened in New York and Boston.
Women's Education in the South
In the South plantations were too far apart to support a local school; therefore, private tutors were hired to teach the sons. The girls in the family were sometimes allowed to sit in on these lessons, and in some cases a governess was hired to teach the girls, who were taught reading in order to study the Bible, and writing and arithmetic to record household expenses. Girls were taught subjects like social etiquette, music, needlework, cooking and nursing.
In much of the South during colonial times the education of slaves was strictly forbidden. In 1740, South Carolina passed a law which prohibited anyone from teaching a slave to read or write. There were cases, however, where slaveholders felt it would be useful for their slaves to read and write in order to help with jobs such as record keeping. Other slaveholders felt that it was important for their slaves to be able to read the Bible.
Quaker and Moravian communities believed in educating both genders. Quakers believed that the gifts of both sexes should be cultivated and proposed that both girls and boys schools be started. While they believed in the education of both sexes, girls education focused mainly on domestic skills. Quakers promoted the education of African Americans and in some instances they were given access to formal schooling.
However, African American schools received little support from whites and constantly suffered from a lack of funding. Perhaps the most prominent example of an educated African American woman during colonial times was Phillis Wheatley, whose education was extremely rare for the 1700s. The family that bought Wheatley taught her to read English, Greek and Latin, astronomy and geography.
Image: Phillis Wheatley Monument
Boston Women's Memorial on Commonwealth Avenue
Taken from the west coast of Africa and sold as a slave in Boston, Phillis Wheatley (1753-1784) became the first African American woman to publish a book in America.
On December 23, 1836, the Georgia Female College in Macon, Georgia was the first college in the world chartered to grant degrees to women. The school opened its doors to students on January 7, 1839, with almost 100 students. Their first baccalaureate degree was awarded to Catherine Brewer on July 16, 1840, first in alphabetical order in a graduating class of 11. It was renamed Wesleyan Female College in 1843, then shortened to the present name in 1917.
Women's Education in the New Nation
After the Revolutionary War, there were many changes in women's education. Themes of independence and self-reliance meant that the success of the nation required highly intelligent citizens. These new expectations led to the concept of Republican motherhood: the belief that the patriots' daughters should be educated so they could teach the next generation.
However, this expansion of women's education was not meant for their own benefit but to place them in a position to mold future generations into good citizens. Women who made efforts to participate in politics were ridiculed, but the Republican Mother was seen as acting in the interest of raising patriotic children. Despite its intents and purposes, many women took advantage of these new opportunities.
Judith Sargent Murray was one of the women associated with the Republican Motherhood movement, but her thoughts on the education of women were much more radical. She believed that the accusation that women were intellectually inferior stemmed not from the way they were raised – boys were encouraged to learn while girls were not. Murray also emphasized the importance of teaching girls about women's past achievements to empower them.
America's youth also began choosing their own spouses based on romance and companionship. In response, parents felt that an education would make their daughters more attractive to well-bred husbands. Education was also regarded as beneficial for those women who married less reliable men, in which case they would be more capable of educating their own children and managing the family's business affairs.
Female Seminaries
The Female Seminary Movement began around 1815 and was led by women such as Sarah Pierce (Litchfield Female Academy, 1792); Catherine Beecher (Hartford Female Seminary, 1823); Zilpah Grant (Ipswich Female Seminary, 1828); and Mary Lyon (Wheaton Female Seminary, 1834). The goal of these women was to form schools that would offer women an education equal to that of men by holding their pupils to the same high standards.
The female seminaries established in every colony were limited to young ladies from families who could afford to pay tuition, and focused on ladylike accomplishments rather than academic subjects. Some of these seminaries later grew into colleges, while others became private high schools, but none were not true women's colleges until years later. As noted by the Women's College Coalition:
The formal education of girls and women… was intimately tied to the conception that society had of the appropriate role for women to assume in life. Republican education prepared girls for their future role as wives and mothers and taught religion, singing, dancing and literature… Seminaries educated women for the only socially acceptable occupation: teaching. Only unmarried women could be teachers. Many early women's colleges began as female seminaries and were responsible for producing an important corps of educators.
Sarah Pierce
The academic curriculum at Sarah Pierce's Litchfield Female Academy reflected Pierce's belief that women and men were intellectually equal. She continuously improved and expanded her academic curriculum, offering many subjects rarely available to women, including logic, chemistry, botany and mathematics. At the same time, Pierce experimented with innovative ways to combine academic and ornamental subjects. Students drew and painted maps and made charts of historical events for geography and history lessons.
While Sarah Pierce might have presented a role model for women seeking a career without marriage, she emphasized the prevailing belief that women's proper role was in marriage as a partner. Two of her most famous students were Catherine Beecher, educator who opened the Hartford Female Seminary in 1823; and her sister, Harriet Beecher Stowe, author of the abolitionist novel Uncle Tom's Cabin (1852).
Zilpah Grant
Grant began teaching at the early age of fifteen. Eventually she saved up enough money to enter Byfield Academy and study under the charismatic clergyman Joseph Emerson, a leading advocate of women's education. At Byfield, she befriended Mary Lyon, who later taught with Grant for several years. From 1824 to 1827, Grant served as principal of Adams Female Academy at Derry, New Hampshire.
Grant then founded Ipswich Female Academy, where her curriculum blended rigorous academic studies, moral oversight and teacher training. Grant expected her students to study for the joy of learning, rather than working for grades or prizes. Institutions of higher education for women were primarily founded during the early 19th century. Lyon served as principal at Ipswich before leaving in 1837 to found Mount Holyoke.
Mount Holyoke
Mary Lyon traveled outside of New England to survey various schools in the summer of 1833, going as far as Detroit. The most important of these visits was to Emma Willard's Troy Female Seminary in Troy, New York, which had set the model for female education since its founding in 1819. Lyon was determined to take Willard's work to an even higher level, Lyon began searching for interested donors.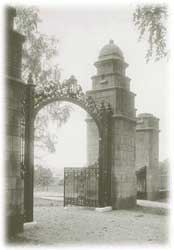 Image: Gate at Mount Holyoke College
South Hadley, Massachusetts
Chemist and educator Mary Lyon founded Mount Holyoke College (then called Mount Holyoke Female Seminary) in 1837, opening the gates to further education for women.
The country was in an economic depression when Mary Lyon began looking for funds. She traveled alone by stagecoach to gather contributions, which ranged in value from six cents to a thousand dollars. Fundraising was hard work, and sometimes discouraging. She wrote to a friend: "There are more than nine chances out of ten that the door of Providence will be closed against all future operations toward founding a permanent institution [for women]."
Most people still believed that women could not withstand the mental and physical demands of higher education. Lyon was determined to prove them wrong. She studied chemistry, traditionally taught only to males, and excelled at it. Her personal struggle to obtain an education inspired her to make higher learning available to all women, particularly those of limited means.
Driven to establish a permanent school for women, Lyon learned from the accomplishments of other educators in order to minimize opposition to her seminary. She wrote:
It is desirable that the plans relating to the subject should not seem to originate with us [women], but with benevolent gentlemen. If the object should excite attention, there is danger that many good men will fear the effect on society of so much female influence, and what they will call female greatness.
Mount Holyoke Female Seminary was chartered in 1836 and opened its doors to students on November 8, 1837. It embodied two major innovations in women's education: rigorous academic entrance exams and a demanding curriculum – which conspicuously lacked a single class in drawing or needlework. This school served as a model for those to come.
Oberlin College
In 1833 Oberlin College became the first coeducational college in the United States, and the first college in the United States to regularly admit African American students, beginning in 1835. The school admitted four women in 1837: Mary Kellogg, Mary Caroline Rudd, Mary Hosford and Elizabeth Prall. All but Kellogg earned their Bachelor's degrees in 1841. Mary Jane Patterson graduated in 1862 as the first black woman to earn a Bachelor's degree.
The college was listed as a National Historic Landmark on December 21, 1965, for its significance in admitting African Americans and women. Oberlin was also active in social reform; it was a key stop along the Underground Railroad, the system of conductors and safehouses that aided slaves in their effort to gain their freedom.
The fight to learn was a valiant struggle waged by many tenacious women – across years and across cultures – in our country. Pioneers of secondary education for young women faced arguments from physicians and other experts who claimed either that females were incapable of intellectual development equal to men, or that they would be harmed by striving for it.
Emma Willard worked in several schools before founding the first school for women's higher education, the Troy Female Seminary in Troy, New York. With the success of her school, Willard was able to travel across the country and abroad, to promote education for women. She wrote:
…reason and religion teach that we too are primary existences… the companions, not the satellites of men… Education should seek to bring its subject to the perfection of their moral, intellectual, and physical nature… in order that they may be the means of the greatest possible happiness of which they are capable, both as to what they enjoy and what they communicate.
SOURCES
Mount Holyoke: Fighting for a Dream
The History of Women and Education
Wikipedia: Women's Colleges in the United States
Wikipedia: Women in Education in the United States
Educating the Youth of Pennsylvania: Schools for Women