First African American Woman to Graduate from College
Mary Jane Patterson was the first African American woman to earn a bachelor's degree (Oberlin College, 1862). She became a successful teacher and was later appointed as the first black principal at America's first public high school for blacks (Preparatory High School for Colored Youth, Washington, DC, 1871). Patterson spent her career creating new educational opportunities for African Americans after the Civil War.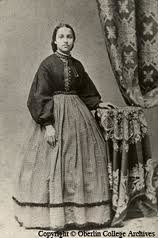 Early Years
Mary Jane Patterson was born on September 12, 1840, in Raleigh, North Carolina, the daughter of Henry Irving Patterson and Emmeline Taylor Patterson. Mary was probably the oldest of at least seven siblings. Her father, a boyhood friend of future U.S. President Andrew Johnson, was a bricklayer and plasterer. About 1852 he either obtained his freedom or escaped from slavery and moved his family out of North Carolina.
By 1856 the family had settled in Oberlin, Ohio, which had a large community of black families; some were freed slaves and some were fugitives. Many of those families hoped to send their children to the racially integrated coeducational college at Oberlin. Henry Patterson worked as a skilled mason there and the family boarded black students.
Oberlin College
In 1833 American clergymen John Shipherd and Philo Stewart founded a utopian community in Northeast Ohio named for an Alsatian pastor, John Frederick Oberlin. Oberlin was envisioned as an idealistic community based on a simple lifestyle and working for the betterment of the community and mankind, whose focus was promoting Oberlin College, a private liberal arts college which opened in December 1833.
Under Shipherd's leadership, Oberlin College set important precedents. It was the first college in the United States to admit African American students on an equal footing with whites (1835) and the nation's first coeducational institution of higher education (1837). Social reforms, including female moral reform, temperance, missionary activity, and particularly antislavery activism, permeated Oberlin. In its early years it was a station on the Underground Railroad.
In 1857 Mary Jane Patterson entered a one-year preparatory course at Oberlin College, which was usually followed by the two-year ladies' course which led to a diploma. However, after her preparatory studies, Patterson entered the four-year gentleman's course in classics that led to a traditional Bachelor of Arts degree, including such subjects as Latin, Greek and mathematics.
Patterson graduated with highest honors in 1862. Each of the 28 graduates, including Patterson and a black male graduate, addressed the audience. Patterson's speech was entitled "The Hero of Italy," referring to Giuseppe Garibaldi, a contemporary Italian general and patriot. Patterson's oldest brother John graduated from Oberlin in 1867, and her sisters Emma and Chanie graduated from the ladies' course. All four siblings became teachers.
Although Mary Jane Patterson is usually credited as the first black American female to earn a bachelor's degree, a black woman named Grace A. Mapps was reported to have graduated from New York Central College at McGrawville in the 1850s. Mapps was then hired by Philadelphia's Institute for Colored Youth, where Mapps' cousin, Sarah Mapps Douglass was also a teacher.
Career in Education
By 1863 Mary Jane Patterson was teaching in Chillicothe, Ohio. On September 21, 1864 she applied for a position in Norfolk, Virginia at a school for black children. A glowing letter of recommendation dated October 7, 1864 was written by E. H. Fairchild, principal of Oberlin's preparatory school, concerning Patterson's application for a position as a "teacher among freedmen."
However, by the following year Mary Jane Patterson had moved to Philadelphia, Pennsylvania, where she assisted her Oberlin classmate Fannie Jackson Coppin in the Female Department of the Institute for Colored Youth.
In 1869 Patterson moved to Washington, DC, to teach at the newly-established one-year Preparatory High School for Colored Youth, which later became the prestigious Dunbar High School. This was the first public high school for African Americans in the United States and the first public high school in Washington, DC.
While teaching there, Patterson lived at 1532 15th Street Northwest with her sisters, Emma and Chanie, and her brother John. Neither Patterson nor her two sisters ever married. During the 1880s their parents came to live with them due to financial difficulties. Patterson's home is now included in Washington's African American Heritage Trail.
In 1871 Patterson was appointed principal of the school, the first black appointed as principal of a high school in Washington, DC. However after one year she was demoted to assistant principal under Richard T. Greener, the first black graduate of Harvard University. Greener left after one year, and Patterson was reappointed to the position of principal until her resignation in 1884.
When Greener left after only one year, Patterson resumed the position as principal. During her tenure the school became well known as a prestigious institution for secondary education. Among her achievements were the establishment of high school commencement and the addition of a teacher-training program. Patterson's commitment to thoroughness helped her establish the school's strong intellectual standards.
Patterson resigned as principal in 1884, having seen the school's enrollment increase from less than 50 students to 172. It was reported that administrators decided that such a large school required a male principal. Although a letter from Patterson in January of 1885 indicated that she was unemployed and experiencing financial difficulties, other reports indicate that she continued to teach at Preparatory High School until her death.
Notable Black American Women quoted a description of Patterson written by Mary Church Terrell, another Oberlin alumna, in the July 1917 Journal of Negro History:
She was a woman with a strong, forceful personality, and showed tremendous power for good in establishing high intellectual standards in the public schools. Thoroughness was one of Miss Patterson's most striking characteristics as a teacher. She was a quick, alert, vivacious and indefatigable worker.
Patterson was also a humanitarian and devoted time and money to many organizations. She, Josephine Beall Bruce, Anna Julia Cooper, Charlotte Forten and Mary Church Terrell, founded the Colored Women's League of Washington, DC in 1894, a predecessor of the National Association of Colored Women. The League focused on training kindergarten teachers and providing industrial and homemaking skills for working-class women.
Mary Jane Patterson died on September 24, 1894, at her home in Washington, DC, at age 54.
Her obituary in the September 25 edition of the Washington Evening Star noted that she "co-operated heartily in sustaining the Home for the Aged and Infirm Colored People in this city, and other Kindred organizations," and "devoted much of her means and time to forming and sustaining an industrial school for girls of her race."
Although she is a not well-known figure, Mary Jane Patterson was a pioneer in black education and paved the way for other African American female educators. Her pioneering educational attainments and her achievements as a leading black educator influenced generations of black students.
SOURCES
Wikipedia: Mary Jane Patterson
Gale Contemporary Black Biography: Mary Jane Patterson