Writer and Advocate for Women's Education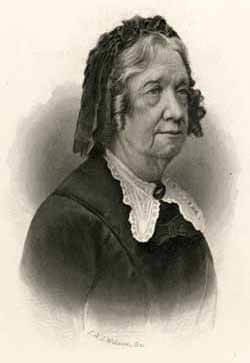 Catherine Esther Beecher was a nineteenth century champion of education for women at a time when even wealthy women received minimal education. She educated herself through independent study, and established schools devoted to training women as teachers. Beecher believed that having women teach their own families was the basis for a well-ordered society.
Childhood and Early Years
Catherine (also spelled Catharine) Esther Beecher was born September 6, 1800 at East Hampton, Long Island, New York to the prominent Beecher family; more than any other family, they influenced American culture and politics during the late nineteenth century. Catherine was the eldest of 13 children (8 of whom survived infancy) born to Roxana (Foote) Beecher and Dr. Lyman Beecher, an outspoken Presbyterian minister.
The Beechers moved to Litchfield, Connecticut in 1809. The following year, Catherine entered the Litchfield Female Academy which was taught by groundbreaking educator Sarah Pierce, who believed that men and women were intellectually equal. Catherine's education there consisted of the limited curriculum available to young women at that time. Wanting to learn more, Catherine taught herself subjects not commonly offered to women, including math, Latin and philosophy.
When Catherine's mother Roxana Foote Beecher passed away in 1816, Catherine had to leave school to raise her siblings and to take over the domestic chores in the Beecher home. She had a very close relationship with her father, even after he married Harriet Porter the following year. That union produced a daughter and three sons.
By 1821 Catherine Beecher was teaching at a school in New Haven, Connecticut. Beecher produced several poems, some of which were published in the Christian Spectator. After reading one of her poems, Yale University mathematics professor Alexander Metcalf Fisher inquired about the author. Soon after their initial meeting, Beecher and Fisher fell in love and were engaged by 1822. That same year Fisher sailed for Europe to further his studies. His ship sank off the coast of Ireland.
Career in Women's Education
Devastated by the loss of her fiance, Beecher decided to remain single and devote the rest of her life to what would become her life's main passion: providing a quality education for girls and young women. As the country grew so did the need for teachers. Beecher recognized the untapped potential in the growing population of educated women, and called on single women to help their country by building a nationwide system of schools.
Higher education for women was a hot topic in the early 19th century. Critics argued that women were mentally inferior to men and would not be able to comprehend the subject matter. Most girls expected to marry and manage homes, and needed little formal education. Beecher argued that running a home was as complicated as running a business, and that girls should be instructed in these responsibilities the same way boys were prepared for their careers.
Catherine Beecher argued that women were capable of so much more. With her sister Mary, Catherine founded a girl's school in Hartford, Connecticut, aimed at training women to become mothers and teachers. Beecher had not yet learned some of the subjects she wanted to teach, and quickly taught herself courses not commonly offered to women, including Latin and philosophy.
Beecher offered a solid core of courses in algebra, chemistry, history, Latin, philosophy and rhetoric – the same subjects as those taught at young men's academies. Unhappy with existing textbooks, she wrote textbooks in arithmetic, theology, and mental and moral philosophy, primarily for use in her own school. Beecher's students performed very well at the yearly exhibitions and surprised many people.
Beecher's school began to attract so many students that it was hard to accommodate them all, but she gathered donations to expand her school. In 1823, Beecher co-founded the innovative Hartford Female Seminary, making it one of the first major educational institutions for women in the United States. Beecher hired eight teachers to train women to be mothers and teachers. The institution was very successful – by 1826 it had enrolled nearly 100 students.
As its principal, Beecher became a popular and respected figure in Hartford. She often had visitors who wanted to open similar schools; many graduates of Hartford Female Seminary went on to teach in these schools. Her accomplishments and her growing reputation as a talented teacher inspired Beecher to write about her educational philosophy.
Perfect Profession for Women
In 1829, Catherine Beecher published an essay on the importance of women as teachers, "Suggestions Respecting Improvements in Education," promoting women as natural teachers. She also advocated for the development of teacher training programs, claiming that the work of a teacher was more important to society than that of a lawyer or doctor.
In the early 1830s, Beecher became more interested in the roles her female students would take on in society. While she believed that running a home and raising a family was an important and influential contribution by women, she also felt that women should be given more responsibility and respect outside the home.
She saw teaching as the perfect profession for women – it allowed them an independent and important role in their community, but still a "feminine" role. Moreover, the growing populations of the western areas of the country were creating an increased demand for teachers. Beecher was appalled that in states like Ohio, perhaps one third of children did not have access to schools.
To encourage more women to become teachers, Beecher realized, there needed to be more opportunities for women to be educated and trained for the profession, and made it her mission to provide such training. She envisioned a national network of teacher training schools.
After operating the Hartford Female Seminary for eight years, Beecher left it to a colleague in 1831 and moved west to join her father in Cincinnati, Ohio. There in 1832 she opened the Western Female Institute to train more women as teachers, and began a fundraising effort to support her school and the creation of similar schools.
But Beecher was not well-liked in Cincinnati; many people felt that she was a cultural elitist. Her abolitionist views were also suspect in an area divided on the issue of slavery. Unable to win the financial or philosophical support of residents, enrollment in Beecher's school steadily declined until it was finally forced to close in 1837.
That same year Beecher returned to the East and began work on her dream of a network of schools to train women to be teachers. In 1847 she co-founded the Central Committee for Promoting National Education. For nearly 40 years, she worked on this project, organizing societies for training teachers, establishing plans for supplying the territories with good educators, writing, pleading and traveling.
Her work produced the initial momentum for women's entry into teaching. While traveling to promote her books, she helped found teacher training schools in Ohio, Illinois and Wisconsin. The Central Committee eventually trained and sent 450 young single women to bring education to rural towns throughout what was then the West (now the Midwest). Fewer than 10% of American teachers were women in the 1840s. By the 1880s, women made up 63% of the teaching profession overall, and 90% in cities.
Literary Career
As Catherine Beecher's fame spread as a public speaker on behalf of the Committee, so did her fame as a writer. Writing became the new channel through which she spread her philosophy and made a living. A Treatise on Domestic Economy for the Use of Young Ladies at Home and at School (1841) was perhaps the most widely read book during that time. In it she discusses the underestimated importance of women's roles in society.
A best-seller for 15 years, A Treatise was the first single-volume book ever to detail every aspect of domestic life, including infant and child care, teaching the young, hygiene, nursing and healing the sick, cooking, cleaning, gardening, home maintenance and all other responsibilities for keeping the family alive and well. It was a handy single source of household knowledge that had not existed before.
The book was an incredible success, earning the author national fame; there were few homes that did not depend on her book. She saw domestic chores not as mundane drudgery but as "the greatest work," and in order to fulfill this duty successfully, women required a quality education. At the same time, she expanded the definition of education to include what was later called home economics.
Beecher appeared to exemplify the personal autonomy available to women who chose not to marry. While she portrayed home and school as so important that women should limit their entire lives to them, she was living the life of a professional woman. But not really. Despite all of her domestic advice, she began traveling between the homes of family and friends, which made her autonomy problematic for her and those with whom she lived.
Late Years
Beecher championed the intellectual capabilities of women, but remained an anti-suffragist throughout her life. In her Address to the Christian Women of America (1871), she expressed her concern that suffrage would cause "the humble labors of the family and school to be still more undervalued and shunned." She wrote against the movement in The True Remedy for the Wrongs of Women and Woman Suffrage and Woman's Profession (1871).
Catherine Beecher spent several of her last years living with her sister Harriet Beecher Stowe. Together they wrote The American Woman's Home (1869) – an updated version of Catherine's earlier Treatise on Domestic Economy for the Use of Young Ladies at Home and at School. She and Harriet also tried unsuccessfully to establish a medical training institute that would train women as "home physicians."
While she did not challenge the traditionally subordinate place of females, she did present a new vision of women as a strong and influential force that could help to determine the direction and conscience of the nation. Her emphasis on bringing women into the teaching profession also changed notions about women's education and careers, providing a basis for the continued growth of feminist thought in the nineteenth century.
Although she could be considered elderly in the 1860s and 1870s, Catherine Beecher briefly returned to teaching, probably seeking both income and an established position. Despite her advocacy of good health, however, Catherine Beecher suffered numerous nervous collapses and was a patient in more than a dozen sanitariums during her lifetime.
Catherine Beecher died of a stroke on May 12, 1878 at age 77, while living with her brother Thomas in Elmira, New York.
My favorite Catherine Beecher quote:
Those who contend against giving woman the same education as man, do it on the ground that it would make the woman unfeminine – as if nature had done her work so slightly that it could be so easily ravelled and knit over.
SOURCES
Wikipedia: Catharine Beecher
Schoolhouse Pioneers: Catharine Beecher