A Child's Letter to One of Our Greatest Leaders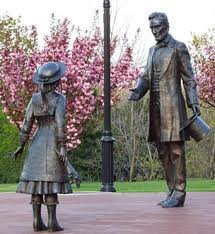 Image: In 1999 the village of Westfield, New York erected these statues commemorating the meeting between Abraham Lincoln and Grace Bedell on February 16, 1861.
Grace was eleven years old in 1860, when she wrote a letter to the presidential candidate from Illinois, Abraham Lincoln. Grace's father was a staunch Republican and active Lincoln supporter, and one day in October 1860 he brought home a picture of Lincoln and his running mate in the 1860 presidential election, Hannibal Hamlin.
Years later Grace explained her feelings that day:
You are familiar with Mr. Lincoln's physiognomy, and remember the high forehead over those sadly pathetic eyes, the angular lower face with the deep cut lines about the mouth. As I regarded the picture, I said to my mother, "He would look better if he wore whiskers, and I mean to write and tell him so.
Grace's Letter
Hon A B Lincoln…
Dear Sir
I am a little girl only 11 years old, but want you should be President of the United States very much so I hope you won't think me very bold to write to such a great man as you are. Have you any little girls about as large as I am, if so give them my love and tell her to write to me if you cannot answer this letter.

I have yet got four brothers and part of them will vote for you any way and if you let your whiskers grow I will try and get the rest of them to vote for you, you would look a great deal better for your face is so thin. All the ladies like whiskers and they would tease their husbands to vote for you and then you would be President.

My father is going to vote for you and if I was a man I would vote for you too but I will try to get every one to vote for you that I can I think that rail fence around your picture makes it look very pretty. I have got a little baby sister she is nine weeks old and is just as cunning as can be.

When you direct your letter direct to: Grace Bedell, Westfield, Chautauqua County, New York. I must not write any more; answer this letter right off.

Good bye
Grace Bedell
Mr. Lincoln's Response
Springfield, Ill Oct 19, 1860
Miss Grace Bedell
My dear little Miss
Your very agreeable letter of the 15th is received – I regret the necessity of saying I have no daughters – I have three sons – one seventeen, one nine, and one seven years of age. They, with their mother, constitute my whole family. As to the whiskers, having never worn any, do you not think people would call it a piece of silly affection if I were to begin it now?

Your very sincere well wisher
A. Lincoln
Mr. Lincoln was obviously not initially impressed by the idea of growing whiskers. In the history of the Republic there had never been a president with a beard. It is impossible to know the degree to which Miss Bedell's recommendation influenced his decision, but he had not considered it before receiving her letter.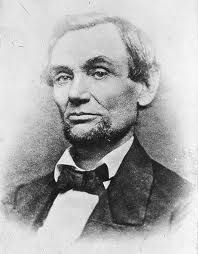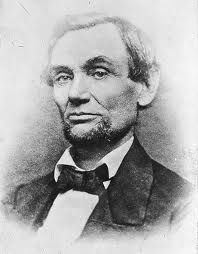 The President-Elect decided on a modified beard – a strip of hair that hugged his jaw and chin but still required the attention of a razor on his upper lip, cheeks and neck. By the time he left Springfield, Illinois for his train trip to Washington, DC to be sworn in as President of the United States he was sprouting a semi-respectable stubble. He wore it for the rest of his life, sometimes allowing the hair on his cheeks fill in.
The Meeting
Mr. Lincoln's inaugural journey took him through New York State, and included a stop in Bedell's hometown of Westfield, New York, where thousands gathered to meet the new President on February 16, 1861. As was his custom the he stepped to the rear platform of the train to address the crowd.
According to the Philadelphia Enquirer, after speaking a few words to the well-wishers who had gathered to see him, Mr. Lincoln stated:
Some three months ago, I received a letter from a young lady here; it was a very pretty letter, and she advised me to let my whiskers grow, as it would improve my personal appearance; acting partly upon her suggestion, I have done so; and now, if she is here, I would like to see her."
…A small boy, mounted on a post, with his mouth and eyes both wide open, cried out, "there she is, Mr. Lincoln," pointing to a beautiful girl, with black eyes, who was blushing all over her fair face.
The President left the platform, and the crowd making way for him, he reached her and talked with her for some minutes. He then gave her several hearty kisses, and amid the yells of delight from the excited crowd, he bade her good-bye. Grace was so flustered, she ran off, still carrying a bouquet of flowers which she had meant to give to Mr. Lincoln.
When she was 17 years old, Grace Bedell married Civil War veteran George Billings, and the couple moved to Delphos, Kansas in 1870 or 1871. They had one child, Harlow Drake Billings, who was born on September 16, 1872.
Kansas was then a primitive, often wild, and completely male dominated land. Together Grace and George encountered floods, tornadoes, prairie fires, marauding Indians, drought and grasshopper plagues. Grace became well known there for the letter she wrote to Lincoln and a monument commemorating her is located in the Delphos town square.
Grace Bedell Billings died on November 2, 1936, two days prior to her 88th birthday. Both she and her husband are buried in the Delphos Cemetery.
To mark the one hundred fiftieth anniversary of the events surrounding the letter, Mark Esslinger and Eric Burdett produced a short film (Grace Bedell, 2010) starring Lana Esslinger as Grace Bedell.
SOURCES
Wikipedia: Grace Bedell
Abraham Lincoln's Beard
One Hundred and Fifty Years Ago Today