Abraham Lincoln's First Love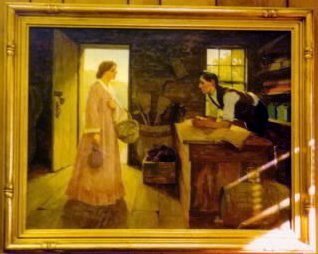 Ann Rutledge was Abraham Lincoln's first love. The two met while he was boarding at her family's inn in New Salem, Illinois, and he fell for her charms. Ann's death at the age of 22 left Lincoln severely depressed, the first of many such incidents in his often difficult life.
Image: Lincoln and Ann Rutledge by Fletcher Ransom
Early Years
On January 7, 1813, Ann Mayes Rutledge was born near Henderson, Kentucky, the third of ten children born to Mary and James Rutledge. In 1829, her father co-founded the town of New Salem, Illinois, and constructed a dam, sawmill and gristmill. As business expanded, James Rutledge decided to lay out a town and sell lots of land. As the population of the town grew, Rutledge built a tavern and inn for arriving settlers. Ann grew up helping her parents in the tavern.
In an age when frontier girls were often only taught sewing, cooking and other housekeeping skills at home, Ann became the first girl to attend Mentor Graham's New Salem School. She was described as bright and beautiful, with auburn hair, blue eyes and a fair complexion, and was loved by nearly all who knew her. Mentor Graham described her as an exceptionally good scholar.
Abraham Lincoln, an ambitious 22-year-old who was now old enough to make his own decisions, left his rural Illinois family home and struck out on his own in 1831. His first stop was the town of New Salem, where he lived for six years (1831-1837). Penniless at the time of his arrival, Lincoln earned his living as a clerk, storekeeper, postmaster and surveyor.
Lincoln first met Ann Rutledge in the early 1830s, and he was attracted to Ann partially because of her interest in education. During his time in New Salem, Lincoln constantly strived to improve himself, studying grammar, mathematics and the law. For a while, schoolmaster Mentor Graham tutored both Ann and Lincoln.
At that time Ann was engaged to John McNamar, who owned a general store in New Salem. In the summer of 1832, McNamar left for an extended visit with his parents in New York, promising to marry Ann when he returned. For a while Ann and McNamar exchanged letters, but as time passed his letters became more formal and "less ardent in turn," and eventually ceased altogether. Ann's ex-fiance did not return until three years later.
Though he came to town as a virtual unknown, within a year of his arrival Abraham Lincoln had the courage to run for a seat in the Illinois state legislature, representing the people of Sangamon County. He lost the election, but made a second attempt two years later. This time he succeeded.
Lincoln boarded at the Rutledge Tavern while he was postmaster of New Salem and a new member of the Illinois legislature (1833-1834). During that time he and Ann became well acquainted, and he fell in love. Lincoln's friend James Short described Ann as "very handsome and attractive, as well as industrious and sweet-spirited. I seldom saw her when she was not engaged in some occupation – knitting, sewing, waiting on table, etc."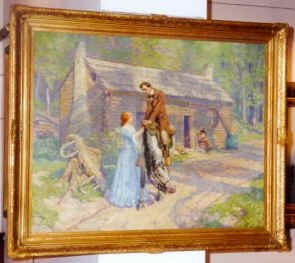 Image: Lincoln at New Salem, 1834
By Fletcher Ransom
In that summer of 1834, the year of Lincoln's second campaign for the Illinois legislature, the residents of New Salem may well have become familiar with the scene depicted here – an image of Lincoln about to ride away to lay his case before the voters of the county; saying farewell to Ann Rutledge.
Lincoln had concealed his admiration for Ann because of her engagement to McNamar. However, when McNamar's letters to Ann stopped coming, Lincoln made his feelings known, and Ann confessed that she had strong feelings for him. After that Abraham visited Ann often, and it is possible they became unofficially engaged with the intent to marry after Lincoln obtained his law degree (which he was studying for while living in New Salem).
In the summer of 1835, an epidemic of typhoid fever swept through the town of New Salem. Ann contracted the disease. Her condition worsened and she called for Lincoln, who made a final visit to the dying girl.
After a prolonged illness, Ann Rutledge died on August 25, 1835 at the age of 22, and was laid to rest in the Old Concord Burial Ground, a country graveyard about seven miles northwest of New Salem. Since she died five years before the invention of daguerreotype photography, no photographs or drawings of her exist.
Reports of Lincoln's reaction to Ann's death vary. Many said he became severely depressed. A few of the locals thought he was suicidal. "The deepest gloom and melancholy settled over his mind. He would often say to his friends: 'My heart is buried in the grave with that dear girl.' He would often go and sit by her grave and read a little pocket Testament he carried with him."
Lincoln confided to Mentor Graham that he felt like committing suicide, but Graham reassured him that "God has another purpose for you." An anonymous poem about suicide published in the newspaper exactly three years after her death is widely attributed to Lincoln. Many years later, after Lincoln's first election as President, his old friend Isaac Cogdal asked whether it was true that he had fallen in love with Ann. Lincoln replied:
It is true – true indeed I did. I loved the woman dearly and soundly: she was a handsome girl – would have made a good loving wife… I did honestly and truly love the girl and think often of her now.
In December 1839 Lincoln met Mary Todd in Springfield, Illinois, while she was living there with her sister Elizabeth Todd Edwards. Todd and Lincoln were engaged in December 1840. A wedding set for January 1, 1841 was canceled when Lincoln broke off their engagement. They later met again at a party and married on November 4, 1842 at the Edwards mansion in Springfield. While preparing for the nuptials and feeling anxious, Lincoln was asked where he was going; he replied, "To hell, I suppose."
By the fall of 1844, Abraham Lincoln was tired of being a junior partner. He had worked for senior partners with political ambitions and he wanted someone younger, to whom he could relate. Surprising both his wife and William Herndon, in October Lincoln invited his friend to form a partnership. Through the whole of his partnership and lifelong friendship with Lincoln, Herndon was never invited to the Lincoln home for dinner. Mary Lincoln hated Herndon, and he returned the favor.
Following Lincoln's assassination in 1865, William Herndon began to collect stories about Lincoln's life from those who knew him well. He wanted to write a faithful portrait of his friend and law partner, based on his own observations and on hundreds of letters and interviews he had compiled. He was determined to present Lincoln as a man, rather than a saint.
In preparation for his book, Herndon interviewed and corresponded with many New Salem residents including surviving members of the Rutledge family. Although the details these people remembered varied some in particulars, it seems clear that a definite relationship between Ann and Abraham had developed. Mentor Graham related in a letter to Herndon that, "Lincoln and she were engaged – Lincoln told me so – she intimated to me the same."
On November 16, 1866, William Herndon presented a lecture in Springfield, Illinois entitled A. Lincoln – Miss Ann Rutledge, New Salem – Pioneering, and the Poem called Immortality – or 'Oh! Why Should the Spirit of Mortal be Proud. In this speech Herndon first revealed the story of the romance between Rutledge and Lincoln.
Mary Todd Lincoln was angered by the speech, and deeply resented Herndon's reference to Rutledge as Lincoln's one and only true love. Lincoln's only surviving son Robert Todd Lincoln was also upset by Herndon's claim. Some historians claimed that the evidence of a love affair was tenuous at best, but Herndon was not the only witness to the Lincoln-Rutledge relationship.
Harvey Lee Ross, who often boarded at the Rutledge Tavern, disagreed with some of the facts in Herndon's biography of Lincoln, but agreed on the basics of the Rutledge love story: "I believe his very soul was wrapped up in that lovely girl. It was his first love – the holiest thing in life – the love that cannot die." Ross wrote to Herndon:
Lincoln was boarding at the tavern and fell deeply in love with Ann, and she was no less in love with him. They were engaged to be married, but they had been putting off the wedding for a while, as he wanted to accumulate a little more property and she wanted to go longer to school.
Ann's brother Robert recalled:
Mr Lincoln paid his address to Ann, continued his visits and attentions regularly and those resulted in an engagement to marry, condition to an honorable release from the contract with McNamar. I have no doubt but Ann had fully determined to break off the engagement with McNamar, but presume she had never notified him of the fact, as he did not return until after her death.
Elizabeth Herndon Bell told how Mr. Lincoln tried to make Ann jealous at a quilting bee by paying attention to Fanny Bailes. Fanny stuck a needle in her finger and Mr. Lincoln removed it. He also asked Elizabeth's mother which woman he should marry.
Lincoln and Ann had a fly up, but on her deathbed she sent for Lincoln and all things were reconciled. [At another quilting bee] Mr. Lincoln sat beside her [Ann] and whispered words of love into her ear. She was so much excited or worked up over it that she overlooked her work and made long irregular stitches and the quilt now in possession of person at Petersburg shows by the long stitches today when L. talked love to her.
Ann's former fiance John McNamar finally arrived back in New Salem in the fall of 1835, shortly after Ann died. He said, "I saw and conversed with Mr. Lincoln, I thought he had lost some of his former vivacity." A friend of Lincoln, Henry McHenry, testified that after Ann's death, "he seemed quite changed, he seemed Retired, & loved Solitude, he seemed wrapped in profound thought, indifferent, to transpiring Events…"
Ann's brother Robert also remembered another incident:
Mr. Lincoln never forgot the friends with whom he was associated in early life. Soon after his nomination for the Presidency, some grandchildren of James Rutledge circulated the report that Mr. Lincoln had left their grandfather's house without paying his board bill. These boys were reared under copperhead influences and continued in the faith during the war. This slanderous report reached the ears of the widow of James Rutledge and whom he always called 'Aunt Polly.' She took immediate steps to correct the infamous libel and caused a letter to be written [to] Mr. Lincoln. Mr. Lincoln at once wrote Mrs. Rutledge expressing his thanks for her Kindness and the interest manifested in his behalf, recurring with warm expressions of remembrance to the many happy days spent under her roof.
Re-Burial
In 1890 Ann's remains were exhumed and re-buried in the Oakland Cemetery in Petersburg, Illinois, after an undertaker became financially invested in the cemetery. At this time the cheap stone marker on her grave was replaced with a granite monument engraved with the words of a poem written by Edgar Lee Masters:
Out of me unworthy and unknown
The vibrations of deathless music!
'With malice toward none, with charity for all.'
Out of me the forgiveness of millions toward millions,
And the beneficent face of a nation
Shining with justice and truth.
I am Ann Rutledge who sleep beneath these weeds,
Beloved in life of Abraham Lincoln,
Wedded to him, not through union,
But through separation.
Bloom forever, O Republic,
From the dust of my bosom!
Lincoln-Rutledge Legend?
Since William Herndon had not made the story of this tragic romance public prior to that lecture in 1866, some have suggested that he concocted or embellished the tale to spice up his speech. That argument completely overlooks the testimony of the New Salem residents who knew Lincoln and Rutledge best.
In his four-volume book Lincoln the President (1945-55), noted Lincoln scholar James G. Randall wrote a chapter entitled "Sifting the Ann Rutledge Evidence," which cast doubt on the relationship. Randall stated that no proof existed to confirm Lincoln's love for Ann or the tales of his profound grief at her early death. In the last decades of the 20th century, the story was treated as mythical rather than an account of Abraham Lincoln's first love affair.
During the early 1990s, however, scholars John Y. Simon and Douglas Wilson reexamined Herndon's papers, which led to renewed interest in Rutledge. In his book The Shadows Rise (1993) John Evangelist Walsh revived the story and restored Ann's rightful place in history. Walsh continues the search for information, and efforts to minimize Rutledge's role in Lincoln's early life have so far failed.
SOURCES
Wikipedia: Ann Rutledge
Mr. Lincoln & Friends: Ann Rutledge
Abraham Lincoln Research Site: Ann Rutledge