Author of the Elsie Dinsmore Novels
Martha Finley (1828-1909) was a teacher and author of the well known the 28 volume Elsie Dinsmore series of novels which were published over a span of 38 years. Her Presbyterian upbringing was the source of inspiration for her life's work, especially in the Elsie books. For over forty years she sold more books than any other juvenile author, besides Louisa May Alcott.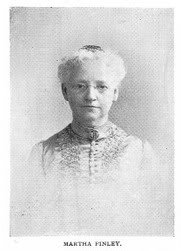 Martha Finley was born in Chillicothe, Ohio on April 26, 1828, the daughter of Presbyterian minister Dr. James Brown Finley and Maria Theresa Brown Finley. The Finleys were of Scotch-Irish heritage, with deep roots in the Presbyterian Church. Martha's grandfather, Samuel Finley, served in the Revolutionary War and the War of 1812 and was a personal friend of President George Washington.
Her mother died when Martha was quite young, and her father soon remarried. Martha's stepmother, Mary Finley, was a kind and caring woman who always nurtured Martha's desire to learn and supported her ambition to become a writer. James Finley moved his family to South Bend, Indiana in the mid-1830s. It was a large family: Martha had three older sisters and a younger brother who were eventually joined by two half-sisters and a half-brother.
Martha was well educated for a girl of her times and spent a year at a boarding school in Philadelphia. After her father's death in 1851, she began her teaching career in Indiana. She later lived with an elder sister in New York City, where Martha continued teaching and began writing stories for Sunday school children.
Martha Finley then joined her widowed stepmother in Philadelphia, where her early stories were first published by the Presbyterian Publication Board. She lived and taught for two years at a private academy in Phoenixville, Pennsylvania – until the school was closed in 1860, just before the outbreak of the Civil War.
Determined to become a full-time writer, Finley returned to Philadelphia. Though she sold several stories (some written under the pen name of Martha Farquharson), her first efforts at novel writing were not successful.
While recuperating from a fall – which left her bedridden with a back injury and dependent upon her stepbrother for support – Finley crafted the basics of a book that would make her one of the country's best known and most beloved novelists: Elsie Dinsmore.
Three years later, Elsie Dinsmore, the story of the lonely little Southern girl, was accepted by the New York firm of Dodd Mead. The publishers divided the original manuscript into two complete books; they also honored Finley's request that pansies be printed on the book's cover. Released in 1868, it became the publisher's best-selling book that year.
The Elsie Dinsmore books focused on Elsie's trials and the solace offered her by her religious beliefs. Originally written under the pseudonym Martha Farquharson (Gaelic for Finley), the series lasted for 28 volumes, published over a period of 38 years, that sold millions of copies at home and abroad.
The Elsie stories eventually included the lives of Elsie's children and grandchildren. Miss Finley published her final Elsie novel in 1905.
The Elsie novels, however, were only a quarter of Ms. Finley's total works. A second series, Mildred Keith, Elsie Dinsmore's second cousin, ran for seven volumes and chronicles the life of Mildred Keith and her family, as well providing glimpses of Elsie's early years. Mildred is a slightly more realistic character than Elsie, with spunk and independence.
The Mildred books are considered to be partly autobiographical. Like the fictional Mildred, Martha's family moved to Indiana in the mid-1830s in hopes of a brighter future on the expanding western frontier. Finley's experiences surely provided the setting and likely many of the characters for her Mildred Keith books.
Martha Finley also wrote more than fifty short books or pamphlets, primarily for children, which were published by the Presbyterian Board of Publication. The majority of these appeared between 1856 and 1876 in series or as individual volumes. Their titles and publishers suggest that they, too, were didactic literature, with a strong emphasis on religion.
Finley never married, never had children of her own, but she was a remarkable woman who lived a quiet life of creativity and Christian charity. In 1876 her health began to fail. While visiting relatives in Elkton, Maryland, she decided to stay. She built a home there with the proceeds from her writing career, where she lived for more than thirty years.
Martha Finley died in 1909, less than three months before her eighty-second birthday, and is buried in the Elkton Cemetery. Her large estate, carefully managed by her youngest brother Charles, was left to family members and charities.
Much of Martha Finley's writing was quickly forgotten, but Elsie perservered for over seventy-five years. In 1945, the first 12 volumes were still in print in the United States and England and had sold over 5,000,000 million copies. It has only been in the last half-century that Elsie's popularity has faded.
SOURCES
Martha Finley
Wikipedia: Martha Finley