Former Slave Who Became a Businesswoman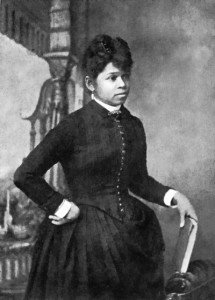 Annie Louise Burton was born a slave in Clayton, Alabama in 1858. She was the daughter of a woman named Nancy, the cook of Mr. and Mrs. William Farrin whose plantation was near Clayton. Annie's father, a white man born in Liverpool, England, owned a plantation that was a long walk from the Farrin plantation. Annie grew up during the Civil War and remembered fondly her early days on the plantation.
Excerpt, Memories of Childhood's Slavery Days:
On the plantation there were ten white children and fourteen colored children. Our days were spent roaming about from plantation to plantation, not knowing or caring what things were going on in the great world outside our little realm. Planting time and harvest time were happy days for us. How often at the harvest time the planters discovered cornstalks missing from the ends of the rows, and blamed the crows! We were called the "little fairy devils." To the sweet potatoes and peanuts and sugar cane we also helped ourselves.
Annie's mother ran away, after which Annie was raised by her mistress. Excerpt, Memories:
My mother and my mistress were children together, and grew up to be mothers together. My mother was the cook in my mistress's household. One morning when master had gone to Eufaula, my mother and my mistress got into an argument, the consequence of which was that my mother was whipped, for the first time in her life. Whereupon, my mother refused to do any more work, and ran away from the plantation.
Annie was a teenager when Union troops liberated her and her siblings. Excerpt, Memories:
One morning in April 1865, my master got the news that the Yankees had left Mobile Bay and crossed the Confederate lines, and that the Emancipation Proclamation had been signed by President Lincoln. Mistress suggested that the slaves should not be told of their freedom; but master said he would tell them, because they would soon find it out, even if he did not tell them. Mistress, however, said she could keep my mother's three children, for my mother had now been gone so long.
Annie's mother returned for her children after the Civil War was over. Excerpt, Memories:
My mother came for us at the end of the year 1865, and demanded that her children be given up to her. This, mistress refused to do, and threatened to set the dogs on my mother if she did not at once leave the place. My mother went away, and remained with some of the neighbors until supper time. Then she got a boy to tell Caroline [Annie's sister] to come down to the fence. When she came, my mother told her to go back and get Henry and myself and bring us down to the gap in the fence as quick as she could.
Then my mother took Henry in her arms, and my sister carried me on her back. We climbed fences and crossed fields, and after several hours came to a little hut which my mother had secured on a plantation. We had no more than reached the place, and made a little fire, when master's two sons rode up and demanded that the children be returned. My mother refused to give us up. Upon her offering to go with them to the Yankee headquarters to find out if it were really true that all Negroes had been made free, the young men left, and troubled us no more.
The times changed from slavery days to freedom's days. As young as I was, my thoughts were mystified to see such wonderful changes; yet I did not know the meaning of these changing days. But days glided by, and in my mystified way I could see and hear many strange things. I would see my master and mistress in close conversation and they seemed anxious about something that I, a child, could not know the meaning of. But as weeks went by, I began to understand.
I saw all the slaves one by one disappearing from the plantation (for night and day they kept going) until there was not one to be seen. All around the plantation was left barren. Day after day I could run down to the gate and see down the road troops and troops of Garrison's Brigade, and in the midst of them gangs and gangs of Negro slaves who joined with the soldiers, shouting, dancing and clapping their hands.
The war was ended, and from Mobile Bay to Clayton, Alabama, all along the road, on all the plantations, the slaves thought that if they joined the Yankee soldiers they would be perfectly safe. As I looked on these I did not know what it meant, for I had never seen such a circus. The Yankee soldiers found that they had such an army of men and women and children, that they had to build tents and feed them to keep them from starving.
Annie was hired as a nanny by Mrs. E. M. Williams. Excerpt, Memories:
In 1866, another man hired the plantation on which our hut stood, and we moved into Clayton, to a little house my mother secured there. A rich lady came to our house one day, looking for some one to take care of her little daughter. I was taken, and adopted into this family. This rich lady was Mrs. E. M. Williams, a music teacher, the wife of a lawyer. We called her "Mis' Mary."
Some rich people in Clayton who had owned slaves, opened the Methodist church on Sundays, and began the work of teaching the Negroes. My new mistress sent me to Sunday school every Sunday morning, and I soon got so that I could read. Mis' Mary taught me every day at her knee. I soon could read nicely, and went through Sterling's Second Reader, and then into McGuthrie's Third Reader.
After this Mis' Mary kept on with my studies, and taught me to write. As I grew older, she taught me to cook and how to do housework. During this time Mis' Mary had given my mother one dollar a month in return for my services; now as I grew up to young womanhood, I thought I would like a little money of my own. Accordingly, Mis' Mary began to pay me four dollars a month, besides giving me my board and clothes. For two summers she "let me out" while she was away, and I got five dollars a month.
I owe a great deal to Mis' Mary for her good training of me, in honesty, uprightness and truthfulness. She told me that when I went out into the world all white folks would not treat me as she had, but that I must not feel bad about it, but just do what I was employed to do, and if I wasn't satisfied, to go elsewhere; but always to carry an honest name.
In 1879 Annie moved to Boston, Massachusetts where she supported herself as a domestic servant (cook, maid, housekeeper and laundress). Excerpt, Memories:
One day…I chanced to pick up a newspaper, and read the advertisement of a Northern family for a cook to go to Boston. I went at once to the address given, and made agreement to take the place, but told the people that I could not leave my present position until Mr. Inman [her employer] returned home. Mr. and Mrs. Inman did not want to let me go, but I made up my mind to go North. About the 15th of June 1879, I arrived at the Old Colony Station in Boston, and had my first glimpse of the country I had heard so much about.
In fall 1884, Annie returned South after her sister died, leaving behind a son who would have become an orphan were it not for his aunt Annie. Excerpt, Memories:
On the 6th of July [1884] I received word that my sister Caroline had died in June. This was a great blow to me… I wrote home to Georgia, to the white people who owned the house in which Caroline had lived, asking them to take care of her boy Lawrence until I should come in October.
Mrs. Reed [Annie's current employer] wanted me to stay with her, and promised to help pay for the care of the boy in Georgia. Of course, she said, I could not expect to find positions if I had a child with me. As an inducement to remain in my present place and leave the boy in Georgia, I was promised provision for my future days, as long as I should live.
It did not take me long to decide what I should do. The last time I had seen my sister, a little over a year before she died, she had said, when I was leaving, "I don't expect ever to see you again, but if I die I shall rest peacefully in my grave, because I know you will take care of my child."
…I took a carriage and drove at once to the house where Lawrence was being taken care of. He was playing in the yard, and when he saw me leave the carriage he ran and threw his arms around my neck and cried for joy.
After leaving Georgia, Annie decided to go to Jacksonville, Florida, thinking the northern winter would be too severe for Lawrence. Excerpt, Memories:
The next morning we got into Jacksonville. My idea was to get a place as chambermaid at Green Cove Springs, Florida, through the influence of the head waiter at a hotel there, whom I knew. After I got into Jacksonville I changed my plans. I did not see how I could move my things any farther, and we went to a hotel for colored people, hired a room for two dollars, and boarded ourselves on the food which had been given us in Macon. This food lasted about two weeks. Then I had to buy, and my money was going every day, and none coming in. I did not know what to do.
One night the idea of keeping a restaurant came to me, and I decided to get a little home for the three of us [her younger sister was there, as well], and then see what I could do in this line of business. After a long and hard search, I found a little house of two rooms where we could live, and the next day I found a place to start my restaurant.
Trade at the restaurant was very good, and we got along nicely. My sister got a position as nurse for fifteen dollars a month. One day the cook from a shipwrecked vessel came to my restaurant, and in return for his board and a bed in the place, agreed to do my cooking.
After trade became good, I changed my residence to a house of four rooms, and put three cheap cots in each of two of the rooms, and let the cots at a dollar a week apiece to colored men who worked nearby in hotels. Lawrence and I did the chamber work at night, after the day's work in the restaurant.
I introduced "Boston baked beans" into my restaurant, much to the amusement of the people at first; but after they had once eaten them it was hard to meet the demand for beans. Lawrence, who was now about eleven years old, was a great help to me. He took out dinners to the cigarmakers in a factory nearby.
At the end of the season, about four months, it had grown so hot that we could stay in Jacksonville no longer. From my restaurant and my lodgers I cleared one hundred and seventy-five dollars…
Annie boasted that she was able to support her nephew Lawrence all the way through his studies at Hampton Institute in Virginia. She was able to do this largely because of her success as a restaurateur, first in Jacksonville, Florida, and later in Boston.
In 1888, Annie married Samuel Burton. Excerpt, Memories:
After my marriage, Mr. Burton got a place in Braintree [Massachusetts] as valet to an old gentleman who was slightly demented, and he could not be satisfied until I joined him. So I put our things into storage and went to Braintree. I remained there ten months, and then came back to Boston. Then I got a position as head matron in the help's dining-room in a hotel at Watch Hill, RI. My husband was also there as waiter. At the end of the season we both came home, and rented a lodging-house, and lost money on it.
Always intent on bettering herself, in 1900 Annie Burton began taking classes at the Franklin Evening School, where she studied for six years. The headmaster, Frank Guild, suggested that each of the students write their life story.
Soon thereafter Annie began work on the two essays that make up the bulk of her autobiography, Memories of Childhood's Slavery Days, which was published in 1909. The book also contains a short biography of Abraham Lincoln, along with Burton's favorite poems and hymns.
SOURCES
Annie Louise Burton
African American Women Writers of the 19th Century
Documenting the American South: Memories of Childhood's Slavery Days