Writer and Slave Who Won Her Freedom in Court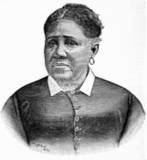 Lucy Ann Delaney (1830–1891) was an African American author, former slave and activist, notable for her 1891 slave narrative, From the Darkness Cometh the Light, or, Struggles for Freedom. The memoir tells of her mother's legal battles in St. Louis, Missouri for her own and her daughter's freedom from slavery. Their cases were two of 301 freedom suits filed in St. Louis from 1814-1860. Edward Bates, the future US Attorney General under President Abraham Lincoln, argued Lucy's case in court and won.
Childhood and Early Years
Lucy Ann Berry was born a slave in St. Louis, Missouri in 1830. Lucy's mother Polly Berry had been born free in Illinois, but was kidnapped as a child, carried across the Mississippi River and sold as a slave to Major Taylor Berry of St. Louis, from whom she took her surname. Polly married another of Berry's slaves and had two daughters, Nancy and Lucy.
After the major died in a duel, his widow Fanny Berry married Robert Wash, a lawyer later appointed as a Missouri State Supreme Court judge. Major Berry's will h ad stated that his slaves be given their freedom after his and his wife's deaths. However, after Fanny died, Judge Wash sold Lucy's father to a plantation in the Deep South.
Thereafter Polly became increasingly rebellious and suspected that her owners intended to sell the rest of her family downriver as well. She became determined to arrange an escape for herself and her two daughters. When Nancy was to travel with her owners on their honeymoon to Niagara Falls, Lucy later wrote that Polly "instructed my sister… to run away as soon as the chance offered to Canada, where a friend of our mother's lived who was also a runaway slave, living in freedom and happiness in Toronto." Nancy did just that.
After having a conflict with her mistress in 1839, Polly Berry was sold, but escaped three weeks later. She made it to Chicago, but slave catchers returned her to slavery in St. Louis. Polly then sued for her freedom in Circuit Court in October 1839. When her suit was finally heard in 1843, her attorney was able to convince a jury of her free birth and kidnapping as a child, and Polly was freed.
Polly remained in St. Louis to continue her effort to win Lucy's freedom, for which she had filed suit in 1842, arguing that the daughter of a freeborn must also be a freeborn. Lucy Ann had been working for Martha Berry Mitchell, another of the Berry daughters. They had conflict in part because of the slave girl's inexperience at heavy domestic tasks. Mitchell decided to sell Lucy, and her husband arranged the sale. The day before she was to leave, Lucy escaped and hid at a house that belonged to her mother's friend.
Polly persuaded Edward Bates, a prominent Whig politician and future Attorney General under President Abraham Lincoln, to argue the suit in court. Lucy was taken to jail because her owners stated that she was a flight risk, and that, like her older sister Nancy, she might run away to Canada. She remained incarcerated for seventeen months awaiting the resolution of her case.
Free At Last
In February 1844 the case went to trial. By then Polly had been declared free, and she produced affidavits from people who knew her and her daughter. Lucy recalled sitting in the court room:
On the 7th of February, 1844, the suit for my freedom began. A bright, sunny day… but my heart was full of bitterness; I could see only gloom which seemed to deepen and gather closer to me as I neared the courtroom…. After the evidence from both sides was all in, Mr. Mitchell's lawyer, Thomas Hutchinson, commenced to plead. For one hour, he talked so bitterly against me and against my being in possession of my liberty that I was trembling…
Lucy felt better as her own attorney, Edward Bates, summed up her side of the case. Bates stated: "Her mother was free, but kidnapped in her youth and sacrificed to the greed of Negro traders, and no free woman can give birth to a slave child, as it is in direct violation of the laws of God and man!"
Lucy had to wait for the verdict until the following morning:
At last the courthouse was reached and I had taken my seat in such a condition of helpless terror that I could not tell one person from another. Friends and foes were as one, and vainly did I try to distinguish them. My long confinement, burdened with harrowing anxiety, the sleepless night I had just spent, the unaccountable absence of my mother, had brought me to an indescribable condition…

Some other business occupied the attention of the Court, and when I had begun to think they had forgotten all about me, Judge Bates arose and said calmly, "Your Honor, I desire to have this girl, Lucy A. Berry, discharged before going into any other business."

Judge Mullanphy answered "Certainly!" Then the verdict was called for and rendered, and the jurymen resumed their places. Mr. Mitchell's lawyer jumped up and exclaimed: "Your Honor, my client demands that this girl be remanded to jail. He does not consider that the case has had a fair trial… "

Judge Bates was on his feet in a second and cried: "For shame! is it not enough that this girl has been deprived of her liberty for a year and a half, that you still pursue her after a fair and impartial trial before a jury… I demand that she be set at liberty at once!" "I agree with Judge Bates," responded Judge Mullanphy, "and the girl may go!"

I could have kissed the feet of my deliverers, but I was too full to express my thanks, but with a voice trembling with tears I tried to thank Judge Bates for all his kindness.
After the trial Lucy's mother Polly traveled to Canada to locate her other daughter Nancy, who had escaped from slavery on the Underground Railroad. Polly found Nancy living in Toronto, where she had married a prosperous African American farmer and had several children of her own. Polly returned to St. Louis and lived with her daughter Lucy until her death.
In 1845 Lucy married steamboat worker Frederick Turner, and they moved to Quincy, Illinois, where Lucy made her living as a seamstress. Ironically, Turner was killed soon after in a boiler explosion on the steamboat Edward Bates, named for the lawyer who had helped Lucy win her freedom two years earlier.
Lucy remembered her mother's words following her husband's death: "Cast your burden on the Lord. My husband, and your father, is down south and may be dead. Your husband, honey, is in heaven, and mine – God only knows where he is!"
Mother and daughter returned to St. Louis. In 1849 Lucy met and married Zachariah Delaney. They were married for the rest of their lives, and her mother lived with them. The couple had four children, but two did not survive infancy. The surviving son and daughter both died in their early twenties.
Late Years
Delaney became active in civic and religious associations. Such organizations grew rapidly in both the African American and white communities nationally in the years following the Civil War. She joined the African Methodist Episcopal Church in 1855, the first independent black denomination in the US.
In addition, Delaney was elected president of the Female Union, an organization of African-American women. She also served as president of the Daughters of Zion, as well as a women's group affiliated with the Freemasons, to which her husband belonged. They often supported community education and health projects.
Delaney belonged to the Col. Shaw Woman's Relief Corps No. 34, a women's auxiliary to the Col. Shaw Post, 343, Grand Army of the Republic (GAR). The veterans' group was named after Colonel Robert Gould Shaw, the white commanding officer of the 54th Massachusetts Infantry, the first of the United States Colored Troops and a unit that achieved fame for courage in the Civil War. Delaney dedicated her memoir to the GAR, which had fought for the freedom of slaves.
After Polly's death Lucy began looking for her father. In the late 19th century, many blacks migrated to St. Louis from the Deep South for its industrial jobs. Delaney met with new arrivals, and learned that her father was living on a plantation 15 miles south of Vicksburg, Mississippi. She wrote and asked him to visit her. Lucy and her sister Nancy were reunited with their father in St. Louis. Their father was glad to see them, but with Polly gone, he decided to return to Mississippi and his friends of 45 years.
Delaney's desire to inspire her people to make the most of freedom was behind her decision to publish From Darkness Cometh the Light, or, Struggles for Freedom, the only first-person account of a freedom suit. The 64-page book is primarily devoted to Polly Berry's struggles to free her family from slavery. Though the book was soon out of print, it was reprinted in 1988 in Six Women's Slave Narratives by the Oxford University Press.
Lucy Ann Berry Turner Delaney died sometime after her book was published in 1891, though the year and circumstances of her death are unknown.
SOURCES
NPS.gov: Lucy Delaney
Wikipedia: Lucy Delaney
Documenting the American South: Lucy A. Delaney