Teacher of Emancipated Slaves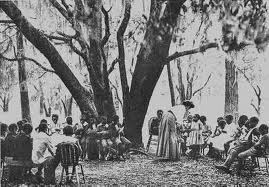 When Union forces occupied St. Helena Island off the coast of South Carolina, plantation owners fled, leaving behind their homes, possessions and 10,000 slaves. Northern women like Laura Towne and Charlotte Forten volunteered to educate the freedmen and prepare them for economic independence.
Image: Laura Towne class among the live oaks
St. Helena Island, South Carolina
The Port Royal Experiment, begun in 1862, was the first large-scale government effort to help the newly freed slaves, who promptly demonstrated their ability to work the land efficiently and live independently of white control. They assigned themselves daily tasks, and by selling their surplus crops, they acquired small amounts of property.
Laura Matilda Towne was born May 3, 1825 into a wealthy family in Pittsburgh, Pennsylvania. She graduated from the Women's Medical College of Pennsylvania in Philadelphia, where she was educated as a homeopathic physician. Homeopathy is a form of alternative medicine which seeks to stimulate the body's ability to heal itself by giving very small doses of highly diluted substances. Homeopathic remedies are derived from natural substances that come from plants and minerals, including red onion, arnica (mountain herb) and stinging nettle plant.
In 1861, shortly after the Civil War began, Union forces captured Port Royal and several of the Sea Islands off the coast of South Carolina. Faced with defeat, the entire white population on St. Helena Island fled, leaving behind ten thousand slaves.
In 1862, at the age of 37, Laura Towne left her Philadelphia home and answered the call for volunteers for the Port Royal Experiment. The leaders of this experiment were primarily philanthropists, abolitionists and missionaries from Pennsylvania.
As one of the first Northern women to go south to work during the Civil War, her goal was to do whatever she could to help the former slaves become useful and productive citizens. These were the Gullah people of the South Carolina Low Country, who had been freed in the Union capture of the Sea Islands.
When Towne arrived on St. Helena Island in April 1862, she began by attending to the medical needs of the freedmen. She used her knowledge of homeopathic medicine during devastating epidemics of yellow fever, cholera and dysentery. Through her letters and diary she revealed her despair, loneliness and exhaustion, as she was often the only hope the people had.
Towne began working on providing an education for the former slaves, and discovered that her real love was teaching. She and another worker, Bostonian Ellen Murray, opened the first school for emancipated slaves with nine adult students in June 1862 in the living room of the abandoned the Oaks plantation.
Quickly outgrowing that space, the school moved to Brick Church in the center of St. Helena, and later across the street to its permanent campus. Soon a group, mostly composed of northern Quakers, came to assist at the school.
In September 1862 Towne established (and financed) the Penn School with Ellen Murray, named as Miss Towne said, "for William Penn, that great lover of liberty." The school bell which had to be heard over five or six plantations, came six months later, on which Miss Towne inscribed the words, "Proclaim Liberty."
Unlike most of the schools for freedmen, the Penn School offered a rigorous curriculum, modeled on that of schools in New England. Penn became the best known school as former slaves responded with enthusiasm, demonstrating a thirst for knowledge that deeply impressed their teachers.
Both young and old attended classes, creating a demand that far exceeded the school's capacity. Literacy became a reality, where no longer was it prohibited by law for African Americans to learn to read and write. Of course, Towne and the others were not welcomed by white Southerners and risked being ostracized by Philadelphians.
Unlike most of the women who went south at the time, Laura Towne made a life for herself on St. Helena Island. As a white woman living and working among former slaves, she defied convention. Miss Towne also broke the barrier of gender expectations when she chose to live away from home and with another woman, Ellen Murray.
Eventually, Towne gave up practicing medicine in order to devote all of her attention to the business of teaching and running Penn, which she and Murray would operate for the next forty years. Teaching was their lifestyle from the beginning. Throughout her letters and diary Towne speaks of the importance of helping the blacks to become self-sufficient.
She also advise them of their rights, most notably their right to own the land they had worked on all their lives. The Confiscation Act of June 1862 seized abandoned plantations and properties with delinquent taxes. Miss Towne's persistence made it possible for the St. Helena blacks to purchase 75% of the land at reasonable rates.
Miss Towne also embraced the culture and rituals of the African Americans. She particularly admired the music they incorporated into their church services with its distinctive rhythmic patterns.
The music's distinction was its African-ness, its distinctive rhythmic structure, heavy reliance on call-and-response, and the communal nature of its compositions rooted in the musical traditions of West Africa.
Miss Towne wrote the words of the songs in her diary while others took down the music. She corresponded with Lucy McKim Garrison, wife of abolitionist Lloyd Garrison, about the music. Lucy was able to transcribe the songs and sang them to friends at a gathering at the home of Lucretia Mott.
In March 1864, the Philadelphia Commission began efforts to secure a building for the Penn School, as they were still meeting at Brick Church. A prefabricated building was shipped from Pennsylvania and a 50-acre tract of land across from the church was purchased, where the first Penn School building was erected.
After the war Laura Towne remained in South Carolina, continuing her emphasis on education and equal opportunities for all people, regardless of skin color. Her success as an educator had everything to do with her love for her students. She passionately believed that there were no limitations they could not overcome, but she also insisted on good behavior and hard work. Her non-compromising attitude sometimes seemed harsh, but only because she cared so deeply about their success.
In 1866, Towne sent a picture of herself and three of her students to her family with the following description:
I send the enclosed picture of me with three of my pets. The big boy is Dick Washington, my right-hand man, who is full of importance, but has travelled and feels as if he had seen the world. He is incorrigibly slow and stupid about learning, but reads bunglingly in the Testament, does multiplication sums on the slate, and can write a letter after a fashion.
The little girl with the handkerchief on her head is Amoretta – bright and sharp as a needle. She reads fluently in the Testament, spells hard and easy words in four syllables, and ciphers as far as nine times twelve on the slate. The other child is Maria Wyne, who is very bright in arithmetic, but very dull and slow in learning to read…. Amoretta's head kerchief is put on as the candidates for baptism wear them.
By 1867 she had devoted herself entirely to the school, which remained for decades the only secondary school available to the black population of the Sea Islands. After 1870 teaching courses were also offered to the students.
The Penn School was supported in part by the Pennsylvania Freedmen's Relief Association, later by the Benezet Society of Germantown, Pennsylvania, and later still by various members of Towne's family. Towne herself lived on her modest inheritance and worked for free.
In 1868 Towne and Murray purchased Frogmore Plantation house and enlarged it. This is where they made their home and remained there until their deaths. Towne spent the next forty years running the Penn School, along with Murray, and grew to love her life on the Sea Islands. The two women eventually adopted several African American children and raised them as their own.
Towne also wrote Pioneer Work on the Sea Islands and Letters and Diary of Laura M. Towne.
Laura Towne died February 22, 1901, at Frogmore on St. Helena Island.
Today the Penn Center is the result of the organization that Laura Towne and Ellen Murray began in the 1862 to educate people on St. Helena. It is now a national historic landmark where records are kept as well as a historical site open for visitors and tours. The nature trails and rustic buildings show what life was like during the Civil War era.
SOURCES
Laura Towne
Laura Matilda Towne
PBS.org: Laura Towne
Wikipedia: Laura Matilda Towne
Laura M. Towne was a Primetime Educator