Sister of General Thomas 'Stonewall' Jackson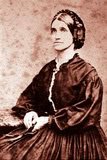 Laura Jackson Arnold and her famous older brother were very close until the Civil War intruded in their lives. Laura was a staunch and unapoligetic supporter of the Union, while her brother became one of the most beloved generals in the Confederate Army. Their relationship was destroyed by the war, and they never saw each other again. General Stonewall Jackson was mortally wounded at the Battle of Chancellorsville in May 1863.
Laura Ann Jackson was born March 27, 1826, in Clarksburg, [West] Virginia, along with her sister Elizabeth (1819), brother Warren (1821) and brother Thomas Jonathan (1824). Their parents were attorney Jonathan Jackson and Julia Beckwith Neale Jackson.
Elizabeth (age 6) and Jonathan Jackson died of typhoid fever on March 26, 1826, and Julia Jackson gave birth to Laura the following day. Widowed at age 28, Julia was left with extensive debts and the family was impoverished.
Julia Jackson remarried, and her new husband, Blake Woodson, disliked his stepchildren and the family had financial difficulties. A short time after the marriage, Laura and Thomas were sent to live with Jackson relatives in Jackson's Mill, [West] Virginia; Warren was sent to Neale relatives.
Julia Jackson died during childbirth on December 4, 1831. She left behind the three Jackson siblings and a newborn son (Laura's half brother), William Wirt Woodson. Laura and Thomas spent the remaining years of their childhood with their paternal uncles. Their brother, Warren, died of tuberculosis in 1841, leaving only Laura and Thomas in their immediate family.
Thomas entered the United States Military Academy at West Point in 1842, and he and Laura shared the memories of a difficult childhood and corresponded frequently in the years after Thomas left home. He graduated in June 1846, 17th out of 59 cadets, and began his U.S. Army career as a 2nd Lieutenant in the First Artillery Regiment.
On September 1, 1844, Laura Jackson married Jonathan Arnold, and they had four children: Thomas Jackson (1845), Anna Grace (1848), Stark William (1851) and Laura Zell (1853). The town of Beverly, (West) Virginia, where the Jacksons lived, was the commercial and trading center of the county. With the completion of the Staunton-Parkersburg Turnpike in 1847, and the Beverly-Fairmont Pike in 1852, it became a major crossroads as well.
Thomas Jackson letter to Laura Arnold:
April 16, 1860
Lexington, Va.
My dear Sister,
I have been desiring to write to you for some time, but have been prevented from doing so. I am sorry to learn that your eyes trouble you so much. I wish you would try the simple remedy of washing them with cold water, lifting the water to the face in both hands and washing the face until a little water gets into the eyes and they commence smarting. Do this at night just before going to bed, and again immediately after getting up. I hope that you are improving, and that Mr. Arnold is likewise. Anna is suffering from a very bad cold. She has been confined to her bed for nearly a week, but is up this afternoon…

I hope that the children are all doing well. Anna joins me in love to you all.
Your affec. Brother Thomas
The Civil War
The Battle of Rich Mountain, fought five miles to the west on July 11, 1861, established Union control over the area, and the town of Beverly was occupied by Federal troops through most of the war. Many of its residents sided with the Confederacy, and some left when the Union troops arrived. Confederate forces raided the town four times, twice successfully, but they were not able to maintain control for long.
The Arnolds were initially Whig in their politics, but Jonathan came to be a Southern sympathizer, while Laura remained an outspoken Unionist. She nursed the wounded Union soldiers in her home. After every nearby raid or skirmish, she could be seen tending the fallen soldiers, with a roll of bandages in one hand and a pot of coffee in the other.
Laura's son Thomas Jackson Arnold later wrote:
General [George B.] McClellan, during his brief stay in Beverly, called at our house on at least two occasions to see my parents, my mother's brother having been a classmate of his at West Point. Also to see Major Pegram, who had been permitted to stay at our home under parole, awaiting orders from Washington as to disposition of his case.

We generally had in the house some sick Federal officers, as did a number of other families in town… the invalid's meals being supplied by the family. Aside from a natural feeling of humanity to aid the sick… it saved a family from being annoyed with soldiers. Then again soldiers were entitled to draw several rations in proportion to their rank… in flour, meats, etc., from the United States Commissary at wholesale cost. Families could in that way obtain supplies that were sometimes difficult to get.
Laura's Union sympathies were a topic of conversation among her contemporaries. In a May 1863 letter to his wife, in which he discusses the fighting near Beverly, local attorney Mortimer Johnson wrote:
Mrs. J. Arnold – sister of Gen. Jackson – went off with the Yankees. Arnold stayed at home, says he is a good southern man, that his wife is crazy, but Hell he says, could not govern a Jackson.
Laura Arnold was well remembered by convalescing Union troops, one of whom wrote that "her fragile form was almost ubiquitous in the hospitals, and with her own tender hands she soothed the aching temples of many a dying soldier boy, far away from the loved ones at home." Colonel Moore of the 28th Ohio Infantry called Mrs. Arnold "the most loyal woman in West Virginia."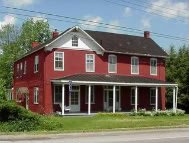 Image: Laura and Jonathan Arnold House
In 1845, Laura and Jonathan Arnold bought this property in Beverly, (West) Virginia for $1500. At that time it was a two-story building with a double portico in front and a small wing at each side with a two story ell containing perhaps three or four rooms with a long porch at the side. In the north wing, the children of the Arnolds and three other families attended school with a governess, who was hired by the parents and housed at the Arnold home. Stonewall Jackson was known to have visited here a number of times before the war.
The close relationship between Laura and her brother Thomas was destroyed during the war. While he emerged as General Stonewall Jackson, a brilliant Confederate military leader, Laura remained a Unionist, and ultimately became estranged from both her brother and other members of the Jackson family.
When Laura learned in 1863 that her brother had died after the Battle of Chancellorsville, a Pennsylvania Cavalry officer recorded her reaction in a letter home. When she "heard of her brother's death, she seemed much depressed, but said she would rather know that he was dead than to have him a leader in the rebel army."
The wartime differences between Laura and Jonathan Arnold led to a scandalous divorce in 1870, initiated by Jonathan. Afterward, Laura moved to Buckhannon, West Virginia; he stayed in the house in Beverly, living there until his death in 1883.
In 1897, the assembled Society of the Army of West Virginia made Laura an honorary member for her "patriotism and past efforts on behalf of Union arms." In 1905, she attended a reunion of the 5th West Virginia Cavalry, which had occupied her hometown of Beverly after the Battle of Rich Mountain. The old veterans named her Mother of the Regiment for her efforts as nurse to their injured.
If Laura Jackson Arnold ever had remorse over the permanent separation from her brother, she never expressed it publicly. She remained a Unionist to the end of her life, and made no effort to associate with any member of the Jackson family.
Laura Jackson Arnold died September 24, 1911, at the home of her daughter-in-law, and was buried in Heavner Cemetery in Buckhannon, West Virginia.
SOURCES
VMI Archives
Historic Beverly, West Virginia
Confederate General "Stonewall" Thomas Jonathan Jackson
Of Battlefields and Bibliophiles