Confederate Spy in Virginia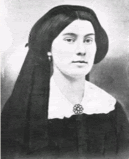 Known as a local beauty, Virginian Laura Ratcliffe saved the life of the Grey Ghost, Colonel John Singleton Mosby, in 1863. Among her many admirers was the famous cavalry general J.E.B. Stuart. She was also the sixth cousin of General Robert E. Lee. As a Confederate spy, Ratcliffe is a prime example of the brave women on both sides of the conflict who put themselves at risk to help their cause.
Laura Ratcliffe was born May 28, 1836 at Fairfax City, Virginia to Francis Fitzhugh and Ann McCarty (Lee) Ratcliffe. Following the death of her father, Laura moved with her mother and two sisters to Frying Pan (later Herndon) in Fairfax County, just south of Washington, DC. During the Civil War, there were countless raids and encampments in that region, along the Potomac River, which divided north and south.
Laura met General (James Ewell Brown) J.E.B. Stuart when she and her sister were nursing wounded soldiers at his camp during the winter of 1861. Laura and Stuart quickly became friends, and he wrote several personal letters to her. She provided him and his fellow cavalryman, Colonel John Singleton Mosby, with information on Union troop activity in Fairfax County.
In December of 1862, Stuart led his cavalry troops on several raids against the Federal forces in Fairfax County, and visited Laura at her home many times. According to several sources, while at the Ratcliffe home, Mosby asked Stuart if he could be left behind with a small detachment of men, so he could continue operations in that area, instead of going into winter quarters. Stuart apparently agreed. When Stuart left on December 30, 1862, Mosby stayed behind with nine soldiers from the 1st Virginia Cavalry. They had a very eventful winter.
Mosby sometimes used the Ratcliffe home as his headquarters, and there was a large rock at the top of nearby Squirrel Hill where he and Laura met in secret, and where she concealed messages for him. And when Mosby captured a large quantity of Federal money, she held it for him. Frying Pan Church, near Laura's home, was the site of a skirmish, as well as a hospital and one of Mosby's secret meeting places.
On February 7, 1863, Mosby captured several Federal soldiers who were looting local citizens, and returned the plunder to its rightful owners. On February 10, James Ames deserted from the 5th NY Cavalry stationed at Fairfax Court House and joined Mosby's command.
On February 11, 1863, Laura warned Mosby that the Yankees had set a trap for him near Frying Pan, thus saving his life. Mosby avoided the ambush, and in the process captured a Union sutler's wagon. Captain Willard Glazer, Second New York Cavalry, described Laura as, "a very active and cunning rebel, who is known to our men, and is at least suspected of assisting Mosby not a little in his movements." Glazer further noted "by the means of Miss Ratcliffe and her rebellious sisterhood, Mosby is generally informed."
On March 9, 1863, Union Brigadier General Edwin Stoughton had hosted a party at Fairfax Court House for his visiting mother and sister, who were staying at the home of Confederate spy Antonia Ford. After leaving the party, Stoughton retired to a nearby house that served as his headquarters. As Stoughton and his officers lay in bed, Mosby and 29 men slipped through Federal picket lines and entered General Stoughton's room.
Mosby woke the general and asked him, "Do you know Mosby?"
The general said, "Yes, have you captured the devil?"
Mosby said, "No, the devil has caught you."
Mosby captured the general, two captains and 58 horses, without firing a shot, and evaded numerous Federal outposts on their departure. Upon hearing of these events President Abraham Lincoln allegedly said that generals were replaceable, but he deeply regretted the loss of so many good horses.
Although it was obvious that Laura Ratcliffe's home was the center of much Confederate activity, she was never arrested or charged with any crime, but she suffered losses like so many others during the Civil War. Her brother, John Ratcliffe, a private in the 17th Virginia Infantry, died of dysentery at Chimborazo Hospital in Richmond in October 1864, at the age of 31.
There is some disagreement concerning the location of the home Laura lived in during the Civil War. Locals say that an old farmhouse named 'Merrybrook' was her home after the war, built for her by an admiring Union veteran named Milton Hanna, whom she married. The exact location of the house she occupied during the war is still somewhat shrouded in mystery, which I think makes for a better story anyway.
Today, alongside a country highway in Virginia, there is a monument near the rock where Laura and Mosby met, which reads:
This large boulder, located just south of here, served as an important landmark during the Civil War, when Col. John S. Mosby's Partisan Rangers (43rd Battalion, Virginia Calvary) assembled there to raid Union outposts, communications, and supply lines. Laura Ratcliffe, a young woman who lived nearby and spied for Mosby, concealed money and messages for him under the rock. Mosby credited her with saving him from certain capture by Federal cavalry on one occasion. She also was a friend of Maj. Gen. J.E.B. Stuart.
Laura was a very private woman. She never received recognition for her courageous support of the Confederate cause. When she died on August 8, 1923 at Merrybrook, she was laid out by the front window so that those who knew her could pay their respects.
At the Ratcliffe/Coleman/Hanna cemetery in Herndon, Virginia, which is surrounded by thick shrubbery, there is a simple plaque which reads: "This is the burial place of the noted Confederate spy Laura Ratcliffe Hanna and her husband Milton Hanna."
Among the items discovered in Laura's effects after her death was a gold-embossed brown leather album that contained several poems on its pages and the following inscription:
Presented to Miss Laura Ratcliffe by her soldier-friend as a token of his high appreciation of her patriotism, admiration of her virtues, and pledge of his lasting esteem.
The album was signed by J.E.B. Stuart and other officers who served with him, including Mosby and Brigadier General Fitzhugh Lee, son of General Robert E. Lee. Laura had apparently kept this momento, as well as Stuart's gold watch chain, since the Civil War.